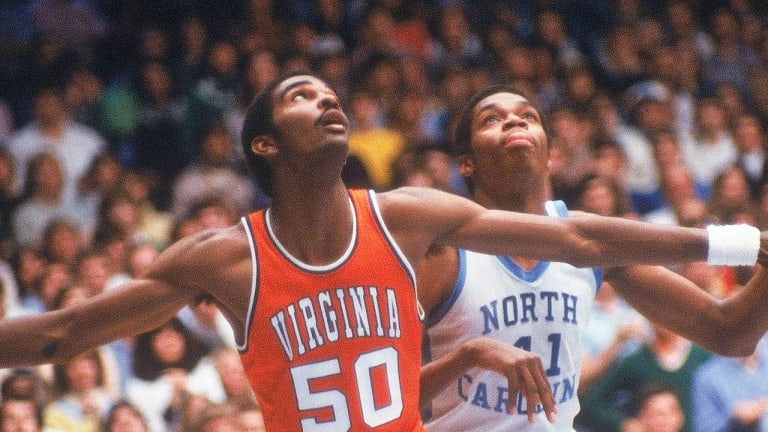 Hello, America, We Came Back
Three of the biggest reasons to look forward to the 1980-81 season are the young men waving their greetings on the opposite page: Mark Aguirre, Ralph Sampson and Albert King. They could be rich right now, but last spring they decided to forestall the start of their pro careers and stay in school at least another year. By not going "hardship" themselves, they spared college fans the pain of having to get by without seeing them in action. Surely, there could be no finer way to start the season than to have them tell us...
Among the significant links to one another—considerable skills, lofty expectations, impressive achievements—Albert King, Ralph Sampson and Mark Aguirre also share this: a mutual inclination to reject the cold cash of the pros for the warm security of the campus.
Though each is in a different college class—Sampson a sophomore at Virginia, Aguirre a junior at DePaul, King a senior at Maryland—the three seem to be symbolic of a fresh trend toward undergraduates staying in school rather than risking their developing bodies, raw abilities and tender psyches in the harsh wilds of the NBA.
In the decade since the NBA's so-called hardship draft was instituted in 1971, considerably less than half of the 78 players who left college as undergraduates have had NBA careers of two seasons or more. Oh, there were perennial all-stars such as Phil Chenier and Bob McAdoo in that group, but there were many more whose potential was unrealized, not to mention several—Cyril Baptiste comes to mind—who turned to drugs and crime.
Following last season only two of the seven college players who took advantage of the "undergraduate eligibility rule" (as the hardship draft is now more accurately known) remained on a pro roster. Following the 1978-79 season three of four did. Magic Johnson of Michigan State might have made it, but Garcia Hopkins of Morgan State didn't. Thus the credo of a cruel system: bring me the head of Garcia.
The smart ones now stay in school, for reasons all their own. King says quite frankly, "Loyalty had nothing to do with my decision to stay at Maryland—unless it was loyalty to myself. I'm having too much fun in College Park." Aguirre says simply, "I could play with the pros...yeah, I could. But what it is, you know, I'm not quite ready." And Sampson? Well....
Though in the past players who decided to remain in college were automatically praised by virtually everyone, Sampson's decision to remain at Virginia was blasted by some. Red Auerbach, the president of the Boston Celtics, announced that Sampson had been "hoodwinked by a few glad-handers." Having the No. 1 pick, Auerbach wanted to draft Sampson and shore up the Celtics at center into the 1990s. In an interview with Daniel Ruth of The Tampa Tribune, Howard Cosell said, "The University of Virginia, Thomas Jefferson's school, has a 7'4" kid at the fifth-grade reading level." In another of his familiar swipes at college sports, Cosell heartlessly maligned a person he'd never met or talked to.
Arthur Ashe, the tennis champion and a native Virginian, who has spoken with Sampson over the telephone, offered a more cogent analysis of the situation.
"Professional sports' front-office people often underestimate the maturity one gains in four years of college," Ashe wrote in a newspaper column. "While improving as a student, Sampson is also rubbing shoulders with the greatest mixture of people he'll ever get to know.... He is not being used. It would have been well worth it to him to borrow money to attend a school like the University of Virginia. If anyone is 'using' someone, Sampson is using the university...He decided to 'use' Virginia to market his basketball skills while attending classes. And as his price at contract time is liable only to go up, the University of Virginia can hardly be charged with exploitation...."
And there are even those in the NBA who share Ashe's opinion. "All kids benefit from four years in college," says Bob Ferry, general manager of the Bullets. "Maybe not basketballwise, but lifewise. They all benefit."
And so does the college game. The credentials of this trio are well, documented. Sampson began his freshman season slowly, came on against the strong competition in the ACC, slumped and then closed with a rush to lead Virginia to the NIT title. Aguirre scored and emoted at will as DePaul won its first 25 games before its immaculate season was ruined by upset losses to Notre Dame and UCLA. It was no accident that King's personal resurrection coincided with that of Maryland's, a confused team in past years that started 1979-80 in doubt and ended it by winning the ACC regular-season championship in a walk. Now—thank goodness for tall favors—all three are back to play their roles as college basketball's three brightest stars.
A DIFFERENT SEVEN-FOOTER
"Wait. Stop. That's not what I meant." Fifty students turned toward the back of the Rhetoric of Social Protest speech communications class and listened, enthralled, as Ralph Sampson waved his long arms and presented his perception of Martin Luther King Jr.'s "I have a dream" speech. His classmates knew Sampson was worth listening to; earlier that semester he had taken the part of King's ghost in a class skit on the black movement. He'd replied to Malcolm X (as portrayed by another student) after Malcolm had vigorously criticized King and his pacifism. Sampson had delivered an authoritative, persuasive statement and became one of the class leaders. Later several students came up to Professor Carol Jablonski and expressed their surprise. "Ralph was, well, really neat," one said.
Jablonski had had Sampson in another course at Virginia. Then he had been reticent. She says she doesn't know if he has changed or just blossomed. She says a playfulness, a comic sense, "a deeper level of discourse" had always been there but is just now emerging. "I can usually understand what their families are like through observing my students," she says, "and to watch Ralph with his classmates is to admire Ralph's family. The sensitivity, the intuitive way he understands people and gets along with them shows that those things are uppermost with his family."
This evaluation will come as a surprise to many gentlepersons of the press, who found the freshman Sampson aloof, uncooperative, even obstinate. As recently as October, Sampson came to a press conference chewing a carrot stick and said sharply, "Is this a one-shot deal?" Meaning he could do without microphone upon camera upon notebook, etc. Conversely, around the only people who counted, his teammates, Sampson was an absolute jewel. The Stick came the 40 miles over the Blue Ridge Mountains from Harrisonburg to The Grounds at Charlottesville all eyes and ears. But no mouth. He listened, learned, felt his way and consciously refrained from taking the offense away from the upperclassmen, specifically Guard Jeff Lamp, who had led the ACC in scoring the previous season.
"Ralph made it easy by not stepping on any toes," Lamp says.
Coach Terry Holland laments the early pressure on Sampson. "It was like saying you had the greatest joke in the world before you told it. And then no matter how good it was, the listener went away disappointed," he says, perhaps forgetting that he was among those who told the joke. Holland said Sampson had the potential to be the best in history—then pitted his team against Johns Hopkins and Chaminade.
Sampson blocked 12 shots against Army. He had 22 rebounds against Old Dominion. He scored 32 points against Clemson. He finished his freshman season with 14.9 points and 11.2 rebounds per game and 157 blocks. But it wasn't until a five-day stretch in the middle of the season that his potential came into focus.
During warmups at Durham, N.C., the Duke student section, a rough, witty bunch that would boo Santa Claus, slowly chanted, "We're...going...to...get...you," then emphatically, "RALPH," then louder, "WHO?" Sampson appeared impassive. But when Virginia Assistant Coach Jim Larranaga came over to loosen him up, Larranaga was stunned to notice the normally placid Sampson seething as he took off his sweats. "In about 30 seconds...29...28," Sampson murmured, "they're gonna find out."
Virginia's victory that night was not as close as the 90-84 score indicated, and neither were Sampson's margins over the Blue Devils' senior All-America, Mike Gminski, 23 points to 20, 13 rebounds to 10. Very simply, Sampson controlled the contest, or rather the no-contest. "I was doing all I could to force him away," said Gminski. "I had my hand in his face, I bellied him.... I don't think I've seen anyone shoot like that before."
But the long season wore Sampson down; he was frequently in foul trouble, Virginia went into a tailspin, losing six of nine games. Media hounding, player griping, all the tensions of the big time swallowed up the Cavs. But three home games in the NIT served to revive them, and when Virginia arrived in New York, where they would play in the tournament semifinal and final, the turnaround was complete. Sampson, the MVP, had 41 points and 30 rebounds as Virginia beat Nevada-Las Vegas and Minnesota for the title. And he began to show glimmerings of his lighter side. Before the final game, a guy ran up to Sampson with a miniature rim stuck to his forehead, handed him a Nerf ball and said, "Hey, Ralph, slam-dunk me." Sampson obliged.
Now, Lamp says, "Ralph plays taller than he is." Sampson's only weakness is, if you will, his weakness; though he seems to get stronger daily, his weight of 221 pounds is far less than he will carry when he has fully matured.
Holland also worries that Sampson may become a jack-of-all-trades, master of none, because he does so many things so well. The Virginia braintrust still is searching to find Sampson's hole card, the bread-and-butter move with which he can get a basket anytime he needs one.
"The hook is the thing; it's definitely coming," Sampson said the other day over lunch at Charley's, a favored Charlottesville restaurant. "But I won't stop working on the other things. I want to be the best player there's ever been at 7'4". You see, I want to be a different seven-footer. Like a seven-foot Dr. J forward. Like a seven-foot Dennis Johnson guard. I love the guard drills. At home I dribble around my bicycle. I want to get instinctive on the pass. I'm serious. To be able to take it down the middle, to shake and bake on someone, that's the ultimate."
Another ultimate is playing time, which, Sampson knew, the Celtics (pre-Dave Cowens' retirement) couldn't guarantee him. Auerbach hadn't measured his man. Money wasn't the factor. Playing ball was. Growing up was. Friendship was.
At Virginia, Sampson has a loud and loquacious roommate, Louis Collins, a former football wide receiver who still bounds onto the field during time-outs and hypes the crowd. Sampson has a girl friend, Stacy Weldon from Pennsylvania, a hockey fan who at first meeting didn't even know who he was. College kids with identities all their own, Collins and Weldon have helped their friend open up, to see himself as a human being first, an athlete as an afterthought.
"College isn't new anymore," Sampson said. "I know where I'm going. I know what to do. Last year I found myself not talking to anyone on campus. This year I try to say hello to everybody. It takes time, but I'm doing it."
Sampson already has established the emotional resilience needed to endure the stares and gibes about his height. He doesn't slouch or scrunch; he ducks. He carries himself erect, and he has the ability to catch people in his gaze without looking down. "I deal with it," he said.
Upon leaving Charley's, Sampson heard a girl call out, "We'll just have to raise the ceilings in here, Ralph." A man at the bar shouted, "Stay away from the whiskey, big fella." The confident, secure big fella just smiled. Sometimes Sampson acts taller than he plays.
THE SINATRA SYNDROME
Mark Aguirre, a husky, 6'7" forward, found out how valuable he is to DePaul in his freshman season when he missed the team bus to the Western Michigan game. He was out shopping for stereo equipment and he showed up late, that's all. An assistant coach had to stay behind and drive Aguirre to the game. Two hours on the road, just the two of them. Aguirre slept all the way. That night Coach Ray Meyer "disciplined" Aguirre by benching him for the first five minutes. Aguirre scored 28 points anyway. DePaul lost by two. Afterward Meyer said, "You know what I learned? I learned I can't win without Mark Aguirre."
Whew. What a little knowledge can do. It can hurt you, is what it can do. At a workout Meyer once screamed at a loafing Aguirre, "Mark, if you don't want to practice, get out of here." Aguirre started to leave. Then Meyer screamed, "Mark, where are you going?" Last season, during a huddle at a crucial juncture in the Marquette game, everyone was jabbering strategies and alignments and X's and O's when Meyer silenced the commotion. "Mark," he said. "Dammit, just score."
Aguirre's natural talents have been evident for so long that some DePaul people swear he knew how to get off the turnaround jumper in the crib. And he has been pampered by one coach or another for almost as long. For two seasons at DePaul Aguirre exhibited the NBA characteristic of playing 10, resting 10; and he also displayed some all-pro pouting besides. When Aguirre was taken out of games before he was ready, he didn't hide his displeasure. Once, after missing several one-on-one foul chances, he wailed to Meyer, "Coach, my free throw's broke." He wasn't kidding.
But on the Olympic team last summer a different, more industrious Aguirre emerged. "He loved to slide by, but when we challenged him, he always responded," says Olympic Coach Dave Gavitt. "The fat boy wasn't lazy because he knew he had to play hard," says another coach who watched the Olympians in action. "At DePaul they can pick their schedule, and he doesn't have to play every night."
There's the rub. When Aguirre wants to play—like, mostly, against the toughies—it is a wondrous sight. DePaul lost six games in Aguirre's first season; in those six he scored 29, 39, 18, 28, 45 and 19 points. His scoring average in defeat has been more than seven points higher than his average in victory. Last season Aguirre played in eight games against NCAA tournament-bound teams and averaged nearly 29 points; he had 34 against unbeaten (at the time) Missouri, 36 against Marquette, 31 against LSU and 30 against LaSalle and the esteemed Michael Brooks. He was the Player of the Year in two major polls.
Knowing it would be his last season in DePaul's ancient Alumni Hall, Aguirre became obsessed with breaking the gym's single-game scoring record of 43 points. Against Butler he had 30 with plenty of time, but Meyer took him out. The two had words. From then on Meyer indulged Aguirre, who scored 30, 41 and 40 in DePaul's last three home games. But Aguirre never reached the golden figure; after one such failure he wept in the locker room while his teammates celebrated a win over bitter rival Loyola.
As a result of Aguirre's shoot 'em up, the DePaul offense grew stagnant. There was the 76-74 double-overtime shock at Notre Dame, where Orlando Woolridge's defense was based on playing "off" Aguirre, on denying Aguirre contact and a chance to use his great strength down low. Then came the 77-71 loss to UCLA in the NCAAs when Aguirre had the ball virtually 40% of the time. He was the play-maker one minute, a wing the next. He was everywhere. The other Blue Demons went begging. Center Terry Cummings was hot; the quarterback, Clyde Bradshaw, needed to run things; neither saw the ball enough.
As the moody Aguirre went, so went DePaul. He could be a laid-back Phil Donahue one moment, Frankenstein's monster the next. "There were misunderstandings in communication," says Bradshaw. "Mark's ability is what led us. Guys value playing with the best player in the country. But he backed away from the leadership role. The Olympic team changed that. He learned how to work. He learned how to use his teammates. He seems to want responsibility."
Before this season Aguirre called the team together and organized workouts on his own. He was given a co-captainship with Bradshaw. Now he practices without taking shortcuts. "I'll blow the whistle and, watch this, he'll even run" says Meyer. "Mark vowed we'll have no sulking this year."
Most astonishing is Aguirre's loss of weight. The former Muffin Man—once he was up to nearly 260 pounds—worked out in the off-season and skipped second helpings. He is now holding at a fairly svelte 225, but not without torture. "It's a serious war, pushing myself away from the table," Aguirre says.
The most tempting table is at the home of his high school coach, Frank Lollino, whose wife, Anna Marie, still prepares sandwiches, desserts and all types of pasta, notably Aguirre's favorite, mostaccioli. Anna Marie isn't an ally in Aguirre's war. "Eat. Eat. You're wasting away," she said one day recently after Aguirre had stopped after only a single gigantic slab of Boston cream pie.
In the old days at Westinghouse High—The House, as it's known on Chicago's West Side—Aguirre was nicknamed Ziggy the Elephant and Big Drawers. Laurie Lollino, 17, once bet Ziggy he couldn't diet to below 200 pounds. Aguirre labored mightily and got down to 207, but fainting spells and sickness persuaded Anna Marie to call off the bet.
At the Lollino residence in the Galewood section of Chicago, Aguirre and his teammate at Westinghouse and DePaul, Skip Dillard, relax, watch Abbott and Costello movies on television, talk basketball and eat. When he's there, Aguirre doesn't speak often of his mother and three sisters at home, or of his estranged father, or of his 14-month-old daughter, Erica, and her mother, Veronica Allen. The Lollinos are his second family. "We don't see the moods here," Anna Marie says. "People who criticize Mark...it's the Sinatra syndrome. They really don't know all the good that he does. Playing with kids in the neighborhood. Visiting old folks' homes. Caring."
"Mark always had a lot of things on his mind," says Dillard. "I have a son and sometimes we take our children to the playground or the zoo. I think he draws strength from the kid. Mark used to get low when things were crowding him. He has changed his whole personality." Dillard says there used to be a strange Mark and a real Mark but now there's only the real Mark.
At the least, nobody can call him a fat Mark anymore.
"I needed another year to get dedicated," Aguirre says of his decision to forgo becoming a high first-round choice in last spring's NBA draft. "I think I've found out how good I can be supporting talent with work. I can run better. I think my ball speed is better. Off the board. Getting it up on the break. I feel agile, able to cover people. I used to take practice as boring. I didn't concentrate in games. Magic [Johnson] told me no matter how you feel, you've got to fight that. This is the big time around for me. I want to get in one season when I give my all. It's my turn."
MR. DIG 'EMS
In the beginning, circa 1977, there were Earvin, Eugene and Albert. Then there were Earvin and Eugene. Then there was just Earvin. The big question was, while Gene Banks was leading Duke to the final game of the NCAA tournament in his first year and while Earvin Johnson was spearheading Michigan State's final-game victory in his second year, what had happened to the other hero from the high school class of '77, the one with the amazing numbers and the biggest stacks of press clippings, the kid from Brooklyn with the big, bad brother in the pros? Yeah, what ever happened to Albert King of Maryland?
If anyone ever suffered and lost his way under the bright glare of anticipatory spotlights, surely it was King. "If you went from 38 points and 20 'bounds to 13 and seven in one year, lopsided like that, you'd lose all your confidence, too," he says. What happened was that King, a quiet soul—the exact opposite of his outgoing brother, Bernard—and skinny at 6'6", 180 pounds, was hurled into a bunch of gunners and jivers who weren't about to let a new man take over. As if the new man were of a mind—or personality—to do any such thing.
Terrapin Coach Lefty Driesell says King lacked some fundamentals back then and his shot selection was poor. But his self-confidence was even worse. Driesell admits if he had it to do over, he wouldn't have started King early in his freshman season. "He might have matured quicker," Driesell says. "It was like a minor league baseball player who comes up and strikes out his first five or six times. I told Albert to relax and not worry about the whole world watching him. He never relaxed, never quit worrying."
At least not for more than 20 minutes. Against North Carolina King scored 16 points in the first half and then took three shots in the second. "I looked at the score sheet in the locker room," King says. "I was averaging about 13 points at the time. I thought, 'Uh oh, I'm way ahead of myself here.' " So he stopped shooting. Carolina won 85-71.
Tight, lonely, disappointed—"Lefty and I didn't see eye to eye on a lot of things," King says—concerned with what his teammates would think if 1) he shot the ball or 2) horror of horrors, he missed. King went on his frustrated way during two seasons in which Maryland won 15 and 19 games but had a total of only nine victories in regular-season ACC competition.
Then he began to have different feelings: scared and nervous. "I kept asking people, 'What's wrong? Why don't I play well?' But I wasn't asking them, I was really asking myself," King says. "It hit me that my years were running out and I wasn't improving. I wasn't going to be as good as I'd thought I'd be." In the summer of 1979, on a college all-star tour of Europe, King rode the bench. He came home disappointed but determined to work harder. Every day he exhausted his shooting arm. He hit the weights. Got up to a mammoth 190. He ran the Cole Field House steps. He gained back his confidence. He became assertive, a team spokesman.
As a result, Maryland is now the defending ACC regular-season champion and a threat for the national title. King, meanwhile, may have become the best two-way player in the sport.
In his first two seasons he scored 25 points or more in four games. Last season he did it in nine. Most of these baskets came off a picture-perfect face-up jumper, which King delivers from such a height the shot appears to need no arc. "Line-drives?" he says, smiling. "What line-drives?"
While his leaping and scoring have led people to compare King with David Thompson, even Baryshnikov, his ability to blend his personal skills into the larger design of his team, to inspire, to lift the games of the people around him, best recalls the vintage Bill Bradley.
King's exquisite passing sets him apart from many another honcho forward. North Carolina Coach Dean Smith was so preoccupied with King's passing in Maryland's delay game last season that he had his defenders actually slough off King to overplay the other Terrapins. From the high post King merely faked the pass and winged in 28 points as Maryland beat the Tar Heels, 92-86, for the first time in 10 meetings. "There are no more question marks in Albert's eyes," said Carolina's Mike O'Koren.
King then cracked the whip from the middle of the devastating Maryland fast break as the Terps crushed Duke 101-82. "In 25 years I've never seen a team better than that," said Driesell. In the semifinals of the ACC tournament King put on a dazzling show (38 points and 10 rebounds) as Maryland beat Clemson 91-85. The Terps finished the season with a 24-7 record and King was the ACC Player of the Year and a consensus All-America.
The most pronounced facet of King's transformation was his new emotionalism. Watching films of his performance last season, King himself can't believe that it is indeed he up there on the screen jumping around, slapping high-fives and carrying on like, well, like Buck Williams, his roommate, or Ernest Graham, the Hollywood Henderson of college ball, who once said the Terps would be the "Ernie and Albert Show" and later scored 44 points against North Carolina State to try to prove it.
Graham calls King "Mr. Dig 'Ems," after Dig 'Em, the frog in the Sugar Smacks commercial. "Look at them legs on the dude," says Graham. "Frog legs. Dig 'Ems struggled and struggled just like me. But now he's getting around to feeling his oats. I'm proud to say I know Al King."
About his rejuvenated game, King says, "I had to prove to Albert that Albert could still do it." He occasionally talks like this, referring to himself as if he were someone he wished to observe from afar. The fourth of six children, he never liked arguments or fights and he always gave in to his brothers. He was the soft one, the thinker. In college, Albert had played less than his best because Albert wanted to be liked.
On a Maryland sports-information questionnaire that King filled out as a freshman, he answered the question, "Who has been your primary inspiration in sports?" with "My brother, Bernard." But with Bernard fresh out of Tennessee and soon to star in the NBA, the inevitable comparisons came up. Albert bristled. When Bernard got into trouble with the law and Albert's name kept appearing in the newspaper stories, Albert didn't like that either. The two brothers don't communicate much. Early in Albert's first season at Maryland, Driesell asked him if he had learned any basketball from Bernard. "Let's get one thing straight," Albert said. "I'm Albert and he's Bernard. I'm not him and he's not me." Driesell didn't bring up Bernard's name again.
"I never knew how good a player my brother was until he came home from college and I dunked on him," Albert says, laughing. "He got upset and took it from there. We spoke last summer about the turning-pro thing. But I don't remember the last time I saw him. I stay away from talking about his life or problems or whatever you call them. It's enough that my brother knows I love him."
Why, of course, the family that dunks together.... But Mr. and Mrs. King, Thomas and Thelma back in Brooklyn, came late to their sons' game. They've learned fast, however. At the end of last season a reporter called up Mr. King and told him that Albert had just made All-America and what did he think about that?
"When you go out at night and see the stars in the sky," Thomas King said, "you don't need someone to tell you they're shining."
PHOTO
King's first two seasons at Maryland were disappointing to him and the Terrapins, but then he rose above the crowd.
PHOTO
During Sampson's up-and-down freshman season, he sometimes towered over all, terrorizing opponents on offense and intimidating them on defense.
PHOTO
Dominating inside, Aguirre had 24 points and 14 rebounds as DePaul beat Louisville 86-80 Saturday.
PHOTO