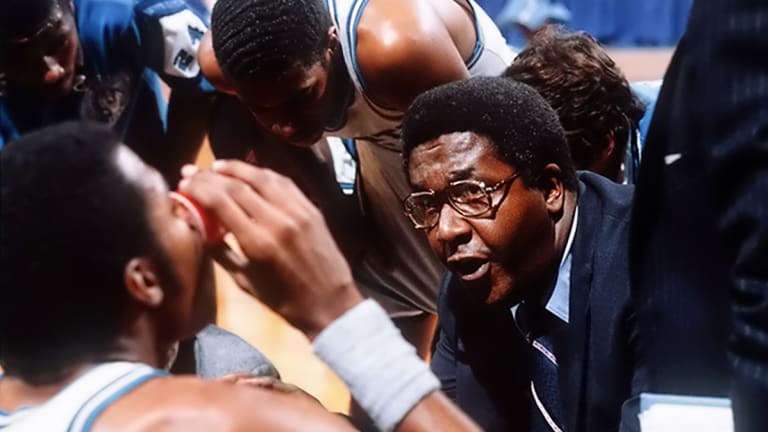 Publish date:
The Gospel According to John
Georgetown basketball was white and wan before John Thompson came in to recruit blacks and to preach discipline and education
This article originally appeared in the December 1, 1980 issue of SPORTS ILLUSTRATED.
At almost any given time, a surprising number of colleges that consider themselves intercollegiate sporting powers are engaged in an exercise known as "turning the program around." Either a team hasn't been winning or it hasn't been winning as often as the college authorities feel is necessary and good. Standards may vary, but a turned-around program generally is one that produces teams that are listed in the Top 20, get on national TV, are invited to postseason bowls and tournaments and have athletes who make All-America and become high pro draft picks.
Getting turned around is easy to propose, difficult to achieve. Some schools try outright cheating. Others don't cheat but do go for all-out, high-pressure recruiting. And some simply drop the entire problem into the lap of a special individual—an Al McGuire at Marquette, a Lefty Driesell, when he was at Davidson—and depend on his talent and genius to work a miracle. By intimidation, persuasion, wit, affection or psychic powers, such a man attracts top athletes and then elevates them to heights of confidence and performance, year after year.
A vivid example of this approach is currently on exhibition at Georgetown University in Washington, D.C., where in recent years the basketball program has achieved a seemingly miraculous turnaround. The miracle worker is named John Thompson, and what he has done can be impressively documented. For 25 seasons, from 1947-48 to 1971-72, Georgetown was a basketball mediocrity, winning 296 games, losing 302. It never made the NCAA championship tournament. It made the NIT only twice, and both times was eliminated in the first round.
During the past eight seasons, however, Georgetown has been in six postseason tournaments (NCAA four times, NIT twice) and has been one of the winningest college basketball teams in the country (156 victories, 72 defeats: a .684 percentage). Last year it was ranked 11th in the nation and advanced to the finals of the NCAA East Region tournament, in which it lost by a single point to NCAA semi-finalist Iowa in what many observers regarded as an upset. Furthermore, Georgetown was on national TV last season, and two of its seniors were among the first 30 players drafted by the NBA.
Now that's a turnaround, and at Georgetown, credit for it goes almost entirely to Thompson, along with praise for his acuteness, creativity, dedication and all-round goodness. There are prayers, too, asking that this miracle worker resist the enticements of bigger basketball schools and remain at Georgetown.
Inevitably, a few detractors say, yes, Thompson has turned Georgetown basketball around, but it's something anybody could have done—if he happened to be a 6'10", 300-pound black man who grew up in the basketball-rich District of Columbia, became a high school legend, a college star, a Boston Celtic and then came back to devote himself to good urban works in Washington. With the advantage of hindsight, it does appear that, bad as it was, there were elements in the Georgetown basketball situation that made it ripe for being turned around by someone like Thompson. Perhaps the only miracle is that, given their disparate backgrounds, he and Georgetown found each other.
Founded by the Society of Jesus in 1789, Georgetown is the oldest Catholic university in the United States. Partly because of its location near the seat of federal power, it has always been a politically sophisticated institution. Its departments of law, government, international affairs, language and economics have long been among the most prestigious in the nation. Georgetown has always had a healthy sense of its own importance.
This, in turn, has had a considerable effect on Georgetown athletics. On the one hand, Georgetown was a parochial school and had a ferocious desire to win games, perhaps as a way of cocking a snook at the WASPs. On the other, it admired the gentleman-sport tradition of the Ivies, the concept that young gentlemen without a lot of undignified training could dash out on the field and whale the tar out of their opponents for the greater glory of the dear old blue-and-gray.
In the 1920s and '30s, Georgetown was a genuine collegiate athletic power, especially in football. After World War II, bigtime football became too expensive and too demanding, and the university abandoned the sport in 1950, a blow to pride from which many old Hoyas have never fully recovered. It was later revived but only as a low-key, Division III activity. Track fell off a bit and baseball declined, and eventually Georgetown's athletic ego depended largely on how well the basketball team did.
Usually, it did badly. Occasionally, Georgetown would pull off a glorious upset, but these triumphs were too infrequent to compensate for all the defeats. Usually, the teams were a bit too slow, a bit too small and, to get to the heart of the matter, much too white.
Officially, Georgetown had no policy of segregation, the explanation for the paleness of the place being that the poor quality of the secondary education received by most blacks didn't enable them to meet Georgetown's stiff entrance requirements. The first black basketball player was recruited in 1966, and for the next six years there were always one or two blacks on the Hoya team, but usually they were tokens rather than studs.
In 1971-72 Georgetown basketball descended to the pits. The team had a 3-23 record, the worst in the school's history. There was a shake-up of the athletic department; the coach resigned and a committee was appointed to find a new one. They found John Thompson. There he was, the full-time director of the District of Columbia's 4-H program and part-time basketball coach at St. Anthony's, a small Catholic high school, which he had turned into a major force in Washington schoolboy circles.
"I had a friend on the Georgetown staff who suggested I apply for the job," says Thompson. "He said he thought Georgetown was ready for me. I hadn't given much thought to college coaching and, truthfully, I wasn't sure I was ready for Georgetown, but I let them consider my name. I have a big ego, and I was curious to see what other people thought of me."
Charlie Deacon, now the university's director of admissions, was chairman of the basketball coach selection committee. He confirms Thompson's recollection that the first contact was a casual one. "The committee didn't know much about John," says Deacon, "but even the members who had other candidates were impressed."
That Thompson was something of a stranger to the selectors is an indication of how far out of touch Georgetown was with the Washington basketball scene. Thompson had been a very large figure in it, in all senses of the word, for 15 years. After playground and street ball he had been a high school All-America at John Carroll High, which won 58 straight games in the late 1950s.
George Leftwich, one of his John Carroll teammates, says of Thompson, "There never was a young kid who worked so hard. One summer he decided he had to learn to shoot from at least 15 feet out, which he couldn't do at all. Whenever he'd play he'd tell the guys on his team flat-out that every time he got within 20 feet of the basket he was going to fire. There was always some objection, but John has a knack for getting his way. It isn't just because he's big. It has to do with force of character. Anyway, they did it John's way. His team usually won, and by fall he could hit the 15-footer consistently."
After his John Carroll years, Thompson played at Providence College, where in 1963 he was a star on the Friar team that won the NIT and in 1964 captain of the team when the Friars made it to the NCAAs. He was drafted by the Celtics and for the first time in his life he found himself not only not a star but also not even a starter. The problem was that he had been signed on as a backup for Bill Russell.
"Russell was durable," Red Auerbach, then the Celtics' coach, now their president, fondly recalls. "John didn't get much time and he didn't like it, but it didn't turn him sour and he didn't make waves. He'd work like hell, keep himself ready, and when he got a chance he'd do a job for me. He was a coach's dream, a smart, tough realist. He had good sense about his life, what was important in it."
In 1967 Thompson was drafted from the Celtics by the Chicago Bulls, but he turned down the Bulls' offer as well as several subsequent ones from ABA clubs. "They were talking about some fairly big bucks," he says, "but the honest truth is I didn't like that life-style, living on planes and in hotels, the high life. I was newly married, and I decided there were better things I could do with my life. I had a master's in youth counseling, so the 4-H job and working part-time coaching at St. Anthony's suited me very well. When the Georgetown thing came up, well, all I can say is that I took it as a challenge."
Georgetown hired Thompson in the spring of 1972. The question arises: Did the university, out of desperation, shrewdness or enlightenment, deliberately set out to hire a black coach? "No," says Charlie Deacon. "No orders to that effect came down from the top, and it wasn't a criterion of the committee's. But there were some obvious reasons why it wasn't to John's disadvantage to be black."
The Rev. Timothy S. Healy, S.J., the current Georgetown president, is more candid. "There is something about Washington, D.C. that has always reminded me of a cuckoo's nest," he says. "The local people make the nest. The cuckoos—the federal people and all their hangers-on—move into the nest. They fly in and out, but their main interests are elsewhere. They don't really care a lot about what they do in, or to, the nest. I think Georgetown has been, to an extent, one of the cuckoos. After the 1968 riots it became obvious that the university's position wasn't very smart or defensible—socially, intellectually, morally or empirically. We began making some changes, some statements to the local community that we were going to try to be at least more responsible and useful. I think it's fair to say that hiring John Thompson was one of those statements."
And no one said, "O.K., let's get us a big black coach to show we aren't segregationists, and maybe he'll bring in some big black players and we can win a few games"?
"We don't get things sorted out that well around here," Father Healy says cheerfully. "I think it's taking too much credit to claim that what happened came about because of a farsighted policy. What I think happened is that an intelligent black man, with a clear idea of what he wanted, has weaved in and out between a lot of confused honkies and has accomplished things that have benefited both parties."
"When I was hired," says Thompson, "I had a talk with the president [then the Rev. Robert Henle, S.J.]. All that Father Henle said about basketball was that he hoped I could take a team to the NIT every now and then. I thought to myself that I'd eat my hat if I couldn't do better than that. But I didn't say anything except 'Yes, sir, I'll try,' because you don't want to set yourself up."
Thompson was given no directives—racially, that is—on the kind of players he should recruit. However, certain changes had occurred shortly before he arrived that gave him more latitude in this area than previous coaches had had. Traditionally, Georgetown has favored students with high college-board scores from largely white secondary schools. As part of the anti-cuckoo campaign of which Father Healy spoke, some academic requirements were lowered for black students, particularly those from the District of Columbia. The university went after black students who would benefit from a Georgetown education and who in turn would benefit the school by making it more representative of the Washington community as a whole. Tutoring programs were set up to help some of these students adjust. Now there are about 400 black undergraduates at Georgetown.
As far as basketball is concerned, if Thompson recommends someone, he is accepted. "We, of course, look over the records," says Deacon, "and they, of course, have to meet at least our minimum standards. If there is any problem, we talk it over, but this seldom happens. It is John's responsibility to find young men who have a good chance of making it here academically. So far, he has done beautifully."
When Thompson took over the coaching job, it was spring and he didn't have time to do much recruiting. He did bring with him three players from his St. Anthony's team, as well as two other local players, all black. A few weeks into the 1973 season these five black freshmen were starting for Georgetown.
"I didn't think much about it, but the kids did," says Thompson. "They knew what Georgetown had been; everybody in the District did. Mostly, they were worried that I was going to get in trouble. I told them I didn't want to hear any more about that. If they won, people who cared about Georgetown were going to say great. Those who had something else to say had problems, and we didn't have time to worry about them."
The five freshmen did win, at least more than had been the custom, the team ending up 12-14, Thompson's only losing season. But the Georgetown tradition being what it had been, there was some mumbling about the change in complexion of the basketball team.
"I knew there was some of that going on, but for some reason hardly anybody ever comes up to me and talks directly about those matters," says Thompson blandly, and then lets out a characteristic rumbling laugh that seems to roll through his entire massive body. "There was one time the first year when a white lady phoned. She obviously didn't know anything about me, but she was very hot. The day before, there had been a photo in the paper of a couple of my big kids standing on each side of a little white kid. They looked like they were going to mash him. The lady said her father, maybe her brothers, had gone to Georgetown, and if I was the coach I ought to stop what was happening there—abnormal n------ bullying white students. I told her things were worse than she thought and that I was going to send her two tickets to our next game so she could come see for herself, that what she would see would make her blood run cold. I was very sorry that lady couldn't use those tickets. They were for seats right behind where I sit on the bench. I wanted her to get a look at the most abnormal n----- of them all."
That's a long time ago. Georgetown improved to a 13-13 record in Thompson's second season, got to the NCAAs in his third and has been a basketball force to be reckoned with ever since. By now the lady on the phone is certainly aware of who and what Thompson is, although there is no certainty that she—or other people who think the way she does—is any happier about it. One bit of gossip that has persisted is that Thompson cannot recruit good white players and doesn't want to coach them.
"I've heard that, too," says Thompson. "The first part, about recruiting, is true. Let me explain why. When I was at Providence College they had a pretty good hockey team, but the players were mostly Canadian. The hockey coach had a lot of trouble finding good American players. You understand what I'm saying? Basketball is a game that is taken more seriously in the black community, especially in the cities. Black kids play basketball like Canadian kids play hockey. They start playing it early, and they care about it a lot, generally more than suburban or rural white kids do. That's why they're so good at it. It's hard to find white kids with the same basketball background.
"About the second part—not wanting to coach white kids—that is just pure crap. If I can recruit a player who's going to help me, I'll coach him if he's purple and comes from Mars. I'll like and respect him as a man if he deserves it."
One whose opinion in this matter merits attention is Jeff Bullis, a 6'7" forward who is the most promising of the four white players on the current Georgetown team. Bullis, a junior, was an all-city high school player in the Baltimore area. He says he came to Georgetown because of its academic reputation (he's a government major) and because he thought Thompson was the best coach of those who tried to recruit him. That Thompson was black "was never a factor, never has been since I've been here." Pointedly, Bullis says, "On this team the black-white thing just doesn't come up until some reporter starts asking questions. It's hard to explain how close we are, but we're closer, I think, than any of the teams we've played. That's how Mr. Thompson wants it, and that's the kind of people Mr. Thompson recruits. We're like a military unit that has gone through a lot of fire together. Mr. Thompson is the fire. He's very tough, but if you can take it, he'll make a man out of you." ("Mr. Thompson" is how his players almost always refer to their coach. Occasionally, however, say after one of Mr. Thompson's grueling workouts, they may speak of him as "Pipehead"—for the pipe that he occasionally puffs on in his office.)
While Thompson's Georgetown teams have been predominantly black, basketball sophisticates have long been aware of a more significant characteristic: the team's on-court poise and its formidable, almost, as Bullis suggests, military discipline.
"I'm pleased with that reputation," says Thompson. "That's the kind of team and program I've tried to create. But you know what they say next, after they say we're disciplined? You know the code?"
"That you play like a white team?"
"That's it. Undisciplined, that means n-----. They're all big and fast and can leap like kangaroos and eat watermelon in the locker room, but they can't play as a team and they choke under pressure. It's the idea that a black man doesn't have the intelligence or the character to practice self-control. In basketball it's been a self-fulfilling prophecy. White men run the game. A white coach recruits a good black player. He knows the kid's got talent, but he also knows—or thinks he knows—that because he's black he's undisciplined. So he doesn't try to give the player any discipline. He puts him in the freelance, one-on-one, hot-dog role, and turns to the little white guard for discipline. Other black kids see this and they think this is how they are expected to play, and so the image is perpetuated.
"Another code word I like is 'deliberate.' A deliberate team means a team of big, heavy-legged whites. The idea is that they are deliberate because they are smart, but the real reason is they are too slow to be anything else.
"What I want," says Thompson, taking the conversational bit in his teeth, "is everything. I want the talent, a kid who can run and leap and shoot, but I want him to have enough intelligence, discipline, character, or whatever, so that he'll walk when I tell him to, run when I want him to, pass if that's what I want. Without talent, all the character in the world won't do it, but talent alone isn't enough. There are great individuals and teams with lots of talent who don't win. I tell the kids that it's as though we're putting on a play. I'm the director. I'm going to pick the script, and I'm going to give them their roles. They're the actors. Their job is to learn those roles—that's what practice is about. When we go out on the court, that's our stage. Out there they're supposed to perform as we practiced. I don't want anybody making up new lines, putting on their own act."
Thompson's coaching system isn't much different from what other good coaches teach. He stresses fundamentals (take good shots, fill the lanes, look for the open man, don't stand around), intensity in practice (flare-ups between individuals aren't uncommon), tight defense. But Thompson's good record at Georgetown isn't based on his tactical skills. The keys are motivation, control, discipline.
"Sometimes one of my kids may look like he's doing a lot of freelancing, but he turns it loose that way when I want him to, in a way and at a time when I think it'll help. I know he has the talent. He understands that, and he understands what the role is, and so do the rest. Take Sleepy Floyd. [Eric Floyd has been the team's most notable gunner the past two seasons. He led the team in scoring last year with an 18.7-point average and was the MVP of the East Region tournament.] He wants to shoot, he wants to get his, but he doesn't get it by taking from other people on the team. If he couldn't play that role, he wouldn't help me, even with all his talent."
Thompson has had great success at recruiting this sort of basketball paragon from under the noses of rival coaches. For example, he found Floyd at a North Carolina high school where he was playing second banana to another player who was being avidly recruited by ACC schools—institutions that, for geographical reasons, are often Thompson's chief competitors for talent.
"Floyd was cocky and confident—he still is," Thompson says, "but he showed me some character. I thought that because of the situation he'd been in in high school, he might feel he had something to prove: that he could play with anybody, even though he hadn't had much ink. That's how it happened up here. He's worked his butt off."
Ed Spriggs, a 23-year-old Hoya junior and starting center, was an even more surprising find. Though he grew up in the District, he didn't play high school ball because, as Spriggs explains, "I was your basic 90-pound weakling." After high school he got a job in the Washington post office and began to grow. He is now a very strong 6'9", 240-pound center. Thompson found him playing in the city leagues. Spriggs says, "Mr. Thompson told me that if I was willing to work, he thought I could play college ball, and he said it was worth working for because the education I would get was worth $8,000 a year. It sounded like a good deal to me."
Thompson says he doesn't like to hang around with other coaches when he is sizing up high school talent because he feels that among coaches there is apt to be an emperor's-clothes syndrome. "We tout each other on and off kids. You'll be looking at a kid with a big reputation, all-state, All-America, that sort of thing. Your eyes tell you he's not all that good, but since he has the reputation everybody's afraid not to recruit him. It works the other way, too. A kid without much of a rep looks very good, but since nobody else is talking about him, coaches stay away from him. I'm not saying that all the big names are overrated and that I don't want any of them. It's just that I like to win or lose on the basis of my own judgment."
John Duren, a guard, and Craig Shelton, a power forward, were two main men on Thompson's 1979-80 team; his judgment about them as high school players was much the same as that of most of the other recruiters in the country. They were super blue-chippers and remained so. Last spring Duren was selected in the NBA draft by the Utah Jazz and Shelton by the Atlanta Hawks. Both rookies won spots on their teams' rosters.
"I'd known the two of them for a long time, both as basketball players and as people," says Thompson. Duren and Shelton were teammates at Washington's Dunbar High School, a basketball power. "I just told them the obvious things: that if they came here they would have to work like hell and do it my way, but that if they came here they could play together, their families and friends would be able to watch them, and they'd get a good education. They bought it. It wasn't a big recruiting battle."
Steve Martin, a 1979 Georgetown graduate, was a classic Thompson-type recruit and player. On a trip to New Orleans in 1975 to look at another prospect, Thompson mentioned to a high school coaching friend that his Georgetown guards were a bit small. The friend said he should take a look at Martin, who had been a big scorer at a smaller high school. Thompson went to see Martin and liked what he saw, in terms of both talent and character. "I asked Steve what he wanted to be, and he said, 'I'm going to be an accountant.' There were no 'maybes,' no 'I hopes,' no 'I don't knows.' I liked that."
In turn, Martin liked Thompson, Georgetown's academic reputation and the idea of heading north to play basketball. However, after arriving in Washington as an 18-year-old, he wasn't at all sure he had made the right decision. Now an accounting supervisor in Washington for the International Machinists Union, Martin says, "I was so lonely and scared. I'd never been away from home, and I didn't have any friends or relatives here. The basketball wasn't going very well, either. I'd never played with people as good as those at Georgetown, and I began doubting what I was able to do. It must have showed, because Mr. Thompson sat me down and talked to me very straight. He said he had shooters better than me who were going to do the shooting, but he said that if I wanted to pay the price I could play as a defensive specialist. If I didn't like that role, that was O.K., he'd get somebody who did." Martin accepted the part, and for most of the next four years spent his court time going against the opposition's most potent scorer. In his senior year he was the Georgetown captain and floor leader.
To the extent that there is a secret to Thompson's success, it's one of the purloined-letter sort. It's right there in the open. He says he is firmly convinced that basketball, or at least his kind of basketball, is best played by genuine student-athletes—the sort that elsewhere are more often met in NCAA promo spots on TV than on courts or playing fields. Thompson says this increasingly iconoclastic theory is the key to his recruiting and coaching and, as much as anything else, is the reason for the miraculous Georgetown turnaround.
"I'm not talking about ethics or altruism or any of that," Thompson says. "It seems very pragmatic to me. Obviously, I don't want dummies. I don't think they can learn my system, and they probably aren't going to stay in school long enough to be much help. Also, you spend a lot of time with these kids, and I don't like hanging around with dummies and bums. But it goes beyond that. Practicing basketball is like studying. You don't do it for fun, or at least most people don't. You do it because you're trying to achieve some long-range goal. That's particularly true with my kind of basketball. I don't go in for individual heroes. Everything is directed toward creating a team and winning as a team. A kid who'll work at being a student is going to adjust to this system better than the other kind will. He'll have some habits I need. He's more likely to listen and understand. He's had some experience at doing things he doesn't much like doing. He'll have a sense of what delayed gratification means. I can coach a kid who has decided it is possible to learn things.
"There's another consideration, which I think is crucial. The only thing I or any other coach really has to offer a player in exchange for his services is an education. Maybe at first we can snow him about playing a big schedule, being on TV, living in Washington, but that's just stroking. After he's here, he's going to find out that the only thing he's getting is that education and all the work that goes with it. If he doesn't care about that, if what he's getting doesn't mean anything to him, he's going to decide, at least subconsciously, that he's made a bad bargain—and he has. You won't get the work out of him, and you won't have control over him. You probably won't have him long. The only kids I want are the ones who think getting a Georgetown education is very important, more important than basketball. I've got some leverage with them.
"Let me tell you a story. We won our first NCAA bid in 1975 by beating West Virginia by one point in a playoff at Morgantown. One of our guards, Derrick Jackson, hit a jumper with no time left. It was a very big victory for us—Georgetown hadn't been to the NCAAs for 30 years or so. They were all yelling and whooping it up when I came into the locker room. I told them to be quiet. I wanted to tell them something. I said it was a great win, mostly for me, that I was going to get a lot of publicity; maybe I'd get a raise, even a better job offer. Then I said, 'What are you guys getting out of it?' and I walked out. I didn't want them ever to forget the bargain they'd made, the real reason they were at Georgetown."
At least one who was there that night, Steve Martin, has thought a lot about the student-athlete bargain. In the time he can spare from his accounting work, Martin does some coaching in the Washington summer leagues and is sought out by young players for advice on college choices. Beyond telling them loyally that he thinks Georgetown has the best program in the country, Martin says he warns them that wherever they go, "look out for the cheaters. I tell them that if the man comes around talking about a little extra, maybe helping them get a nice car or a nice place to live, they should walk away because he has just told them he is a cheater. It may sound right then like he is cheating for them, but if he does that he will cheat against them, too. If they go to his school he's the kind that's going to put them in a P.E. class, tell them they haven't got time for the hard stuff, that he doesn't want them to think about anything but basketball. He'll cheat them out of their education, which is the only important thing they're being paid. That nice car will be junk before their four years are over."
"People ask me," says Thompson, "if it isn't a problem getting kids and keeping them in a tough academic place like Georgetown. Hell, that's the best thing I've got going for me. When I go to a kid, I can say, without lying, that I can make them a real bargain. In exchange for all the basketball talent they've got, I'll give them about the best education there is. I want the ones who know that that's a good deal."
As a practical matter, it isn't Thompson but an unusual woman named Mary Fenlon who sees to it on a day-to-day basis that Georgetown recruits get their end of the bargain, i.e., their education. Fenlon met Thompson when she was a teacher at St. Anthony's High. She later worked with him in the District 4-H program and followed along to Georgetown as a full-time staff member. Employing Fenlon as academic coordinator was, Thompson thinks, his single most important move as a turnaround coach.
"She's the conscience of this program," says Thompson. "When we began, I told her that if she saw me trying to cut corners, not being straight with the kids, turning into an egomaniac, her job was to tell me quick and straight. Sometimes I wish to God I'd never told her that."
Fenlon keeps very close tabs on the basketball players, counseling them on course selections, helping with their classroom problems, arranging for tutors. On Fridays, each player is required to sign "Mary's book." It is a ledger in which the players mark down whether they missed any classes that week, record marks received on tests or papers and make a short statement on how they think they're doing in each class.
"Freshmen sometimes try to fudge a little in the beginning," Fenlon says, "but if a boy keeps writing in the book that he's getting a B and ends up with a D, it's pretty obvious what has happened. He and I talk about it. If it remains a problem, I tell John. He scares them."
"I blow up," Thompson says. "I get upset and emotional, and because of my size, that sort of thing gets magnified. But I have never physically intimidated a player. There are better ways."
One way is to schedule a practice at 5:30 a.m. "You don't want many of those," says Spriggs. "The rest of us kind of make sure the new ones know the score, that around here you just do not, I mean never, challenge Mr. Thompson." The results of this close surveillance—or fussing, as Mary Fenlon calls it—have been remarkable. Since coming to Georgetown, Thompson has recruited 37 basketball players, and 35 have graduated—or (among current undergraduates) are even with their classes.
Beyond being their academic ramrod, Fenlon acts as something of a social counselor and house mother for the Georgetown players. "We're like a family, which is what John wants us to be," says Fenlon. "The public sees them as big tough men, but I see them as boys who are often scared and worried. John loves them, but in regard to basketball, he's very hard. They get mad and frustrated, and they begin to feel sorry for themselves. They need somebody they can come to for sympathy, to let off steam to, maybe even cry with, and get away from that macho image they try to keep in practice and when they're playing."
Fenlon goes to every Georgetown practice, even the 5:30 a.m. disciplinary ones. She also accompanies the team when it travels.
"John is very strict about things like haircuts, language and how they dress," she says. "The players have to wear coats and ties in public. It took the poor things four years to get John to realize there was such a thing as nice jeans. He called them overalls and had ruled them out. We finally convinced him that dress jeans were respectable.
"We travel first-class, stay in nice places, order whatever we want in dining rooms, but John always brings the boys together at the end of a trip and goes over the bills with them, shows them how much those rooms and meals and plane tickets cost. A lot of them never lived that way before—I know I didn't—and he wants them to know what it takes to go first-class. It's one of his ways of reminding them that it's important for them to get an education so that they can amount to something, be first-class on their own."
This sort of familial concern for his players has brought Thompson a lot of admiring attention, admiration that is magnified because so many of his non-basketball activities fall into the "good works" category. He serves as assistant on urban affairs to the university president and spends considerable time counseling inner-city youth groups. He was named Man of the Year in 1978 by Washingtonian magazine. Around the university there is a joke that he is the local version of St. Joe Paterno of Penn State, or that Paterno is an early, white, experimental model of St. John Thompson. Though Thompson concedes he has never suffered from false modesty, such talk makes him restless.
"There have been a lot of good things said and written about me that are undeserved," he says. "I'm not a guru, I'm not an altruist, and I'm certainly no saint. What I am is a basketball coach. I hope I haven't done things that are bad for the kids who play for me, but what I've done here, I've done for me. I've done them because I think that's what you have to do to win, and my main object is to win. I want to win because I, John Thompson, like to win. It strokes my ego, and I have a big ego. I like the attention, I like being where the heavy action is. I like money. Sometimes I think it would be better for me to get out of this area where I have this reputation and go someplace where all that's expected of me is to be just a basketball coach."
Such opportunities occurred for Thompson this past spring. After the season, he was approached by several colleges and professional organizations. The offer he considered most seriously came from the University of Oklahoma, which admired his turnaround expertise. When Thompson flew to Norman for an interview, he took Mary Fenlon along. If he accepted the Oklahoma job, he wanted her to be on his staff to perform the same function for the Sooners that she performs for the Hoyas.
"At the airport," says Fenlon, "they put us in separate cars, I suppose on purpose. The man riding with me—I didn't realize how important he was until later—asked me what it would take to get John to come there. I told him about John's feeling for Georgetown and how the academic program was truly important to his basketball program. The man was very polite. He said he could see that Georgetown had a lot to offer, but then he said, 'We have more oil wells.' "
"It was very attractive," says Thompson of Oklahoma, "the facilities, all the advantages that a big school has for a coach and, let's face it, the money. But I decided that, at least for now, Georgetown was a better place for me and for what I wanted to do. That doesn't mean things won't change and I won't change."
Oklahoma's interest in Thompson led a group of Georgetown alumni to buy a $350,000 house in the District and donate it to the university with the proviso that Thompson, his wife, Gwen, and their two sons, John, 14, and Ronnie, 11, be allowed to live in it for as long as he remains at Georgetown. He pays rent, although no one will reveal how much ("I'll talk to you about my basketball team," Thompson told a reporter, "but not about my privacy"). In any case, the house makes up a bit for the Oklahoma oil wells.
Rumors keep circulating that Thompson might switch careers, that he might leave coaching to become head of an urban-action organization, that he could be an international goodwill ambassador for somebody or even run for mayor of the District of Columbia.
"You can't stop talk," Thompson says, "but that's all it is—just talk. I won't deny that I can see myself at a point where I want to do something other than basketball. Mayor of Washington—that's a fine job. I might just take it tomorrow if somebody came up and gave it to me. But nobody gives you those jobs, you have to go out and do a lot of things to get into position to go after them, and I'm not sure I'm ready to even think about doing those things."
Still, he seems restless. His old friend and high school teammate, George Leftwich, who was his first assistant coach at Georgetown and is now dean of students at Mount St. Mary's College in western Maryland, knows Thompson well and has said of him, "It sounds excessive, but if I had to pick one man to try to solve all the problems in the world, it would be John." Now Leftwich says, "Is he ready to move on? I don't know. But I remember something he told me once when I was thinking about some possible changes in my life. He said that if a man is wondering whether he is ready for something new, then he is."
For now, though, Thompson remains at Georgetown, giving the school the basketball success it wants, getting what he wants from the young men he has recruited, giving them what he convinced them they wanted from the bargain—hard work and a good education. And a little more. Maybe a lot more.