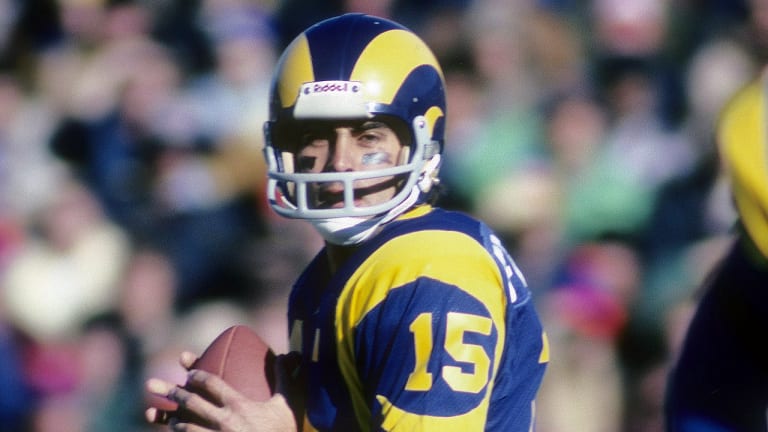 Publish date:
L.A.'s Fight Song: We Are Not Fam-i-lee
Quarterback Vince Ferragamo is the No. 1 complainer on a Ram team riddled with discontent, but the bickering stops at gametime
That walking piece of handsome Italian sculpture, Vince Ferragamo, the NFL's newest quarterback star, is bidding to take the bickering Los Angeles Rams to the Super Bowl once more despite the distractions of a love-hate relationship with moody fans and warfare with a parsimonious front office. So far this season he has thrown 26 touchdown passes—and has been called a choker, a dimwit, a prima donna, an ingrate and a malcontent. He also might make All-Pro.
Last Sunday, Ferragamo and the Rams, those ruffians of the West, did it again—that is, put aside their squabbles long enough to beat the New York Jets 38-13 in Anaheim Stadium, with Vince throwing four TD passes. L.A.'s victory, coupled with Atlanta's 10-6 win over Washington, kept the Rams (9-4) one game behind the first-place Falcons (10-3) in the NFC West, a division the Rams had dominated for seven seasons.
Barring a disastrous finish, the runner-up in the NFC West seems certain to gain one of the conference's two wild-card playoff spots; thus, win or place, Los Angeles should be around for the postseason festivities.
But this has been a season of turmoil for all the Rams. The source of disgruntlement is the front office, where owner Georgia Frontiere, the widow of Carroll Rosenbloom, has adopted a fiscal policy that might be called "The buck stops here." No fewer than eight players—defensive linemen Jack Youngblood and Larry Brooks; Guard Dennis Harrah; linebackers Jim Youngblood, Bob Brudzinski and Jack Reynolds; Cornerback Pat Thomas; and Ferragamo, i.e., the heart of the team—have either held out, walked out or spoken out this season. Says Brooks: "We don't play for management; we play for ourselves." Two weeks ago Brudzinski said goodby forever, stalking off and suggesting he never again would play for Madame Ram, as Georgia has been called.
L.A. began the season out of shape and out of sync, losing its first two games. Since then, Coach Ray Malavasi, who also is trying to negotiate a contract with Madame Ram, has alternately fretted and applauded as his team turned the tap off and on.
Ferragamo's mission, returning the Rams to the Super Bowl, is additionally difficult because L.A. is weighted just where it can hurt—at both ends of the age spectrum. The Rams are prone to rash mistakes, something that happens to teams with eight rookies, and at times they tend to doze off, something that happens to teams with eight players in their 30s. And Ferragamo has had to rely on the passing game more than he had expected to, because the Rams' No. 1 runner, Wendell Tyler, who gained 1,109 yards last year, missed the first seven games with a dislocated hip, the result of a summer auto accident.
Tyler rushed for 88 yards while playing only a half against New Orleans on the Monday night before the Jets game, and he started off strongly against New York, gaining 27 yards in the first 10 minutes. But then he went out—probably for the rest of the regular season—with a dislocated right elbow. So onto the field trotted Elvis Peacock, the former Oklahoma flash who had knee surgery in 1978 and a broken ankle in 1979. Peacock rushed for 112 yards in the first half, finished with 152 and made Ferragamo happy by keeping the Jet blitzers honest.
For his part, Ferragamo is lucky to be starting, to say nothing of doing so well. For the second season in a row, L.A.'s No. 1 quarterback on paper, Pat Haden, has broken a finger, and Ferragamo has come on to save the Rams. Along the way Ferragamo has sold a couple of million newspapers, creating controversy by remaining unsigned. In his own eyes, he is also unloved. If the free-agent market beckons, his bags are packed. In the meantime, the Rams have won 15 of the 20 games Ferragamo has started. And for the most part he has had to make do with a motley group of wide receivers—free agents, discards and draft-choice dregs called the Forgotten Five.
Ferragamo, 26, is 6'3", 212 pounds and sturdy. When he played for Nebraska, after having spent his first two seasons of college eligibility splitting time with Steve Bartkowski at California, a linebacker hit him head on and was knocked unconscious for several moments.
And Ferragamo throwing the ball is like Mozart working a sheet of music—the performance is classical. In one five-game stretch this season, while NFL statisticians frantically jiggled their calculators to see if they were working properly, Ferragamo hit on 70% of his passes, throwing for 13 touchdowns while yielding only two interceptions.
Sundays seem to be the easiest days of the week for him. Before last year's Super Bowl, in which he completed 15 of 25 passes as L.A. scared the Steelers before losing 31-19, the other Rams looked at their relaxed quarterback and wondered if he knew it was the Big Game.
Off the field, Ferragamo's penchant for the public-relations gaffe could make him the Mark Spitz of the '80s. Many anti-Ferragamo letters to the editor in L.A. are pure venom, and when Ferragamo was introduced before the Jets game, he heard more than a few boos. His public image began to wither when, in the second week of the season, after Haden had broken the index finger on his right hand in a game with Detroit, he played hooky from practice to underscore his contract demands. This was just three days before a game with Tampa Bay. Ferragamo's Beverly Hills attorney, Paul Caruso, said that the reluctant hero would not play without a new contract, one that substantially increased his $52,000 salary, which constitutes peon's wages for an NFL quarterback. That made Ferragamo look traitorous.
A week later, after Caruso negotiated a three-year, $750,000 agreement for his client, Ferragamo abruptly fired Caruso and said he was taking over the contract talks himself. That made him look greedy.
Then on Nov. 2, after Ferragamo had thrown five touchdown passes in a romp over New Orleans, the Rams sent in the now-mended Haden to give Ferragamo a rest. Instead of giving Haden a pat on the back, Ferragamo fumed on the sidelines. "They never put me in during the third quarter," Ferragamo said, referring to his days of clipboard-holding while Haden did the quarterbacking. Earlier, discussing his relationship with Haden, Ferragamo had said, "I had to endure what Pat is enduring now for 2½ years. Now that I'm on top, it's something that Pat has to get used to. There's not much to say about the way things have changed. I remember what it was like being No. 2. I'll never forget how I was treated." That made him look spiteful.
It also squelched the idea that Haden and Ferragamo were good friends who happened to be competing for the same job. At training camp this season Ferragamo got mad when Haden listened in on his practice huddles. He told Haden to quit it. Says Haden with a shrug, "Vince is not knowingly malicious. I don't think he hates me."
Haden earns $200,000 a year from the Rams, and he makes more in endorsements than Ferragamo does in salary. The son of an executive who recruits corporate accounts for a bank, Haden grew up in Los Angeles and went to the local private club, Southern Cal, where he played in three straight Rose Bowls and made a network of friends among the people who run L.A.'s boardrooms. He was a Rhodes scholar, attends law school in the off-season, remembers first names, is polished with the press and lives well, with a Cadillac in the driveway of his home in the well-appointed San Marino area of L.A.
Ferragamo resides in more modest circumstances in Irvine in Orange County. There is a concrete wall in the backyard to give an illusion of privacy. Here he is: Vince Ferragamo, one of the big guys in the NFL, the quarterback who took the Rams to the Super Bowl, and he has this little backyard with two Japanese cars in the garage, no mobile phone, no star-shaped swimming pool.
Ferragamo grew up in Wilmington, Calif., near Long Beach, and no one in his family ever wore a suit and tie to work. His father, Vince Sr., a daily spectator at Rams' practices, started as a painter at a Ford plant and then put in some 25 years as a union officer. His mother, Stella, gave guitar lessons in the dining room. One brother, Chris, is a successful high school football coach—he has won the last four L.A. city championships—who sells hot tub-like spas on the side. He installed one for Vince and his wife, Jodi. Another brother, Mike, is a paramedic with the fire department. His sister, Estelle, is a hairdresser.
The family invested its dreams in the baby, Vince—Dude, they called him. Vince's brothers, both of whom played high school and college football, put the ball in his hands and told him to throw it. Haden remembers going to a high school all-star game at the Coliseum and watching Ferragamo set several passing records. "That guy is going to be something," Haden said to his friends.
A fourth-round draft choice of the Rams in 1977, Ferragamo threw for a touchdown in five of his six appearances in exhibition and regular-season games that year. But his development slowed, and he was saddled with the same "dumb quarterback" rap that dogged Pittsburgh's Terry Bradshaw in his early seasons. He has called plays not listed in the Rams' playbook. "Vince is a little spacy," Tyler once said. At practice one day, Ferragamo lined up behind center during a scrimmage. "Here, you forgot this," said Peacock, handing Vince his helmet.
But the truth is, Ferragamo not only can spell C-A-T, he also has dissected one; he is on leave of absence from Creighton University's medical school. "How dumb can you be if you're accepted for medical school?" Ferragamo asks. The problem is, when you talk to him, his attention appears to be in a different area code. This tends to make coaches, especially those who worry about their mortgages in the California real-estate market, slightly nervous. Haden's demeanor, on the other hand, is like a Boy Scout's: earnest and attentive.
Now that Ferragamo has backed up his promise with performance (a 59.8% completion average this season), he figures he deserves to be paid as much as anyone. He reads that Terry Bradshaw makes $400,000 a year. "I rate myself at the top," Ferragamo says. "I'd like to get paid accordingly. But I'm not writing the check. If they have respect for you, you'll get paid. If things don't work out, we've got Canada or the free-agent market." To cover himself against injury as he plays out his option, Ferragamo has taken out a policy with Lloyd's of London, reportedly for as much as $1 million.
There is a feeling among all the Ferragamos that Vince may well be in the wrong place, that Haden is more management's and L.A.'s type of guy. Ferragamo says that somebody is going to have to make a decision. "I'll guarantee that one of us won't be here next year," he says, "and there's a good chance that both of us won't be here."
Meanwhile, Ferragamo's former attorney, Caruso, has lost interest in the quarterback. "I'm like Frankenstein," he says. "I've created a monster. Ferragamo believes he's as good as I've been telling him he is. The trouble with Vince is that the last guy who talks to him has his brain. And he hears voices everywhere."
Chris Ferragamo disagrees. "Vince is his own man now," Chris says. "He's making his own decisions, discovering who he is." In high school, when Vince played for Chris, the coach got so mad at the quarterback that he broke a clipboard over the quarterback's head. "I wanted him to be better than he was," says Chris. "I always expected more. And I always got more. The Rams expect less and get less. He could be the greatest with a little help. By not signing him, they're saying they don't" want him."
Obviously, however, the Rams do want him. As for the money, public sentiment has shifted to management's side. Vengeful detractors dismiss Ferragamo's fine performances, claiming they occur only against weak teams. They were especially gleeful when Miami routed the Rams, after Ferragamo's diatribe over the Haden substitution against New Orleans.
Malavasi clearly is willing to stake his future on Ferragamo. "He's got the ability to be one of the great quarterbacks," Malavasi says. "Pat had the experience, but once Vince got in, he had the job. I don't play any musical chairs with my quarterbacks."
Not for now, anyway, although Ferragamo can evoke agony as well as ecstasy. Against the Jets, when he was good he was very good, passing for 284 yards, those four touchdowns and moving the club up and down the field so well that Punter Frank Corral practically had the day off, kicking only once. But when Vince was bad he was terrible, throwing four interceptions, three of them balls he just put up for grabs. "A couple of them were better than punts," said Ferragamo, simply shrugging his shoulders.
Ferragamo's Mad Bomber tendencies are one reason why, no matter how many scoring passes he throws, the "We Want Pat" faction will always be vocal. In the third quarter Sunday, Ferragamo caught a finger in the eye and ran off the field. In came Haden. Cheers. Haden passed for a first down. More cheers. Then Ferragamo came back. Cheers for Haden and boos for Ferragamo, even though Ferragamo already had three touchdown passes on the board.
Haden thought the whole thing was a little silly. "The applause meter had me the winner, but if I had not completed that pass, they would have booed me back up to the Coliseum," he said.
Ferragamo's four TD passes gave him 26 for the season and moved him past Roman Gabriel as the Rams' single-season leader. His second scoring pass, a 44-yarder to Wide Receiver Billy Waddy, one of the Forgotten Five, came in the second quarter when New York still had the temerity to be thinking upset. On a second-and-two play with L.A. ahead 10-6, Waddy streaked down the field, and Ferragamo hit him in the end zone with a pass that had traveled 63 yards in the air.
"A good loft," Ferragamo called it. Waddy said, "It's just who outruns who, and Vince slung it pretty good."
The other touchdown passes were a 12-yarder to Cullen Bryant—Ferragamo read the Jets' coverage and knew that his fullback would be open over the middle—and throws of 15 and 19 yards to 32-year-old Wide Receiver Willie Miller, who now has eight TD catches this year. "Forgotten Five?" said Miller. "You can't forget the record book."
"I think the fans are on my side now," said Ferragamo. Then he smiled, looking like a man who knows that the check is in the mail. For Ferragamo, Sundays are always the easiest day of the week.
TWO PHOTOS
The disgruntled Ferragamo wants Haden (right) and the whole world to know who's the main man.
PHOTO
Malavasi and Ferragamo seek new contracts.
PHOTO
Vince and wife Jodi feel it's hard to make ends meet when the breadwinner earns only $52,000.