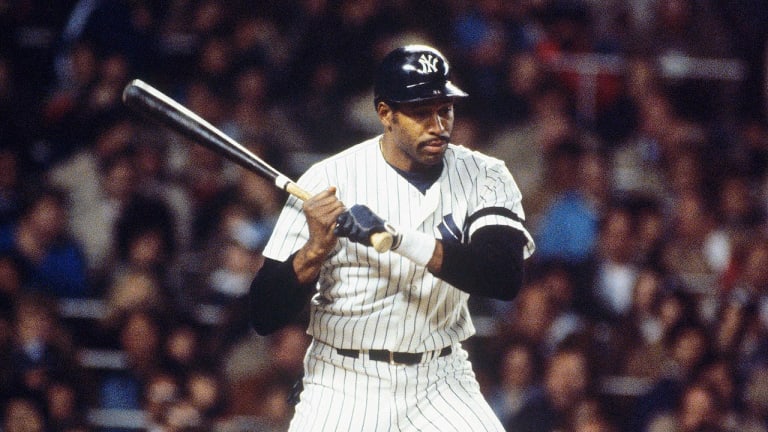 Richest Kid on the Block
Outfielder Dave Winfield has moved into The House That Ruth Built, and for that he will drag down a cool $22 million
Bill Wilson, St. Paul's first black city councilman, was midway through his remarks at the ROADS (Royal Order of Amalgamated Dudes) annual sports award banquet when the "keynote" speaker appeared in the doorway looking like a million dollars. And more. "There he is," murmured some in the crowd of 250 men, women and children as the great man doffed a magnificent coyote fur coat and strode confidently into the room. Everyone rose to applaud him. "Dave," said Councilman Wilson from the speaker's table, "your timing is, as always, impeccable. I was at the low point of my presentation."
"They told me that," said David Mark Winfield, laughing gently. The crowd laughed with him. He was back home again in wintry Minnesota, this time as the richest kid on the block.
His mother, Arline, was in the hall this night, and so were his older brother, Steve, and his coach from the Oxford (now Jimmy Lee) playground, Bill Peterson, and his pals Don Nelson, Jerry Douglas, Joe Janitschke, Kwame McDonald and all the rest. "There probably isn't a person in this room who hasn't had some influence on Dave's life," whispered McDonald as Steve Winfield mounted the rostrum.
"Who says great things don't come out of St. Paul?" Steve began. "Here is a man who came from the J.J. Hill School, the Oxford playground, Marshall Junior High, St. Paul Central High and the University of Minnesota. I give you somebody I respect, but more than that, I give you somebody I love as my brother."
Dave Winfield apologized for his tardy, if dramatic, arrival at the banquet. "I got bumped from my plane in Denver," he said. "My clothes haven't made it here yet." What raiment remained was exquisitely tailored. The kid from the old Summit University neighborhood looked the part of the multimillionaire he had so recently become. "I just want you to know that I'm the same person I've always been. It's just in the past few days that people have been treating me differently. I'm here because this is home. I come from right here. I don't see myself as anyone different."
He may be the same to the home folks, but at 29 Dave Winfield looks a little different to the rest of the world. Only a week before, he had signed a 10-year contract with the New York Yankees that is reputedly worth $15 million. There has been speculation that, with inflation adjustments, the total package may exceed $22 million and that Winfield's salary for the final year of the contract, when he will be 39, will be some $3.3 million. His new employer, George Steinbrenner, insists these elephantine figures are "totally exaggerated," but he concedes that Winfield will receive a signing bonus of a million and that his first-year salary will be in the high-rent neighborhood of $1.4 million. Give or take a hundred thou or so, Winfield is indisputably (for the moment) baseball's highest paid player. Not bad for a man who hit .276 last year with 20 homers and 87 runs batted in. In fact, for all but two seasons of his eight-year major league career with the San Diego Padres, Winfield—who stands 6'6", weighs 220 and is fleet afoot and strong of arm—has been an athlete whose potential has far surpassed his performance. Steinbrenner and the Yankees are obviously betting millions that this elusive potential will not remain beyond his reach.
Winfield boasts of his reverence for the work ethic and rebukes critics of his newfound riches by advising them that he has "paid his dues."
"My grandmother told me a long time ago, 'Boy, you've got to sacrifice,' " he says. But the management of the Padres, the San Diego fans and much of the press there regard such blue-collar homilies with skepticism. Last season he was accused of dogging it on the field on occasion and of playing only for himself. His departure was marred by acrimony, and Winfield protests that his mediocre season was brought on by management treachery, fan betrayal and media cruelty.
But not even his bitterest critic can deny that he was the finest player in the history of the San Diego franchise. In 1979 he batted .308 for the second season in succession, hit 34 home runs and drove in a league-leading 118 runs for a team that finished fifth in the National League West. The next most productive Padre RBI man was Gene Tenace, who drove in all of 67. Winfield that year was the San Diego offense.
And yet it was not that year but in the middle of the previous season that he and his agent, Al Frohman, approached team President Ballard Smith with a salary proposal. Although Winfield's contract, which paid him $350,000 annually, was not to expire until the end of the '80 season, they felt it was time to open negotiations. "The '78 season was his first batting over .300," says Smith, a seemingly put-upon young man who is owner Ray Kroc's son-in-law, "but they were telling me they might sign for a million a year for 10 years. I felt that was a little ridiculous."
Winfield did hit .308 that year with 24 homers and 97 RBIs, but his highest previous average had been .283 and only twice before had he hit as many as 20 homers. And in only one other year, 1977, had he driven in more than 90 runs. He also had a distressing penchant for hitting well only in the first half of the season, when the Padres weren't totally out of contention. In 1975 he hit .280 with nine homers and 43 RBIs in the first half and .255 with six homers and 33 RBIs in the second. In '76 he was .292, 12 and 50 in the first half and .270, one and 19 the second. In '77 he was .296, 21 and 70 and .239, four and 22. Smith protested that conceding Winfield's celebrated potential, he still couldn't afford to pay a man a million dollars a year for what he might become. Still, the negotiations continued fitfully for the remainder of '78 and through Winfield's banner '79 season, when his stock rose sharply.
Smith claims that the Winfield-Frohman team never intended to negotiate seriously with the Padres, while Winfield Frohman insist the reverse is true. The Padres' front office, says Frohman, exhibited an "inability to deal with people. They used the media and the fans to fight their negotiating battles. They don't know how to handle people."
The negotiations—if they may be called that—reached a dead end during spring training when Winfield-Frohman proposed a package calling for Winfield to get a minimum of $13 million over 10 years. From his annual salary, Winfield would donate 15% to his David M. Winfield Foundation, which sponsors a variety of youth programs around the country, principally free tickets to baseball games. But the items in the proposal that flabbergasted Smith were those under the heading "Non-Financial Considerations." One would have prohibited Kroc from moving the team out of San Diego for the length of the contract without Winfield's permission. Another provided that any sale of the club "must be approved in writing by Winfield."
Angered by such chutzpah, Smith showed his copy of the proposal to baseball-beat writers Phil Collier of The San Diego Union and Bill Weurding of The Evening Tribune while the three were discussing Winfield on a team flight to Mexico for a series of spring exhibition games. The fan reaction to the subsequent newspaper stories was predominantly anti-Winfield. Winfield is no shrinking violet, but for all of his boastfulness, he is a charming, intelligent and forthright young man. The contract demands tarnished his image with San Diego fandom. Compared with Winfield, Reggie Jackson now seemed no more egotistical than Butterfly McQueen. Winfield and Frohman were naturally outraged by what they considered to be Smith's cynical manipulation of the media to gain an advantage in the negotiations.
"We gave them a top figure," says Frohman. "The $1.3 million a year was just opening cards for further talk. It's not that David wanted to own the Padres. Nobody wants to be associated with such a loser. As for vetoing the sale, Smith convinced us the Padres were on the verge of bankruptcy. David wanted to stay in San Diego. If the club were moved or sold, he wanted to be a free agent. That's all. But without negotiating, they ran to the press. They made David look like the worst ogre in the world. They were using any kind of chicanery to beat him down."
"The players go to the press if they think it's in their best interests," says Smith. "I released the proposal to defend myself. I was told by Frohman and Winfield that I had no choice, that I had to sign him because the fans were demanding it. Well, the fans didn't have a favorable reaction to their proposal. Dave had placed himself in a position where he wanted to be the highest-paid player. If you're there, you better produce. He didn't. The fans obviously thought his contract demands were unfair, compared with his performance. He wasn't running out ground balls and he was always talking about 'I, I, I.' If I had it to do over again, though, I wouldn't have released that information. I happen to think Dave is a fine individual. I wouldn't want him to go through that again."
What Winfield went through, from spring training to the end of the 1980 season, was a merciless booing from the hometown fans. "It was amazing," he says. "I knew it was going to be a long season when they booed me my first time at bat in spring training. I felt worse for the people who know me personally. I could vent my frustrations on the field. I could crush the ball, throw somebody out. They had to sit and take it." One old friend from St. Paul, Janitschke, decided he had taken enough one balmy evening at San Diego Stadium and was restrained from throwing punches at a Winfield baiter.
Winfield's disenchantment with the Padres actually began much earlier. For several years he had felt that his achievements on the field and his contributions to the community through the Winfield Foundation had gone unappreciated by the team's management, an assertion Smith heatedly denies. Winfield also became convinced that his off-field opportunities were sorely restricted in a city that placed so much emphasis on leisure activities. "I may still decide to live there," he says. "I have nothing against the city, but it's a little enclave, a corner of the country. What starts in San Diego stays there. Outside of baseball, you don't make a living in that city. I didn't want to just play golf in the off-season."
And then there was the team, which in its 12-year history had never finished higher than fourth in the divisional standings. "What was toughest," says Winfield, "was going out there every day knowing you had to do your best for the team to win and that even when you did, it would still lose. The Dodgers would come to town and tell us, 'We're gonna kick your ass.' Then they'd do it. How much can you take? Kick my ass, but don't be telling me ahead of time you're gonna do it. The top excitement of any season for me was Opening Day and the All-Star Game. In eight seasons, I played in 11 games of consequence. I'm approaching the point in my career where I need to find out about myself in clutch situations and crucial games."
Last September, Smith made a final offer to Winfield of a $700,000 annual salary with incentive bonuses over a six-year contract. It was rejected. Smith later offered a $1 million annual contract but only so that he'd be able to trade Winfield, most probably to the Yankees. Winfield turned that down, too, and announced for free agentry. Then he and Frohman did a curious thing: they mailed letters to 15 major league teams, advising them that Winfield wasn't interested in playing for them. "We wanted an open draft." says Frohman, who admits he was fearful the bad teams, which get first call, would drive out the good. "What we were saying in that letter," he says, "was that if you're seriously interested, we'll talk, but if you're just drafting for publicity and are looking to block out the other clubs that are serious, then forget about it."
The letter was roundly criticized by, among others, Cleveland Indians President Gabe Paul, who interpreted it as a ploy to make sure the Yankees would be one of the 13 clubs eligible to draft Winfield. But the Indians, "Dear John" recipients themselves, were nevertheless among the 10 teams that did pick Winfield in the Nov. 13 "reentry draft." And so were the Yankees, along with the Mets, Cardinals, Braves, Pirates, Reds, Astros, Orioles and, on the fifth round, the Angels. The Dodgers, Winfield's personal favorite, didn't draft him, preferring instead to sign their own star outfielder, Dusty Baker, to a five-year, $3.5 to $4 million contract.
In shopping for a new team, Winfield said he observed specific criteria. He must go, he said, to a place where 1) the team had a possibility of winning, 2) where he would be paid his "market value," 3) where he could develop a future outside of baseball, 4) where he would be respected for his accomplishments, 5) where he could develop his skills in a lineup that would allow him full scope and 6) where his foundation could do its best work. The ball park and the league were additional considerations. San Diego Stadium, with its capacious outfield and heavy air, was hardly tailored to a player whose power is in the left-and right-center alleys. Winfield had also said he preferred remaining in the National League. The city itself was of no consequence, as long as outside business and charitable opportunities were available. "I'm not impressed by metropolises," he said. "I'm no country bumpkin with hay in my hair. I've been all over the world."
But the metropolis of New York had two prime bidders for his services. Atlanta owner Ted Turner had boldly declared that he would top any of the bids, but his interest markedly declined after he signed another costly outfielder, Claudell Washington. Cleveland, the spurned suitor, was a more serious contender with its prospective new owners, theater impresario James Nederlander and Los Angeles attorney Neil Papiano, and new ideas. Frohman, a theater buff who fancies himself a pint-sized Zero Mostel, was especially drawn to Nederlander. When the theater man called Winfield's suite at the Summit Hotel in New York last month, Frohman answered by singing the first bars of If I Were a Rich Man. It seemed an appropriate selection.
Winfield and Frohman checked into the Summit in the second week of December, a time when the baseball owners were meeting in Dallas. The "unlikely duo" went to the theater, submitted to endless interviews and fueled the New York press' obsession with a Mets-Yanks war over Winfield. Actually, the Indians were very much in the running. "Our offer had the potential of being much higher than $15 million," says Pa-piano. "The up-front money wasn't as high, but ours was an imaginative type of offer. It included some involvement in the entertainment industry. Much of what we offered would have gone to the Winfield Foundation."
The Mets were the first to suggest that Winfield might be worth a million-and-a-half salary. Steinbrenner was uncharacteristically mum on money matters. But he had been talking to Winfield, with the approval of the Commissioner's office, about the foundation since the World Series. The Yankees were in the wrong league, and their ball park, with a 430-foot power alley in leftfield, was the wrong size, but they did win 103 games in 1980 and their power-packed batting order was made to order for Winfield. The Mets, on the other hand, were unable in the winter meetings to deal for another power hitter—notably the Angels' Jason Thompson—who could protect Winfield in the batting order.
Late on the evening of Dec. 14, Arline Winfield received a telephone call in her St. Paul home. "Mom, I'm going to sign with the Yankees." "Was it as good a deal as you expected?" "Better."
The next day, at a press conference called by the Yankee brass in one of Steinbrenner's favorite Manhattan restaurants, Jimmy Weston's, the record-breaking contract was announced. Winfield would be richer by half than baseball's first million-dollar player, Nolan Ryan. And Jackson, once the game's ranking plutocrat, had been reduced to relative pauperdom. Steinbrenner would have to settle with his older star next.
There was no "one thing" that caused him to sign with the Yankees, Winfield said later. "It was just that the presentation made by George Steinbrenner seemed best for Dave Winfield as a ballplayer and for all the other entities I represent. I respect all the owners I talked with. There was a tremendous diversity of personality, and some of the offers were very creative. But there are three things an athlete dreams of—he wants to be as good as he can, he wants to play in a winning environment and he wants to make money. The New York Yankees seemed at this time to be the best for me. If I'm healthy, I'll do well. My best years are ahead of me."
"I really think David felt that what he does for youth could be done better from Yankee Stadium," says Steinbrenner. "We didn't get started in youth work 15 minutes before Winfield became a free agent, you know. We contributed half of the $300,000 needed to keep athletics going in New York high schools this year. We just felt that was a program that shouldn't be allowed to fail. I think David appreciated our interest. He's totally committed to helping youngsters. I know people may not believe that, but I don't think I've ever met a finer young man. I don't question his sincerity. We got a standing ovation the other day when we walked into Weston's, and David went over and talked to as many people as he could. There were others a lot more confident that we'd sign him than I was. I think we were the third, maybe fourth, highest bidder."
Can Winfield really be worth the staggering expenditure? Can anyone? He, for one, is confident that he can become a more complete player with a team as solid as the Yankees. In San Diego, he says, he was obliged to swing at too many bad pitches, just in the hope he might nail one for an extra-base hit. With the Padres, a runner on first generally stayed there. For that reason, Winfield didn't bunt for hits, although most third basemen played him in shallow leftfield. He will walk more, bunt more, steal more bases and, because he will see better pitches, hit for a higher average with the Yankees, he says. Playing with a winner will give him an added incentive to succeed, to which his former employer, Smith, replies, "I can't imagine him having more incentive than he had in 1980. The only pressure he had was on his individual performance. That's what the game is all about—playing under pressure. All he had to do was show the fans they were wrong. Rollie Fingers and Gene Tenace were booed unmercifully last year, too, but they came through on days when that happened. I think Dave Winfield has the potential to be the best—limited only by his perception of himself. If you think you're the best already, how much better can you get?"
Winfield has an answer for Smith: "How do you judge a precious gem if you're not an appraiser?"
"Dave Winfield is an athlete, that's sure," says Bill Rigney, a veteran manager and scout now on special assignment with the Angels. "But except for '79, he's never been that productive a player. Maybe now that he's dropped into that Yankee nest, he'll turn loose. The excitement the New York fans generate may be the biggest thing he'll have going for him. I don't think he knows how good he is, but it's tough when you've played for a second division team all your life. Now we'll see if he can play."
One thing is certain: no matter what Dave Winfield does, he won't be underpaid.
PHOTO
The newest Yankee was introduced to New York, dressed appropriately like a Wall Street banker.
PHOTO
Arline Winfield loves both her sons, Dave and Steve, but guess which one signed the contract.
PHOTO
At the end, Winfield and the Padres were pffft.
PHOTO
Steinbrenner got what he was after, by George.