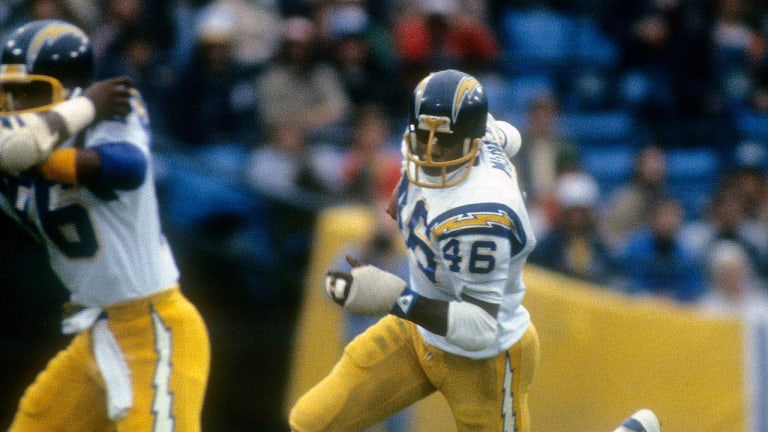 Once upon a time they tilted the country so that all the pass catchers rolled to San Diego. It's not really fair. I mean, everybody knows about Charlie Joiner and J.J. Jefferson and Kellen Winslow and Chuck Muncie, but now here's a new guy who comes off the bench, beats the No. 1 defense in the NFL and puts the Chargers into the AFC title game.
The name is Ron Smith. Last Saturday he made the biggest play as the Chargers overcame Buffalo's 14-3 halftime lead and beat the Bills 20-14. It was a 50-yard touchdown grab that won the game with a little more than two minutes left. It wasn't a sensational catch; the play wasn't anything exotic, either. It was typical San Diego—a wide receiver lining up outside and then streaking to the inside. Miss the tackle and he's gone, folks. Billy Simpson, the safetyman, found himself in an impossible coverage, and he missed the tackle.
You say you want to know who the devil is Ron Smith? Good question. Last year he found himself lost in a mob of pass catchers in L.A. Last September the Rams decided he was expendable, so Charger Coach Don Coryell handed over a draft choice—"a middle round...make that a high middle...actually I'm not sure," Coryell says—to Los Angeles for the privilege of adding Smith to his collection. And why under the wide blue sky would San Diego want another receiver?
"Speed," Coryell says. "When you can get it, you get it."
Remember, it was Smith who caught Lawrence McCutcheon's halfback option pass for a 24-yard L.A. touchdown against Pittsburgh in last year's Super Bowl. And he caught another one—a 43-yarder—against Dallas in last year's divisional playoff. He caught only one pass in each of those games, but he made them count. Smith has caught just 21 regular-season passes in his three-year NFL career and only four as a Charger, and he was in Saturday's game because of an accident. Gregg McCrary, the inside tight end in San Diego's two-tight-end, one-running-back set, went out with a back injury on the first series, and the Chargers' whole game plan had to be reshuffled.
First they went with two backs, Muncie and Mike Thomas, and then they decided to sit Thomas down and go with a third wide receiver, John Floyd. They tried one pass to him, a deep fly pattern, and Simpson stayed with Floyd all the way and broke it up. Got to get more speed in there. Enter Ron Smith.
The first pass to him was on the same pattern as the game-winning TD, but Dan Fouts threw too early and Simpson broke it up. The second was a deep sideline; Smith tipped it, and Simpson intercepted deep in Buffalo territory. O.K., it happens. The only problem was that it came midway in the fourth quarter, with the Bills hanging by their fingernails to a one-point lead. The next, and last, pass to Smith was the TD. So, that's three catches in three playoff games for Smith—all for TDs.
The Bills had one last chance, but they were overmatched. Quarterback Joe Ferguson, hobbling on a badly sprained left ankle he had reinjured early in the game, was forced to throw off his heels all day in the face of a wicked San Diego rush, and his final pass was intercepted. A sad finish for a very game Buffalo team, but the percentages were working heavily against the Bills. San Diego was holding all the cards—including Smith.
At 6 feet and 185 pounds, Smith isn't imposing-looking. He is soft-spoken, almost apologetic. "We've got so many weapons on this team," he says, "that I felt like a spare tire trying to get out of the trunk." Yet he says he was very happy when he was traded: "I just wanted to get away from the Rams, with all their ups and downs. This team is pass-oriented, just like the San Diego State teams I played on. The Rams had all those running backs; they liked to run the ball. I didn't want to be there."
O.K., Smith's an action guy, a burner, so what was a safetyman doing in single coverage on him? "It was a strange coverage," Smith says. "The safety was actually lined up in a cornerback position. The whole middle was open. No way any safetyman in the league can cover me across the field."
The answer: simple arithmetic dictates that it isn't possible to double-cover every San Diego receiver. There are too many of them. Jefferson, Joiner and Winslow, who combined for 242 catches this season—there were five NFL teams that didn't complete that many passes—were strung out on a picket line on the left side. The Bills assigned four of the five backs in their nickel setup to cover that threesome. They blitzed two linebackers inside; their whole game plan had been geared to worrying Fouts with an exotic set of blitzes, and it had been quite effective. That left Simpson in single coverage on Smith, and it just didn't work out.
"If Fouts has time to throw, it's a hard coverage, real hard," said Simpson, who was coaxed out of retirement 12 weeks ago when the Bills' secondary got banged up. "Our blitzes had been successful. This time they picked it up. I'd broken up this pass two times in the game. This time I didn't. Unfortunately this is the one everybody will remember."
Blitzing Fouts repeatedly, as the Bills did, is a daring way to travel, but the Chargers are a team that can carve you up in a hurry if you sit back and play coverages. Very fresh in Buffalo Coach Chuck Knox's mind was the way the Chargers worked the Steelers over in the last regular-season game, the one that got San Diego into the playoffs. Pittsburgh opened with a nickel back replacing a linebacker, and the Chargers beat it with Muncie running the ball. When the Steelers reverted to a normal alignment, the Chargers set their receivers wide, singly and in pairs, and then ran them across the middle, and Fouts kept finding them.
"Fouts doesn't like pressure up the gut," Knox said before the game. "We've got to get an inside rush on him and get it early. We've got to bloody his nose." Buffalo's defensive coordinator, Tom Catlin, drew up the blitzes, and when he presented them to the squad, "Everyone was excited as hell," as Linebacker Phil Villapiano said. "We figured if there was one way to beat that San Diego offense, this was it."
Catlin put in blitzes from a 4-3, which Buffalo hadn't used this year, and from overshifts and from an old Kansas City Stack defense, which featured Ben Williams, the sacking end, doing a wide loop and coming in over the middle. And then he put in a whacko alignment called Krazy Kat, which set two linebackers on the line, in defensive tackle positions, and stacked Defensive End Sherman White behind Noseguard Fred Smerlas as a middle linebacker and had the two of them stunting and rushing.
It worked brilliantly. The 6'6" White came barreling up the middle, untouched, twice and raised hell. There was constant pressure, early throws before the receivers were in position, a couple of sacks. "That one blitz where White lines up as a middle linebacker was weird," said Charger Guard Ed White. "I'd never seen anything like it. But we did pick up their blitz on that last touchdown, and then they were in trouble."
Even so, with a very minimal offense—97 yards rushing, 147 passing—the Bills took a 14-13 lead into the last few minutes. In the end, they were beaten by numbers, by superstars—and one super-burner who came out of the woodwork. That's no surprise.
The Chargers were willing to try anything or anyone this year. In September they gave New Orleans a No. 2 draft choice for Muncie, whose erratic habits had labeled him an untouchable by many NFL teams. The upset was that they beat Al Davis and the Oakland Raiders to Muncie, and now it's Davis' Raiders they play this Sunday for the AFC Championship.
"You know, for many years I had this division to myself," Davis said last week. "I was the only guy who'd take a chance on people like Muncie and John Matuszak, the kind of people other teams branded as troublemakers. Now there's another one—that guy Coryell. He's a real pain in the butt."
PHOTO
One Simpson hand couldn't halt two Smith feet.
PHOTO
The gimpy Ferguson was intercepted three times, with this one being returned 20 yards by Mike Fuller.