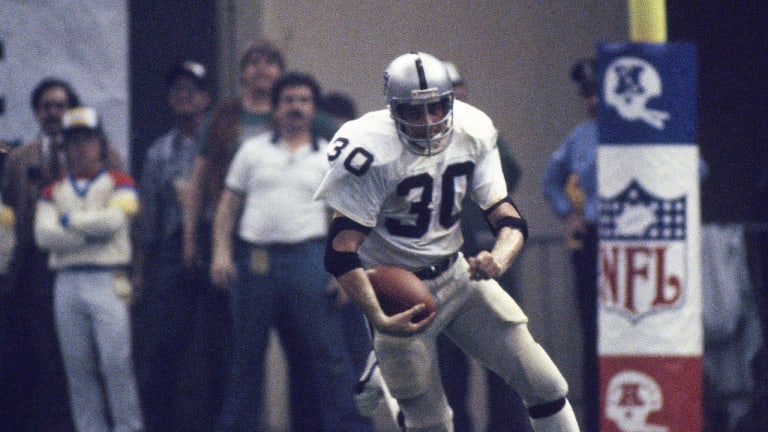 Back to the Basics
When the game was there on the line, Oakland reverted to meat-and-potatoes, grind-it-out football and killed the clock and San Diego
Time retreated in San Diego Stadium last Sunday. The Oakland Raiders tamed the Chargers' raging beast of an offense, the wildest and flashiest of the '80s, by outscoring it, not stopping it, and when the dust settled on Oakland's 34-27 triumph in the AFC championship game, traditionalists smiled and nodded, because in a world swept by change the Raiders had shown there's still room for the old-fashioned values.
"You see," they said, "the Raiders did it the right way, the way that made America great—ball control, no turnovers, gutting it out in the trenches. Light my cigar and hand me my Farmer's Almanac, Martha."
When historians examine this game, which propelled Oakland, a team picked to finish last in its division, into Super Bowl XV against Philadelphia, they won't see the verve and dash of a San Diego offense that put the ball in the air 46 times and picked up 351 yards passing, or the wild plays, the freakies—the Raiders' 79-yard touchdown on a deflection, the Chargers' tight-end option pass. They will see three long Oakland drives at the end, three excruciating drives that produced only six points but took more than 16 minutes off the clock. In that span we saw the character of the Raiders.
Oakland was very close to perfect during those 16 minutes. San Diego had already had its perfect game, against Pittsburgh in the regular-season finale—a game you frame and hang on the wall. This was one for the Raiders.
The clock showed 6:04 left in the third quarter, and Oakland had a 28-24 lead, but things looked very bad for the Raiders when they took over on their own 23. Their defense had been on the field too long. The Chargers, after some miscues and false starts, finally had gotten their offense together, and when the San Diego offense is working right, it's a scary thing. "Not scary, terrifying is a better word," said Oakland Linebacker Ted Hendricks. "I must admit there was some terror in my heart at that point. Just before our offense went on the field, I grabbed Gene Upshaw and said, 'Hey, make some first downs, will you? Give us some rest.' "
The previous 15 minutes had produced 35 plays for San Diego, six for Oakland—two series of three and out. The Chargers had outscored the Raiders 17-0 in that stretch. On the bench the Oakland defensive people were gulping air and trying to get a grip on things. The fans were screaming, and the P.A. was turned up full blast to the disco tune, San Diego Super Chargers, that had been bombarding the airwaves for the better part of the week. A very dark moment for Oakland.
"Actually, the music wasn't so bad," said Raider Wide Receiver Bobby Chandler. "A lot of our guys liked it. I kept tapping my feet to it. And I felt confident when I stepped into that huddle. I looked around at those faces and there were so many veterans, so many guys who had been through it before—Upshaw and Art Shell and Cliff Branch and Ray Chester and Dave Dalby."
The first play was a dive by Mark van Eeghen over left tackle. It picked up three yards. The fans howled. On the sideline San Diego's J.J. Jefferson was shaking his fist and yelling to the defense. Three and out, gang. Get us the ball again. We're ready. Van Eeghen for three—hey, this is 1981, you don't go to the Super Bowl on three-yard off-tackle plays. Van Eeghen, seven seasons a Raider, more carries and more yards than any Oakland player in history, but in all those carries, almost 1,500 of them in regular-season games, he'd never broken a run longer than 34 yards.
"Yeah, but I don't fumble, either," van Eeghen said afterward, his arms and neck caked with mud, a bit of stadium turf still sticking to his cheek. "I can count the fumbles on the fingers of two hands and the fumbles I lost on one hand."
Next play: Kenny King on a trap for eight. Then a safe pass, then another, then back to the ground. King for eight. Van Eeghen for three. Van Eeghen for three more. On and on. Field goal: 31-24 Oakland. San Diego—three plays and out; Oakland—a long drive, 10 plays in 5:14, for another field goal and a 34-24 lead. San Diego field goal: 34-27. And now it's the Raiders' ball on their 25 with 6:43 to go.
"I kept thinking, 'God, you owe us one,' " said Charger Tight End Kellen Winslow. "They hadn't laid the ball on the ground for us in a long, long time. I was looking for something, anything—an interception, a fumble, a penalty, maybe Jim Plunkett reaching up to call time out while the ball was being snapped—anything to get us the ball. But it never happened. They were perfect."
The Raiders held the ball for the entire 6:43. When one examines those three crucial drives, one sees a proud offensive football team at its best. Oakland ran 33 plays; there were no offensive penalties, no offsides, no missed snap counts. There were six completed passes, one incompletion, one sack. Twenty-five running plays picked up 95 yards, 62 by the dependable van Eeghen.
San Diego's last hope came when it called time out with the Raiders third and four on the Charger 29 and 1:52 left. On the next play Plunkett, who occasionally has been cited for indecision when he drops back to pass, took a shallow drop, scanned the field for a fraction of a second, then tucked the ball away and galloped for five yards. In that one instant the years seemed to melt away and Plunkett was a big back lowering the boom, he was again the golden boy from Stanford putting it to Woody Hayes' Buckeyes in the Rose Bowl.
"During the time-out I went over to Tom Flores and said, 'Quarterback draw,' and he said no," Plunkett said. "He gave me the route, but when I dropped back I saw the linebackers had fallen back in man coverage underneath and I saw the alley and I took off."
It was 40 minutes after the game, and Plunkett was in a room off the visitors' locker area. He wore a flowered shirt and light slacks; he seemed shy, as usual, as he answered the same questions, resurrecting the dark days: the way he left New England, a physical wreck, the way he was cut by the 49ers. The image of Plunkett this year is of a quarterback who's herky-jerky for much of the game but suddenly catches fire toward the end, throwing a bomb or two, pulling it out, convincing you that sooner or later he'll run out of miracles.
"But he's always operating with great courage," Flores, the Oakland coach, said. "That's the key to Jim. He's as courageous a quarterback as I've ever seen. He always comes back."
On Sunday Plunkett enjoyed a remarkably high-percentage game, completing 14 of 18 passes for 261 yards with no interceptions. He kept the San Diego defense off-balance with just enough first-down passes (11), backing off and handing the ball to his backs (42 rushing plays) when the tempo seemed to dictate it.
"Believe it or not, I felt pretty confident at the end, on those three drives," Plunkett said. "It was a very professional type of huddle, very calm. Guys were just thinking about which holes to hit, no offsides, no holding, know the snap count, that type of thing."
"At one point, when we got close to the goal line, a few guys in the huddle said, 'Let's run it in, let's run it,' " said Upshaw, the 14-year left guard. "I said, 'Back off, let Jim call his game. He's the man who brought us here.' It was quiet after that."
It was Upshaw who made the speech when the game ball was presented to Al Davis, the Raiders' managing general partner, who will be in court two weeks after the Super Bowl when the Raiders' proposed move to Los Angeles will be the real subject of the L.A. Coliseum's suit against the NFL. "What I said was, 'The game ball goes to the one man in this organization who has taken more from the fans, the media and the league than anyone in sports,' " Upshaw said. "If anyone deserves a game ball, Al Davis does."
The game was heavy with political undertone. The Chargers' Gene Klein is perhaps Davis' most bitter enemy among NFL owners. During the week Klein leveled a blast at L.A. Herald-Examiner columnist Mel Durslag, who suggested that the Raiders might have trouble getting a fair shake from the officials, that perhaps the NFL should import a crew from Canada. It was tongue-in-cheek, but Klein took it as a Davis plant job. The Big Lie was mentioned, Hitler, Goebbels, the usual cast.
"One thing that gave me great pleasure was coming down here and sticking it to Gene Klein," Upshaw said. "The only thing that's left is to win the Super Bowl, to stick it to our commissioner. I'm waiting for him to come into our locker room to present the trophy to us and find out what it's like to be booed."
As expected, the Chargers, fighting back from a 21-7 hole that Oakland dug for them in the first quarter, treated the Raiders to the full repertoire of their passing attack—slots, motion, picks, slants. The brilliant Jefferson, whose personal war with the Raiders' All-Pro corner-back, Lester Hayes, was supposed to be one of the high notes of this game, was the target for 19 passes. He caught only four for 71 yards and picked up another 19 yards on an interference penalty. He dropped two.
"A very, very bad day for me," Jefferson said later. "But what are you going to do? You have days like that." Oddly enough, most of the passes thrown to him were away from Hayes—usually when Jefferson worked from a slot position on the other side. Hayes and Jefferson went head to head only five times; one pass was completed for 17 yards, one was intercepted by Hayes, who returned it 16 yards. Net gain, Fouts-to-Jefferson vs. Hayes: one yard.
In the end the gut stuff won it for Oakland, the long crunch at the end. "When we were in our huddle I'd look over and see how the Chargers' defensive linemen were taking it," said Right Tackle Henry-Lawrence. "One time I saw Louie Kelcher leaning over with his hands on his knees. They had to get Gary Johnson out of there. He was in pain—stomach cramps, I think. I could see their shirts heaving up and down, they were breathing so hard. They got frustrated. I heard Safetyman Mike Fuller, yelling, 'C'mon we gotta stop 'em!' and then they started getting disgruntled and griping at each other. I'll tell you, I loved it."
In a small passageway next to the Chargers' locker room, San Diego Coach Don Coryell leaned his head against a bottle rack containing hundreds of empties, gripped his temples and tried to blot out what had been a nightmarish afternoon. "I kept thinking, 'If only we can get the ball back, just one more shot.' " he said, his voice sounding very small and far away. They never did.
PHOTO
When they had to pass, the Raiders usually executed the big strike perfectly, such as this Jim Plunkett toss that Bob Chandler snared for a key 16-yard gain.
PHOTO
Kenny King, searching for another hole, was a mainstay in the Oakland ground attack that pounded San Diego in three time-consuming second-half drives.
PHOTO
Mark van Eeghen (30), the cleaner's delight, hopped-to when it was necessary and gained better than four yards and a clod of mud on each carry.
PHOTO
Plunkett played flawlessly, completing 14 of 18 passes for 261 yards and running for one TD.
PHOTO
Charlie Joiner's fingertip TD grab off his helmet gave the Chargers a 7-7 tie, but they never got the lead.
PHOTO
The Raiders held J.J. Jefferson to just four receptions, with Dwayne O'Steen playing spoiler here.
PHOTO
The upshot was that Gene Upshaw had a ball.