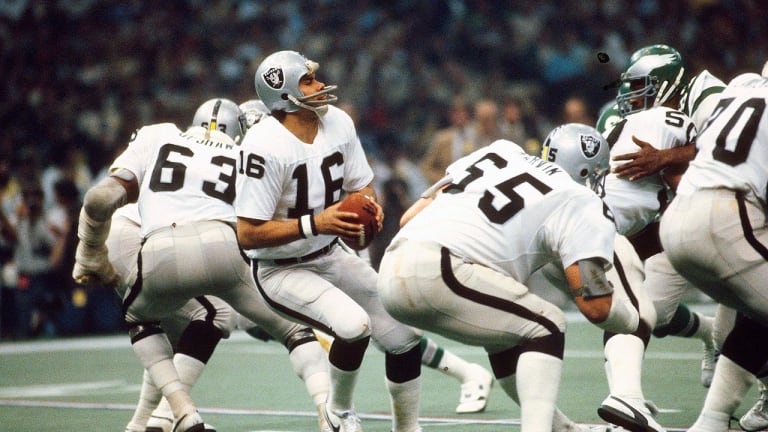 This Was the Time for One Good Man
Given all the time in the world to throw, Jim Plunkett formidably came to the aid of his team, passing for three touchdowns as the Oakland Raiders routed the Philadelphia Eagles in Super Bowl XV
Their fans love them but hate their owner. Their emblem is a guy with a patch over one eye and two swords sticking out of his head. During the week before the Oakland Raiders beat the Philadelphia Eagles 27-10 Sunday to win Super Bowl XV, their coach collected $15,000 in fines. "Actually, that's a conservative figure," said their captain, Gene Upshaw, the left guard. "We're not a bunch of choirboys and Boy Scouts. They say we're the Halfway House of the NFL. Well, we live up to that image." Here Upshaw paused in his postgame oration for dramatic emphasis, and a smile split his face. "Every chance we get."
It was late. The last bus had left for the Raiders' team party. The locker room was almost empty. Only a few stragglers remained—Al Davis and his brother, Jerry, from New York, Lester Hayes scrubbing the last remnants of stickum from various parts of his anatomy, Jim Plunkett recounting for the umpteenth time the tale of his resurrection. And Upshaw, still wearing most of his uniform, savoring the moment, prolonging it. El Capitan. Fourteen years an Oakland Raider—hey, he started in Super Bowl II against the Packers and Henry Jordan—202 straight games, 24 in postseason.
He has seen almost all the whackos and misfits and hit-men who've worn the silver and black: Dan Birdwell, who used to hurt people just by bumping into them in the locker room; Big Ben Davidson; George Buehler and his electronic toys; 7-foot Richard Sligh, who carried a gun on his hip. And when someone reminded Upshaw of Eagle Coach Dick Vermeil's rejoinder that John Matuszak, a curfew-breaker during Super Bowl week, would've been on his way home before the game were he an Eagle, Upshaw threw back his head and laughed. "If Tom Flores sent home every guy on this football team who screwed up," he said, "he'd be the only guy on the sideline."
The sidelines Sunday, that's another story. A league official who was near the Oakland bench reported that when they weren't on the field, the players were busy eating peanuts. "The place was littered with shells," he said. Upshaw said the pregame locker room was typical Oakland—"one or two card games, radios going, a few guys rolling dice, nothing special."
When Cliff Branch caught his touchdown passes, of two and 29 yards, from Plunkett, when Kenny King grabbed another—an 80-yard play, a Super Bowl record—when Chris Bahr booted his two field goals, the bench didn't erupt. There weren't many high fives, fists in the air, we're No. 1, any of that stuff. Cool it, guys, where's the party tonight?
When Pete Rozelle presented the trophy to Davis in the dressing room and Davis mumbled, "Thanks very much, uh, thanks very much, Commissioner," you could barely see this odd couple for the innumerable cameras that sprung up like weeds. It looked like a Japanese bus tour as the Raiders hoisted their cameras in the air to capture the moment forever.
Oh, they're different all right. When Vermeil sits down with his projector and cans of film in the still hours of the night, there will come a time when he'll rub his tired eyes and ask himself, "How did they do it? We covered all the angles. We worked on everything—man, did we work. Two practices, in pads yet, on Tuesday, picture day. Team dinners, evening meetings. We attacked that soft zone they used, threw underneath it and moved the ball on them. We used the same pass-rush scheme that got us eight sacks when we beat them 10-7 in Philly in November. How did it happen? We're a team of character, of dedication, and we lost big in our biggest game ever. To a bunch of loose hangers like that. How?"
It starts with the offensive line, the heart and soul of the Raiders. Let's go back to August, when we were all picking the Raiders to go 7-9 or 6-10 and finish last in the AFC West, all us geniuses. What did we see then? An in-and-out quarterback named Dan Pastorini replacing The Snake, Kenny Stabler, and a backup quarterback named Plunkett, who'd worn a hole in the bench. A defense that finished 21st in the league in 1979 and had hardly changed. An aging and crippled offensive line. Yep, that's the place to start rebuilding all right.
We didn't look at that line carefully enough. It doesn't really fit the Oakland image. No refugees there. Every one of the front five was a high draft choice: two No. 1s, a No. 3 and two No. 4s. Proud people, solid citizens, three of them with Pro Bowl credentials. They smile and shake their heads when the wilder guys do a number, but they're basically serious people—Guards Mickey Marvin and Upshaw, Tackles Art Shell and Henry Lawrence, Center Dave Dalby—and in November the Eagles had embarrassed them and dusted their quarterback eight times.
"Watch this game carefully," Lawrence had said on Monday, when the Raiders arrived in New Orleans. "Last time they did things to us that they won't do this time. They stopped our running, but they won't do it Sunday. They won't get to Plunkett. As for me personally, I was embarrassed by Claude Humphrey [3½ sacks]. This time I'm going to try to become the first offensive lineman to win the MVP in a Super Bowl."
"All week when I'd get interviewed, the first thing I'd be asked about was the eight sacks," said Dalby after the win. "You know, I got pretty damn tired hearing about those eight sacks."
On Sunday there was one sack, a non-contact thing when Plunkett scrambled and took a dive one yard short of the line. The running game wasn't overpowering—117 yards on 34 carries—but it was solid enough, particularly on first down, to set up enough short-yardage and medium-yardage situations to keep the Eagles guessing, to keep their nickel defense off the field. The Raiders picked up 68 yards on 15 first-down rushing plays, a 4.5 average.
Then there was the pass protection. It kept Plunkett comfortable in the pocket, gave him the assurance he could throw deep when he wanted to. "After the last Philly game, we started talking about shortening our routes, because Jim wasn't getting enough time to get us the ball," said Flanker Bobby Chandler, who caught four passes for 77 yards Sunday. "Well, Jimmy settled down and the line settled down, and I'm glad we didn't change anything."
Plunkett had to scramble a few times, but he wasn't being chased into danger zones, as he was in the November game. His scrambles bought time, screwed up the defense and got him out of trouble. When Plunkett hit Branch for the first touchdown of the game, the two-yarder, he set it up by stepping up into the pocket, by freezing Herman Edwards, the cornerback, and John Bunting, the linebacker, just enough to allow Branch to bend his pattern back in toward Plunkett and get open. Plunkett set up his next TD, the 80-yarder to King, with a scramble to his left, and then a quick decision—should he go to his primary receiver, Chandler, who was running a deep crossing pattern, right to left, or should he hit King, who was 19 yards down the left sideline, covered by Edwards? He chose King. Edwards leaped for the interception and missed, and it was a footrace.
Now the Raiders were up 14-0 in the first quarter; they were in command. They got away from their bump-and-run defense and hung back in a zone, and Eagle Quarterback Ron Jaworski attacked it intelligently, throwing slants and crossing stuff underneath, catching Oakland in occasional mixups, generally staying away from Linebacker Ted Hendricks' coverage on the left side.
"He wasn't frustrated, even when the game was hopeless for them," Hendricks said. "You can pick up frustration by looking at someone's face, but I didn't see it in him. He was calm. He didn't get excited, no matter what happened, a drop or an interception. He wasn't kicking the ground or yelling at anybody."
Jaworski, who was pressured a few times but not sacked, picked up 291 yards passing, but most of the game he found himself with a long way to travel and a lot of points to make up. Four of his passes were dropped. Three were intercepted by Right Linebacker Rod Martin. The Raiders were tough against the run, yielding only 69 yards on 26 carries, but their pass defense showed occasional lapses. Cornerback Hayes was beaten deep by Charles Smith for 43 yards, and Wilbert Montgomery hurt Oakland more with his receiving—91 yards—than with his rushing—44 yards. And Ray Guy, who predicted he might hit one of the Superdome's gondolas, which were 200 feet up, with a punt, kicked low liners on his first two tries.
The solid part of the Raiders' operation was the pass-catch game, with Plunkett attacking first Edwards on the Eagles' right side and then, in the second half, rookie Left Cornerback Roynell Young. Give the man time and he'll win the Super Bowl MVP trophy. Quarterbacks will always be MVPs until the guys who vote finally figure out that it might be a good idea to consider an offensive lineman for the award.
Upshaw had been the star of the midweek practices, especially the Wednesday workout which, Free Safety Burgess Owens said, "was so intense and vicious that I thought Tom would have to call it off." Wednesday was defense day, and Upshaw got into a brief punchup with Defensive End Dave Browning. "It always involves punches," Upshaw said. "These are the Raiders, remember?"
Thursday was offense day, and this time Upshaw's sparring partner was Phil Livingston, a jayvee defensive tackle. "Go hard," Al Davis told the rookie. "Make him work."
"I tried to kick him," Upshaw said. "I don't want to say where, but all the regulars got mad at me because the kid had just gotten married. They started calling me Conrad Upshaw. I apologized."
When they weren't tangling, the Raider offensive linemen were perfecting a technique born from the eight-sack game in Philly, an aggressive, jamming maneuver designed to cut off the defenders before they got into their stunts. "What they had done to us in Philly," Upshaw said, "was slant one guy hard to get penetration and then loop the outside guys, Carl Hairston and Claude Humphrey, around them, or loop Ken Clarke, a tackle. The inside guy was coming in so hard he was screwing up our whole blocking scheme. We wound up picking each other off. One of their guys would get in free.
"After that game, everybody started doing it to us, teams like San Diego, who'd never showed it before. They all have computers nowadays. They punch a button and they have your whole history. So we had seven more games to practice against that stuff, and finally we found a way to solve the traffic problem. We cut off their jammer early—sounds like the roller derby, doesn't it? Today we had them running into each other and knocking their own guys off."
So Plunkett completed his comeback season with a 13-for-21, 261-yard day. And Branch, who'd been socked with a $1,000 fine for missing practice eight days before the Super Bowl, wound up with five catches, two for touchdowns.
"My horoscope always reads: miss practice and have a good game," Branch said afterward, enjoying the moment immensely. "I spoke to Joe Greene last week and he said, 'Go down there and enjoy the week, but don't forget what you're there for.' "
So the Raiders had fun. And they paid $15,000 in fines, maybe more.
"I asked Flores, 'Hey, where does all that money go?' " Upshaw said. "He said, 'To me.' By the end of the week he had enough for a new BMW. Tom doesn't say a word if you screw up. He just cuts off your wallet. You see that stub in your check and you say, 'Well, I've got another tax deduction.' Yeah, we had guys break curfew this week, but when that door opened today we were ready to play. We peaked at the right time."
The converse is that maybe Philadelphia reached its peak too early in the week—or too early in the season. Perhaps a closed environment isn't the answer. At least half a dozen Eagles said that the old intensity just wasn't there. Close, but not really the same as when they'd played Dallas and Oakland in November. They didn't know why.
"I'll tell you why," said the 6'8", 280-pound Matuszak. "Because of their coach. It wasn't their fault. It was his. They weren't ready for what we gave them today. They were overconfident, and he got them that way. He didn't let them go out all week. You can't treat a man like a boy and then expect him to play like a man.
"Wednesday night is my normal night to go out, so I went out, curfew or no curfew. I'll pay my fine. I walked out the front door. I had nothing to hide. Some guy said he heard the club had hired deputies to stand guard and try to stop me. If I want to go out, I go out. I don't care what kind of deputies they have. Vermeil can't understand that. Hey, use your head, buddy. I couldn't play for him in a million years, and I wouldn't want to."
Al Davis was more generous toward Vermeil, who suddenly became the post-game whipping boy after bringing his team within one game of winning the works. "The man is true to what he believes, and that was good enough to get them here," Davis said. "They're a damn tough team, don't make any mistake about that. The only thing is...well, it's tough to have a para-military group within the confines of a culture that isn't para-military. You have to adjust. Obviously he feels he doesn't have to. But you must realize that this was his first Super Bowl game."
It was the Raiders' third, with two victories (XI and XV), a number matched by Dallas, Miami and Green Bay and surpassed only by Pittsburgh, which has four. Since 1963 Oakland has been the winningest organization in pro football. Since Davis stepped down (or up) in 1966, the Raiders have had three head coaches—John Rauch, John Madden and Flores—and each one has taken the team to a Super Bowl.
"I was proud of all the great old stars who came to our room before the game today," Davis said. "Billy Cannon, Lance Alworth, Bubba Smith, Jim Otto, Clem Daniels. Even Night Train Lane.... Lester Hayes was thrilled to meet him. It was like a guy getting ready for a heavyweight championship fight, and all the old champions come into his dressing room to wish him luck. Maybe our league should recognize these people, maybe they should make it part of the next Super Bowl production; a night-of-stars type of thing. They could hire an arena for it. It would be thrilling."
Davis went over to Upshaw, the only player left in the dressing room.
"What do you say, are you going to let me retire now?" Upshaw said.
"It's up to you."
"Ah hell, I can't retire. I've got mini-camp coming up in March."
An unusual team and an unusual story. The wildest of underdogs, a quarterback who was given up for dead long ago, a team that might not be in Oakland next year. Let's hear it for the Halfway House.
PHOTOPHOTOOn the first Oakland touchdown, Plunkett waited patiently for Branch (21) to break loose in the end zone and then drilled the ball past Philadelphia Linebacker Frank LeMaster (55) and into Branch's arms.PHOTO[See caption above.]PHOTOOn Oakland's third touchdown, Branch, a nine-year veteran, took rookie Cornerback Roynell Young to school. Young was ready to intercept Plunkett's 29-yard pass at the goal line, but Branch slipped back under the coverage and caught the ball. Then he twisted away from Young's clutches and into the end zone.TWO PHOTOS[See caption above.]PHOTO[See caption above.]PHOTOUnfortunately for the Eagles, Oakland's Martin (53) was one of Jaworski's primary receivers, intercepting three passes. Martin's first theft (left) led to a 7-0 Raider lead; his second, on a pass intended for John Spagnola (88), resulted in a 46-yard field goal by Chris Bahr; and his third wrote finis to Philadelphia.PHOTO[See caption above.]PHOTO[See caption above.]PHOTOTrailing only 14-3 in the second quarter, Philly blew a chance to narrow the gap when Tony Franklin's 28-yard field-goal try was spiked by Hendricks (83).PHOTOIt was all over but the shouting when the Raiders recovered Jaworski's fumble in the fourth quarter.PHOTOWith blitzing Raider Safety Mike Davis airborne, Jaworski ducked free at the goal line and lobbed...PHOTO...a 43-yard strike to Charles Smith, who had broken loose behind the Raiders' Mr. Glue, Cornerback Lester Hayes. The play led to Philly's only touchdown.PHOTOEagle Cornerback Herman Edwards leaped in vain as Plunkett's 19-yard pass was pulled in, however shakily, by Kenny King, who spun away from Edwards and churned down the sideline, escorted by Wide Receiver Bob Chandler, to complete a Super Bowl record 80-yard touchdown play.THREE PHOTOS[See caption above.]PHOTOWherever Montgomery (above) ran wide, he encountered Raiders, but Oakland rushers likePHOTOvan Eeghen rolled for consistent yardage on first down behind blockers who opened wide holes.PHOTOHaving been porous in November, this time the Raiders kept Philly sackers at arm's length.