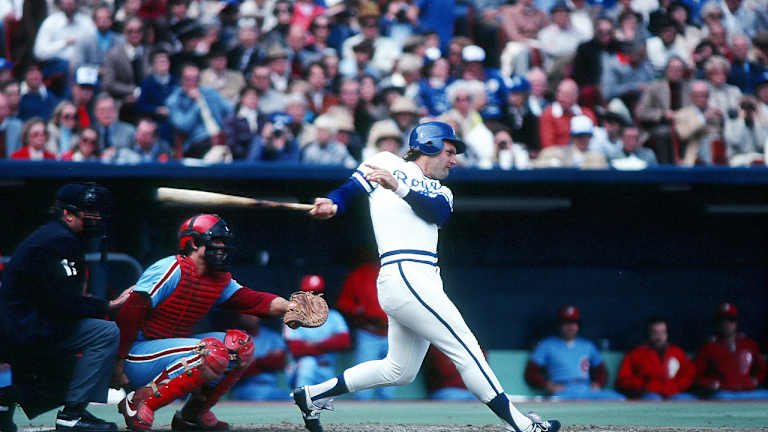 The Year in Sports
SPECIAL ISSUE
Imagine what might have been in the last year in sports: a Grand Slam for Bjorn Borg, a .400 season for George Brett, a fourth heavyweight title for Muhammad Ali, a Summer Olympics to match the Winter Games, a barnburner of a Super Bowl. Though none of these great expectations was fulfilled, it is better to have hoped and lost than never to have hoped at all. And that's one of the reasons 1980 was a grand way to start the decade.
Speaking of great expectations—nice segue, no?—many of us have read Charles Dickens' Great Expectations, or seen the movie, or at least glommed the plot from Monarch Notes, we all know that Pip, the protagonist of the novel, was the guy Gehrig replaced, but other than that, what the dickens does Great Expectations have to do with me Year in Sports?
Well, one of the lasting images from the book is that of Miss Havisham's cake. To recap, it seems that she was jilted at 8:40 on her nuptial day and forever after kept the wedding cake on a table, without refrigeration.
Think of the sports year as a great cake, tier upon tier of events—of performances and games. All right, the year between the Winter Olympics and Super Bowl XV was not everything it might have been. Now we could, like Miss Havisham, let it collect cobwebs. Or we could savor the good. Here, have a piece:
•Just when we were getting ready to bid them farewell, Jack Nicklaus up and wins the U.S. Open and the PGA to bring his major-tournament victory total to 19, and Chris Evert Lloyd rediscovers her game in time to win her fifth U.S. Open.
•The Philadelphia Phillies, biggest teases in the history of baseball, win their first world championship. At this rate, they'll win their next one in 2077.
•Guard-Forward-Center-Cheerleader Earvin (Magic) Johnson leads the Los Angeles Lakers to victory over the Philadelphia 76ers in the sixth and deciding game of the NBA finals by playing, as SI's John Papanek wrote, "Kareem for a day."
•The Oakland Raiders become the first wild-card team to win the Super Bowl, by beating the Philadelphia Eagles. More surprisingly, Oakland Managing General Partner Al Davis doesn't have a joy buzzer in his hand as he accepts Commissioner Pete Rozelle's congratulations.
•The New York islanders win their first Stanley Cup by beating yet another Philadelphia team, the Flyers, four games to two.
•The best money players in sports turn out to be Tom Watson, who won a record $530,808 on the PGA tour, and Dave Winfield, whose new pinstripe suit could cost Yankee owner George steinbrenner $20 million or so over the next 10 years.
•How 'bout them Dawgs? Georgia unleashes the Bulldogs, the best college football team in the country. The Philadelphia German Shepherds successfully defend veterans Stadium against exuberant Phillie and Eagle fans. And a Siberian husky named Ch. Innisfree's Sierra Cinnar is chosen best-in-show at Westminster.
•How 'bout them horses? Not only does Genuine Risk have the utter audacity to crash the customarily all-male winners' circle of the Kentucky Derby, but she finishes second in the Preakness and Belmont as well. Spectacular Bid ends his spectacular career in the Woodward Stakes with a walkover—the first at a major track since 1949. And Niatross harnesses the major pacing races and all kinds of world records.
•Billy Martin doesn't hit anyone.
•In Montreal Sugar Ray Leonard and Roberto Duran give us one of the best welterweight fights in history. Unfortunately, in the rematch for the title, Duran gives us gas.
Great expectations. For sheer excitement, nothing could match the five-set, four-hour and 13-minute victory by John McEnroe over Borg in the U.S. Open, except perhaps the five-set win by Borg over McEnroe at Wimbledon two months before. McEnroe's Flushing Meadow triumph denied Borg a chance at the Grand Slam, but together they promised one of the great tennis rivalries of all time.
Brett came within five hits of becoming the first player since Ted Williams in 1941 to bat .400 or better, and in the process he charmed America and enlivened the summer (page 66). Then he took the Royals to the World Series, in which they met the Phillies, who had their own formidable third baseman, Mike Schmidt.
Nothing was quite so pathetic as the sight of Ali remaining on his stool when the bell for the 11th round sounded. But in the months before his title fight with Larry Holmes, Ali, who likes to perform magic tricks, made us believe he could win back his title. If only he'd consumed some of the steaks that Duran later gorged himself on.
The Summer Olympics seemed very far away, and not just because they were in Moscow. The U.S. chose not to send a team because of the U.S.S.R.'s invasion of Afghanistan. Still, we should take nothing away from Miruts Yifter of Ethiopia, who won the 5,000 and 10,000 meters, Teofilo Stevenson of Cuba, who got his third Olympic heavyweight title, and the duels between Sebastian Coe and Steve Ovett of Great Britain in the 800 and 1,500.
With sadness, and gratitude, we said goodby to retirees Gordie Howe, Bobby Hull, Willie McCovey, Dave Cowens and Rocky Bleier. To the other Pittsburgh Steelers, we can only cite Dickens' words: "Accidents will occur in the best regulated families."
But we also said hello to Hana Mandlikova, Joe Charboneau, Alberto Salazar, Beth Daniel, Herschel walker and Rod Martin. And let's not forget Freedom, Darren Griffith, the Cosmos, Johnny Rutherford or Jacqueline Gareau, who was momentarily robbed of her glory at the Boston Marathon by the imposter, Rosie Ruiz.
All things considered, it was a wonderful year. And on top of the cake, we might put what Dickens wrote in David Copperfield: "Ride on!—roughshod if need be, smooth-shod if that will do, but ride on! Ride on over all obstacles, and win the race!"
ILLUSTRATIONILLUSTRATIONDIANE TESKE HARRIS