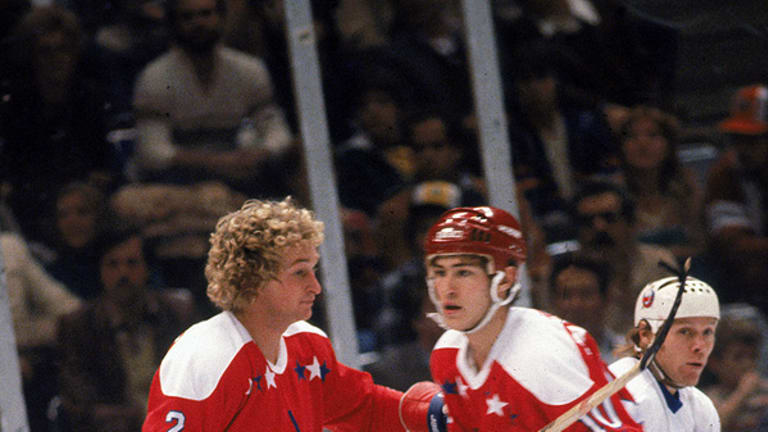 No Way They're Going to Hold Him Back
Schoolboy sensation Bobby Carpenter's next destination could well be the NHL
"I think that one of these days," he said, "You're going to have to find out where you want to go. And then you've got to start going there. But immediately. You can't afford to lose a minute. Not you."
—J.D. SALINGER
The Catcher in the Rye
Bobby Carpenter has known where he wants to go for years. He remembers when he was eight, walking back home from a rink with his father, Bob Sr., and asking him if he thought he could one day play in the National Hockey League. That was in the so-called Bobby Orr era, and the goal of every kid hockey player in the Boston area was to make it to the pros. When his father said nothing, young Bobby asked, "Is it too early to tell?" His father nodded. Then, two years later, same rink, same walk, he again asked his dad about his chances of making the NHL. Bob Sr., who knows his hockey, turned and looked at his son. "It's possible," he said.
Today, 17-year-old Bobby Carpenter of Peabody, Mass., a city of 48,000 some 15 miles north of Boston, is the best high school hockey player in America. More than that, he's one of the top amateur prospects in the world. In the NHL draft in June, Carpenter's expected to be one of the first six players selected. No high school player, from the U.S. or anyplace else, has ever been among the top 60 drafted, and no American has ever been among the first 10.
The hapless Winnipeg Jets seem destined to have the first choice, and it's just possible they'll use it to draft Carpenter. Winnipeg's director of player personnel, Mike Doran, had lunch last week with Carpenter's father and his coach, Joe Yannetti, who also happens to be a Winnipeg scout. For now, all Doran is willing to say is that Carpenter is in the running with five or six other players.
Upward of a dozen scouts will attend every game Carpenter plays for St. John's Prep of Danvers, Mass. the rest of the year, and player agents are swarming around him. Carpenter himself will see lots of college games. His is a world of possibilities, and he's keeping himself open to all of them. The high school senior will soon have to choose either the big money or a college education, so a subtle sense of urgency surrounds him. It isn't panic, just a time-to-get-down-to-business air. You can't afford to lose a minute. Not you. All roads lead to Oz; he just has to start. The Can't-Miss Kid—that's what they call him.
That's a heavy label to hang on any 17-year-old, but it's difficult to imagine a scenario in which Carpenter does miss. These days when he's asked if he thinks his son can make it in the pros, Bob Sr., a sergeant on the Peabody police force, says, "He's survival-oriented. He'll be able to compete." Lou Varro, who coached Bobby in January's World Junior Tournament, in which the U.S. finished sixth and Carpenter was the team's MVP, says of him, "You'd think a kid coming in with Carpenter's reputation would be cocky, but he's not a big shot. If you ever had a son, you'd be proud to have him turn out like Carpenter. He's just a down-to-earth kid."
So what else is a coach going to say about his star player, you ask. You don't know Varro, a stout, plainspoken Brooklynite. "If he was a horse's ass, I'd tell you," he says.
Boston College's assistant hockey coach, Steve Cedorchuk, believes Carpenter could take B.C. to its second NCAA championship. "People talk about how Bobby's one of the great players," says Cedorchuk. "But he's also one of the great winners. And he'd be a team leader as a freshman."
The only complaint pro scouts have about Carpenter is that he's still playing in high school. "If Bobby had played Junior A in Canada," says Quebec bird dog Red Fleming, "he'd be the first player drafted. No doubt. But they don't play the game the NHL way at his age in the States. The referees think they're playing basketball, calling every little hit."
"Carpenter hasn't proved to me he can take the rough stuff." says Jim Anderson, Vancouver's chief scout. "But he's an exceptional puck handler and skater. And, geezus, he's got quick hands."
They used to say the same thing about Wayne Gretzky's hands, and though Carpenter isn't yet quite the wizard with the puck that Gretzky is, there are similarities. Both play center and are brilliant passers, and Carpenter anticipates plays and moves laterally a la Gretzky. But what seems to please NHL scouts most is that Carpenter—who at 6'1", 185 pounds has good size for his age—is also an excellent defensive forward. "He's strong and he's mean," says Fleming. "Put him in a skating game and he'll skate; put him in a hitting game and he'll hit. Most players his age can either skate like mad or shoot like mad. He just does everything well."
Like they say, the kid can't miss.
Last Wednesday night Sergeant Bob Carpenter watched St. John's Prep lose 7-6 to lowly Christopher Columbus. The defeat dropped the Eagles' league record to 7-5-1 and virtually eliminated them from contention for a berth in the state tournament. Bob Sr. was in uniform, patrolling the arena. Most cops don't like working athletic events at night, so Bob Sr. usually has no trouble getting assigned to Bobby's games. When the outcome of this one became clear, Bob Sr. muttered and went about his work with a frown. It has been a long season for the Prep, and a frustrating one for Bobby. "He's the greatest high school player ever to compete in Massachusetts," Yannetti told Bob Sr. after the game, "and he's probably not going to play in the state tournament. It could be a sad ending to a great story. He's too good for these players. But as great as he is, he can't do it all."
Of course, the story is actually just beginning, and it isn't a sad one at all—except to Yannetti, who knows that he's losing a player the likes of whom he'll never see again. He knows that, and it is a bitter pill to swallow when he thinks of missing the state tournament with such a talent. He feels he has somehow let the boy down, and he loves him like a son. "With better players, Bobby plays better," says Yannetti. "Right now we really don't have anybody who can play with him. What happens is that he makes the right pass, then breaks open but doesn't get the puck back. We've tried to get him to hold onto the puck more, to do it himself, but he's just not that type of kid."
The first time Yannetti heard of Bobby Carpenter, the youngster was a ninth-grader at Higgins Junior High in Pea-body. Some of the parents had told him about this Wunderkind, but Yannetti scoffed that nobody could be that good. Then he saw Carpenter play. The kid won his first four face-offs and took his team down the ice for four goals—two of which he scored himself, two of which he passed off on. "I was right," Yannetti reported back to the parents. "He's not as good as you say. He's better."
College recruiters were already onto Bobby, and several private high schools were wild to have him enroll. Two factors sold the Carpenters on St. John's, a boys school with about 1,000 students: it had a fine academic reputation and, as a member of the Massachusetts Catholic Conference, it was eligible for the state high school tournament.
"Bobby's father was looking for the best situation for his son," says Yannetti, "and he was very careful to get all the information before making a decision. He'd seen 10 or 12 of our games, and he knew our program was coming on."
Bobby himself had never seen the school, which is about 10 miles from his Peabody home. Run by the Xaverian Brothers, its 11 buildings are located on a 180-acre campus. Tuition is $1,710, and most of the students come from Catholic middle-class backgrounds. St. John's has always encouraged athletics, but it's anything but a jock school, pointing more proudly to its SAT scores than to its state championships. Still, the Eagles have had their share of sports stars. Brother Ed Keefe, the headmaster, recalls with pride that one of baseball's richest bonus babies. Danny Murphy, who signed with the Cubs in 1960, is a St. John's alumnus. "Couldn't hit the curve, though," says Keefe with a trace of sadness. "Finished his career as a relief pitcher with the White Sox."
In 1978-79, Carpenter's first year at St. John's, the Eagles won their first state hockey title. "He was a leader the minute he stepped on the ice," says Yannetti. "The year before, our team had that aggressive toughness, but we didn't know-how to win. Bobby showed us how."
Did he ever. St. John's went 21-2, and Carpenter finished with 23 goals and 31 assists. He was the leading scorer in the state tournament with 16 points in six games. In the finals of the regionals, Carpenter scored the tying goal, and then set up the winner in St. John's 3-2 upset of defending state champion Matignon. "They should have beaten us by two touchdowns," Carpenter says now, smiling brightly at the memory.
The next year was more of the same, with Carpenter scoring 67 points in only 21 games and being named Massachusetts Player of the Year. St. John's ended up 17-3-1, but this time in the regional finals Matignon turned the tables. Carpenter, however, put on a show that Yannetti still recalls with wonder. With his team trailing 3-0 after the second intermission, Bobby scored three third-period goals before Matignon pulled away to win 5-3. The first came with Bobby's team shorthanded. After being tripped from behind, Carpenter somehow lifted the puck into the top corner of the net while diving through the air. "He's like all great players," says Yannetti. "When the game is on the line, he wants the puck." Carpenter finished the four-game tournament as the leading scorer with eight goals and five assists.
Last July Carpenter went to Colorado Springs to try out for the U.S. Junior National team, made up of players 17 to 19. The tryouts consisted of a round-robin series of games, and 16 of the 21 NHL clubs had scouts on hand. Carpenter was the youngest player there, and Yannetti, who was one of the assistant coaches, was just hoping the kid would hold his own. What he did was dominate the trials. "He was the best of all of them," says Yannetti. "He's been the best at every level he's ever played."
But he was more than that. He was almost superhuman. Carpenter had been excelling at center, as usual, until eight players, several of whom were defense-men, were sent home for overturning a car and harassing some girls outside the neighborhood 7/11 store. The next day Carpenter found himself on the back line. "He played like he'd been born there," says Tom Micheletti, one of the player agents vying to represent Carpenter. "That's when you knew." Asked to rate the 15 best forwards, all but one of the U.S. coaches named Carpenter No. 1. The other had him second.
Perhaps Carpenter's most impressive message to the scouts came at the World Junior Tournament in Munich. The U.S. team opened play with losses to Finland, Sweden and Germany. In their fourth game the Yanks faced Canada. Centering opposite Carpenter was another 17-year-old named Dale Hawerchuk, the star of the Cornwall Royals, Canada's top Junior A club. "All these scouts kept telling me, 'You got to watch this Hawerchuk, you got to see him. He'll be the first guy taken in the draft,' " says Micheletti, who was at the tournament. "So I watched him. Carpenter won almost every face-off, and he got three goals and two assists. Now, in five other matchups, who knows how they'd do? But I tell you, if Hawerchuk goes No. 1, Carpenter won't be far behind." The U.S. also won the game, 7-3.
Like they say, the kid can't miss.
Bob Sr. admits he would go to a hockey game every night if he didn't have to work the 5 p.m. to 1 a.m. shift. In the Boston area you can do such a thing, with its dozens of high school and college teams and the Bruins. A great bearlike man who weighs more than 200 pounds, Bob Sr. played hockey through high school before joining the Navy. When Bobby was three he bought him his first pair of skates, and as a kindergartner the boy used to hustle down to the swamp at the end of the street and skate by himself, not wanting to wait for the other kids, to have to share the puck and the ice.
Bob Sr. built a backyard rink when Bobby was six, laying tarp and putting up two-by-sixes and lights and even resurfacing with hot water so the ice wouldn't chip. The neighborhood kids would come over and play all Sunday—this was the Bobby Orr era, remember—stopping at midday for hot chocolate and to watch the NHL Game of the Week. Whenever Bob Sr. could, he'd take his son to a Bruins game. They were sharing an obstruct-ed-view seat when Orr scored the goal that beat St. Louis in the 1970 Stanley Cup final—the one in which he was photographed flying through the air. Seven-year-old Bobby had sneaked in under the turnstile, a common practice at the Boston Garden, even for tykes who are accompanied by law-abiding parents.
Now Orr is watching Bobby Carpenter. Saturday before last, St. John's played Matignon, and about 85 kids never saw the first period for all their pushing and shoving to get a glance at Orr. Word is out that Orr, who was watching the game with Bob Sr., is considering getting into the player representative market and wants young Carpenter as his first client. How can you say no to a legend? How can you turn down someone whom you had watched score the Stanley Cup-winning goal from your father's lap—from behind a post—10 years earlier?
St. John's is no match for league-leading Matignon this year. Stop Carpenter and you stop the Eagles, and in Bobby's first rush up-ice someone nearly decapitates him trying to do so. "As long as they don't knock out his teeth," says his mother, Ann Carpenter.
Bobby happens to have all his teeth, which is the sort of thing that makes this particular mother proud. She is a vivacious, high-cheekboned blonde who has lived in Peabody all her life and is, in the words of one scout (they don't miss a trick), "as strong as a lion." There are no superstars in her house. She has two other children, a 19-year-old daughter. Robin, who is a freshman at Salem (Mass.) State College, and a 14-year-old, Ron, called Bear, a 200-pound freshman football player at St. John's. All her children get equal time, so she ends up missing many of Bobby's games. There are more important things than hockey.
Despite his love for the sport, Bob Sr. recognizes that as well. He wants his son to go to college next fall, not so much because of what Bobby will learn in the classroom but because of the opportunity college provides a young man to grow at his own pace. "You can't be 17 going on 25," he says. "In the pros, you're not allowed to be an adolescent. But at that age, if you don't play a good game, you shouldn't have the weight of the world on your shoulders. College is a very important part of a young man's life, both mentally and physically. It helps you develop as a human being. But the ultimate decision has got to be his. What am I going to say, 'You have to go to college.' That was the old days."
If Carpenter is one of the first five or six players drafted, he'll probably be offered a three-to five-year contract in the neighborhood of $100,000 per annum. But Carpenter himself is less intrigued by the dollar signs than by the idea of being the first high school player to jump directly into the NHL. "Put him with the right players, and he could do it," says Quebec's Fleming. "Personally, though, I'd let him get his feet wet in one of the minor pro leagues for a couple of months first."
"Getting his feet wet" is an NHL euphemism for getting his head bashed in. Vancouver's Anderson thinks jumping from high school to the pros could ruin Carpenter. "They're saying he can play in the NHL right away, and he can't." says Anderson. "He could lose his confidence just like that by trying. I think he should go to college for a couple of years before signing. If Winnipeg or Quebec gets him and moves him right up, it will hinder his progress."
It happens. It happens in all sports, in all fields, all the time. A young guy takes on the world, gets knocked on his ear, and never again performs with that same unconscious confidence. It's a scary thought for the father, who is realistic enough to know there's no such thing as a Can't-Miss Kid. So far it has been Bob Sr. who has fielded the queries of the scouts, the agents and the college coaches, keeping them away from Bobby so that his son can concentrate on school and hockey and adolescence. In June, after the draft, they'll sit down and, Bobby says, "He'll let me know subtly what he wants me to do. He'll get all the facts and then lean one way or the other. He doesn't tell me what to do, but I don't think I've ever gone against him."
If Carpenter does choose college, it will almost certainly be one in the Boston area. His grades—he ranks 46th in a class of 246—are good enough to get him into Harvard, but he'll more likely opt for Boston College, which is currently the No. 6 team in the country. "B.C.'s great hockey tradition—that's what will decide it for him," says St. John's Assistant Coach Eddie Rossi. "Hockey's what has motivated everything Bobby's done. He'd love to be out Friday and Saturday nights drinking with the other guys, but he's not going to do that because of the hockey situation. I sympathize with him because he hasn't been able to enjoy a normal teen-age life. But it's not like anybody's forcing him. He just loves it. Even in school, his grades are good because he doesn't want someone to be able to dictate to him that he isn't going to a Harvard or a Yale. He wants that control."
The bottom line on Carpenter—and one that no one is even whispering yet—is that he has the potential (that accursed word) to be what the sport of hockey so desperately needs: a legitimate U.S.-born star. There has never really been one, although some of the U.S. Olympic players are off to excellent starts. But the expectations are that Carpenter will be better than any of them. Maybe a lot better. All he has to do is start.
PHOTO
By hook or by crook—that's about the only way to stop Carpenter when he has the puck on his stick.
PHOTO
For now, he's just one of the boys at school.
PHOTO
Bobby logs time with his older sister, Robin...
PHOTO
Dad patrols queries from coaches and agents.
PHOTO
...and with his studies, at which he also shines.