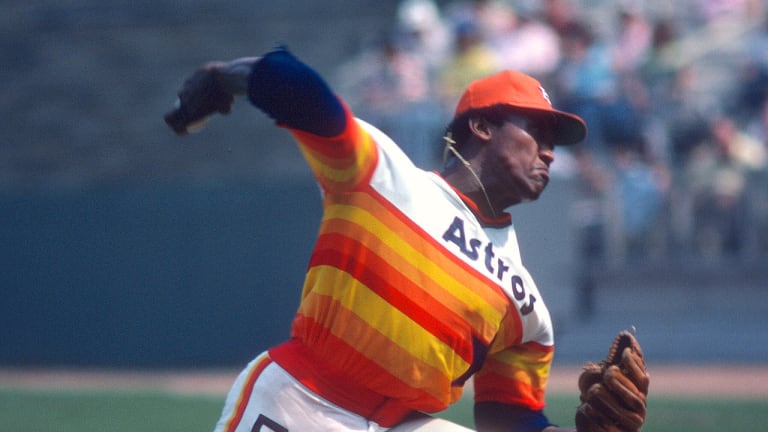 J.R.'s Pledge: I'm Going to Return
After a stroke, two operations and a long winter of recuperation, J.R. Richard of the Astros is on the road to recovery
Seven stories above the light brown sands of Cocoa Beach, Fla., from the balcony of his rented condominium, J.R. Richard observed in cheerful silence the performers below. While the sea did running somersaults onto the beach, a gull flew along the surf, nibbling here and there like a diner at an endless buffet. "Beautiful, isn't it?" Richard, the Houston Astros' $800,000-per-year righthanded pitcher, said quietly. Directly beneath him, a child sat alone, building a castle out of sand.
"Look at that," Richard said. From the south, a committee of eight pelicans was flying single file about a foot above the water. With their gray feathers and their bills tucked in, they looked very earnest and grave, like management's negotiators leaving a meeting with Marvin Miller. Richard saw the pelicans coming and smiled as they passed by.
"That's the beach patrol," he said. "That's all they do all day—patrol the shoreline for live mullet and shrimp. Some spring mullet came by here yesterday morning and there were pelicans all over the place. They have good instincts, better than we have. They want to do something, they do it; if they don't, they don't. They mind their own business and live from day to day. They have it made. Look at them out there, flying low. This is a good place to stay. Peace and quiet here. It's a good place to talk. Nobody bothers you. I like this. You're at peace with yourself, just being yourself. That's what I want to be. Just myself. And show people I am what I am."
The pelicans cruised out of sight, the child disappeared, and Richard leaned over the balcony railing, his chin in the palm of his hand. "I know I'll come back," he said. "I know that for sure. Everybody's waiting, as I'm waiting, on the future. Waiting on time. Time will tell. It's going to shock some people when I come back. When they see me as I am now, they're really going to be amazed. They're expecting to see me on crutches, but I won't be on crutches. And when they see me pitch, they're going to be shocked off their feet. They won't believe it. You watch and see what I'm telling you now."
Richard said that last Friday afternoon. He had just finished three quarters of a slab of barbecued spareribs and a glass of Moët et Chandon champagne. Now he was waiting for tomorrow, the first day of spring training. Richard vows that beginning this year he will take spring training like the pelicans: one day at a time, while minding his own business and flying low and at his own speed. On this day, knowing where he has been and where he's going, 30-year-old James Rodney Richard was at peace with himself and the world around him.
Seven months have passed since the morning of July 30 at the Houston Astrodome when Richard suffered a massive, almost fatal stroke that 1) virtually paralyzed the left side of his body, leaving him barely able to move or speak; 2) necessitated a life-saving operation during which a team of doctors removed from the carotid and subclavian arteries above his right collarbone part of a clot that was obstructing the flow of blood to his brain; 3) left just about everyone convinced that he would never pitch again; and 4) led to a second operation, 18 hours long, in which surgeons bypassed the clotted artery in his pitching shoulder so that a comeback might be possible.
And possible it is. No one is naming a specific date for Richard's return to competition, but there is reason to believe he has set out on a road that will lead him there this year. He has already exceeded the expectations of those overseeing his recovery. "I didn't think he'd be this far," says Dr. William Fields, Richards' personal physician and the chairman of the Department of Neurology at the University of Texas Medical School at Houston. "I wouldn't want to make a prediction, but I have the feeling that he's going to make it all the way. I can't give you a timetable, but he's progressing steadily." Feeling in Richard's left side has returned to normal, Fields says, and J.R. has regained more than 95% of his strength and his entire field of vision.
"I'm not worried," Richard says. "I know I'm going to be fine. I don't know when, but everything's going to be fine. I know that. I know that. I think my chances of being as effective as before are excellent. I have faith. I have confidence in myself. I keep telling myself, 'Don't be in too big a hurry. Keep learning. Don't forget anything. Over a period of time it will turn out all right.' "
Richard's optimism is drawn from his personal experience. Six months ago, having regained consciousness and found himself lying flat on his back at Methodist Hospital in Houston, he was uncertain of where he was and unsure of what had happened to him. It was two full weeks after the stroke, he says, before he understood that he was in Houston. "I didn't know where in the world I was," he says. "I kind of had an idea what had happened, but I wasn't sure. I sort of figured it out for myself. And then some people told me. I was thanking God I was alive. I was so glad to be alive it was unreal."
When Richard arrived in Florida last week, there was little evidence that he had ever suffered a stroke. Not only had he regained feeling in his left side, but he also was speaking clearly and articulately and was moving about without so much as a limp. Only when he attempted to do exercises or movements on the mound—ones that especially required good reflexes and coordination—was there any clue that Richard wasn't entirely well.
Regardless, he had come a very long way to get from Houston in July to Cocoa in February. And the changes he had undergone hadn't been entirely physical. He senses that the experience has enriched his spirit—sharpened his perspective on things by confronting him with intimations of his mortality and teaching him about himself and others. "It made me see myself better," Richard says. "It made me understand people better. I look at things from a different angle now. I comprehend life better. You learn to trust people more than you did before. You just can't live by yourself. When you're sick it's like you're stepping into a different world altogether. People cheering me up, bringing me things. People glad to see me alive, glad to see me happy. It's a different world. What happened to me was a learning experience."
Richard vividly remembers the weeks leading up to the stroke, when he suffered from a "dead" and "tired" pitching arm, and he remembers many fans questioning him, the media suggesting he was a quitter. "They didn't accept me for what I was," he says. "They found out I knew myself better than they did. But it's all history. I'm not bitter about it. Not at all." He recalls the last game he pitched for the Astros, on July 14 against Atlanta, and how he had to strain to see the catcher's signs and couldn't focus his eyes.
Richard also remembers playing catch with former teammate Wilbur Howard in the Astrodome on July 30 and suddenly losing his balance and falling to his hands and knees, his ears ringing, and Wilbur saying, "Jay, are you all right?" He remembers the siren and being lifted into the ambulance and attendants putting cold towels on his head. "I remember all that," he says. "I remember everything just like it happened yesterday." He remembers everything, in fact, except how depressed he was after going home from the hospital on Sept. 12. "Very depressed, he was an old young man," says Tom Reich, Richard's lawyer and a longtime friend. "He moped around; he'd sit around the house and then leave for hours at a time, just driving around by himself and staring into space. He was a recluse."
What snapped Richard out of it, Reich says, was the news that a second bout of surgery—one that would restore normal circulation to his pitching arm—might make it possible for him to return to full strength. Doctors in Houston had advised against further surgery, but Reich was encouraged after discussing the procedure with Dr. Edwin Wylie in San Francisco. "I came back after talking to Dr. Wylie and told J.R. what was available," Reich says. "His whole spirit lifted. He said, 'Let's go.' " So they went. On Oct. 14, the day after the Phillies beat Houston for the National League pennant, Wylie and Dr. Ronald Stoney performed what Reich now calls the "Hall of Fame" operation.
The surgeons removed two four-inch segments of artery from Richard's lower abdomen, spliced them together and transplanted the eight-inch vessel in Richard's right shoulder, where it bypassed the partially clotted and useless subclavian artery as the main source of blood flowing to the arm. The operation lasted 18 hours, an unusually long time, but Richard recovered quickly and was released from the University of California Medical Center 11 days later. Sensing that he was coming back, that he would pitch again, he diligently worked at his convalescence. He did jaw exercises, which included chewing gum, until he regained strength and tone in the muscles on the left side of his face. His speech became normal. Sit-ups, push-ups and lifting weights developed his body strength. He started jogging four miles a day. He took whirlpool baths, got rub-downs and shot baskets in a Houston gym. "That was to help my coordination and my visual perception," he says. "I loved it." And after the new year began, he started to throw the baseball.
The regimen obviously agreed with him. The man who showed up in Cocoa last week came ready to work—to try to return, sometime in 1981, to where he left off. And, remember, when Richard last pitched he was masterful; in little more than half a season in 1980 he had a 10-4 record with a 1.89 ERA and 119 strikeouts. What he wants to do, more than anything, is to put the dark memories behind him. "Certain things I can't change," he says. "They're going to happen. When it comes autumn, the leaves will turn brown. Only when it's dark enough can you see the stars. So I'm not really worried. I accept it; I understand it. It happened; it's life. The best thing I can do is go forward, keep going forward. Tomorrow wasn't promised to me—only today."
For now, at least, he must continue working to bring his body into tone and trim. Richard weighs 240 pounds when he's in shape, but he arrived in Florida at about 260. He has had the last of spareribs and champagne for a while. He intends to concentrate on drills and exercises that will hone his reflexes, sharpen his skills. The stroke impaired those and his coordination, too. "The more I do, the better I come back," he says. "The running wasn't difficult at all. Just my left side was a little weak. It's not back yet—it's still a little weak—but it's coming. I can feel it."
The most troubling of Richard's problems has been his inability to make spatial perceptions. According to Dr. Fields, the right side of Richard's brain, the side damaged by the stroke, governs his ability to perceive the location and speed of objects moving through space—including a baseball coming in his direction. Richard has had trouble picking up objects in the left half of his field of vision, the doctor says, and at times has had to catch a ball with both hands.
"If I pick up the ball right from the catcher's hand, I don't have any problems," Richard says. "But if I don't see it right away, it's hard to find. It's like trying to find a ghost."
Without total recovery, Richard can never pitch again, for what kind of chance would he have fielding a line drive smashed back at him up the middle. "It doesn't bother me," Richard says, "Over a period of time it will come back. I know it will."
He also must recapture his natural agility, coordination and reflexes, Reich says, and learn once again the patterns of movement common to pitchers—such as the move to first base and fielding bunts—and learn how to throw his three basic pitches, the slider especially. "I know how to throw the slider. I know how to throw my changeup, my fastball and everything," Richard says. "But I have to redo all that, relearn all that, to make them as effective as I want them to be. Right now my arm actually feels better than it has ever felt."
In fact, says Reich, the condition of Richard's pitching arm is the least concern of all. When Wylie and Stoney operated, Reich says, one reason they took so long was because "They were so meticulous about not cutting more than they had to." Reich says the reason the subclavian artery was bypassed was to avoid severing any of the main muscles used in the pitching motion. "So his pitching arm is ahead of the rest of him in progress," says Reich. "We're not being governed by the baseball calendar." Richard governs Richard.
Given where he had been six months before, what he had gone through to get from then to now, Richard was a source of wonder at the first day of spring training at the Astros' camp. On Saturday, a bright blue morning at Cocoa, he put on a Houston uniform for the first time since his stroke and strolled to the mound on one of the practice fields. Reporters watched him curiously, and cameras followed him closely. Thus, another step in the rehabilitation of J.R. Richard began. "I wasn't uncomfortable at all," he said.
But clearly he was tense. Richard spent about 15 minutes fielding grounders for Gene Coleman, the Astros' director of physical conditioning and the man in charge of his retraining program. The reporters and visitors watched silently, almost in embarrassment, as the workout began. Richard misplayed the first four grounders hit to him, completely missing the first two, picking up the third but overthrowing first and then kicking the fourth. He looked awkward and tentative coming off the mound and bending over. But gradually he settled down; eventually he found a rhythm. He ended the drill by scooping up balls left and right and pegging them hard to all three bases.
It was the pitching that most strongly suggested the Richard of old. Coleman had him throw a few minutes to Tom Vessey, a 25-year-old minor league catcher, and there were moments when J.R. stirred memories. He began stiffly, but he loosened up after the first dozen pitches, and one could hear the fastball popping. His motion got more and more fluid as he went along; it was the real J.R.—left leg raised high and kicking, the ball snapping out of his hand. A few rising fastballs jumped five or six inches. Al Rosen, the new Astro general manager, who is recovering from a bypass heart operation, stood by the batting cage and watched. "He has strength coming down on his left side," Rosen said. "It's not collapsing on him." Rosen figured Richard was bringing in the fastball at more than 80 mph. Vessey thought a couple were closer to 90. In the end, Richard smiled as he left the mound and walked to the third base line.
"Hey, you were popping them pretty good," Rosen said. "Pretty good."
"Thank you," Richard said. "I felt fine. Super."
All he needs is time, he says. He is determined to pitch in the big leagues again. Were he to make it back, it would be hard to imagine a sports story more poignant or dramatic. The last few months have made him too much of a realist to dismiss any possibility. He says he can accept the idea that he may never again pitch as well as he once did.
"I know it's possible," he says. "It wouldn't be the end of the world. I'm going to keep living if I'm not able to pitch again. I can do other things. I can think for myself, I can read, I can write, I can talk, I can see, I can feel, I can laugh, I can joke, I can do everything that everybody else can do. The only thing that bothers me is this: I jumped off the couch yesterday and found I couldn't fly."
PHOTO
TONY
TRIOLO
Pleased with his progress, Richard was nothing but smiles following his first spring training workout.
PHOTO
TONY
TRIOLO
Richard cannot face a batter until improved depth perception lets him field his position properly.
PHOTO
TONY
TRIOLO
With 20 pounds to work off, Richard won't be drinking champagne or eating spareribs very often.