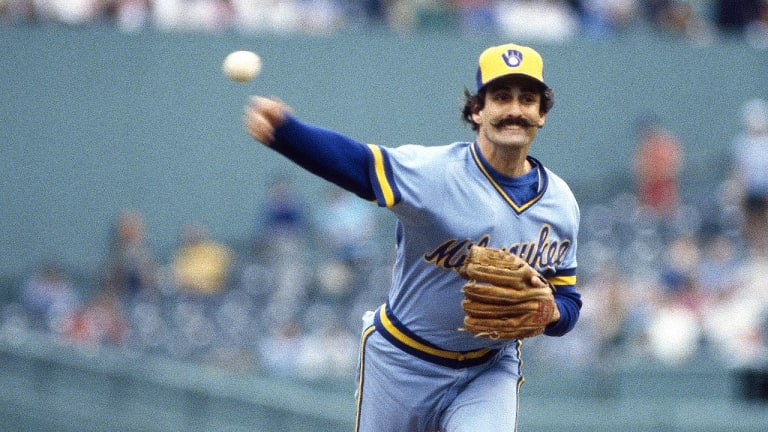 The Trade That Made Milwaukee Famous
Although many teams have acquired outstanding players since the end of last season, probably none has strengthened itself as much as the Brewers
At the Milwaukee Brewers' spring training camp in Sun City, Ariz. it is simply called "The Trade," capital T, capital T. Just as with references to, say, The Chief in Washington or The Man in St. Louis, no further explanation is indicated. The Trade is what could bring the Brewers The Pennant, capital T. capital P, period. It has already brought Rollie Fingers, the relief pitcher who holds the major league career record for saves (244), from San Diego by way of St. Louis; Ted Simmons, the switch-hitting catcher with an 11-year career major league batting average of .298, from St. Louis; and Pete Vuckovich, a 28-year-old starting pitcher who has won 39 games in the last three seasons, also from St. Louis. In exchange the Brewers gave up outfielders Sixto Lezcano and David Green and pitchers Lary Sorensen and Dave LaPoint. Some of the biggest names in baseball—Fred Lynn, Bruce Sutter, Don Sutton, Ron LeFlore—have taken their shows on the road this year, too, but for Brewer-watchers New Faces of 1981 is strictly a Milwaukee production.
In truth, The Trade may actually be one that, in baseball parlance, "helps both teams." The Cardinals are getting a 27-year-old Gold Glove outfielder, Lezcano, who, though he slumped to a baffling .229 last year, hit .321 with 28 homers and 101 RBIs in 1979; and a 25-year-old pitcher, Sorensen, who has won 27 games the past two seasons; plus two outstanding minor league prospects. But the Brewers, already one of the most powerful teams in baseball, had more specific needs, and in the view of the team hierarchy, those needs were filled by The Trade.
Last year the Brewers lost 29 of 31 games in which they were either ahead or tied after the seventh inning, a depressingly clear indication of bullpen inadequacy. Because the team had power aplenty (a league-leading 203 homers), Manager Bob (Buck) Rodgers says, "We could win the 10-2 games, what we couldn't do was win the 2-1, 3-2 games." Enter the 34-year-old Fingers, who may be the best reliever in history. The 1980 Brewers lacked depth in their starting rotation, so when Jim Slaton, a 15-game winner in 1979, suffered a rotator cuff injury last spring, there was no adequate replacement for him. Slaton is back this spring after pitching only 16 innings last year, purportedly as good as new, but even if he isn't, the strong-armed Vuckovich is at the ready. The Brewers also felt they could use another lefthanded hitter to protect Cecil Cooper and Ben Oglivie, but only a few months ago acquiring a lefty (and righty) swinger of Simmons' stature seemed as realistic as signing Ted Williams.
The remarkable transaction that has moved all these high-priced bodies from one Midwestern city to another had its genesis in a daring player-position switch. Paul Molitor, 24, had been an All-America shortstop at the University of Minnesota, but when the Brewers signed him out of college in 1977, they already had an outstanding shortstop in Robin Yount, who was only a year older. So the Brewers transformed Molitor into a second baseman. Though he had rarely played there before, Molitor became good enough to be elected to the starting lineup of the 1980 American League All-Star team. He missed the game because of a pulled rib-cage muscle, an injury that provoked much cerebration among the Brewer brass. Even though Molitor had hurt himself swinging a bat, the mishap revived long-held fears that second base, the scene of many collisions, was too hazardous a location for a player of Molitor's limitless offensive potential and apparent fragility.
Former Manager George Bamberger, who put Molitor there in the first place. has admitted that "I always wanted to get him off second base. Don't get me wrong—he's a helluva second baseman, but he was out there where he could be taken out in double plays, and Paul, at bat, is the player who makes things happen for us. He's the kind of player you want to keep in the lineup every day."
Molitor was leading the league with a .358 average when the injury benched him on June 6. He missed 43 days and was favoring the injured side when he returned. Still, he finished the season hitting .304 in 111 games, scoring 81 runs as the leadoff man and stealing 34 bases. What was most significant about his layoff was that his frequent replacement, Jim Gantner, finished the year hitting .282 in 132 games. Gantner had long been regarded as a superlative defensive player; his veteran teammate Sal Bando rates him the equal of Kansas City's slick Frank White as a second baseman. It was now apparent he could hit big-league pitching. The front-office brains were fairly whirring.
Molitor is quick and fast, and he has a shortstop's strong arm: a natural centerfielder. In the outfield he would be out of harm's way and he would have even more leisure time to develop his already formidable skills as a hitter and base runner. But the Brewers' outfield of Oglivie in left, Gorman Thomas in center and Lezcano in right seemed set. In fact, both offensively and defensively, it was one of the best in baseball. To make room for Molitor, someone would have to go. But who? Thomas had led the league with 45 home runs in 1979 and had averaged 38 homers and 104 RBIs the past three seasons. Oglivie had tied Reggie Jackson for the American League home run lead with 41 last year and had driven in 118 runs. That left Lezcano.
Thomas is a good centerfielder whose strengths are anticipation and knowledge of the hitters, but he doesn't have the range a player with Molitor's speed could have. As a rightfielder, Thomas' lack of speed wouldn't be a handicap. The Brewers decided to gamble on putting Lezcano up for barter. "Sixto became expendable," says Rodgers. "We knew we had to give up quality to get quality. We had to decide what good player to give up." That was Sixto.
The quality player Rodgers and General Manager Harry Dalton wanted in return was Fingers, the desperately needed relief pitcher. With Lezcano as bait, Dalton went to the winter meetings in Dallas determined to make a deal with San Diego for Fingers. But Whitey Herzog, the Cardinals' manager-general manager, who bought, sold and traded in Texas like an oil sheik, got to him first. Fingers went to St. Louis in a populous 11-player swap on Dec. 8.
With Fingers gone, Dalton went back to the drawing board. But not for long. To his—and Fingers'—astonishment, the very next day Herzog traded for the expensive reliever, Sutter. If Fingers isn't the best relief pitcher in history, Sutter probably is. How could there be room for both in the same bullpen? Herzog posed that question to Fingers during the meetings. "Whitey asked me what I thought about pitching with Sutter," Rollie recalls. "I said it would be fine with me. It would be nice having somebody to share the work. I told Whitey it was his ball club, that he had already done me a favor by getting me out of San Diego and with a contender."
Nevertheless, it was obvious to baseball savants—Dalton not the least of them—that Fingers would soon be back on the market. Dalton reopened negotiations for him, dangling Lezcano before the St. Louis wheeler-dealer. Herzog's first bombshell at the meetings had been the signing of free agent Darrell Porter of Kansas City, so he had an additional quality catcher, too. Dalton remembers: "I went to the meetings convinced that Kansas City would sign Porter." Now he began thinking more expansively. If Sutter had made Fingers available, Porter had surely made Simmons available. Simmons himself arrived at the same inescapable conclusion.
"Any reasonable evaluation of the situation would lead to it," said the catcher, an antique collector and a trustee of the St. Louis art museum. "They weren't going to pay Darrell all that money not to catch. And they weren't going to take a batting champion and MVP, the best defensive first baseman on earth [Keith Hernandez], and move him to left field so I could play first. And they weren't going to play me in leftfield every day. The situation as it was presented to me couldn't lead to any conclusion other than the one I reached."
Dalton, who had hoped to pick up maybe Fingers and Vuckovich, now set his cap for Simmons as well. He was prepared to sweeten the Lezcano package with Sorensen, a pitcher with a 52-46 four-year won-lost record. But Herzog also wanted Green, considered by many scouts to have been the best of 1980's minor league hitters, and LaPoint, a promising young pitcher. Dalton parted with Green reluctantly, particularly after the youngster led the winter Mexican League with a .323 average. "You use the farm system to build the big club. You do that either by advancing players or using their potential to acquire other players," he said, rationalizing the loss.
In years past trading baseball players was about as complicated as trading baseball cards. No more. Fingers and Vuckovich are both in the final year of their contracts, which means that if the Brewers can't sign them, they will become free agents at the end of this season. Simmons had three more years remaining on his Cardinal contract, but as a 10-year veteran with five years on the same team, he had the right, under the existing players-owners Basic Agreement, to veto any trade. Herzog had agreed to let him go, but Dalton and Brewers President Bud Selig still had to persuade him to come to Milwaukee. And the catcher is nobody's fool.
"I had a certain leverage I wouldn't normally have," Simmons says. "I didn't use money as a guillotine, but it was a considerable factor."
Dalton is equally discreet in discussing a subject of such delicacy. "To get his [Simmons'] assent," he says, "we found it necessary to make our offer more attractive. The times have changed."
After several gentlemanly conversations, it was agreed that the Brewers would pick up the remaining years on Simmons' contract at a salary of $640,000 a year, and add a $750,000 bonus in the form of cash and other considerations. The complex trade was consummated on Dec. 12, only four days after Herzog and Dalton sat down to chat at a breakfast table in a Dallas hotel. Fingers had passed through the hands of three teams in four days so to speak.
The Brewers still weren't finished. On Dec. 23 they picked up free agent Roy Howell, a lefthand-hitting third baseman with power. The former Toronto Blue Jay will provide valuable infield insurance if Don Money hasn't fully recovered from knee surgery and if Bando, as expected, retires. On March 1 Milwaukee traded another outfielder, Dick Davis, to the Phillies for Randy Lerch, a 4-14 pitcher last year but 31-27 from 1977 to '79. There may be more deals to come, because it is assumed that one of the two pre-Simmons front-line catchers, Charlie Moore or Buck Martinez, will go, possibly for more pitching help.
Optimism is rampant among both new and old Brewers in Sun City, a retirement community where that sentiment is necessarily in short supply. Simmons, always a hard worker, has taken enthusiastically to his new environment. He is one of the first players to report for the morning workouts and, though his stinging line drives rend the soft desert air, he has been taking extra batting practice in preparation for his first American League season. "It's like moving to another country," he says of the change of leagues. "Everything is going to be exciting."
"Coming to a contender was all I was interested in," says Fingers. "I want to play in another World Series [he pitched in three for the Oakland A's]. I want to sign a long-term contract. I know they're looking at somebody who is 34, but Charlie [Finley] told me I was washed up my last year in Oakland, and San Diego kept waiting for me to run out of gas." The Rolaids company, which is acutely aware of gas problems, thought enough of Fingers' durability in 1980 to give him its Rolaids Relief Award for the third time in the last four seasons. Vuckovich now speaks happily of the prospect of pitching for "one of the most devastating lineups in the game."
And both Manager Rodgers and former Manager Bamberger, who is helping out in spring training, are convinced the Molitor move will improve the Brewer defense. "Paul will take to centerfield like a duck to water," says Rodgers. "With his quickness and agility, he'll be a natural. And Gantner showed me he could make the double play as well as anyone in the American League, maybe in all of baseball." "Molitor will be another Paul Blair," says Bamberger. "And to me Blair was just about the best outfielder I've ever seen."
And what says Molitor himself, the pivotal figure in all these machinations? "I've heard about the shift for three years now," he reflects. "But they only used me in centerfield in two exhibition games. I haven't really played there since grammar school. I'd worked hard to become a good second baseman. I was a little disgruntled, a little ticked off, when I first heard they were serious about moving me to centerfield, but I was flattered at the same time that I was the infielder they chose to do it. I think centerfield is a position that demands greatness. I'm using that as a confidence factor."
Innocently enough, this likeable young man is responsible for one of the major trades of the past 10 years, a gamble that could pay off with a World Series or that could fail and leave the Brewers looking up once more at the Orioles and the Yankees. But if Molitor is what his superiors think he is and Rodgers plays his ex-Cards right, the Brewers could pick up the big pot. One thing is certain: they're going for it.
PHOTO
A top hitter with St. Louis, Simmons is working hard to adjust to the challenge of a new league.
PHOTO
The gritty Vuckovich had a 12-9 record last season even though St. Louis was 14 games under .500.
PHOTO
Speedy Ron LeFlore returns to the American League with the White Sox after stealing 97 bases for the Expos in 1980.
PHOTO
Don Sutton, the longtime L.A. Dodger star and 1980 ERA champion, gives pitching-rich Houston another strong arm.
PHOTO
Bruce Sutter, formerly of the Cubs, is a welcome reliever for the Cardinals, who had trouble holding on to leads last season.
PHOTO
Shortstop Rick Burleson and Centerfielder Fred Lynn were teammates with the Red Sox and still are with California.
PHOTO
A power hitter and defensive specialist when he was with the Angels, Outfielder Joe Rudi should find the peculiarities of Boston's Fenway Park ideally suited to his style of play.
PHOTO
In an exchange of third basemen, the Red Sox obtained Carney Lansford, an up-and-coming all-round star, and the Angels got Butch Hobson, a long-ball hitter slowed by injury in '80.
PHOTO
Because of arm trouble, Frank Tanana had a difficult time with California most of last year, but the late-season improvement he showed made the Red Sox believe he could be a big winner again.