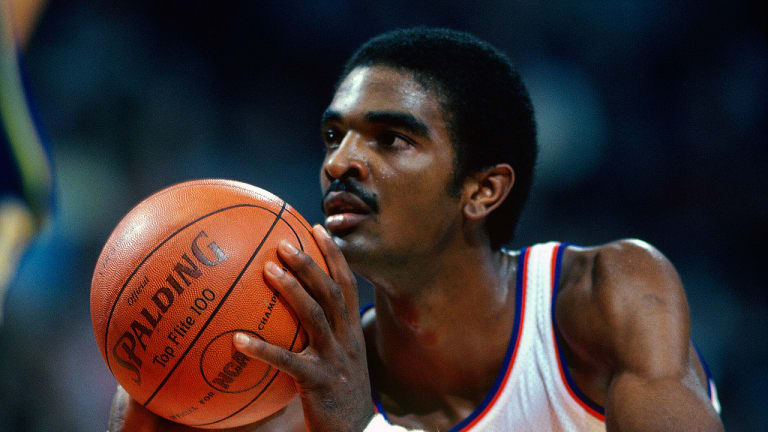 Step Aside, I'm Off to Philly
Class came through in the NCAA regionals as high-ranked North Carolina, Virginia, Louisiana State and Indiana blew the opposition out. Next stop, the Spectrum, where they'll form the most formidable final four in years
Now that there is no longer any doubt about who has the best front line in college basketball (North Carolina does), or about which team was the class of last week's West Regional (North Carolina was), the only question that remains unanswered is this: If God really is a Tar Heel, why does His team keep turning Carolina blue in the face every time it reaches the final four? Not even Coach Dean Smith, who is 6-0 in regional finals and 0-5 in final four competition, knows the answer. "Let's not talk about that," he says.
Smith is in his 20th year at North Carolina, and this season, in some ways, may have produced his finest coaching performance ever. Certainly the Tar Heels are loaded with talent, but when Carolina began practicing in October, starting Forward James Worthy was limping around with a metal pin in his right leg, starting Point Guard Jimmy Black was recovering from a cracked vertebra suffered in an automobile accident, starting center Pete Budko had a stress fracture in his left tibia, and Budko's replacement, 6'9" Sam Perkins, was an untried freshman. Last Thursday, when the Tar Heels rolled over Utah 61-56 on the Utes' home floor in Salt Lake City, Worthy had 15 points, 10 rebounds, six assists and two blocked shots. Perkins, who supplanted Budko in the pivot at midseason, was equally devastating inside, scoring 31 points, grabbing 22 rebounds and blocking five shots in the victory over Utah on Thursday and in Saturday's 82-68 regional championship defeat of Kansas State.
"At the beginning of the season we didn't even know if Worthy was going to be able to play with that pin in his leg," said Smith. "And we had no idea Sam would come on as fast as he has." Perkins, whose soft hands make him the perfect hub of the Tar Heels' splendid interior passing game, is the team's second-leading scorer (15.1) and rebounder (7.8). And Perkins may be the only player left in the tournament capable of neutralizing Ralph Sampson of Virginia, Carolina's semifinal opponent Saturday in Philadelphia. "Sam ain't no freshman," says UNC Forward Al Wood. "That youngster is like ice. We say, 'Go out and play, Sam,' and he do." And when Perkins do, the Tar Heels do, too.
Before the Utah game, Smith was concerned about overcoming the Utes' home-court advantage and about playing at Salt Lake City's 4,327-foot altitude. "It would help if Utah would shoot 10%," Smith said. He was only kidding, but the Utes tried to oblige, hitting just 39.7% of their shots. Utah Forward Karl Bankowski, who had been his team's outside scoring threat all season, shot 1 for 9 even though the Heels seemed to be giving him as much room as he wanted. "I've never seen him have a game like that," said Utah's star forward, Danny Vranes. "If he sticks the jumper, it opens it up for us inside."
With Carolina free to camp in the lane, Vranes, Bankowski and Center Tom Chambers spent a frustrating evening trying to live up to their billing as the best front line in America. Vranes, a formidable leaper, had two of his first three shots sent back courtesy of Perkins and Worthy, and Chambers spent most of the game in foul trouble. North Carolina whipped up on Utah so fiercely inside that during the second half the Tar Heels took but one shot from more than 10 feet from the basket, and Wood hit it.
Kansas State earned its chance at North Carolina by defeating Illinois 57-52 on Thursday, largely on the strength of late free throws by Eduardo Galvao and Tim Jankovich and a 12-point, 14-rebound effort by 6'7" Center Ed Nealy. Nealy is listed at 235 pounds, and as somebody suggested last week, he has a body that looks as if it should be up on blocks. "It doesn't bother me that people laugh at me," Nealy said. "Other teams look at us and they don't take us seriously because we don't look like much. By the time they realize we mean business, it's too late."
K-State Coach Jack Hartman may have grown weary of hearing his upstart team described as a dozen different kinds of ugly, but even he had to admit that "as basketball players go, they don't exactly turn your head as they go by." The Wildcats' only name player was 6'6" Olympian Rolando Blackman, and he split the backcourt duties with Jankovich and Galvao. Jankovich, who dates Hartman's daughter, lost his starting spot earlier in the tournament because he's so short (6 feet) and then got it back again 15 minutes before the Illinois game because Hartman "liked the set of his jaw." Galvao came to the Wildcats from Brazil. "Is terrible, the winter in Kansas," he says. "I almost die last year." Nealy drove the team van to and from games. "The beer drinkers and the blue-collar people of the world would like our team," said Hartman on the eve of K-State's meeting with the toast of the champagne set, the Carolina Tar Heels.
The Wildcats quickly fell behind in the first half, and although it was Wood, Worthy and Perkins who did most of the damage, freshman Matt Doherty came off the bench and made two steals that led to breakaway layups. "Psychologically, those are the kind of plays that knock the wind out of you," said Wood.
With Worthy and Perkins sucking K-State's zone defense into the middle, Wood was free to roam the perimeter. He finished with 21 points and 17 rebounds and was named the tournament's outstanding player. Wood is something very special, and even though it had been one of his best days, he knew where the game had been won. "When we get the ball inside," he said, "we're going to be all right. Big Sam knows what to do with it when he gets it in there."
Now if the Tar Heels can just avoid getting Virginia's Sampson stuck in their windpipe, it may be their turn to make the other teams in Philadelphia turn Carolina blue.
PHOTO
Point Guard Jimmy Black wheeled by Scott Martin of Utah as the Tar Heels beat the Utes 61-56.
PHOTO
Wood, the West MVP, had 15 points and six rebounds against Utah and 21 and 17 against K-State.