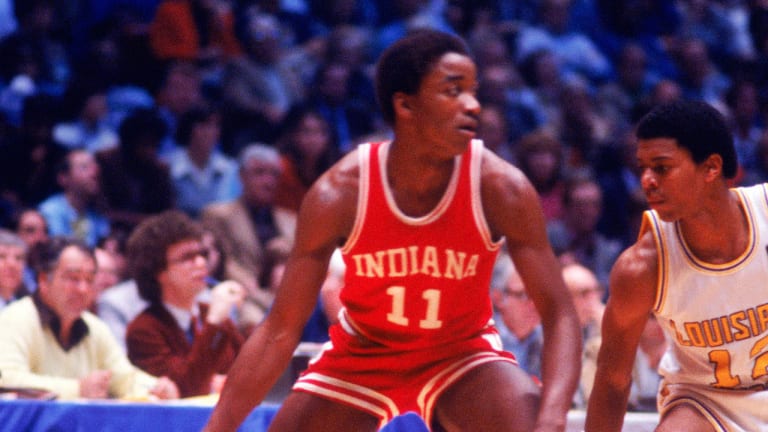 And a Little Child Led Them
As though drawing inspiration from the Book of Isaiah, baby-faced Isiah Thomas spurred Indiana to a fourth NCAA championship
In the end it was North Carolina that Bobby Knight shoved up against the wall in Philadelphia. Let that be the story of Indiana's 1981 NCAA championship, not the tawdry tale of Knight's scrap two nights before. The 63-50 beating the Hoosiers administered to Carolina on Monday night in the Spectrum was not so much a win as a wearing-out. This unrelenting team performance couldn't be upstaged by individual heroics. Not by the wondrous leadership of Isiah Thomas and his game-high 23 points. Not by James Thomas, who was off the bench and on the boards and everywhere that the Tar Heels' star marksman, Al Wood, was sure to go. And certainly not by the Challenge at Cherry Hill, in which Knight roughed up an LSU fan who had called him names in a New Jersey hotel lounge. After Knight shoved him, the fan landed in a wastebasket.
On Monday night the coach made his presence known in more subtle, but equally forceful, ways. With the Hoosiers behind by eight points (16-8) midway through the first half and looking surprisingly vulnerable, he sent in the 6'3" Jim to join the 6'1" Isiah for an all-sophomore, all-Thomas backcourt. On offense. Guard Randy Wittman moved to the wing, where he "took what I could get" in the way of shots. That turned out to be four bombs that shredded the Carolina zone and gave the Hoosiers a 27-26 halftime lead, their first of the game.
The defensive adjustments forged by the entrance of Thomas, J. were even more important. When he moved in to guard Wood, Landon Turner switched over to guard Center Sam Perkins, who had scored seven points in the first 9½ minutes. Now, Knight had the matchups he surely wanted all along.
Indiana "plays five guards—one point and four pulling," another coach had said jokingly earlier in the tournament, although such a definition neglects the contributions of Thomas, J., who has both size and speed. "We just kept pounding away," said the 6'10", 241-pound Turner more accurately.
In the second half this is what the Indiana defense wrought: Thomas, J. and Turner held Wood and Perkins to five baskets and five rebounds between them. Ray Tolbert thwarted the dangerous James Worthy even more, spinning a one-hit shutout. In that final period. Worthy tallied one rebound and no points and fouled out with 5:07 to play and the game long gone. This was in severe contrast to the afternoon in December when the Tar Heels beat Indiana 65-56. In that game Isiah played so poorly Knight benched him.
Things went sour for Carolina immediately following intermission. Thomas, I., who had shot a pitiful 1 for 7 in the first half, stole a pass near midcourt and went in for the crip. Although Perkins got the basket back with an alley-oop drop-in, Indiana's little prophet with the balloon cheeks soon was off and away. Next Isiah fed Turner—31-28. Then Isiah picked off another pass, this one intended for Perkins down low ("The ball was slippery," Isiah modestly said), and raced in to give Indiana a 33-28 lead. "The way they jumped on us there broke our backs," Wood admitted later. Two more Isiah baskets and it was 39-30. Isiah from the circle and Wittman, who finished with 16 points, off the glass made it 45-34 at 12:31. Meanwhile, at the other end of the floor it was obvious that the Tar Heels weren't going to pierce the Hoosier defenses if they played until July.
Knight's objective—"to break down" the other team psychologically and physically—was being realized all too clearly. Even when Wood, who would get 18 points, brought his team back to within seven with eight minutes remaining, all the Hoosiers did was spread out against Carolina's half-court traps and get the ball into Isiah's fast and sure hands.
The 1976 national champion Hoosiers, who were regarded as the terror of the age, beat their five tournament opponents by a total of 66 points. This edition beat its five foes by 113.
This was billed as a Big Top of Final Fours, a veritable Barnum & Bailey production featuring the game's most famous faces, talents and—college basketball being that most overcoached of all sports—brains. Imagine. Dean Smith! Bobby Knight! The Four Corners! General Patton!
The quartet of teams—Virginia and LSU filled out the hand opposite North Carolina and Indiana—had won 111 games all told, had hardly been tested in their regionals and had all peaked to become the four best in actual fact if not in the final poll. Too often the meek inherit the NCAA finals; this year, no. Here were the game's reigning giant, Ralph Sampson; its beaming cherub, Isiah Thomas; the Tar Heels' baseline of first-round draft-choice celebrities; and the Tigers' den of versatile, gold-jewelry-adorned athletes who had an edge, said one coach, "only if Sammy Davis Jr. shows up to referee."
Adding a bit of color to the usual gubernatorial wagering on the semifinal games (Dalton of Virginia put up a ham against a bushel of oysters from Hunt of North Carolina; Treen of Louisiana put up crawfish against popcorn and ripe persimmons from Orr of Indiana) was an agreement between the Charlottesville Daily Progress and The Chapel Hill Newspaper that the loser's hometown journal must print its Monday logo in the hues of the winning school, orange or blue.
Knight had prepared for LSU during Indiana's Mideast Regional victory over Alabama-Birmingham, a team similar in size and style to the Tigers. He had matched up Turner on Rudy Macklin (size and speed trump speed) and Tolbert on Leonard Mitchell (senior trumps freshman), and he wasn't about to be doubting his Thomases: if Isiah was delivered into foul trouble, Jim was sure to bail the Hoosiers out.
Thomas, J., whose middle name is destined to be No Relation, is a sophomore from Florida who used to be known as the only player Knight has recruited outside his Indiana-Illinois-Ohio power base. That was before he gained a new dimension by starring off the bench at two positions in the regional. But LSU Coach Dale Brown didn't know that. "The new guy. The guy we didn't even talk about," Brown called him after Thomas, J. replaced Thomas, I. and accomplished the little things—a couple of blocks and assists, a steal and defensive harassment, a team-leading nine rebounds—to key the 67-49 humiliation of LSU in the semifinals.
It didn't start as a blowout, though. Even with Macklin subpar (his split finger forced him to "re-catch" passes, as he put it) and the team shooting 40%, Brown had watched his game plan unfold perfectly. The Tigers were clawing on defense. Point Guard Ethan Martin had slithered his way to seven points and seven assists, had in fact contained Thomas, I., and had forced him to the bench with three fouls with 3:14 left in the first half. But now, with a 30-27 lead. Brown removed Martin "for a rest" and went into a delay game.
What LSU meant to do was spread its offense for only one possession. But, in fact, the Tigers never attacked at all. They didn't take advantage of a tight and anxious Indiana that was on the ropes and missing its leader as well as its easy shots. They didn't increase the lead to five or six or 10 points, which seemed within their reach. They didn't take one more shot before the end of the half.
"If they hadn't slowed it down...well, we were content to be down three," said Knight.
In the locker room, where the Indiana coach wins most of his battles, he won another. Instead of screaming at Turner and Tolbert (4 of 13)—"Ray's a hyper kid, he was in the ozone," Knight said—or eating a chair. Knight settled his troops, urging them to sit back, relax, "sprawl out." The Hoosier defense was intense enough; there would be no change in assignments. Offensively, the Indiana shooters were told to act with poise, not anxiety. "We had the shots, but we were goosing the ball up there. No finesse," Knight said later. "We played like we would get one point for hitting the backboard."
A revived Tolbert roared out and slam-dunked a rebound, and the Hoosiers got the first 11 points of the second half. While Macklin and Willie Sims—who together missed 16 of 20 shots—and the other LSU shooters either walked or forced bricks or simply panicked. Turner scored on a turnaround, a layup three-pointer, a tip-in. At 36-30 Thomas, I. committed his fourth foul and left the game again. But LSU's Greg Cook missed a point-blank jumper, and Thomas, J. ripped the rebound off the iron to start a fast break that Turner ended with his fourth basket in a row.
At 40-34 the Indiana long knives came out. Ted Kitchel and Wittman buried two faraway jumpers apiece in a 12-2 run that made it 52-36 with 9:01 left. From Tiger rag to Tiger gag. LSU tried to recover too quickly. Its players were under duress and questioning themselves. Their shots wouldn't fall. Tap-backs, roll-arounds, lip-outs. "They broke our spirit," Brown said.
Seldom had a good, mobile team, seemingly in control of its destiny, gone so quickly, so quietly. Or been so devastated. Turner, who scored a game-high 20 points, held Macklin scoreless in the second half. Thomas, J. did likewise to Martin. During one agonizing stretch that began late in the first half, LSU went 9 for 21. Nine points, 21 minutes. "I get in foul trouble and everybody goes haywire," said Thomas, I.
Barbed wire is what North Carolina vs. Virginia had been in two previous matchups. The Tar Heels spent so much time figuring out how to control Sampson, they forgot how to control the ball with 13- and 16-point leads. "I don't think the down-13 trick will work again." UVA Coach Terry Holland said. When Carolina's Wood drove the baseline for a double-pump, no-look no-chance, oly-oly-oxen-free, reverse layup either over or under or between Sampson—no one was quite sure—the score was 74-58 Carolina with 1:13 remaining, and Holland was out of tricks.
It has been said that no mere mortal can beat the Dean of basketball three times in one season. After the ACC tournament, the gag was that Holland would take his 2-0 over Smith and go home. Certainly, though, the Tar Heels, who won Saturday's semifinal 78-65, laughing, would have lost if Sampson had played like the young Abdul-Jabbarian clone he's supposed to be. Or if Wood had broken both his legs. What was significant was not so much the adjustment Carolina had to make for the 7'4" Sampson, but what Virginia had to do against the 6'6" Wood.
The Cavaliers began and ended the first half in a zone, then moved to a diamond and one, then straight-up man-to-man. At least five different Cavs tried to guard or at least knock on Wood. Result: Al was 14 for 19 from the floor; 11 for 13 from the line; 39 points; 10 rebounds. A semifinal scoring record. "I didn't dominate," said Wood, being modest and wrong all at once. "It just so happens I had a short guy on me."
It just so happens that over a stretch of 10:28 late in the second half, Wood scored nine baskets and 22 points. The spree went from UNC up 39-37 to UNC up 74-58. Al Wood 22, Virginia 21. Say good night, Wahoos.
What about the big guy? In UNC-UVA I, Smith threw a collapsing zone at Sampson; in II, more man defense with help. This time Carolina combined the two and was more effective primarily because the 6'9" Perkins was able to combat Sampson virtually head-on, alone.
When the game was close—through the middle of the second half—the Tar Heels would constantly switch defenses, and when Perkins himself wasn't denying Sampson room—"I've learned how to touch him, to use my arms and hands," Perkins said—he got help from Worthy in from the wing or 6'1" freshman swing-man Matt Doherty sagging down. After 10 to 15 seconds of not getting the ball each time down the court, Sampson's resolve visibly weakened. He was flat-footed, standing around. Perkins matched his stats exactly, 11 points and nine rebounds. But Perkins was 4 for 7 from the floor and Sampson 3 for 10. Late in the game Sampson even leaned against the basket post in a way that caused Wood to ask after his health.
Offensively, the Virginia center got little help from the perimeter—Jeff Lamp and Jeff Jones shot 12 for 31—and though Lee Raker did his usual escapee-from-M*A*S*H routine, his 13 points were not enough.
Bottom line: Holland and the Cavs were as unable to deal with Sampson's offensive difficulties as they were with Wood's offensive brilliance. "He was so aggressive with the ball," Lamp said. Yes. Wood off the glass. Wood to the end-line. Wood out front. Wood had gotten 33 points against Virginia the last time, so the Cavs were aware of the danger. "We got beat by a great player having a great day," Holland said.
On Monday night it was back to Biblical times, in a manner of speaking. For much of the weekend Isiah's thunder had been stolen by Wood, by another guy on his own team with his own name—and by a wastebasket, for goodness' sake. On Sunday, Thomas was asked if Knight had ever thrown him into a wastebasket. "Not yet," he said.
Well, after grinning all over the Spectrum and bearing the national championship away, what else could a nice and easy fellow like Thomas, I. say?
PHOTO
RICH
CLARKSON
Thomas had 23 points in the title game, two on this breakaway field goal against Jimmy Black.
PHOTO
RICH
CLARKSON
Wittman's hot hand put Indiana ahead as the first half ended, and helped keep it ahead thereafter.
PHOTO
RICH
CLARKSON
With Turner, Wittman, Tolbert and Thomas, I. hemming him in, Worthy's game was unworthy of him.
PHOTO
RICH
CLARKSON
Carolina's Perkins, zipping a pass down low to Worthy here, was the offensive and defensive force in the semifinal that Virginia had expected Sampson to be.