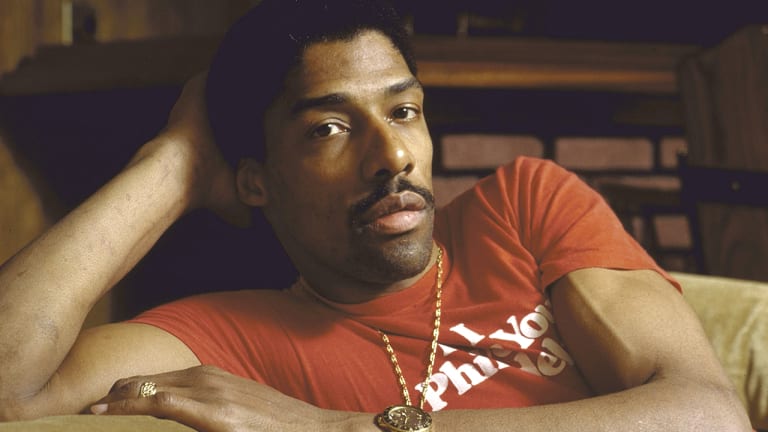 'I've Always Felt Powerless'
Dr. J dominates the basketball court, but Julius Erving says he has no control of his life
There are any number of ways to analyze results—of a moment, a career, a life. There are questions to ask and answers to question, enough whys and what-ifs to put a person through a lot of needless exercise. Or, one can go through life quite content for having tried his hardest and say, when asked, "Hey, what is, is."
Take, for example, Julius Erving, the Philadelphia 76ers' incomparable Dr. J. He sat silently in front of his locker at the Boston Garden last Sunday before the 82nd and final game of his 10th professional season, a pair of hot towels warming the springs in his knees. There were no predictions of victory from him, but neither was there any sign of uncertainty on his face or in his voice about what might happen in the big game.
"We'll see," he said. "We'll see."
Nor was there any reason for him to consider why this game was as big as it was. The winner would be champion of the NBA's Atlantic Division and receive a cherished bye in the opening round of this week's playoffs. The loser would finish second and get just one day's rest before negotiating the potential booby trap known as the best-of-three mini-series. Of course, this game would have been meaningless, the title and time off locked up, if the Sixers hadn't folded in four of their previous eight games. But what had happened, had happened. And to Erving, what is, is.
And then the 76ers stormed onto the parquet floor and lost again, 98-94. Those who had reason to expect that Dr. J would merely assume control, soaring and scoring 40 points as he has so often in the clutch, were disappointed. For three quarters The Doctor was inept, missing nine of 13 shots, never once flying through the air like a cruise missile, slamming the basketball-payload through its target. A minor surge in which Erving scored three straight fourth-quarter baskets boosted his production to 19 points, 12 below his season average against the Celtics, but it only helped to make the final score respectable. This was clearly not a game in which The Doctor was in control.
But all did not go afoul for the Sixers. In Indianapolis the Chicago Bulls, the most feared of the playoff dark horses, had beaten the Pacers. That meant that the 76ers would get tamer Indiana in their mini-series, leaving the Bulls for the New York Knicks. Of course, that result, a happy one, was outside of Erving's control as well. "Thank goodness," he said, "for small favors."
If we didn't know any better, we would think that Julius Winfield Erving II is in control of things to a degree matched by few athletes. Certainly he can control his body and a basketball in ways no one before him ever thought possible. His life is ordered, he has a wife as lovely as her name, Turquoise, and three beautiful and well-behaved children, with a fourth expected in May. He carries himself with uncommon dignity and class, he handles his superstardom more graciously than any of his peers. Furthermore, he controls a fledgling business empire worth a small—say, $10 million—but growing fortune. With all this in the palms of what must be among the world's largest hands—11 inches from pinky to thumb with fingers only slightly stretched, a little longer than this page—is it too much to believe that Erving is in complete control of his world?
The key word is "control," for the good Doctor insists that nothing is within his control, a claim which sounds a trifle too modest to be true. Dr. J: he has a patent on the name in all forms. Doctor, Dr., The Doctor. The image—be it the revolutionary aerial daredevil artist; the articulate best friend of the press; the man in the mink coat and the Mercedes; the national chairman of the Hemophilia Foundation; the coach of the Special Olympics basketball program; the adviser to The March of Dimes; the spokesman for the Lupus Foundation, American Dental Association and Philadelphia Police Athletic League; the endorser of the American Red Cross, Population Institute, Pennsylvania Adult Education and dozens of other charities; the ubiquitous television pitchman (Hey, Dr. Chap-Stick!); the devoted Christian and family man—all seems too wonderful, like the high school senior whose yearbook entry is six times as long as anyone else's.
Yet Erving insists he has no control over any of this. Not that his life has been left to chance. Not at all. "I believe in predestination," he says, and everything that has occurred to him in his legendary life—"legendary" being the word most often associated with Dr. J—is, he believes, all part of God's master plan.
Stay with this now, for the real Julius Erving isn't as difficult to pin down as he is to believe. He is sensitive. He is vain. He is protective of an ego as big as the Ritz. Sometimes, overprotective. Sure, everyone has an ego. And the vanity? "It's part of what makes him great," says 76er Trainer Al Domenico. "He cares very much what people think—of how he plays, how he speaks, how he acts, how his children act. But he cares about his body, too. Jeez, if Doc gets a pimple, he wants to know why it's there and the fastest way to get rid of it." Of course, pimples are beyond The Doctor's control, just as The Legend is beyond his control.
If the 76ers, far and away the best regular-season team in the NBA during Erving's five years with the club, finally win the NBA championship this season after twice losing in the final round, so be it. Isn't it just coincidence that the last two times Turquoise was expecting, as she is now, Julius' team—the ABA New York Nets—won championships? If Erving, playing the best basketball of his career at age 31, is, as expected, voted the NBA's Most Valuable Player, so be it. Can he help it that he would be the first non-center to be MVP since Oscar Robertson in 1964, 17 years ago? And so it was that Erving, derided as a "circus performer" by NBA chauvinists while he was winning three scoring championships and three MVP awards in the ABA, recently was one of two active players—Kareem Abdul-Jabbar was the other—elected to the 11-man All-Time NBA team.
So The Legend grows, quite beyond The Doctor's control, and it has caused Erving and his family almost as much hurt as happiness. At times it has created jealousy among teammates, resentment from fans. It has made Turquoise "hard and outspoken," in her words, or even "unprintable," in the words of some other 76er wives, whom she has publicly accused of snubbing her and her husband because of jealousy. She guards her nest like a mother hawk, protecting her husband from those she suspects might exploit him unfairly while carefully monitoring the "normal" environment the Ervings insist upon for their children. But The Legend has produced occasional distortions of fact, as legends tend to do. Erving's mother, Mrs. Callie Mae Lindsey, says, "For the years that my son has been a superstar, my life-has been filled with happiness, enjoyment, anger and misunderstanding." She bristles when this or that person claims credit for "developing" Julius, whose father left their Roosevelt, Long Island home when her "June," for Junior, was five. Mrs. Lindsey, the eighth of 14 children of South Carolina sharecroppers, raised her three children with a firm Christian hand and "instilled in them a desire to make each day better than the one before and to improve each task, however small."
Her famous son has clearly benefited from her teaching. That is why he is as real as he can be: a superstar, yes; an idol, even. But he understands his mortality and tries to give as much as he has received. He often tries too hard, and this, he realizes, is a shortcoming. "I believe that I was given a gift," he says. "And what can be given can be taken away. I learned early that when I made a wrong decision I was punished, immediately. Conversely, doing the right thing always brought reward. So I've tried to stay on the right side of the Man, and I've been blessed."
Julius Erving's locker is mobbed with reporters after every game. He is known and loved by the media for his patience and willingness to sit for hours until the last pencil or camera or microphone has left him, whether it belongs to the networks, the locals, the visitors, a high school kid from Overbrook or a fifth-grader from Bala-Cynwyd. Not that The Doctor is a great interview, in fact, his quotes are usually downright bland, even after a game in which he might have scored 45 points with three moves that would tax a thesaurus for adjectives. Then again, bland is better than Carlton in Philadelphia. "One of my greatest challenges," Erving says, "is to explain what I do. Most of it is repetitive to me, anyway. Did Beethoven have to explain how he wrote his Ninth Symphony?"
The other day a Philadelphia reporter interrupted his post-practice interview with Erving to chase down Coach Billy Cunningham for a quote. "Hold that clichè, Doc. I'll be right back," said the reporter.
"Right," said Erving, and he waited. Never mind that 8-year-old Cheo Erving and his 6-year-old brother, J (for Julius III), were hungry for lunch. Their father told them to wait, and wait they did, entertaining 76er Center Darryl Dawkins with a kindergarten joke about a boy who recited the alphabet and omitted the letter "p." Finally, Erving was finished and took the boys to lunch—at Wendy's. Erving has been known to be penurious, and until recently he was a Wendy's stockholder. His meal was interrupted several times for autographs and one woman asked if he really wore the Dr. J sneakers he plugs on television.
"Did you ever hear of truth in advertising?" answered Erving, ever so diplomatically.
After lunch the Erving men joined the Erving women at the modest three-bedroom Center City condominium where Julius lives during the season. Since 1976, when he was with the Nets, the family's main residence has been a 17-room Long Island manse. In season, Turk, as she is called, stays in Philadelphia and the children commute there on weekends; in September, the family will move to Philadelphia permanently, and the Erving business empire will be centralized there. Now, at the condominium, 4-year-old Jazmin showed off two new dresses her mother had bought her that morning, then presented each boy with a new shirt. One by one each child hugged and kissed and thanked each parent, then Julius took them all to the swimming pool. If ever there was an American dream family for the '80s....
"A lot of people have tried to separate Dr. J from Julius Erving," said the president of The Erving Group while sitting in a corner of the holding company's newest property, The Doctor's Shoe Salon, an elegant high-fashion boutique near Philadelphia's exclusive Society Hill. The NBA playoffs were just a week away, and Julius Erving, an impeccably dressed corporate president with a precise bass voice, was talking debenture bonds and risk capital. He appeared to belong in this setting; the lone incongruities were the long legs stretched over an ottoman and the hands. The hands weren't exactly resting on his thighs. The heels of the hands sat on mid-thigh, but the fingers stretched out like thick ropes and curled over the kneecaps.
Checking out a pair of loafers, a customer said to the proprietor, "Hey, you got these in blue suede?"
"Blue, black and brown," said Erving.
The Doctor was presiding over a rambling discussion, and a full 45 minutes elapsed before the word "basketball" was mentioned. The "salon" was of prime importance. Erving emphasized that it was a "salon, not a sneaker store, which is what a lot of people thought it should be. But this is something I've wanted to do for a long while. I sat with the idea for four or five years before going ahead with it. A lot of people whose advice I listened to said it wouldn't work. But I wanted to do it. My wife wanted to do it. We wanted something that people could associate with what Dr. J was really about. Class. Quality. It's the first high-risk venture I've gone for. Before this, every investment was what you would call solid—stocks, bonds, a house. With my attitude about money, I've never been in any rush to go out and spend." Turquoise used to tell how Julius would count the change on his dresser every night before retiring and recount it in the morning when he woke up to make sure none of it had disappeared during the night.
"I'm careful," he was saying. "I'm not going to do something before I'm sure I'm ready. The important thing for me now is to establish my portfolio, and it's not going to end with one shoe store. I can see myself, at the end of my playing career, making the transition from basketball player to entrepreneur. I want it set up so I don't have to take a step down or a step up, just step off. And instead of being Dr. J on a court, I'll be in a nice office with 'J.W. Erving II' on the door."
Watching and listening to this man, one begins to get the feeling that the spectacular basketball career he has fashioned is a mere prelude to a much grander existence. He views his life as a series of choices, and he has always seemed to choose pearls over paste. He says he didn't seek out these treasures, they merely presented themselves to him. Sometimes he didn't even seem to know what he was choosing. It's all part of his belief in destiny, and one is shocked to hear an athlete of The Doctor's stature say, "I think I've always felt powerless."
He first felt that powerlessness when his brother Marvin died in 1969, while Julius was a freshman at the University of Massachusetts. Julius was the family's athlete. His siblings were inclined toward academics, art and other activities. His older sister, Alexis, now a free-lance legal secretary, was a member of the 4-H Club and Girl Scouts. Marvin, three years younger, was president of his class and a serious drummer. Marvin idolized Julius for his athletics, Julius loved Marvin because he had qualities that Julius lacked. "I felt he would be a lawyer or a doctor," says Julius. "I was an introvert. He was an extrovert. I admired him for that."
Mrs. Lindsey remembers how Marvin insisted they pay Julius a surprise visit at the UMass campus in Amherst on his birthday, Feb. 22. "UMass had a game that night," she says, "and at halftime the spectators and the team sang Happy Birthday for Julius and I was so very proud and happy. On the way back to New York we were caught in the worst snowstorm I can remember, and the very next day Marvin began complaining that his arms and knees hurt." The condition was diagnosed as arthritis, and when Julius came home for spring break Marvin was hospitalized.
"He had always been sickly," says Julius, "so I never thought it was serious. But somehow my mother must have known because the night before I went back to school she cried and cried." No sooner did Julius get back to Amherst than he was called home again. Before he got there, Marvin died. Later, the cause of Marvin's death was diagnosed as Lupus Erythemotosus, a disease in which antibodies, deadly to the body's own tissues, are produced. Now Erving has taken on the fight against Lupus as one of his life missions.
"I went to the cemetery for three straight days and cried," says Julius. "Then I stopped. I was really brought to my knees and made to feel helpless and powerless. It was like I no longer had control. I could be gone tomorrow. I felt helpless, but I also became fearless. I felt, 'Well, if I'm going to do something I'm going to let it all hang out. If something's meant for you, then it's going to fall into place. But you have to put forth the effort and energy for it to happen. And you have to be a good person. You have to have a pure heart.'
"I haven't cried since that day, and I'm not sure what would make me cry. Two years ago I had a favorite uncle die, my father's brother Phillip. I went to his wake and I was fully aware that I had not cried since '69. I really loved him and I wanted to cry, but I couldn't cry. I felt people expected me to cry, so I forced tears to come into my eyes, but I can't really say I cried."
If Marvin's death was the point at which Erving gave up trying to control things, was it also the time that The Legend began? "Yes," he says, "and you know what, it was all a mystery to me. Take basketball, for example...."
This is Dr. J saying, "Take basketball, for example."
"My perspective was entirely local. Our team at Roosevelt High School could have been the best in the country. In the country! But we had no idea. Our ultimate aim was to win the Nassau County championship, which we didn't. I went to UMass mainly because my high school coach, Ray Wilson, was a friend of Jack Leaman, the UMass coach. Once I got there, my perspective was regional. I never considered that I could play on the level of guys from UCLA or Purdue. It just never occurred to me. My first awakening came after my sophomore year when Mr. Leaman got me into the Olympic development camp. There I was with guys like Paul Westphal, an All-America from USC, Tom McMillen from Maryland, Joby Wright from Indiana. Well, I led that team in scoring and rebounding and I began to think, Hmmm. Maybe. But those guys would sit around saying, 'Well, I won't sign for anything less than $50,000 up front with a four-year no-cut at $125,000'; and I couldn't even take part in the conversation. I was completely naive about it. Pro ball? I had never considered it a reality."
Westphal, now with the Seattle Super-Sonics, recalls that he had never heard of Julius Erving until that camp. "I may be crazy," he says now, "but my impression of him was that he was only 6'5" or so." In fact he was more like 6'4" and 180 pounds. "I do remember that he had some unusual abilities. I say that because he was inconsistent and real quiet. One night he would tear the place up with 35, 40 points and the next he would look like he was trying to be more flashy than he had to be. He was very good, however, at learning what he could do and he started playing without throwing on mustard at the expense of the shot."
In Erving's junior year at UMass, the name "Erving, Julius" began to appear on the Top 10 NCAA scoring stats. He averaged almost 27 points and more than 20 rebounds that season, one of only seven 20-20 men in NCAA history.
A reporter, then working for a paper in New Jersey, recalls asking a colleague who had covered a UMass-Fordham game: "Hey, how's this guy Erving from UMass?"
"Well, he's not Jewish."
"He's not? How can you tell?"
"He's black."
"Oh. Well, how does he play?"
"You won't believe it. I'm afraid to write what I saw. He got the ball in the corner, took one step and was at the basket. On the other side."
"You better not write that."
Until very recently, Erving considered his entire life a mystery. He had no idea how good a player he was. He may not still, except that he has heard it said so many times he has no choice but to believe it. His mother recalls, "I made no plans for any of my children. I just prayed that things would turn out for them. I worked days, so I had only evenings to spend with them. And I really didn't see June doing anything steadily until he took up playing ball."
Don Ryan, who coached the first team Julius played on, a Salvation Army squad, and Earl Mosley, the Roosevelt Junior High coach, were Erving's father figures. Mosley remembers that the skinny 14-year-old "Jewel," as he was called in the playgrounds, was "an unusual superplayer. His talents were evident because he used to play with the junk shot, before and after practice. Twisting things, lobs and all kinds of spinning maneuvers. He wasn't a showboat, but I was amazed with his confidence."
The young Julius became The Doctor in a sixth-grade classroom, not on a basketball court. A teacher told Julius and a friend, the two top students in the class, that they might think of becoming professionals one day, as in "doctor" or "lawyer." The name "doctor" stuck on Erving.
Under Leaman, Massachusetts played by the book—big men rebounded and guards handled the ball. This wasn't Erving's style, but he went along, and he most impressed the few people who saw him with his jumping and rebounding—often one-handed rebounding. The summer before his junior year, Julius made his debut in the Rucker League in Harlem, and his play was phenomenal. The public-address announcer called him "Little Hawk," after Connie Hawkins, or "Houdini," for his magic acts, or "The Claw," for his one-handed rebounds and dunks. Erving finally went to him and said, "Look. If you want to call me something, call me The Doctor."
"It wasn't because I wanted to be 'The Doctor,' " he says now, "but because I didn't want him calling me all those other names."
That also was when The Doctor decided he could make some money playing ball and would forgo his senior year of college, a decision that made his mother weep. Because the NBA had a rule against signing undergraduates, Erving presented himself at the offices of the ABA New York Nets in the summer of 1971. But Roy Boe, then the Nets' owner, also felt disinclined to sign an undergraduate However, Earl Foreman, the attorney who owned the Virginia Squires, felt no such compunction and signed Erving to a four-year contract worth $500,000.
Al Bianchi, who then coached the Squires, had little idea what he was getting. "The first time I saw him," says Bianchi, "was at a press conference in Norfolk. I said to [Vice-President] Johnny Kerr, 'Jeez! Look at those hands!' Well, we put him in a three-day rookie camp, you know, threw all these kids out there and let them scrimmage, and it was unbelievable. After about an hour Kerr whispered over my shoulder, 'Maybe we ought to get him out of here now. Don't want to get him hurt.' We knew we had a prize. Best thing I saw? That's tough. There was a playoff game in Miami in which he ripped up Warren Jabali for something like 40 points, 19 rebounds, 19 assists. Once Julie was a wingman on a break and there was a bounce pass that had to be 15 feet past him. But that hand came out like it had a first baseman's mitt attached, and in one motion he took the ball in his fingers and stuffed. Jeez! It was like he stuffed the whole building through the net."
As Erving says, once he entered the pros "the chains were off." Dunking hadn't been allowed when he was in high school and college, and now he was stuffing as if he had reinvented the art. In 1973, after Erving made a quickly aborted jump to the NBA's Atlanta Hawks, the Nets came up with $4 million, and The Doctor brought his show to New York. And The Legend grew and grew. With the Nets, he won championships in 1974 and 1976. He scored 63 points in a four-overtime game in San Diego. He attracted the attention of the nation when he dunked from an inch inside the foul line in the first-ever Slam Dunk Contest at the 1976 ABA All-Star Game in Denver. And in that year's ABA championship series against Denver, he put together five consecutive games the likes of which no one had ever seen: 45 points, 12 rebounds; 48 points, 14 rebounds; 31 points, 10 rebounds; 34 points, 15 rebounds; 31 points, 19 rebounds.
And then Julius Erving alone did what nine years of lawsuits and million-dollar bidding wars couldn't do: he merged the ABA and the NBA in 1976. Said Dave DeBusschere, then the ABA commissioner, "Plenty of guys have been 'The Franchise.' For us, Dr. J is 'The League.' "
And because he was "The League" The Doctor felt he deserved more money than Roy Boe was paying him to play for the Nets—$350,000 a year—even though he had four years left on his contract. A bitter holdout ensued, Boe unloaded him to Philadelphia, and Erving became "the Six-Million Dollar Man." Philadelphia paid Boe $3 million for Erving's contract and upped Erving's salary to $3.5 million over six years.
The seasons that followed were trying for Erving, who joined a team that already had one superstar (George McGinnis), two stars (Doug Collins and Caldwell Jones), a couple of would-be stars (Darryl Dawkins and Lloyd Free) and a coach who could hardly bear it all (Gene Shue). Erving was forced to give up the dominant role he had always played in the ABA, but he was amenable. After all, it was all part of the master plan. His scoring average dropped from 28.7 in the ABA to 21.6, and NBA chauvinists clucked, led by Red Auerbach, who said, "Look. The ABA was a minor league. Over here Erving is just another small forward."
In Erving's five years in Philadelphia the 76ers have gradually become "Doc's team," as Cunningham puts it, and a marvelous team it now is. Last season the Sixers lacked a dependable shooting guard and experience at center, and as a result they lost to Los Angeles in the championship series. This year they have the shooter in rookie Guard Andrew Toney, and Dawkins, at 24, is a year older. "But our biggest concern for this year," says Cunningham, "was whether or not we could get another year from J like the one he had for us last year." Did they? "He's had a better year," says Cunningham. The 76ers rewarded Dr. J with another multi-million deal that included an extension on his contract through 1985 and payments of more than $100,000 per year for 15 years after his retirement.
All of which brings us back to Erving's belief that all of this was predestined. "Really, everything that had occurred in my life had been a mystery to me," he says. "I just couldn't come up with explanations. I guess I solved those mysteries in 1978. I had just finished a bad season. I played most of it with a groin injury, my knees were bothering me, people were saying that I was over the hill as a player and the Philadelphia fans were angry. Maybe I felt sorry for myself. That summer I attended a family reunion and met more than 300 blood relatives. There were people I didn't even know who really cared about me and made me more aware of my family history. Some of them shared their feelings about what was happening with my life and my career and why I was in the position I was in. I had asked myself many times, 'Who am I? What does being Dr. J mean?' My Uncle Alfonso really simplified it for me. He said, 'Somebody along the line really laid a blessing on you.' It was as if maybe my great-grandmother or great-grandfather said, 'Two generations from now the first son of a second son shall be blessed.' That got me reinterested in the Bible, and eventually I accepted Jesus into my life and all the mysteries became clear.
"I divided my life into three periods. The first 11 years of my life, my parents were separated. When I was 11 my father was struck by a car and killed. He didn't live with us, but still, now I didn't have a father, and even though he hadn't been around, now there was no possibility that he ever would be. At 19 I lost my brother, the only brother that I had. That ended the second phase. In the third phase I just went on taking things as they came, and I became Dr. J, and that lasted until I was 29. That was when I accepted Christ. Then I realized I was in a fourth period, the one I'm in now. I see how sheltered I've been, how passive. That's the thing I need to change."
Passive? Dr. J passive? "That's something that I'm not totally happy with, but it's me," he says. "The feeling I have on the basketball court is that I'm free and I'm the initiator." He puts emphasis on the tor. "When I'm off the court I move into a state where I'm not the one taking the initiative. Most of the time I'm reacting—answering questions, dealing with requests for this and that. Most of the time I'll acquiesce, because I feel I owe that. But there are too few moments in my life, other than when I'm playing ball, when I'm saying, 'What do I want to do?' It's too easy for me to sit back and take things as they come. And I would like very much to take the first step more often. But that's slow in happening. It's happening right now in the shoe store, but taking that risk required four years of debate in my mind."
Such is his nature. A thorough search for a single Erving enemy turns out to be fruitless. "I'll tell you," says Dr. J's business representative, Irwin Weiner, a cigar-chomping sharpie who came out of New York's Garment District and now represents some 60 athletes, "you won't find anybody who doesn't like Julius. And if you do, there's something radically wrong with that person. Plenty of people don't like me, and plenty of people have told him to stay away from me. But I've never known a nicer person in my life. And his friends are friends forever. You go to a party at his home, there may be a transit cop, a jazz musician, the president of Schenley Liquors."
How then does this man, who insists that plain, mortal Julius Erving and the legendary Dr. J are one and the same, deal with adulation that often crosses the border into worship? "Well, I acknowledge it," he says. "But I can sit in clear conscience with the knowledge that I am representing God. And if it's happening for me, then it's happening for Him."
But can God dunk from behind the glass? "No, but He obviously said that I can do it. My greatest joy in playing basketball is the daringness of it. Daring to be great. Dribbling the ball in junior high school, knowing I could pick the ball up in one hand off the dribble, or one hand off the backboard, changing my path while in the air—it all seemed pretty safe to me. I was fortunate that I was never discouraged from doing those things, and the reason was that I was a winner. Besides, to tell the truth, I thought everybody could do those things."
More important to Erving than feeding the legend is feeling the pride. He says the best compliment he ever received came from Henry Bibby, after Bibby was cut by the 76ers this season. "The thing about you that's so special to me," Bibby said, "is that you come to play every night. I've played with a lot of stars and I can't say that about any others."
That is what Julius Erving is about. He is here to set an example and he is determined to do it right. He emphasizes that he "never, ever ever" introduces himself to people as Dr. J. Always Julius. And he never consciously intimidates or talks down to people. He is especially concerned about children. "They come at me all the time, yelling, 'Hey, Doc! Hey, Dr. J!' That's cool. I answer them in a minute. But I never encourage them to try to be like me. I want them to see I am a hardworking successful black man. There are 250 basketball players in a country of 250 million people,' I tell them. 'You think you're one in a million? If there were a million guys lined up here, could you beat them all one-on-one?'
"For a long time I didn't think there was anything I couldn't do on a basketball court, and I can't believe there is anything I can't do now. Only thing is, I used to be able to do them at the drop of a hat. Now I need to collect myself a little bit first. But that belief has been expanded to the point where I feel that nothing is impossible. And if nothing is impossible, then basketball is just a tiny part of it."
And that is where he stands, this athlete looking at his twilight years. He is already a lock in the business world, even if his shoes turn out to be too classy for Philadelphians. He doesn't rule out politics, considering himself "a crossover"—a liberal black man operating easily in a conservative white world. It is as though what is coming next for him is a private joke. For the end of Dr. J, Superstar, will merely be the beginning of J.W. Erving II, Superstar.