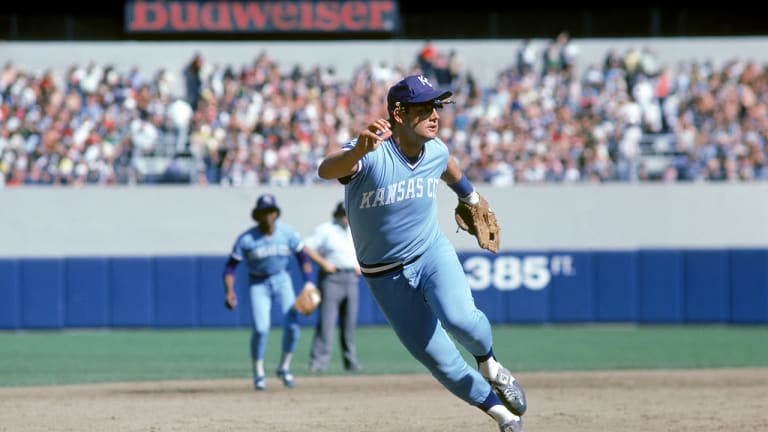 Third is the Word
As a new season begins, many a club has many a new face, and a player strike could be in the offing, but certain verities remain. Take two: George Brett (left) and Mike Schmidt, paragons at their position, and compelling proof that for any team which seriously hopes to contend for a league championship this year...
"There are more good third basemen today than at any other time in history, and more good players at third than at any other position"
Given the position's new respectability, it's appropriate that two third basemen were the key figures in the pivotal inning of the 1980 baseball season. The World Series was tied at two games apiece, with the Royals ahead 3-2 and three outs from winning Game 5. As Philadelphia Third Baseman Mike Schmidt led off the ninth, his Kansas City counterpart, George Brett, moved even with the bag. Schmidt had homered earlier in the game but he had bunted safely the day before, and Brett was taking no chances. This time, however, Schmidt swung away and hit a hard shot to Brett's left that the diving third baseman knocked down but couldn't make a play on. Schmidt's single sparked a two-run inning that enabled the Phillies to win 4-3. They wrapped up the Series two days later.
As exciting as the Series was—six games, five decided by one or two runs—it was this Schmidt-Brett confrontation on a Sunday afternoon in Kansas City that epitomized the season: the two leading teams, the two dominant players, the best-played position.
Ah, third base—alias Thunder Alley, or, most commonly, the Hot Corner. It has had that moniker since a game in 1889 in which Brooklyn batters smashed seven line drives at Cincinnati's Hick Carpenter. Carpenter survived the barrage and set a gutsy example for all future third basemen, but for reasons that aren't entirely clear, only five major league third basemen, the fewest for any position, have entered the Hall of Fame. They are Jimmy Collins of the Boston Braves and Red Sox (in 1945); Pie Traynor, Pirates (1948); Frank (Home Run) Baker, Philadelphia A's and Yankees (1955); Fred Lindstrom, Giants (1976); and Eddie Mathews, Milwaukee Braves (1978). John McGraw (see box, page 61), although an excellent third baseman, was enshrined as a manager. Happily, this state of affairs is on the verge of drastic change. Harmon Killebrew, who came up as a third baseman and became the leading righthanded slugger in American League history with 573 home runs, was unaccountably passed over in his first shot at the Hall in January. He'll undoubtedly make it soon. In 1983 Oriole great Brooks Robinson should make it in his first year of eligibility. The future? "There are more good third basemen today than at any other time in history," says Robinson, "and more good players at third than at any other position."
The best in the business, of course, are the incumbent league MVPs, Brett and Schmidt. Ask baseball men whom they would choose to start a team and they'll invariably answer Brett, who batted .390 last year and led the Royals to their first pennant. In 1980 Schmidt won his fifth consecutive Gold Glove Award, led the National League in runs batted in (121) and homers (48) and also was the Series MVP.
But Brett and Schmidt aren't the only all-round performers at third. Buddy Bell of Texas hit .329 and won a Gold Glove despite the debilitating heat and bad-hop infield of Arlington Stadium. The Dodgers' Ron Cey hit with power (28 homers) and committed only 13 errors while playing most of his games on natural turf, too. The Yankees' Graig Nettles is a former home-run champ who at 36 can still make unforgettable plays in the field. Bill Madlock of Pittsburgh has won two batting titles and fields bunts as well as anyone in the game. Minnesota's John Castino and Boston's Carney Lansford are youngsters with virtually limitless potential; Larry Parrish of Montreal and Bob Horner (page 25) of Atlanta are among the game's most feared sluggers; and defensive star Ken Reitz of the Cubs uses his hands as deftly as a pizza chef. Indeed, only San Diego. Seattle. Toronto, the New York Mets and Chicago White Sox lack a proven player at the position.
Though Schmidt concedes that Nettles is best at making great plays under pressure, the Phillie is generally considered baseball's best all-round third baseman. He has all the requisites: a good arm, fine hand-eye coordination and excellent reflexes, but what separates him from the pack is a quality lacking in most men at his position: speed. Schmidt, who played some shortstop before moving to third, ranges as far afield as any infielder, cutting off grounders in the hole and running down foul pops for over-the-shoulder catches. "I'll tell you about his range," says Philadelphia Inquirer baseball columnist Allen Lewis. "I once saw Schmidt go to his left to cut off a ball in the hole. As he was moving and throwing to second for a force, he saw that his throw would be off line. It tipped off the second baseman's glove, and Schmidt never stopped moving. He ran down his own throw in short right field."
Fast enough to bunt and steal bases, Schmidt exploits his speed in the field. "I play way off the line and back in the outfield," he says. "I like to spice up the position." Unlike most of his peers, who recoil at the myriad horrors of their position, Schmidt considers it easier than any other except leftfield. "It's do or die," he says. "With the tough plays you've got nothing to lose. Most of them aren't made because the ball's hit so hard. So I'm relaxed. Maybe that's why I make more hard plays than the others.
"It's an instinctive, reflex position. I don't think it requires a lot of practice, like Larry Bowa puts in at short. About all I do is spend some time catching the ball and putting it behind my back and between my legs to develop a feel. You have to learn to cradle the ball, to have a limp body so the ball doesn't bounce too far when it hits you. And, of course, you have to enjoy playing out there."
Brett, an excellent clutch fielder who has overcome throwing deficiencies, is quick to agree. "When I came up," he says, "I never wanted to have a ball hit to me. Now I want 'em all the time."
The low regard in which previous generations held third base is no longer evident, and this is as it should be. True, third basemen are recruited primarily to be power hitters in the middle of the lineup. True, a third baseman is less important to a team's defense than the up-the-middle positions. But the famous put-down made by Hall of Fame Second Baseman Frankie Frisch rings hollow today. "There's nothing tough about playing third," he said. "All a guy needs is a strong arm and a strong chest."
To be frank, Frankie, a third baseman must be deft enough to field bunts and dribblers on the run and throw in one fluid motion: agile enough to react to hard-hit balls to his left and right; and fearless enough to take direct shots off his body. "You don't see too many muscle-bound third basemen," says Bell. Nor many fainthearted ones. "When you reach the point you're too slow to get out of the way," says Detroit's Tom Brookens, "it's time to quit." He's kidding, of course. A fielder who plays "matador" defense won't last long; at third you take your lumps and learn to love it.
"You don't think about getting hit by batted balls," says Brett, "any more than getting hit by pitched ones." Nonetheless, a third baseman's pain threshold is only so high. "Maybe that's why there are so few of them in the Hall," says Parrish. "It's such a demanding position that few can hit with power and field well over a long career." Robinson's 23-year stint (1955-77) is the exception. Among the good third basemen who missed being elected to the Hall, Al Rosen lasted just seven full seasons and Billy Cox 10.
"Fielding at third is total concentration," says Schmidt. "If I could concentrate on every ground ball hit to me, I don't think I'd make more than five or six errors a year. And concentration is especially important when you're switching from AstroTurf to natural grass. You can fail to get your glove down, look away, wait for the ball to come to you and still make the plays on AstroTurf because the bounce is usually uniform. I think AstroTurf causes defensive players to become lackadaisical. Then they switch to natural grass where they have to charge the ball, and they're in trouble. So you have to concentrate all the time."
Even if a third baseman is slow, he can compensate with fast reactions, sound baseball instincts and aggressiveness. "What made Brooks a great third baseman," says Brett, "was that he charged everything. He reacted as the ball was coming off the bat, sometimes as it was coming to the bat." By contrast, the sure-handed but slow-footed Reitz was traded to the Cubs last winter because the Cardinals feared he wouldn't get to the slow rollers caused by the sinking, split-fingered fastballs of Bruce Sutter, the man they were trading for.
The most overrated attribute—Frisch notwithstanding—is a strong arm. Robinson had an average arm but a quick and accurate release. The most overrated statistic is errors, the most underrated, chances. In 1974 Robinson was awarded the Gold Glove over Milwaukee's Don Money although Money had fewer errors (five to 18) and a higher fielding percentage (.989 to .967). But Robinson accepted 543 chances to Money's 472 and the voting wasn't close.
Third basemen can't agree on their most difficult play. A drive down the line, some say. "The two-hopper," argues Nettles. "You can't go in or back and you don't get any perspective on the ball." Most third basemen fear the surprise bunt. "You have to field it one-handed because you're moving at top speed," says Robinson. "If you field the ball with your left foot forward, you can throw right away, but it's awkward to bend down with your right foot forward. I always used a little stutter step to get the left foot in front." Even an expected sacrifice bunt can be tough, especially if there are runners at first and second. Then the third baseman must instantly decide whether to retreat to third for the throw or to field the ball himself.
Thus, instinct wins out over intelligence. "Next to the catcher, the third baseman has to be the dumbest guy out there," says Seattle rookie Dave Edler. "You can't have any brains to take those shots all day." Parrish prefers the word flaky. "A guy who can't be afraid to move up on the ball," says Eddie Mathews, "or play in on Ralph Kiner when a line drive could kill you. A guy who's right in there on the field or in a fight."
Third basemen are survivors. According to a study by the Metropolitan Life Insurance Company, third basemen live longer than any other players. But they've got more going for them than longevity. "You're the voice of the team," says Horner. "You direct traffic on pop flies and bunts." Because they have less time to react to batted balls than middle infielders, third basemen must position themselves for hitters more precisely. "I've studied the position inside out," says Schmidt. "A guy's cheating himself and his teammates if he doesn't take advantage of that knowledge."
The most celebrated defensive third basemen of all time were Traynor, Robinson and Clete Boyer. Traynor was an excellent batter who hit .320 from 1920 to 1937, but his defense was particularly notable in an era when third basemen were considered fixtures rather than fielders. "He was a big rangy guy who took a bent-over stance with his hands on the ground," says Hall of Fame Pitcher Burleigh Grimes, Traynor's teammate in 1928, '29 and '34. "He was the first player I ever saw cross over and backhand balls hit down the line. Before Pie, they were all doubles." Traynor was so dedicated that if he made an error in a game he would stay for an hour afterward taking grounders. And that's not just another baseball legend.
Boyer, who played for the Kansas City A's, the Yankees and Braves between 1955 and 1971, is often overlooked because of his .242 lifetime average. "He'd start extremely low, like a catcher, and then dive," says Cincinnati Assistant General Manager Woody Woodward, who played with Boyer in Atlanta. "I was just amazed at his reactions." Says Boyer, now an A's coach, "Even when we took infield practice, I knew people were watching me. Guys from the other teams. Fans. I was on stage. I loved it. No distraction bothered me. A third baseman has got to be like that, loaded with confidence." No less an authority than Robinson calls Boyer the best he ever played against.
Of course, Robinson never played against himself. Variously known as Hoover, the Human Vacuum Cleaner and Mr. Impossible, he won 16 Gold Gloves in 23 years and retired with a career fielding percentage of .971, the highest ever for a third baseman. Robinson was the quintessential glove man. He kept three of them in various stages of suppleness, and with him at all times. Robinson did everything lefthanded except play baseball. "My glove hand is my better one," he says. "Maybe that's why I had such good reflexes with it." As the late umpire Ed Hurley said of Robinson, "He plays like he came down from a higher league." Traynor, who lived until 1972, called him "The best I've ever seen."
Sal Bando of the Brewers underscores a third baseman's importance to his team. "One advantage of a good third baseman is that he can turn a double down the leftfield line into an out. That's a big difference. It can turn a game around for a pitcher." Or a World Series around for a team. In 1970 the Orioles won a five-game Series from the Reds, and Robinson was everywhere, backhanding the ball, turning, then in the same motion throwing to first while crossing the third-base line into foul territory; scooping up rollers barehanded; diving to his left for line drives. Robinson's fielding even overshadowed his .429 batting.
Eight years later another outstanding Series fielding display also involved a third baseman. With the Dodgers leading the Yankees two games to none in 1978 and New York Pitcher Ron Guidry struggling, Nettles keyed a 5-1 Yankee win by robbing the Dodgers of at least five hits and perhaps as many as seven extra bases and seven runs. The Yankees went on to win the Series 4-2. A year later Robinson's successor, Doug DeCinces, finished off the Angels in the American League playoffs. Preserving a 3-0 Oriole lead in the fourth and final game, DeCinces dived across the bag to spear Jim Anderson's vicious one-hopper with the bases loaded, hooked the base with his foot, scrambled to his feet and fired to first to complete an inning-ending double play. As Robinson himself conceded from the Oriole broadcasting booth, the play was downright Brooksian.
Though Traynor and Jimmy Collins were excellent fielders, all the third basemen in the Hall of Fame made it on the strength of their bats. Schmidt and Brett may do that, too, but not Robinson. He was a fine offensive player who had 268 homers and 2,848 hits, but the world—and the Hall of Fame electors—will remember him for his glove.
TWO PHOTOS
WALTER IOOSS JR.
PHOTO
WALTER IOOSS JR.
Schmidt may not reach everything hit his way, but he has caught enough to win live Gold Gloves.
PHOTO
WALTER IOOSS JR.
As this acrobatic try for a foul ball during last year's World Series vividly illustrates, Brett can be just as aggressive with his glove as he is with his bat.
PHOTO
WALTER IOOSS JR.
Hard smashes that can only be knocked down and slow bouncers that must be fielded on the run are two occupational hazards at the hot corner.
PHOTO
[See caption above.]
THREE ILLUSTRATIONS