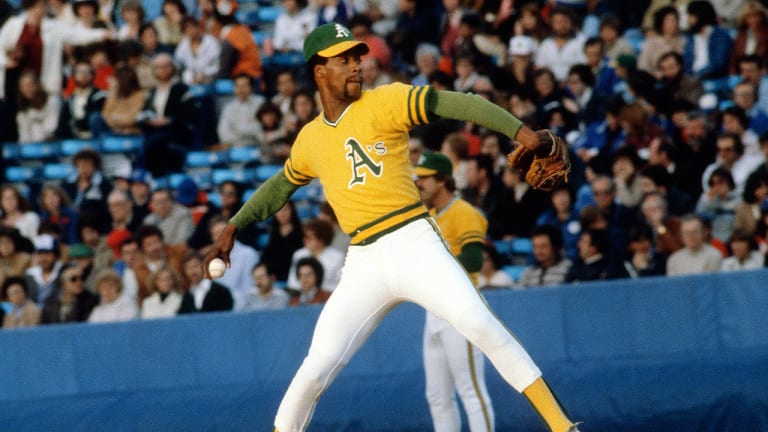 Winning is such a Bore
While Oakland was setting a record by opening the season with 11 straight victories, the relief pitchers were busy doing nothing
Mike Norris, the Oakland A's normally effusive young pitcher, seemed peculiarly sullen for someone who had just beaten the power-packed California Angels 5-2 on four hits for his second successive complete-game victory of the new season. He grudgingly accepted congratulations from Manager Billy Martin and then brushed wordlessly past his teammates in headlong flight for the clubhouse. There, sitting glumly on a stool before his locker, he was approached by A's Pitching Coach Art Fowler, a portly, ruddy-faced man of 58 whose rural South Carolina homilies often serve to elevate sinking spirits. "Eight walks," Fowler said to Norris with an admonitory shake of the head. "Why, I never gave up eight walks in my whole career." Norris, who aspires to be baseball's best pitcher—if he isn't already just that—got the message in the exaggeration. He had won the game, but he had violated Martin's and Fowler's Don't Walk policy. The win seemed somehow tarnished by Norris' carelessness.
"I just blew up after the game," he said after regaining his composure. "I walked eight. That's not the mark of a great major league pitcher. I can't see walking eight people again the rest of my life. I was really embarrassed. Billy is such a perfectionist, it rubs off on you."
Something has certainly rubbed off on these A's. They opened by beating the Twins four straight in Bloomington, Minn. and then traveled to Southern California to win four from the Angels before returning undefeated to Oakland. There they blasted Seattle 16-1 last Friday. 8-0 on Saturday and 6-1 in the first game of a doubleheader on Sunday before losing 3-2 in the second. Their 11 consecutive wins were a modern record for the most at the start of a season, surpassing the 10 straight run up by the 1955 Dodgers, the 1962 Pirates and the 1966 Indians. A promising beginning, you might say, although only the Dodgers of the earlier streakers went on to win the pennant. The Pirates finished fourth and the Indians fifth.
By week's end, the A's had a team earned-run average of 1.42, and their five starters, all of them righthanders, had 10 complete games out of 12 played. Norris may have been embarrassed by his walks, but Brian Kingman was positively humiliated by becoming the only starter who failed to go the distance in Oakland's first 10 games. He lasted into the sixth inning of the fifth game before he was relieved by Bo McLaughlin, who presumably had to brush the sleep from his eyes en route to the mound. Kingman overcame his disgrace by shutting out the Mariners on six hits for the record-tying 10th straight win on Saturday. It was the third shutout in the streak. Matt Keough having beaten the Twins, 3-0, on six hits in the third game and Steve McCatty having defeated them 1-0 on only three hits the next day. No team had scored more than three runs off A's pitching in the first 12 games.
Last season, the A's staff set a 162-game season record by pitching 94 complete games. The same inexhaustible starters—in order of appearance, Norris, Rick Langford, Keough, McCatty and Kingman—are back, possibly to finish 100, although Martin and Fowler say they harbor no such ambitions. Martin, in fact, goes so far as to defend his bullpen, insisting that merely by trading perennial malcontent Bob Lacey he has improved it. But how will anyone ever find out?
Martin has uncommon faith in his fearless five. Last Wednesday, for example, Langford carried a two-run lead into the ninth inning against the Angels, but quickly got into trouble. With runners on first and second and two out, he was confronted by Shortstop Rick Burleson, who already had four hits. Martin came to the mound. The showers for Langford? Nonsense. "Burleson had been guessing with me the whole game," Langford said. "Billy and I just decided to change the pattern. We went with the sinker." Burleson grounded into a force to end the game, a complete game, naturally.
As the result of such stellar performances, the A's starting rotation is already being equated with the 1971 Orioles' 20-win foursome of Dave McNally, Mike Cuellar, Pat Dobson and Jim Palmer. Langford, who won 19 last year while completing 28 (22 in a row) of his 33 starts, believes that by using five starters the A's can do those Orioles one 20-game-winner better. That would compute to 100 wins—enough, it's assumed, to win the division championship, an achievement Martin and his uppity youngsters consider inevitable.
Pitching just might accomplish it. All five starters are very good and improving, though it scarcely seems possible that Norris, the ace of the staff and the scourge of the league (3-0, 1.50), could get very much better. His fellow A's pitchers are frankly in awe of him. "Michael Norris is without a doubt the finest pitcher in baseball," says Keough. "The spin on his screwball is so tight, its motion so fast, that he's for all intents a lefthander throwing righthanded. The Bretts, the Carews are up there trying to hit his first and second pitch to save themselves the embarrassment of striking out. We all just sit around waiting for his no-hitter, wondering what 'God,' as we call him, will do tonight."
"I grew up in Los Angeles," says Kingman, "and I saw Nolan Ryan. And when I was a little kid I saw Sandy Koufax. They would just blow people away, but I wonder if anybody has made hitters look as bad as Michael has. He has guys missing the ball by two feet. He's our magic man."
Norris was 22-9 in 1980. His 2.53 ERA was second to Yankee Rudy May's 2.47, his 24 complete games second to Langford's 28, his 284'Öì innings pitched second to Langford's 290, and his 180 strikeouts second to Indian Len Barker's 187. He was the American League Gold Glove winner at his position. But he was unaccountably left off the All-Star team and he finished second in the Cy Young Award voting to Baltimore's Steve Stone because three of the 28 participating baseball writers left him off their ballots entirely. As incredible as their oversight may have been, Norris was only mildly miffed. "I even ate at Stone's restaurant [Steven] in Scottsdale [Arizona] during spring training," he says with a smile. "I'm just glad he wasn't in there."
There's very little that can shake Norris' irrepressible self-confidence, which, fortunately, is tempered with generosity. "I always credit Rick Langford with being the best pitcher on the team," he says. "I might be the most awesome and have the most devastating pitches, but he throws fewer pitches than I do. I tell you, though, you try to pull my screwball and I've got you. It drops and sinks and runs. I don't care if Babe Ruth is batting. I'll throw it."
Norris' screwball breaks in to right-handed hitters and away from lefthanders, and he may throw it 50 or more times a game. When he set down the Twins 5-1 on Opening Day, his victims protested that the pitch they were missing was not necessarily what Norris said it was. "It's a known fact that Norris messes around with the ball," said Minnesota Manager Johnny Goryl. "The hitters said the ball was doing funny things." To which Norris replied, of course, "Lots of people confuse my screwball with a spitter. It might drop like one, but my pitch spins all the way into the glove. With a spitter, the rotation just stops." Apparently agreeing with his tormentor. Twins Shortstop Roy Smalley chided his teammates for indulging in sour grapes. "Norris simply has one of the great pitches in the league," he said. "It's one thing to have good stuff, but to have an unusual pitch—that's really a plus."
A deadly screwball isn't Norris' only pitch. His fastball, a 92 mph hummer before he hurt his arm in 1975, is still close to 90 mph, and Norris says of his curve, "It's darn good. A few people may have a better one, but I'm not very far down the list." With his effective changeup. Norris has four basic pitches that become eight with changes of speed. And he loves to pitch. "Other players say I'm cocky," he says, "but I'm just out there having fun." His sunny countenance would seem proof enough that Norris enjoys himself, sometimes at the expense of his teammates. He and McCatty are the prime arson suspects in a clubhouse full of hotfoot fetishists. Woe betide the unwary soul who walks into the A's den with shoelaces on his shoes, because in the time it takes to light a match they will be aflame. McCatty even ignited Martin's brogans one memorable night in the dugout. The manager retaliated by stealing into his pitcher's locker and cutting out the seat of his pants. Of such acts are champions made.
Playful as he is, Norris, at 26, isn't the hedonist he once was. "I was wild," he admits. "I couldn't wait to get off the field and have a good time. I was single [he still is] and I had a few bucks in my pocket. I was young, high-strung, overconfident and unappreciative of life. And I wondered why I wasn't pitching well. I've learned now that you can't expect to do two things well. It took 26 years, but I'm ready now to accept my responsibilities. I have a heart of gold, but before I was only concerned about me, me, me."
Norris was born and reared in San Francisco's tough, predominantly black Fillmore District. His father, who didn't live at home, was knifed to death when he was seven years old. But Norris says he doesn't feel he had a deprived childhood: "I didn't learn I was living in poverty until I got to high school."
As a senior at Balboa High in 1973, Norris was 7-0 in regular-season play and was drafted No. 1 by Charlie Finley, then the A's owner. Finley offered Norris the unprincely sum of $2,000 as a bonus for signing. Norris rejected the offer and entered City College of San Francisco. Finley upped the ante to $9,000, then to $20,000 and finally to $25,000 with $500 extra thrown in to buy clothes. Norris accepted, and within two years he was on the major league roster. He had his blazing fastball then and he threw it, he says, with mindless abandon. "I used to get off on how hard I could throw without taking into consideration what I was doing to my arm."
Norris made his big league debut on April 10, 1975, pitching a three-hit shutout against the White Sox. He allowed only one hit in seven innings against the Royals in his second start, but he didn't get past the first hitter in his next appearance. "I was throwing my fastball and my arm just blew up on me," he says. On April 30, Norris underwent surgery for the removal of calcium deposits in his elbow. For the next four years, he was a Finley nomad, commuting regularly between the minors and the majors. He won only 11 games for the A's in that time and was constantly at odds with his impatient owner, though battling the boss was common among the A's in those days.
Meanwhile, Norris' arm was growing stronger and he was learning to control both his pitches and his nocturnal urges. The sore arm, he says in retrospect, "was the best thing that ever happened to me. It put me on the road to resurrection. I learned not to give up." His patience was rewarded with last year's luminous season. This winter Norris lost a salary-arbitration hearing to the team's new owners, the Haases, proprietors of Levi Strauss & Co., but he got a raise, nevertheless, from $40,000 a year to $300,000. He cheerfully accepted this profitable loss—he had sought $450,000—reasoning that the difference between winning and losing in salary arbitration was the difference between becoming very rich and just rich. He's now negotiating what 'he hopes will be a long-term contract.
Although Norris considers himself to be the A's biggest drawing card and relishes his newfound recognition, he accepts, with reservations, Martin's and the new owners' opposition to elevating any Oakland player to superstar status. "I'm not saying anything against Rick Langford or Matt Keough—they're great pitchers—but I filled the Coliseum last year against Tommy John." Still, he is an ardent booster of his fellow starters and he is devoted to Fowler. "All of us love him," Norris says. "I've never heard anything negative come out of him. And he's about the only man who can deal with Billy Martin. Their relationship is like a marriage built on mutual trust. They're phenomenal together. And we're not talking here about dummies, either. They've had success everywhere."
Martin and Fowler first met in the early 1960s, in, appropriately enough, a "little bar" both frequented in St. Paul, Minn. "We'd talk a lot about baseball," Fowler recalls. "Then he came over to manage Denver in '68 when I was a player-coach there. He told me that if he ever got a job managing in the big leagues, he'd send for me. When he moved up to Minnesota in '69, damned if he didn't call." He and Martin have been together ever since, except for a two-year period (August 1975 to August 1977) when the Yankees were reluctant to hire someone they felt was little more than a drinking buddy to Martin.
The coach can provoke laughter with his heavily accented Fowlerisms: "I don't know why you guys are afraid to throw strikes—Babe Ruth's been dead for nearly 40 years"; "Don't feel bad, I walked a guy once"; "You can't catch a walk." But the message is there: throw strikes. "We throw a lot of first-pitch strikes," says Keough. "Naturally, if you put the ball over the plate, you'll give up some home runs, but it's our thinking that a solo homer is a hell of a lot better than a three-run homer, which is what you're liable to give up if you walk people." As a matter of fact, the A's didn't allow a homer of any sort until the ninth game of the season, when Seattle's Dave Henderson hit one off McCatty in the second inning for the Mariners' only run.
Martin and Fowler are most agitated by suggestions that they are burning out the arms of their young pitchers, none of whom is more than 30, by allowing them to complete so many games. And yet none pitched more than 300 innings last year, and as Fowler reminds his critics, 300-inning seasons were not that uncommon a few years ago. Anyway, says Martin, "It's not the innings pitched that's important. It's the number of pitches thrown." The A's starters are limited to no more than 70 warmup pitches, whereas some pitchers will throw 100 or more, leaving their game, as Fowler says, "in the bullpen." With the emphasis on throwing strikes, not that many pitches are delivered in a game, either. Langford, the sinker-slider control artist, rarely makes more than 90, while Norris and Keough, the finesse pitchers, are in the 110 range. McCatty and Kingman, the power pitchers, will throw between 125 and 140, although McCatty in his first two starts needed only 91 and 116.
When the A's starters are spotting their pitches properly, they benefit also from a well-deployed defense. Scouting tells Martin where batters are likely to hit certain pitches. Martin has his pitchers put the ball to spots and positions his fielders accordingly. "It's no accident that so many line drives and ground balls are hit right at our guys," says Keough. "It's by design."
The A's superb outfield of Rickey Henderson in left, Dwayne Murphy in center and Tony Armas in right is invaluable to the Oakland starters, because with that trio at work the high fastball or slider isn't so risky. "I threw a high slider," says Fowler of his own pitching days with Cincinnati, the Angels and assorted other major and minor league teams. "With those guys out there, I'd have won 40 games," he says. In successive games last week. Murphy reached over the center-field fence to take home runs away from the Angels' Bobby Grich and Tom Brunansky. For his part, Armas hit two game-winning homers against California and two more blasts in Friday night's rout of Seattle. At week's end he led the league with six home runs and 17 runs batted in. And he was batting .396 on a team that was hitting .264 overall.
The pitching rotation seems to work to the advantage of all five starters. Norris and Langford are low-ball pitchers; the others throw rising fastballs. "Michael and Rick will have hitters looking at their shoes," says Keough, "then we come in high." A's pitchers gain yet another edge, say their critics, by doctoring the ball, an accusation that causes the A's to react with the shock and disbelief of the innocent. Keough, who is most often charged with this evil-doing, is the most vigorous defender of staff virtue. "It's just sour beans," he says, possibly coining a phrase. "My fastball, Norris' screwball, Langford's slider and McCatty's sinker are all spitters to some people."
The single word CELEBRATION appeared on the Oakland Coliseum message board before the A's home opener last Friday, and celebration is what it was as a record crowd of 50,255 watched the all-conquering heroes demolish the Mariners. It wasn't just a large aggregation. It was a happy, optimistic, grateful one. The A's had come home in more than a physical sense. They had found a home. The "New Oakland A's" they are now called. Finleyless and carefree, they have charged into an early lead, largely on the strength of five supple arms. Baseball observers were startled by this early rush. Can the A's be the real thing? "We're going to go down as one of the greatest teams of all time," says the modest Norris. "And I'm going to be one of the greatest pitchers." He might be at least half right.
PHOTO
ANDY
HAYT
Oakland's pen pals: Catcher Tim Hosley, pitchers Bob Owchinko, Jeff Jones (obscured), Craig Minetto and Bo McLaughlin and Coach George Mitterwald.
PHOTO
ANDY
HAYT
Kingman's first complete game was a big relief.
PHOTO
ANDY
HAYT
Norris plans to be one of the alltime greats.
PHOTO
ANDY
HAYT
Langford is not one to lose control of himself.
PHOTO
ANDY
HAYT
Keough says the odd ball charges are all wet.
PHOTO
ANDY
HAYT
McCatty's sinker can drive the hitters McBatty.
PHOTO
ANDY
HAYT
Rightfielder Armas: six homers, 17 RBIs, .396 average.
PHOTO
ANDY
HAYT
Centerfielder Murphy: eight runs, seven RBIs and a .318 batting mark.
PHOTO
ANDY
HAYT
Leftfielder Henderson: 15 runs, .333 average.