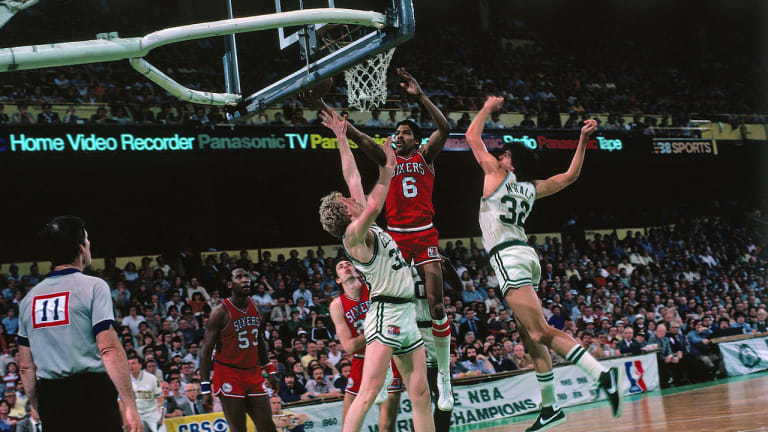 The Worth of a Bird in Hand
The Celtics came winging back from 3-1 to embarrass the nose-diving Sixers
There was no way to explain it, really, no straightforward strategic reasons why the Boston Celtics came back from the brink of humiliation three times in the course of a week before beating the Philadelphia 76ers 91-90 for the NBA Eastern Conference championship Sunday, in a seventh game that never should have been. At least no way for the Sixers to explain, which was why they hustled out of Boston Garden with scarcely a word. "This is a down time. See you next year," said Julius Erving, who as much as any 76er tossed the series away when one basket—two measly points—would have won it.
There were scars and bruises, enough bodies scattered and shattered in last week's final three games to make the sport seem more like ice hockey than basketball But in the end it came to this: Boston got the better of the banging, and in a season during which the Celtics and the Sixers had identical 62-20 records, during which they split the six games on the regular schedule and the six—before Sunday—more in the playoffs, the Celtics proved to be better by a single point. Either the 76ers did one of the great choking acts of all time by blowing a 3-1 lead in games or this thing called Celtic Pride that the guys in the green shoes kept talking about all week is for real.
Look at it any way you want, but here's the history: Six points behind with 1:51 to play on their home court in Game 5, the Celtics outscore Philly 8-0 to win 111-109. Down 17 in the second period in Game 6 and playing in the Spectrum where they have lost 11 straight, the Celtics claw and clobber their way back to win 100-98. Then, on Sunday, Boston is down by 11 in the third period, by seven with 5:23 left in the game. But the 76ers don't make another bucket. Boston out-scores them 9-1 and wins the series.
It was miracle enough that Boston was even around for Game 7. Then, in an attempt to ensure that the Celtic comeback would fall short, 76er Coach Billy Cunningham spent hours trying to figure out how to avoid the kind of finishes his team had suffered through in Games 5 and 6. "More rest for Julius and Darryl [Dawkins]," he said. "With Bobby Jones and C.J. [Caldwell Jones] and Steve [Mix], we should never have anybody tired out there." Paying closer attention to playing time was clearly needed. After his woeful five-for-17, 16-point performance in Game 6, which brought his shooting down to 42% for the series, Erving had said, "I'm tired and sore. I'll be happy if I'm tired or sore on Sunday."
On Sunday he was soaring, even if he was sore, scoring 11 points in the first half and 10 in the fourth period. With Bobby Jones, Erving shared the defensive duties on Larry Bird (23 points), while Dawkins and C.J. got Celtic Center Robert Parish into foul trouble. As they had in six of the seven games, Philly got out to a strong early lead.
"We were determined not to let them get back, no matter what," said Erving. "We were going to play as if it were 0-0 at halftime."
The Celtics did get back but not for long. Just when another Philly fold looked imminent—their five-point half-time lead had shrunk to one—Erving and Dawkins led a surge, culminating in a four-point play, three by Maurice Cheeks on a layup and free throw and one more by B. Jones, on the free throw after a technical foul on Bird. 67-56.
"I know this sounds crazy," said Boston's icy-cool rookie forward, Kevin McHale, "but I looked up at the board and envisioned an 11-point play."
Sure enough, the Celtics almost pulled one off, running off an 8-0 spurt led by Cedric Maxwell, who, in addition to winning the award for the most improved defensive player of the year for his work on Erving in the series, scored 19 points. Early in the fourth period, Boston finally took the lead, at 77-75, after a bomb by Tiny Archibald. But then a refreshed Erving came off the bench and simply made the game his own. He hit a bank shot, ran a fly-by layup past McHale, threw down a running fast-break jam, scored on an 18-footer and spun in a reverse layup after rebounding his own miss. Ten quick points and the Sixers led 89-82 with 5:23 left. It was time for Philly to protect the lead, go home and forget the whole Boston ordeal. The 76ers just forgot too soon.
While bodies flew on every play, Philadelphia, as it had in all its losses, again proved it couldn't play half-court basketball. Erving threw a horrible cross-court pass that Bird picked off and Archibald converted into two free throws. Then, Bobby Jones threw an even worse one that Bird flicked to Parish, and Parish flicked into the Boston basket. At 89-87 in Philly's favor, Parish rejected a Dawkins shot—one of three blocks by the Boston center in the second half—and Bird, fouled by Erving, made two free throws to tie the score.
At the other end, Erving went up for a layup and ate the ball, thanks to Bird. Moments later Philly went down deep to Dawkins, who shot the ball clear over the basket. Bird hauled down the rebound and scooted away to can the winner, a 12-foot bank job. 91-89, Celtics. "I wanted the ball in my hands for that last shot," said Bird. "Not in anybody else's hands, not in anybody else's hands in the world. I knew we would win it. It looked like every time the Sixers got the ball at the end they wanted to give it away." Indeed, Erving now threw the ball away again, to M.L. Carr, but Cheeks stole it back and got fouled driving to the basket. With a chance to tie the game. Cheeks hit only one of two free throws with 29 seconds left.
Of course, if you believe history repeats itself, there never should have been a seventh game. In the NBA's 34 previous seasons, 68 teams have been down 3-1 in playoff series. Of those 68, only 12 hung on to play a seventh game, and only three came back to win the series. The first team to do it was Boston in 1968. The Celtics pulled it off against—guess who?—the 76ers, largely because Philly's then-sixth man, Cunningham, was out with a broken wrist.
The Celtics' recent history also made a seventh game unlikely. After all, going into Game 6 there were those 11 straight losses in Philadelphia dating back to Jan. 20, 1979. Leave it to the brash McHale to spit in the devil's face. "Everybody's been talking about the jinx," he said. "Well, what about the law of averages? Put chimps on roller skates, let them play in the Spectrum enough times and sooner or later they'll win."
So much for history and probability. After the Celtics blew their home-court advantage by losing Game 1, everyone scoffed when Boston Coach Bill Fitch said, "The only time the home-court advantage counts in the playoffs is in the seventh game." The fact that Game 7 occurred on the Boston Garden parquet, beneath those 13 championship banners, before a manic 15,320 fans—that fact can be traced to chicanery, to the CBS eye-spy caper Fitch pulled in the Celtic-Sixer regular-season game on March 1 in Boston. That day Fitch got himself ejected and spent the rest of the game in the locker room, gleefully watching each time CBS trained its camera on Cunningham's clipboard and then sending perfect defensive instructions via messenger to his bench. It was conceded that Fitch's covert intelligence won that game. And that victory gave Boston the home-court advantage in the playoffs.
"It was a joke, really," says Cunningham of Fitch's ploy. But not nearly as bad a joke as the one the Sixers must explain now, when they, not the Celtics, should be playing the Houston Rockets in the finals. If only they hadn't let Boston get up off the mat in Games 5 and 6, when the Celtics were within an eye blink of losing their playoff lives.
The Game 5 loss in Boston was especially hard for the Sixers to swallow. Ahead 109-103 with 1:51 left, Philly never scored again while Boston danced away with the game, nullifying 23 points by Lionel Hollins, 20 by Andrew Toney and 21 each by Erving and Dawkins.
The Sixers brazenly proclaimed that Game 6 on Friday would surely be the last one. "As far as I'm concerned," said Erving, "this will be the seventh game for both teams." What would that make Sunday's game back in Boston? he was asked. "Unnecessary," said the Doctor.
And so it seemed as Philly burned the shirts right off the Celtics, getting up 35-18 before the second period was two minutes old. It didn't seem to matter that Fitch had resorted to everything short of voodoo to break the Spectrum jinx. He had his players dress at different lockers, sent them out the Sixers' tunnel and warmed up at "the winners' basket" instead of the one in front of Boston's bench. "We were fishing troubled waters," said Fitch. "It was time to get the heavy line out." But the inevitable Philly swoon set in, helped in part by a vicious Spectrum crowd.
Early in the third period, Maxwell, normally the most reserved of players, attacked a fan in the stands. Both benches emptied and only Dawkins, a tower of strength at holding bodies apart, prevented serious carnage. But the fuse had been lit. "I think the team came together when I went into the stands," said Maxwell.
The booing and cursing of the Philly fans only fired the Celtics up more. At one point a fan threw a cup of beer at Maxwell, and play stopped while McHale grabbed a mop to clean the backboards—a harbinger, as it turned out. When Toney drove for what could have been the game-winner for Philly with 14 seconds left, McHale blocked the shot, caught the ball and pitched it out for what became the two Maxwell free throws that broke the Spectrum jinx for Boston.
"Now we have to go back to Boston," said Cunningham. "We can do one of two things. Figure that they got their home-court advantage back and roll over, or do to them at their place what they did to us at ours."
What Philadelphia did on Sunday was the same thing it had done since it "locked up" the series at 3-1. It choked.
Most of the Celtics savored their enjoyment by challenging the Guinness record for longest post-game shower. When the star of the afternoon, the series and perhaps this entire season. Bird, finally emerged, he said, "I can't understand why Philly kept letting us back in."
The 76ers have the entire off-season to ponder the same question.
PHOTO
PAUL
KENNEDY
Bird was the series' high scorer and Boston's main man in Game 7 with 23 points and 11 rebounds.
PHOTO
PAUL
KENNEDY
Robustious Rick Robey sprang to life in Game 7.
PHOTO
PAUL
KENNEDY
As the Celtics roared back, the parquet was littered with bodies, like those of Archibald and Hollins.
PHOTO
PAUL
KENNEDY
Down by two in Game 7 with :29 left, Cheeks was fouled by Henderson but missed one free throw.