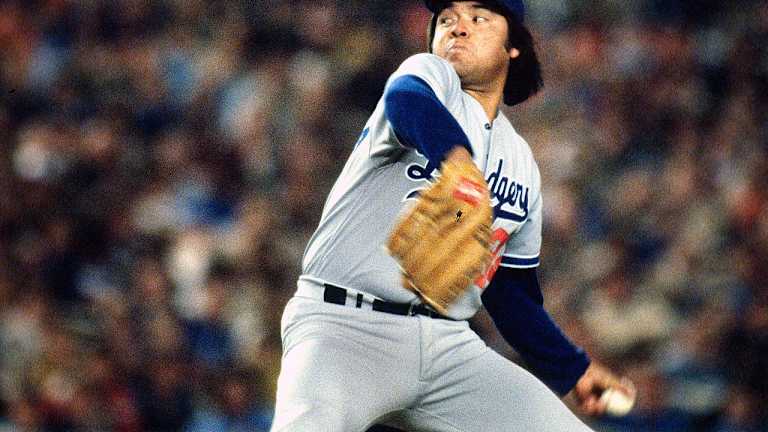 Will the Bubble Ever Burst?
Fernando Valenzuela had to struggle for a while in running his record to 7-0 but, by gum, he got his fifth shutout
It was a press conference more suited to a foreign dignitary than an athlete, but, then, a foreign dignitary is pretty much what the Dodgers' Fernando Valenzuela has become. Only a prince or other potentate could have viewed the media circus with such equanimity. Some 100 news people gathered in Shea Stadium's Diamond Club last Thursday afternoon, with TV cameramen jockeying for position and print reporters hooting them down. Valenzuela's interpreter was a Dodger Spanish-language broadcaster, Jaime Jarrin, who translated English questions for Valenzuela and Spanish questions for the English-language press. Only when Valenzuela spoke was it apparent that all this to-do was for a 20-year-old kid from Etchohuaquila, Mexico, not someone like José Lopez Portillo, that country's president. No, Valenzuela hadn't heard about the baseball strike expected to start on May 29. Yes, he was a little put off by having to answer questions when he could be watching TV. When the press conference broke up, Valenzuela turned to Met Catcher Alex Treviño, a fellow Mexican. "Where do you want to go?" asked Valenzuela. "Are there any good Mexican restaurants?"
"No, just Cuban ones," replied Treviño, and they were off.
Since his big-league career began in September, Valenzuela has progressed from being a curiosity to hot prospect to phenom to world-beater. Coming into last Friday's start against the Mets, he led the majors in wins (6), shutouts (4), complete games (5), earned run average (0.33) and strikeouts (50). When he added a 1-0, 11-strikeout victory over New York, Valenzuela could add yet another classification: doubters (0).
Two weeks earlier Valenzuela had complained to his agent, Antonio De Marco, that he was getting so much attention he didn't have time to shag flies or take batting practice, much less prepare for his next start. So for the NL West leader's first Eastern road trip of the season, the Dodgers laid down new media guidelines. There would be one press conference on Valenzuela's first day in each town and another after he pitched. That would be that. But the limitations haven't stopped reporters and camera crews from descending on Etchohuaquila.
"He's a little overwhelmed by the attention," says De Marco, "but he figures if that's the way it is, that's the way it is." De Marco, a Mexican immigrant who also represents actors, is doing his best not to overcommit his client. Already, he has rejected more than $200,000 worth of endorsement opportunities. Valenzuela would represent only "wholesome" products, not beer or cigarettes, says De Marco. Valenzuela's salary—a reported $42,500—is no issue, De Marco says. At the end of last season the Dodgers offered Valenzuela a multi-year contract, the better to "protect" him. De Marco rejected it, reasoning that Valenzuela could earn a better contract based on his 1981 record. By the time he reached New York, De Marco was speaking expansively of his client "crystallizing the American Dream and making a lot of money."
For his part, Valenzuela has remained notably aloof from extracurricular matters. He even declined NBC's offer to fly his family in for the Met game. (The Dodgers will pay his folks' way to L.A. this week.) After the Shea Stadium press conference Valenzuela and friends drove to a Cuban restaurant for lunch, where he ate black beans, white rice, roast pig and fried bananas. "Just like Thanksgiving," said Mike Brito, the Cuban-born scout who signed him to a Dodger contract. Then it was back to the New York Sheraton to rest until 8:30 p.m., whereupon Valenzuela went down a block to the Carnegie Deli and ordered a pastrami sandwich, which he couldn't finish. If he had gone down farther to the celebrity-conscious Stage Deli, the management probably would have immediately named a sandwich after him. Night life? He watched Private Benjamin in his room. On Friday, Valenzuela rose late, had a 2 p.m. steak at the hotel and rested until the Dodgers' 5:15 p.m. bus to Shea.
All week the Mets had been hyping Fernando's arrival—with public-address pitches, scoreboard bulletins, Mexican music at the ball park and Spanish-language radio ads away from it. Fernando Fever wasn't limited to New York, though. The number of Venezuelan radio stations carrying the Dodgers' Spanish-language broadcasts had been increased from 20 to 40 for this game, and the number of Mexican stations from three to 17. Etchohuaquilans heard the game on loudspeakers. Undoubtedly, Valenzuela's parents and his 11 brothers and sisters were among them. Heretofore they had had to follow Fernando's progress by listening for Dodger scores on the Spanish-language broadcasts of San Diego Padre games. Or they had awaited word from Valenzuela's sister in Navojoa, whom the pitcher calls after virtually every start.
The Mets built two extra ticket booths near the subway entrances to accommodate the anticipated rush of fans. The crowd of 39,848 was the Mets' largest of the season—they had been averaging 11,358—and, according to one estimate, put an extra $310,000 in the club till.
Valenzuela proceeded to give the fans their money's worth. His shutout was predictable; how he got it wasn't.
Los Angeles scored a first-inning run on an error, a balk and a single. Then as La Bamba blared over the P.A., Valenzuela walked regally to the mound—carriage erect, chest out, only his legs and arms moving—and immediately got into trouble. His fabulous screwball, the scourge of baseball, was missing the corners. The Mets loaded the bases on a single and two walks, but then Valenzuela's scroogie came to life: On a 1-1 pitch he induced Dave Kingman to ground to Third Baseman Ron Cey for an inning-ending double play. As he did after every inning, even when he had been in a jam, Valenzuela walked without expression off the mound and slapped a proffered palm in the dugout.
In the second, the Mets again loaded the bases, but with two out Valenzuela righted himself by fanning Bob Bailor. He survived the third after yielding a single and a walk. Valenzuela was playing brinkmanship: no runs, but seven runners left on base.
The true test of a pitcher isn't how he pitches when he's on, but whether he survives when he's off. Valenzuela not only survived; he took control. There is a Spanish expression, Camina con los angeles ("He walks with the angels"), that seems to apply to him. Characteristically rolling his eyes heavenward on every pitch, Valenzuela began gaining strength. He retired the side in order in the fourth and fifth. Mixing his fastball, curve and screwball, he gave up harmless singles in the sixth, seventh and eighth and humiliated the Mets in their last turn at bat. First he fanned Doug Flynn, a .346 hitter, by throwing two screwballs for strikes and then crossing him up with a fastball down the middle. Frank Taveras tried to bunt his way on, but succeeded only in grounding to Cey. Reduced to desperation, Lee Mazzilli chased a 3-0 pitch and popped to First Baseman Steve Garvey. Valenzuela had thrown 137 pitches, the most in his big-league career; he looked as if he could have thrown more.
Like a crafty fish, Valenzuela had allowed the Mets a good chase (five walks, seven hits) but no catch. And like frustrated fishermen, the Mets had nothing to show for their efforts but exasperation. Poking hopelessly at screwballs, the power-hitting Kingman fanned three times. When the respected Rusty Staub pinch-hit in the seventh with a runner on second, Dodger Catcher Mike Scioscia asked Valenzuela, "Do you know who this is?" Valenzuela replied, "I know how to pitch him." Staying safely inside on Staub, who likes the ball over the plate, Valenzuela walked him on four pitches.
"The second time around, we'll see," said Mazzilli. The Giants and Astros said the same thing and were shut out. The safest prediction is that he'll be involved in a lot of pitchers' duels. In four of his seven starts the Dodgers have scored no more than two runs. "Fernando said to go out and get them in the first inning, and we got the run for him—what more do we need?" said Dodger Second Baseman Davey Lopes after Friday's win.
Valenzuela has maintained remarkable composure through all of this. On Friday night, with runners on first and second in the seventh, Fernando paused to scan the stands and watch a plane fly overhead. At the end of the game he skillfully handled four different handshakes—an abbreviated soul, a high-five, a low-five and a conventional.
Later, Valenzuela was asked, facetiously, if he thought he could win every game. "That would be very difficult," he said deadpan, "but not impossible." But surely it is impossible. No pitcher is unbeatable. "That's what's so beautiful about Fernando," says Dodger Pitching Coach Ron Perranoski. "Things like him just don't happen." Until this year, anyway.