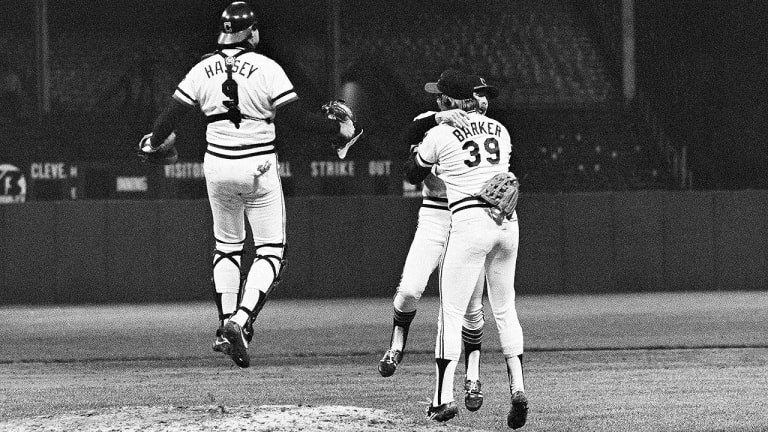 Perfect in every way
Cleveland's Len Barker promised only a no-hitter, but he delivered a lot more
Among baseball's beguiling charms is the fact that in a regrettably imperfect world, it's possible for a pitcher in full and glorious command of his skills to throw a perfect game. Of all major team sports, baseball alone acknowledges the category of Perfect Games in its official record book. Only 10 had been pitched in the history of the major leagues until last Friday, when 25-year-old righthander Len Barker of the Cleveland Indians set down 27 consecutive Toronto Blue Jay batters on a drizzly night in Cleveland Stadium. It was the first no-hit, no-walk, no-error, no-nothing game in the majors since Catfish Hunter, then of the Oakland A's, beat the Minnesota Twins on May 8, 1968.
While Barker's perfection was, of course, surprising, his mastery of the Blue Jays in the 3-0 win was not. Toronto was the weakest-hitting club in the major leagues, with a team batting average of .218 and a trail of 21 scoreless innings entering Friday's game. Barker had a 2-1 record and a 1.69 earned run average. And while the Blue Jays were last in the American League East, the revitalized Indians were first.
Cleveland Pitcher Bert Blyleven had himself taken a no-hitter into the ninth inning against Toronto only nine days earlier, before settling for a 4-1, two-hit victory. Last week the Indians' estimable pitching coach, Dave Duncan, told a Cleveland reporter that Blyleven and Barker were the two pitchers on his staff with excellent prospects of throwing no-hitters. When Bonnie Barker brought Duncan's remark to her husband's attention on Thursday evening, he said, "I guess I'll just have to go out and do it."
At 6'4", with a live arm and a fastball that has been clocked at 96 mph, Barker is well equipped to do it whenever it pleases him. After the departure of Nolan Ryan last season to the National League, Barker became the American League's preeminent fireballer, leading the AL in strikeouts with 187. Twice last year he flirted with no-hitters en route to a 19-12 record, and he pitched one game without allowing a base on balls, the first time he had done that since turning pro. "He used to throw one out of every five pitches back to the screen," says Indians Manager Dave Garcia. Indeed, three years ago one of his wild pitches nearly made it into Boston's Fenway Park press box.
When Barker arrived at the ball park on Friday, the temperature was on its way down to the mid 40s and a light mist had blown in off Lake Erie. Duncan studied Barker as he loosened up in the bullpen. "He started out slow," Duncan says, "but as he went along, his curve-ball got better and better. It became awesome. It wasn't breaking much, but the rotation was so tight it was almost the perfect curve."
Barker's confidence got a boost on the first play of the game, when Toronto's swift Alfredo Griffin hit a slow roller. Shortstop Tom Veryzer fielded it behind the mound and threw to first for the out. As Barker was retiring Lloyd Moseby and Jorge Bell to end the first inning, Bill Elwell was cursing the miserable weather that night outside his home in Norristown, Pa. Elwell, who is Barker's father-in-law, was trying to listen to the game on the radio. When a rainstorm began to garble the sound on his set, Elwell got into his car and drove around until he found a spot where he could pick up the ball game clearly. As a result he spent part of Friday night at a golf course, bent over in the front seat of the car, listening, spellbound.
In the second inning Cleveland Centerfielder Rick Manning had to run a long way to haul down Damaso Garcia's liner to left-center, but Barker was making the Blue Jays hit the ball at someone virtually every time up. Curiously, he didn't get his first strikeout until the fourth inning. As the game wore on, Barker went to his curveball almost exclusively, throwing just 17 fastballs after the fourth inning. Barker threw only 103 pitches during the game, 74 of them strikes. He struck out 11 batters—all swinging—and didn't go to a single three-ball count. Only eight Toronto batters got as much as a two-ball count. "By the fifth inning his breaking ball was so good we figured that's what we'd pretty much stay with," said Catcher Ron Hassey. "By the ninth inning we decided if there was going to be a base hit, it would have to come off a breaking pitch."
Barker continued to get solid defensive support. Third Baseman Toby Harrah dived into the stands to make a spectacular catch of a Willie Upshaw foul pop in the fifth. Second Baseman Duane Kuiper went to his right to handle Rick Bosetti's short-hop line drive in the sixth, then ranged far to his left to field Griffin's bouncer in the seventh and throw him out in the game's closest play. Even the inclement weather worked to Barker's advantage. "I'm always wetting the ball and rubbing it up to get a better grip," he said. "The mist just gave me more moisture to work with." Not only a perfect game, but a God-given spitter, too.
None of Barker's teammates mentioned the perfect game in progress until Manning told him "to go get it" as they were going out to start the last inning. But Barker was already well aware that something special was happening. "I felt awesome," he said. "I had total command. I could throw anything, anywhere I wanted. After a while they were swinging at everything."
Nevertheless, Barker said, "I was so nervous at the end that I dropped the ball on the mound one time. My stomach was a wreck." Toronto Pitcher Mark Bomback, watching from the dugout, noticed when Barker dropped the ball and felt the Jays would reach him for a hit. "I thought we had him in the ninth," Bomback said, "he was so nervous. Then when they flashed the trivia question [on the scoreboard], I was sure he was jinxed." The question, chosen that morning, asked which two teams had never been involved in a no-hitter. The answer: the Blue Jays and the Seattle Mariners.
Bosetti, the first Toronto batter in the ninth, fouled out to Harrah after failing to capitalize on one of Barker's few mistakes. "He hung me one right down the middle," said Bosetti. But he hit that one foul, too. Al Woods, batting for Danny Ainge, fanned on three pitches. Then up stepped Ernie Whitt, a pinch hitter with a .188 average, as the 27th batter. "I was thinking of pointing to centerfield to show where I was going to hit the ball," said Whitt. "I thought it might upset Barker's concentration." Instead, Whitt lofted a fly ball to center that Manning caught for the final out. Perfection.
The Indians had given Barker all the support he needed with a pair of unearned runs in the first inning and Jorge Orta's solo home run in the eighth.
The last no-hitter in the league was thrown by Blyleven on Sept. 22, 1977, when he and the Texas Rangers beat California 6-0. Sitting out in the Rangers' bullpen that night, perhaps contemplating his control problems, was one Leonard Harold Barker II.
Barker was wild in those days in more ways than one. The Rangers' third-round pick in the 1973 draft, Barker sometimes let his attention wander from baseball. During a stint in the minors, he once did a reported $7,000 worth of damage to a bar in Pompano Beach, Fla. Got a little upset and picked up the bar. "I didn't take care of myself," says Barker. "I used to go out four or five nights a week, sometimes the night before I pitched. My wife changed all that. And so did the Indians."
When Barker was traded to Cleveland in 1978, the Indians persuaded him to lay off beer, which brought his weight down from 230 to 220 pounds. They also helped him improve his level of concentration. Last year Indians President Gabe Paul said Barker had his mind fully on the game only about 50% of the time when he arrived in Cleveland, but was up to 80% then. "When I see Barker watching a plane going overhead when he's on the mound," said Paul, "I know he's through."
Barker wasn't watching any airplanes on Friday night. His heart did the soaring as he plucked champagne bottles for his teammates from an ice-filled garbage can in the Indians' clubhouse. Later he learned he had won a bonus of $5,000 from the club. When he got home he found that neighbors had covered his garage with congratulatory posters. He and Bonnie stayed up all night talking about the game. "I can't believe I really did it," Barker said. "It feels like I'm in an airplane 45,000 feet off the ground. I still haven't come down. The feeling I had out there is something I can't explain." It felt, well, you know, perfect. But it wasn't enough to satisfy his 92-year-old grandmother, Mrs. Tokie Lockhart, near Ona, W. Va. "I'm very proud of him," she said. "I hope he does better the next time."
PHOTO
The day after Barker's masterpiece, the fans came flocking.