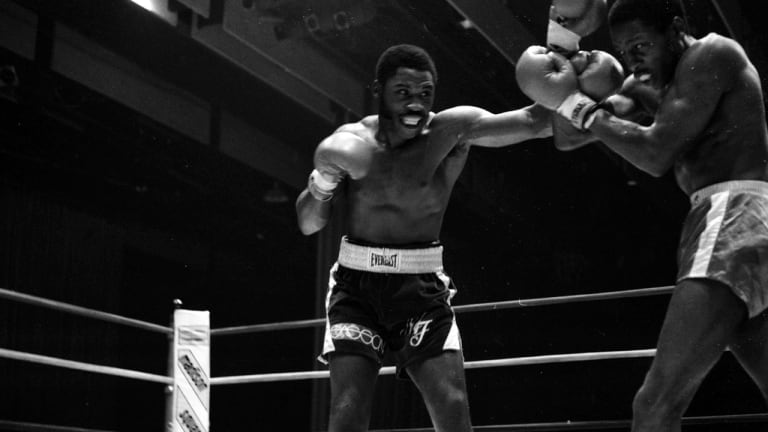 Publish date:
The Son is Coming Up
Smokin' Joe Frazier's boy, Marvis, burns to make a name for himself in the ring—while his dad fans the flame
It had to be disconcerting for Steve Zouski as he stood in the center of the ring in Madison Square Garden last month and stared at the scowling visage of not one, but two heavyweights named Frazier. There was Marvis, with whom Zouski would shortly be trading lefts and rights in a six-round undercard bout that preceded Gerry Cooney's devastation of Ken Norton. As it turned out, that would be bad enough. But standing next to Marvis, wearing a shocking-pink warmup jacket by Sasson that made him the spring season's most unlikely study in pastel, was his famous father. As is his wont at such times, Smokin' Joe was also wearing a sneer, upon which Zouski could focus as the boxers received their instructions. Although Zouski looked a bit soft around the middle at 206 pounds, he was no lamb being led to slaughter—he had won 21 of 22 professional fights and often trained with world middleweight champion Marvin Hagler. And this was no ordinary bout. Zouski was stepping in against boxing history. The prefight preliminaries done, Joe whacked his son on the back, climbed out of the ring and shortly became the world's most formidable fusion of doting parent and cornerman, leaving Zouski to ponder the prospect of taking on two generations in one opponent.
Some 30 minutes later, after Marvis had relentlessly hammered Zouski en route to his fourth victory—a TKO at 2:13 of the final round—in four fights, LeRoy Neiman sat on a bench in Frazier's dressing room sketching Marvis. Neiman isn't in the habit of limning subjects with four professional bouts. "Hey, Champ, you were one of the first guys I did, remember?" Neiman called out to Joe. "Yeah, I remember," said the former heavyweight champ. "You can just get out the old pictures."
That's true to a degree. At 6'1½" and 201 pounds Marvis, 20, is two inches taller and five to 10 pounds lighter than his powerful pop was in his prime, but Marvis has the same wide, deep-set, brooding eyes, the same broad nose and full lips. And under the same close-cropped black hair is the wide and formidable Frazier forehead. But even as promoters wait with open checkbooks, there's no way to estimate how Marvis Kirk Frazier's career will compare with his father's—other than that Marvis' has begun with much more fanfare.
The Zouski fight on May 11 was Marvis' best as a pro. He controlled the tempo and was effective with a right uppercut, a punch his father rarely used. "I'd grade myself with an A," said Marvis afterward. But though Marvis outpunched Zouski by a 5-1 ratio, he was unable to put Zouski down. "If that were the old man, he'd have that guy's head off," said one ringside observer. That evaluation, while perhaps true, was as much a testament to the cross Marvis must bear as to anything else. Marvis is well-built, but there's no doubt that right now he would be physically overmatched against most of the top heavyweights. "The weight's not going to matter," insists Joe. "Punching power doesn't come from weight. It comes from leverage and technique. Hey, he's still only a kid."
Marvis hasn't mastered the art of cutting off the ring, either. In his third pro fight, one month before he fought Zouski, he chased Melvin Epps of Brooklyn around the ring in Madison Square Garden's Felt Forum while winning a unanimous decision. "You can't fight by yourself," Joe had said after that track meet. There's also some question as to how well Marvis can take a punch. In his first pro fight, in the Felt Forum last Sept. 12, Roger Troupe had Marvis rubberlegged near the end of the first round, but Frazier rallied and knocked Troupe through the ropes and out at 2:08 of the third.
Then there's "the neck bit," as Marvis refers to it—which he does only when he has to. The six-inch-long scar visible on the back of Marvis' neck is the result of an operation to remove a muscle that was putting pressure on a nerve. Marvis discovered the implications of this ailment last June in the semifinals of the Olympic Trials at the Omni in Atlanta. Less than a minute into his bout against James Broad, Marvis was hit on top of the forehead and went thudding to the canvas. "I was actually paralyzed and couldn't move for about three minutes," he says. "My whole body felt like my funnybone, but I was totally conscious." At the time, the Frazier camp figured it was just a freak punch.
Marvis turned pro last summer, and about a month after beating Troupe, he knocked out Dennis Rivers in the second round. But in November, during a workout in his father's Smokin' Joe Gymnasium in North Philadelphia, Marvis' head was snapped back and he was nailed with a blow to the forehead by Canadian heavyweight Gaston Berube, and again Frazier was "frozen"; he was temporarily unable to move his arms and legs. A medical examination finally revealed that under certain circumstances a nerve in his neck was being pinched by a muscle, and later that month surgery was performed to prevent a recurrence of that condition.
After Marvis' stunning loss to Broad—only his second defeat in 58 amateur fights—Joe began taking a more active part in his son's career. "Sometimes I think the knockout was a thing to bring my father closer to me in the gym," says Marvis. "Sure, he was working with me before, but since the knockout he has been paying more attention. God does things in strange ways, you know."
Indeed, Papa Joe has taken control of Marvis' life down to the smallest detail. On one occasion a reporter was talking to Marvis in the cramped quarters in the rear of the Smokin' Joe Gym. The elder Frazier was out of town that day but called in the middle of the interview and was told Marvis had been talking about 20 minutes. "That's enough time," said Joe. "Tell the man to leave." On another occasion he interrupted an interview with Marvis that had been in progress only 10 minutes. "That's enough talking," said Joe. "After 10 minutes you start repeating yourself, anyway."
Joe is now Marvis' head trainer, too, having replaced George Benton, the former middleweight who has gained some celebrity as a trainer, shortly after the gymnasium debacle. "I was watching Marvis earlier, and I didn't like what was going on." Frazier told Leroy Samuels of The [Philadelphia] Bulletin. "That's my boy! And he wasn't showing me what I thought he should." Benton and Val Colbert, who have worked with Marvis from the beginning, have both stayed on as assistants. "There's no problem at all as far as us getting along," says Colbert, "because Joe's the boss, and that's that."
Joe is more than the boss. He's a sweat-suited Svengali to Marvis, Marvis' 18-year-old brother Hector and Joe's nephews Rodney and Mark, all of whom work out regularly at Smokin' Joe's. And in the months since the former champ took over Marvis' career, Joe, who is now 37, has resumed daily workouts, sometimes trading punches with Marvis "when the other sparring partners are late."
Joe has been a reluctant retiree. Almost everyone in boxing thought he should have retired after his fifth-round knockout by George Foreman on June 15, 1976; but as recently as three years ago he actually was training for a comeback fight against Kallie Knoetze, when he became ill with hepatitis and was forced to quit. Now he's again talking about returning to the ring. Indeed, it seems more postfight attention was focused on Joe's musings about a comeback than on Marvis' victory over Zouski. "The wife's gone, right?" Joe said when the subject was brought up by reporters. (Florence Frazier, Joe's wife of some 19 years, who tends to stay out of the reach of interviewers, is known not to be in favor of Joe's return, just as she wasn't thrilled with Marvis' decision to throw leather around as a living.)
Assured that the coast was clear, Joe said, "I don't see anybody who can beat me out there. I'm a master of boxing now. I'm leaning toward coming back, I definitely am. My boys know I can. And my ladies [Florence and daughter Jacki] are starting to think so, too." Joe paused and smiled. "Of course, she [Florence] don't want to mess around with the good things in life. Understand what I mean?" Joe laughed. The reporters laughed, too, their reaction about as spontaneous as that of the tavern customers in the beer commercial from whom Smokin' Joe, vocalist, elicits applause for one of his songs with a fierce scowl.
On a stool six feet away from where Joe talked easily to the press, Marvis sat in reflected light, just as he always has. He has become something of an enigma, both because his instincts tell him to be guarded about himself and because his father demands it. Besides, Marvis is only beginning to find out about himself, a process that isn't made any easier by being "Joe Frazier's son." Now, as Marvis' own career appears ready to take off, he will have to deal with the question of his father's comeback. Clearly, Marvis knows it's Joe's territory. "I don't see how he's going to be able to come back and still work with me," said Marvis. "It's his decision, of course, but I can't tell you how much it has meant to have him around every day."
Having to deal with Joe's considerable presence has been a way of life for Marvis; all children of famous parents have to live with it. As a kid, for example, Marvis couldn't go down to the basement rec room without seeing his father's Olympic gold medal, which Joe won when Marvis was four. But Marvis treats such things matter-of-factly: "People would comment about the medal when we entertained guests down there, but nobody in our family ever sat around and said, 'Look at that.' Our house is a winning house, and I guess we would expect that of Pop."
Marvis' calm expression of confidence about his roots doesn't come across as bravado. He speaks so evenly, without the hysterical braggadocio of the young Cassius Clay or the brashness of the young Joe Frazier, that one concludes he's saying what he thinks. If Marvis has to deal with a subject—such as his father's continued defeats by Muhammad Ali in the media wars—that seems to beg for rancor or theatrics, he simply calls on his religion. "It never bothered me when Ali would get on Dad," he says. "My father's his own man, and in our family the Lord plays a major part in our lives, so we believe all things work to the good of those who love the Lord. Whatever was done, it was God's will that it be that way."
And don't expect Marvis to wax philosophical on why he's attempting to follow in his father's footsteps. "I don't feel I'm going in and trying to do what my father did," he says. "It just happens to be a coincidence that I picked the same field that my father picked. And if you go way back to, say, Pilgrim times, it's not unusual, anyway. A son almost always followed the same trade as his father did. That's what I'm doing."
The bond that ties Marvis to his father is obvious and elemental. His father is a hero to him, yes, but at the same time Marvis can pinpoint, more easily than most sons, the instant his dad became a mere mortal in his eyes. It was on that June night in 1976, at Nassau Coliseum, when he watched Joe—shaven head glistening—hit the canvas in the fifth round after a series of blows by Foreman. "My father was my idol," says Marvis. "At that time I felt he couldn't be beat. He was like...well, like Superman. It was the first time that I realized my father was human, that he could make mistakes and could do things that other humans do." Perhaps because he saw both sides of his father's career, Marvis appears to have handled the burden of being a champion's son about as well as can be expected. In the rare moments when he's interviewed alone, he comes across exactly as he does when he's with his father—intelligent, goal-oriented, conservative. He talks of the strength he draws from the Lord and from the closeness of his family. "I am the way I am because of the way I was raised," he says. "I was taught to respect people, and I learned to listen and speak when you're spoken to. That sort of thing. The chip doesn't fall far from the block." Marvis still speaks of the possibility of attending college in Philadelphia in the fall to pick up the accounting courses he feels he'll need to one day run the family business. There's a certain no-jive, God-and-country sensibility about Marvis that could make him, like his Dad before him, a pugilist of the proletariat.
But there's a fundamental difference between father and son. Joe came into the world on Jan. 12, 1944 as the 13th child of Rubin and Dolly Frazier, a proud couple who didn't rent and didn't sharecrop but lived off their own 10 acres of land in Beaufort, S.C. It was a hard existence. When Marvis was born on Sept. 12, 1960, he was Joe and Florence's first child. They were married in 1962, before traveling north to look for a better life. On March 8, 1971, when Marvis was only 10, Joe, who had knocked out Jimmy Ellis in five rounds to become heavyweight champion 13 months earlier, earned $2.5 million for beating Ali in what was simply billed as The Fight. Today, Joe has a substantial monthly income from land he sold several years ago, other investment properties, a limousine rental service and his gym, though he says the gym's less a business than a community service. He says he "helps pay the rent" by acting in television commercials. With or without pro boxing, Marvis will be well taken care of, and fighters don't generally have well-to-do fathers. "It won't be necessary for my kids to be fighters," Joe told his biographer, Phil Pepe. "You know, in my father's time and my time, things were a lot tougher. But today, my kids can become lawyers, doctors, or something like that. I don't want them to get their heads banged around like their father's doing."
Joe says those words don't haunt him now. He says he has a clear conscience about his son's decision to become a boxer because he never pushed Marvis into the sport. Joe's enthusiasm for guiding Marvis now suggests otherwise, but Marvis backs his father up. "He never pushed me at all," Marvis says. "And my mom tried more or less to keep me away from boxing."
While Joe was champion of the world, in 1970-73, Marvis was becoming a good athlete in wrestling, baseball, football and basketball. (Jacki is now at American University on a basketball scholarship.) Everyone figured Marvis would end up with a grant-in-aid in football or wrestling. That's definitely the way Florence had it planned. "She wanted me to go for that scholarship and leave boxing alone," says Marvis. "She said it was one thing to have her man in it but another thing to have her baby in it." But because Marvis had started to slip in his schoolwork, his parents sent him to Wyncote, a private school in a Philadelphia suburb, to improve his grades. There were no team sports at Wyncote, which Marvis attended for less than three months in the 10th grade before resuming his public-school education, at Plymouth-Whitemarsh High, and Marvis began looking for a physical outlet. And he just happened to know about this gym on Broad Street....
"I asked Pop if I could go down just to work out, and he said it was all right," Marvis says. "That's the first conversation we ever had about boxing outside of his own fights. I'm sure he thought I was just doing it to play around." But Marvis, like his father before him, doesn't play around. By the time he returned to public school, boxing had a hold on him. His father began to drift into the gym to watch him. Joe provided Marvis with two veteran trainers, Benton and Colbert, and made Marvis prove his dedication by imposing a no-sparring rule for the first seven months after he began working out, killing drudgery for a talented youngster anxious to show his stuff. The appearance of another Frazier around the gym, especially at a time that coincided with Joe's retirement, didn't go unnoticed in the boxing world, and everyone had an opinion on the budding career of young Marvis. He says half the people felt "I was just doing it because of my father" and wouldn't amount to a bead of sweat, and the other half felt he would automatically become a world champion because of his genes.
It was not an easy situation, but Marvis prospered as an amateur, losing only one fight, to Tony Tubbs of the—ugh!—Muhammad Ali Boxing Club, before Broad knocked him out. Many observers feel Joe brought Marvis along too slowly; certainly, Marvis' first real pro test is still in front of him. "What's the hurry?" Joe says after each of Marvis' fights. Papa Joe was managed by the late Yank Durham, a smart, patient man, who guided him step by step from his first pro fight, a first-round KO of Woody Goss on Aug. 16, 1965, to the victory over Ali. And Joe, in his handling of Marvis, wants to be smart, too.
There have been dozens of sons who have followed fathers into the ring (Marcel Cerdan Jr., Jackie Sharkey, Young Bob Fitzsimmons among them), but few have amounted to much. The boxing world waits to see if Marvis can change that. Still, even with the emergence of Cooney, the heavyweight picture is uncertain at best, and the name Frazier, any Frazier, would juice it up. Certainly, Madison Square Garden, which died a little more with the poor gate for Cooney-Norton, could use a Frazier. Marvis' first four fights were Garden promotions, and more than likely Joe and John Condon, the Garden's president of boxing, will soon sign another promotional agreement. "We're anxious to keep Marvis," says Condon, who is close to Joe. "We love him. We love the whole family."
Smokin' Joe, more than anyone, knows the name Frazier is still hot. As he gently wipes the sweat from his son's neck after a fight and as he stares at his son with a proud and faraway look in his eyes, you know he sees it all—the triumphs and the money and the sweat and the blood and the good and the bad. And you wonder which Frazier will be chosen, and whether it will be the right choice.
PHOTO
The looks are reminiscent, and there is even a similarity of relentless styles, but Steve Zouski found that Marvis has a right that Papa Joe rarely wielded.
PHOTO
Managing Marvis has made Joe think of getting back in the ring.
PHOTO
Marvis is a deacon at the Greater Harvest Baptist Church in Philadelphia and sings in the choir.