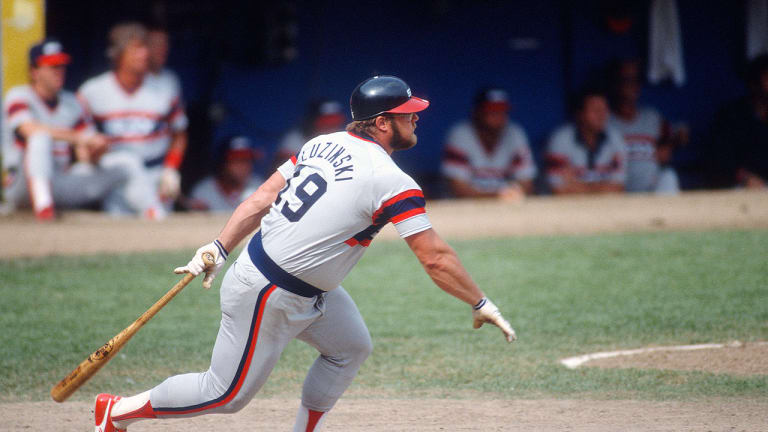 Catch Chicago's New Act
There's a hit show on the South Side, with newcomers Carlton Fisk and Greg Luzinski socko in the starring roles
The standings Sunday morning said that the Chicago White Sox had arrived in first place in the American League's Western Division, percentage points ahead of the Oakland Aprils. Their stay was only momentary—they were out of first again by Sunday night—but no matter. What the standings don't reveal is that there's a comic opera being staged in Comiskey Park this spring, with a cast of characters that includes two owners reliving their adolescence, a rock 'n' roll manager, a 24-year-old farm director, an organist with a degree in psychology, an Ivy Leaguer, a pitcher who's a Cub fan, another who thinks he's Judge Roy Bean and a third who's Mexican and doesn't throws screwball but is one. That's not all. The three leading men are Carlton Fisk, Greg Luzinski and Ron LeFlore.
The White Sox also got off to a running start in 1980. In fact, they led the division at the end of April. But that was strictly an illusion conjured up by that latter-day Merlin, Bill Veeck, who owned the team then. This season the general impression on the South Side is that the Sox are for real. "Last year we had more ways to lose than we had to win," says Manager Tony LaRussa. "This year it's just the reverse."
Those new ways were apparent the last few weeks when the Sox made up 6½ games on the A's by winning five straight series against the Angels (twice), A's, Blue Jays and Rangers. Luzinski, who had only seven RBIs batting cleanup in his first 28 games, had hit six home runs and driven in 16 runs since. Last Saturday, in a game rather typical of the way things have been going for the White Sox, Luzinski hit a two-run homer, Fisk drove in another two runs and Richard Dotson pitched a three-hitter. On Sunday, Fisk gave the White Sox a split in a doubleheader by driving in the winning run in the 10th inning.
If and when LeFlore, who had a mere 97 stolen bases for Montreal last year, starts hitting and stealing, the White Sox offense will be complete, although any offense that had outscored its opponents 94-42 in its last 14 games through Sunday would seem to be pretty complete. The defense has already been helped up the middle by two of the club's quieter acquisitions, Second Baseman Tony Bernazard and Shortstop Bill Almon, both of whom were with the Expos this time last year. Dotson, once the token righty on the White Sox staff, has emerged as the pitcher most likely to succeed, and recently lefties Britt Burns, Ross Baumgarten and Steve (Rainbow) Trout have all pitched impressively. Perhaps the best news of all is that Reliever Ed Farmer, who was rocked badly in April, says he feels like Eliot Ness again. "You know—untouchable," he says.
While all this stuff is going on down on the field, Chairman of the Board Jerry Reinsdorf and President Eddie Einhorn are upstairs in their private boxes, screaming like kids and superstitiously playing musical chairs to find the right combination to ensure victory. Reinsdorf and Einhorn bought the White Sox from a tapped-out Veeck in January, after the American League owners decided they didn't want another prospective buyer, Edward DeBartolo, to join their ranks.
Einhorn and Reinsdorf are New York guys, New York guys being guys from Paterson, N.J. (Einhorn) and Brooklyn (Reinsdorf). They met while attending Northwestern Law School, although neither made law a career. Einhorn went on to form the TVS television network, which made him a millionaire, and to produce the CBS Sports Spectacular, which gave us fat men with refrigerators on their backs. Reinsdorf made his fortune in real estate. He tried to buy into the Mets last year, but his group lost out to Nelson Doubleday's. What he really wanted to do, he says, "was buy the Dodgers from Peter O'Malley and move them back to Brooklyn."
"Before we bought the team," says Einhorn, "I didn't really know what one Chicago White Sox player looked like." The new proprietors weren't immediately embraced by Chicago, even when they pledged to infuse money into the White Sox. "Of course, everybody said, 'Ho-hum, another five-year plan,' " says Reinsdorf. But then, on March 10, the White Sox signed Fisk to a five-year, $2.9 million contract, and Chicagoans started taking the new guys seriously. Fisk, some may recall, used to play for Boston. But because the Red Sox failed to follow proper procedures in tendering him a contract, he was declared a free agent. "Money being equal, we had to sell Carlton on the city, on the challenge, on the media market," says Einhorn. "Hell, it was like stealing Acapulco cliff-diving from ABC."
Einhorn, whose bio says he sold hot dogs at Comiskey Park in the Sox' last pennant-winning year of 1959, has brought in an army of marketing, public-relations and promotion people. His vice-president for special projects is Laureen Ong Fadil, one of the few women executives in baseball. His VP for marketing is Russ Potts, formerly a promotional whiz at Southern Methodist, where he was the athletic director. Potts' love of the game, however, didn't stop him from dropping the SMU baseball program.
A uniform contest (see box, page 24) was the first major project for the promotions people. A second undertaking was the selection of a new White Sox mascot. Make that mascots. The same company that created the Phillie Phanatic and Montreal's Youppi presented Einhorn and Fadil with two different Muppet-like creatures, and they liked them so much that...." It's the Saks Fifth Avenue Theory," says Einhorn. "If you can't make up your mind, buy them both." To fill one of the costumes, the White Sox tried to pirate the backup to the Pittsburgh Parrot, but the deal fell through at the last minute. It's true.
Reinsdorf concerns himself with the day-to-day operation of the club and plans to computerize the ticket sales and bookkeeping, which had been operated like something out of Dickens. He has already given Comiskey a face-lift. A new drainage system was installed in the outfield, so that the turf, once the most feared in the majors, is now passable. To give the exploding scoreboard more chances to explode—it goes off to celebrate Sox home runs—the centerfield fence was moved in from 445 feet to 402 feet. To date, opponents have hit four homers over the new wall, the White Sox have hit zero. Seats have been painted, leaks repaired and washrooms cleaned. "Washrooms are my big thing," says Reinsdorf. "I wondered why the ones in Disneyland are always so clean, and I found out it was because they are constantly being cleaned. That's what I decided to do here. A lady came up to me the other day and said the one thing I've been longing to hear: Thank you for cleaning the bathrooms.' " A new scoreboard is also planned.
What's in it for Einhorn and Reinsdorf? Well, attendance is better than last year's despite bad weather. The crowd of 52,493 at Sunday's doubleheader was the largest at Comiskey Park since 1973. But that's not it. No, what the new owners have in mind is the pay-TV market. "Why should the guy who pays money for a ticket subsidize the guy who sits home and watches the game for free?" asks Reinsdorf. "What's nice is that when it comes time to negotiate a TV contract, the best middleman in the business will be on our side."
The new owners also inherited many of the Sox' natural resources, not the least of which is the franchise's hardcore fans, a rowdy but good-time breed. Their spiritual leaders are Harry Caray, the Wilkins Micawber of announcers, and Nancy Faust, generally acknowledged to be the best organist in baseball. Now in her 12th season in Section 25, Faust uses her degree in psychology and her ear for junk music to keep the crowd alive. She joins forces with Caray during the seventh-inning stretch, and together they can get more audience participation out of Take Me Out to the Ball Game than Francis Scott Key ever got out of his song. "It's the best shtick in baseball," says Einhorn.
They also inherited a fairly sound ball club. General Manager Roland Hemond and Veeck swung some canny deals before the team was sold. "Bill knew he was leaving," says Hemond, "but he kept trying to improve the club. He's a big part of whatever success we enjoy." Veeck himself has kept a discreet distance from the White Sox this season, choosing instead to behave like a gallant ex-lover. When asked recently about the White Sox, he begged off by saying, "I'm very happy they're doing well, but it would be presumptuous of me to discuss the club." When Veeck goes to the ball park these days, he heads for Wrigley Field to see the Cubs.
Just after last season, the White Sox acquired free-agents LeFlore and Jim Essian, who was to be the catcher before Fisk arrived. Hemond's real steal came at the winter meetings when he traded Pitcher Rich Wortham, now in the minors, for Bernazard. The deal allowed Chicago to move Jim Morrison to third base. Bernazard was batting .282 through Sunday and making plays not even Hemond could have predicted. "I just needed the chance," says Bernazard.
In January, Hemond, whose protègè is 24-year-old farm director Dave Dombrowski, offered a minor league contract to Almon, who had been released by the Mets. "As you know, Rhode Island is a small state," says Almon, who went to Brown. "Roland and I are both from Rhode Island. That's really how we got together." Almon got a lot of playing time in spring training, won the job at short and at week's end was batting .333 with 20 RBIs, five more than he had in 1979 and 1980 combined. It also helped that he and Bernazard played together—or, rather, sat together—with the Expos. Says Almon, "When we took infield in Montreal, I often thought Tony and I would make a good double-play combination. God works in mysterious ways." The White Sox have an edge there, too. Coach Dave Nelson's brother is a Trappist monk.
Still, Chicago's most significant acquisition has been Fisk, who has quickly become the hero of the fans. They now hang banners like PITCH TO FISK AT YOUR OWN RISK from the leftfield stands. "I hope to give them something more to cheer about," Fisk says in true heroic fashion. He also says he's getting more comfortable with the young Sox staff, and his talent for handling pitchers may, in the long run, be of greater value than his RBIs. The starting fivesome of Dotson, Burns, Baumgarten, Trout and Francisco Barrios is the envy of many clubs. Trout and Barrios recently had a scuffle, but then boys will be boys, especially these boys. Luzinski now calls Barrios the staff "stopper." He stopped a right and he stopped a left. Barrios, a native of Hermosillo, Mexico, has just come back from a place from which few pitchers return: rotator cuff surgery. And while Farmer was struggling, righthander Lamarr Hoyt emerged as a strong reliever.
When the season began LeFlore and Luzinski were question marks. LeFlore, who had his problems in Montreal—something about not showing up at the ball park on time—has been a model citizen as far as the White Sox are concerned. "He's been an absolute pleasure," says LaRussa. "I know what he can do on the field," says Bernazard, "and I'm glad to have him." Last week LeFlore, not often lauded for his fielding, saved a 4-1 win over Oakland by leaping and reaching above the leftfield fence to rob Rickey Henderson of a homer.
If Luzinski can retain the stroke that in 1977 yielded a .309 average, 39 homers and 130 RBIs, then there will be dancing on West 35th Street. He has hit some tremendous shots in Comiskey Park, but is also prone to what used to be called "swat swoons." The White Sox always have Lamar Johnson, who was batting just .350 at week's end, and Wayne Nordhagen for righthanded power. And they're getting a boost from Centerfielder Chet Lemon (.288) and First Baseman Mike Squires (.303), who has one of the best gloves going.
All of the newcomers are happy to be in Chicago. The Sox have always enjoyed a reputation for treating their players well, and Almon noticed it right away. "They didn't promise me anything except a chance, but when it came time, they let me prove myself," he says. "I like dealing with people who are honest. I also like having a manager who's a lawyer. Tony is always thinking ahead, as if he were in a courtroom, and he always has a reason for what he does."
LaRussa isn't the first lawyer-manager, but he's in good company; two others—Monte Ward and Hughie Jennings—made the Hall of Fame. LaRussa, 36, held the distinction of being the youngest manager in the majors until May 7, when his old roomie in the minors, Rene Lachemann, took over the Mariners. But he may be the only manager who listens to the rock group Styx. In fact, several weeks ago LaRussa was thrilled to find out that Dennis DeYoung, the keyboard player for Styx, was a White Sox fan. When De Young came into LaRussa's office to exchange his Styx jacket for a White Sox jacket, it was hard to tell who was more pleased.
LaRussa's training as a lawyer hasn't helped him in arguing cases before the White Sox' kangaroo court, which is presided over by Farmer, who fashions himself after Judge Roy Bean. The manager was fined $20 recently for walking through the clubhouse in a jacket advertising a local rock station. Farmer keeps inventing all sorts of misdemeanors. After one recent game, Harold Baines was fined $2 for clapping his hands following a successful steal of second. "Showing emotion" was Farmer's ruling.
Farmer is one of the four Chicago-area natives on the Sox. He grew up two miles from Comiskey and went to nearby St. Rita High; as a kid he idolized Luis Aparicio and Early Wynn. Baumgarten was reared on the North Shore, in affluent Glencoe, and worshiped the Cubs and Ken Holtzman. "We used to sit in the schoolyard for hours, arguing Cubs versus White Sox," says Baumgarten, who still has a soft spot for the Cubbies. Luzinski also hails from Chicago, although he didn't go to many White Sox games. In fact, the last time he was in Comiskey Park before the Phillies sold him to the Sox in March was in 1968, when he had to catch Tom Phoebus as part of his tryout as a catcher with the Orioles.
And then there's Kevin Hickey. Hickey grew up just a few blocks from the stadium, and he became a star outfielder in Chicago's own game, 16-inch soft ball, which is played with a huge ball and without gloves. But Hickey was switched to the night shift at the steel factory where he worked, giving him time only for semi-pro baseball on weekends. His friends talked him into one of those public-relations tryouts that teams hold, and he impressed the White Sox. Four years later he is the lefthanded reliever on the team. "A nice story," says Farmer, pointing to Hickey. "There are a lot of nice stories on this team."
But the nicest story about these White Sox has yet to be written.
PHOTO
A White Sox after a decade as a Red Sox, Fisk may be as important for his work behind the plate as at it.
PHOTO
Temperamental LeFlore has been a model citizen in Chicago.
TWO
PHOTOS
Fisk stoops low to please fan, while informal owners Einhorn and Reinsdorf bask in Sox' glow.