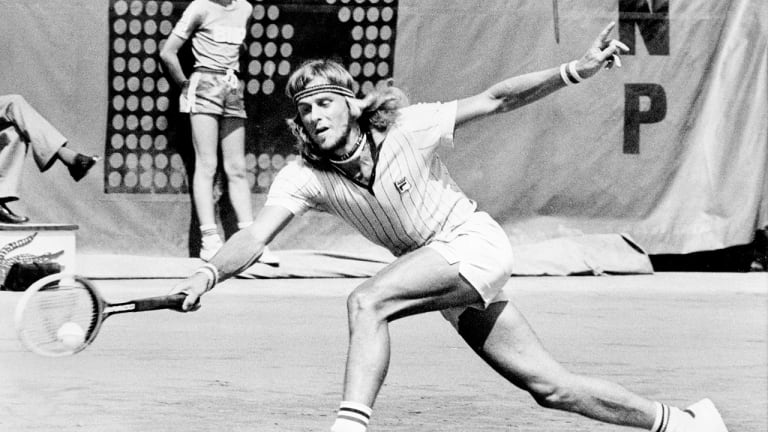 How's This for a Feat of Clay?
Fit as ever, Bjorn Borg hit pay dirt at the French
It's clear from the events in the French Open last week that Bjorn Borg will have to be boiled in oil, hung by the thumbs, pushed out of a speeding Concorde or even made to get his hair cut before anyone will ever again believe reports of his demise. In Paris the discipline, the will, the shotmaking, the impenetrability of the champion were once again on display. On Sunday Borg turned away the fierce challenge of the adventuresome and sometimes brilliant Ivan Lendl, who played him as nobody had in his five previous finals on the bronze clay of Roland Garros Stadium. The scores were 6-1, 4-6, 6-2, 3-6, 6-1 as Borg won Open No. 6, his fourth in a row.
Normally the Swede arrives in the City of Light as a conquering hero, but this time he came virtually out of hiding, having suffered a lost springtime. During a six-week stretch in March and April he had been beaten by John McEnroe, by somebody named Rolf Gehring and by Victor Pecci, who disposed of Borg on Bjorn's own home clay in Monte Carlo.
Before the tournament, Borg said he had heard the questions about his health and motivation. He said he resented them. He said, "I am not going down." He said he was ready again to set out on the trail of the Grand Slam. Looking lean and happy and hungry, he took the first leg despite a courageous stand by Lendl, who twice could have folded in the championship round.
The young Czech, by now the world's second-best clay-court player, surrendered five straight games to lose the first set, but then he unloaded his slingshot forehand and squared the match at a set apiece. Borg, serving splendidly (he missed only nine first serves in the first and third sets), again ripped off a five-game series to take the third. And Lendl stormed back. The two had been exchanging blows practically from the boundaries of the nearby Bois de Boulogne for most of a long afternoon, avoiding the neutral territory around the net as if it were the Love Canal. But in the fourth set Borg ventured in behind some shallow forehands. Lendl passed, held for 4-3, broke Borg at 30 with a cross-court drive that found the Swede hesitant at net and closed out the set.
"In the fifth, anyone can win," Borg was to say later, "But I was ready to give everything, to stay out and rally and not take chances."
Sound familiar? Slowing the pace by changing up off the forehand and serve, Borg wore down a tired Lendl with consistency. In one three-game stretch there were five deuce points. Borg won them all. He won the games, too. When he raced from a far corner for a drop volley, which he somehow slid down the line for a winner to reach 4-0, Lendl was finally through and the answers about Borg were fairly obvious.
After his nearly two-month absence from competition, rumor fed upon speculation to create what amounted to a gossip mill on the fragrant, leafy grounds of Roland Garros. Borg had dislocated his shoulder. Borg had become lazy and apathetic. Borg wanted to quit the game and settle down with his wife, Mariana, to start a family. Borg had become senile—growing his fingernails long, baying at the moon and demanding that huge quantities of Baskin Robbins be smuggled onto his private island by Scandinavian frogmen. All the usual stuff.
Having played only three tournaments since January and having failed to advance past the second round in two of those, Borg decided to rest his tender right shoulder. When he arrived in Paris, he was skeptical about his form and acknowledged his lack of serious recent competition. But he had practiced diligently for two weeks, and he pronounced himself fit. "I feel strong. I can be out on the court for a long time if I have to," he said.
He didn't have to. Among the elements sparing the champion extended court time were the rain and the draw. The former, which interrupted matches for the better part of the tournament and converted the city's romantic, cobbled alleys into tributaries of the Seine, mysteriously seemed to hold off whenever Borg played, as though reluctant to soil the masterpieces. At one point he was two rounds ahead of practically everyone else.
Then there was his draw. In the first three rounds, Borg faced J. Lopez-Maeso of Spain, C. Motta of Brazil and P.A. Torre of France, Nos. 87,207 and 242, respectively, on your player computer. Hardly Les Trois Mousquetaires in your heart. Before Borg could figure out their first names, they were gone.
In the round of 16, he finally faced a "test" in Terry Moor from Memphis. Ranked 37th. An easy winner over a rejuvenated Ilie Nastase in the previous round. A quarterfinalist on the clay at Indianapolis and North Conway, N.H. last summer. A tough, plucky veteran. Moor had to have pluck. Alternately groveling in the dust and fairly leaping to intercept Borg's topspin drives. Moor floundered his way to love-17 before Borg's groundies briefly went awry. When Moor at last clutched one cherished game, the packed house of Parisians rose en masse, waving hats and rewarding Moor with perhaps the grandest ovation he may experience in his career. "I felt like going down into Bjorn's Wimbledon on-his-knees drop," he said.
Moor had never played Borg before. He seemed stunned. "The man is on another level," Moor said after losing love, love and that noisy, glorious one. "Maybe it has something to do with who he is, but everything was so deep, so high. Other guys, once in a while they miss. I felt lost. The thing was he looked bored. I have no idea how people beat him. I don't see how they win games."
Meanwhile, the rest of the draw was opening up quite pleasantly for Borg. Adriano Panatta, who had a fine run at the Italian Open the previous week and is the only man to beat Borg in Paris (1973 and '76—mark it down; some sort of monument may be built), and Guillermo Vilas were defeated by two of France's own. Teen-ager Thierry Tulasne took Panatta in four sets, and Yannick Noah stopped Vilas in a dramatic two-day match, 6-2, 6-3, 5-7, 6-4.
As for the seeded Americans, they began leaving the tournament in droves the minute evidence was revealed that Borg's retirement wasn't imminent. Eliot Teltscher, seeded 10th, Vitas Gerulaitis (ninth) and Harold Solomon (eighth) all exited in the first round, Gerulaitis refusing to relate his exploits in the mandatory media briefing. "I'd rather pay the fine than talk to the press," he announced. Ah! La Dolce Vitas!
Brian Gottfried (12) and Eddie Dibbs (16) departed in the third round, as did Gene Mayer, the fourth seed. Mayer was down a set and 1-2 to Victor Pecci, who would fall to Borg in the semis, when he retired with a wrist injury. This was Mayer's third default at the French in five years. He seems more accessible to bodily harm than anyone since Chevy Chase, and his record in the major events is nothing to write home about even with a good wrist.
No U.S. player has won in France since Tony Trabert in 1955, and no U.S. player seems about to, either. Jimmy Connors and John McEnroe may be 2-3 in the world, but not when they're playing on the irritating, slow and swirling clay of Paris with rocklike low-pressure balls. The low, flat trajectory of Connors' shots doesn't allow him the margin for error one needs in these brain-jangling, hour-upon-hour marathons. In such matches his aggression comes a cropper. The more facile McEnroe, blessed with marvelous touch on the lob and drop, seems to think patience, concentration and hard work are unnecessary. Neither man's temperament is suited to clay. Neither man knows how to slide properly. "The points just keep going on and on and it's so frustrating," McEnroe said. "I don't think that the most talented players necessarily win here."
Wrong.
McEnroe was more accurate when he described his performance in a 6-4, 6-4, 7-5 quarterfinal loss to Lendl as "a disgrace." The match began in a sprinkle under darkening skies, and by the second set McEnroe—wanting the court swept or play suspended—was politely screaming for the referee, the distinguished M. Jacques Dorfmann, thusly: "Hey, Dorfmann, get out here. Are you waiting for me to break my leg?" When he wasn't bitching, Mac was babying his backhand and trying to be cute with some ill-considered junk. He stayed on the defensive as Lendl blasted away. The match was finally called in the third set, but even when play resumed the next day in warm sunshine and with good footing and McEnroe rallied for a 5-2 lead, he was kidding himself. Resembling a blind man attempting to fly a kite, McEnroe quickly lost the next five games. "I was too easy. I strolled, never pushed myself," he said. "I don't deserve to win this tournament."
Connors, also toiling amid flood conditions, was eliminated in similar fashion, although he deserved better. Connors doesn't hold leads the way he once did. This time he was up a set and a break on Jose-Luis Clerc, the 22-year-old winner of the Italian Open with the Valentino face, when Clerc produced a patient, elegant stream of winners that gave him a 6-5 lead in the fourth. Serving to save the set, Connors fell behind 15-30, but the Argentine's backhand return bounced deep. His next return landed in the same vicinity, but to Connors' everlasting horror, chair umpire Chou Lu announced "Deux balles" overruling the out call and ordering the point replayed.
"Four or five years ago I would have jerked the guy out of the chair," Connors said. Instead, flabbergasted, he jerked a forehand into the net, and then dropped the set when Clerc put away an overhead.
The match had consumed nearly five hours (including a 40-minute rain delay) and the court had become an orangey quagmire. Now the rain was heavier still. Umbrellas of every size and hue filled the stadium, creating a tableau worthy of Matisse. Then Connors ripped a nasty hole in this lovely, living canvas. Obviously still incensed over Lu's ruling, he stormed about the premises gesturing, cursing, shaking the umpire's chair and threatening to hit Lu with a ball.
In the process of losing control, Connors lost his stroke. Although most of the crowd of spectators were with him, Jimbo began hurling points and entire games to the wind. He staggered to the end, winning only eight points in the final set. The match concluded 4-6, 6-2, 4-6, 7-5, 6-0. "It's the first time that [raging, presumably] has worked against me," Connors said. "I should have gotten on with the match."
Clerc next waged a semifinal base-line brawl with Lendl, which might still be going on but for the fact that the gentleman from Buenos Aires failed on a match point in the fourth set and became exhausted in the fifth. Final score: 3-6, 6-4, 4-6, 7-6, 6-2.
The women also had a tournament at Roland Garros. To be sure, they play there annually, but seldom is there much suspense about the outcome when Chris Evert Lloyd shows up. She had won four times (1974, '75, '79, '80) in five tries, losing only to Margaret Court in the finals as a teen-ager in 1973. Last week Chris' hold on the French came to an end. Yet it is the essence of the new champion's potential that this French shall be remembered less for Evert Lloyd's departure than for Hana Mandlikova's coming out.
Since Betty Stove, the Dutch doubles star, became her coach at Roland Garros last year, Mandlikova, tall, lithe, 19, out of Prague by way of the Campbell Soup kids, has appeared in four Grand Slam events: Wimbledon—beaten in the 16s by Evonne Goolagong, the eventual champion, after leading 7-6, 3-1; the U.S. Open—beaten in the final by Evert Lloyd after winning the first set; the Australian Open—champion; the French Open—champion. In addition, she has won six other tournaments and defeated every top woman at least twice except Tracy "Ow-stin" (as Mandlikova calls her), who has been MIA for some time. Moreover, it has become common knowledge on the tour that when Mandlikova is cranking her bolo forehands to the corners and controlling the flow of play off the approach and volley, she's the best in the sport. With Goolagong at home nursing a newborn son, she is also the most delightful to watch.
Before facing Evert Lloyd in her penultimate moment, Mandlikova had to contend with the latest of the tennis tots, 14-year-old Kathy Rinaldi. The youngest player ever to compete in a Grand Slam event, she skipped her eighth-grade graduation exercises at St. Joseph's School in Stuart, Fla. to come to Paris, sneak around under the catacombs of the old stade with Andrea Jaeger and Clare (sis of Chris) Evert and upset both eighth-seeded Dianne Fromholtz and Anne Smith (No. 11).
After Mandlikova welcomed Rinaldi to the quarters with a 6-1, 6-3 thumping, the pony-tailed prodigy said she was impressed with the winner's "one-handed backhand," those being awfully rare these days. Even rarer was an Evert Lloyd defeat on clay, something that had occurred only once in—think about this—190 previous matches, or nearly eight years. In the semifinals Hammerin' Hanka, as Mandlikova has been nicknamed, attacked Evert Lloyd's second serve and hit out bravely on the big points. She won 7-5, 6-4, but it wasn't that close. At the end Mandlikova was yo-yoing her opponent side to side and even drop-shotting the Queen of Drops. "Hana has it all," said Evert Lloyd. "She has a lot of power. She moves well. She has got topspin and slice. She hit so many winners and played me perfectly. I started thinking that maybe it was Hana's time."
Which it was in the final against 21-year-old Sylvia Hanika of West Germany. Hanika, who's currently ranked eighth, is enjoying her best year on the tour. She had upset Jaeger 6-4, 1-6, 6-4 in the semis, and in the finals was up 0-2 in the first set and 0-4 in the second, but on both occasions Mandlikova ran off six straight games. Mandlikova's sparkling effervescence off-court, where she appears much younger and softer sans her trademark headband, especially attracted the international press and led to some insouciant outbursts. When asked why she didn't play mixed doubles with her countryman Lendl, she said, "You must have fun in mixed. Ivan, you know, is not really fun."
True to reputation, the dour, unsmiling Lendl was no barrel of laughs on Sunday, but he played determined, sometimes supreme, tennis in the face of not only Borg but tennis history as well, the two having become as intertwined as satin and lace. Borg's sixth French title makes it 11 Grand Slam singles championships, one more than Bill Tilden won, and ties him with Rod Laver for second on the alltime list. The leader is Roy Emerson with 12. That's right. Borg has one major championship to go. And Wimbledon is coming up fast.
PHOTO
RUSS
ADAMS
En route to his sixth title in Paris, Borg didn't drop a set until the finals, when Lendl took two.
PHOTO
RUSS
ADAMS
Lendl may have gotten help from upstairs when he was down match point to Clerc in the semifinals.
PHOTO
RUSS
ADAMS
Conqueror of Evert Llyod, Mandlikova rejoices after...
PHOTO
RUSS
ADAMS
The latest kid phenom, Rinaldi, 14, stunned two seeds.
PHOTO
RUSS ADAMS
...bringing Hanika down to earth in the title match.