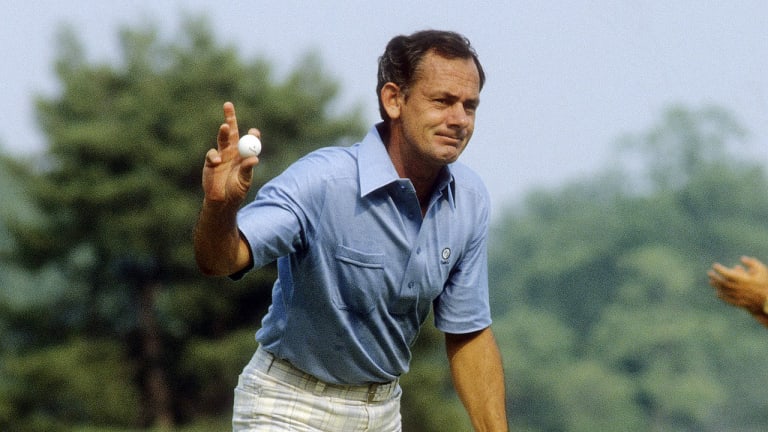 Graham Didn't Crack
Hitting every green, David Graham won the U.S. Open with a nearly flawless final round
Without even trying, the glorious old East Course of the Merion Golf Club on the preppy fringe of Philadelphia can load a player with lore of Bobby Jones and Ben Hogan to the point of daunting—or inspiring—him. Last week a sense of history seemed to inspire David Graham.
Graham went into Merion with a reputation for being several things: a fine iron player, an accurate man off the tee and a survivor under pressure. He left Merion as something more: the richly deserving winner of the 1981 U.S. Open, which, since he won the PGA only two summers ago, makes him a collector of majors now. Graham collects and designs golf clubs, too, but the majors pay better.
At the end on Sunday there wasn't anything very dramatic about what was going on. Graham was simply whipping the daylights out of a golf course that had finally begun to whip everyone else. Merion's par of 280 for 72 holes had not been broken in three previous Opens, and the USGA had tried hard to defend it this time by shaving the greens down to plate-glass slickness and letting the fairways grow to the level of a tossed salad. But Merion's uncommonly short length of 6,544 yards ultimately caught up with it. When Graham walked off the 18th green on Sunday evening he had shot a near-perfect 67, three under for the day, to go with his previous rounds of 68, 68 and 70. The round not only propelled him smoothly past struggling George Burns III, the man he had to beat, but also gave him a total of 273, seven under, the second-lowest in the history of the Open, Jack Nicklaus having so memorably scorched Baltusrol with a 272 last June.
It took a while for Graham to crack Burns. Big George started the day with a three-shot lead and hung in there for 13 holes, getting the best of every break, as indeed he had for the three previous rounds. Burns had led the Open after the second and third rounds, in which, however, he displayed a certain characteristic inconsistency. On Friday he played one stretch of seven holes bogey, birdie, birdie, bogey, birdie, bogey, birdie.
On Saturday, at the 11th hole, Burns got one of the great drops in Open history. After two poor shots, he had found himself in a jungle behind a spectator stand and had thereupon been allowed to make a perfectly legal drop out in the clear. All that scrape cost him was a bogey. He might have escaped on Sunday, too, if Graham hadn't been in a mood to win. Burns kept fighting and, for a time, surviving, but Graham was relentlessly steady.
The truth is you can't keep hitting virtually every fairway and then hitting every green—frequently to within birdie range, as Graham was doing—without eroding the competition and ultimately being rewarded.
Graham began Sunday afternoon by firing rapid birdies on the first two holes to pull within a stroke of Burns. This served to let Burns know rather quickly that it was going to be a ball game, and the fact that he was paired with Graham meant he was going to have to look at his opponent's mastery up close all day. What Burns eventually saw was Graham missing only one fairway and hitting all 18 greens in regulation.
Graham could have birdied several more holes between the second and the 14th, including the fifth, where he three-putted for his only bogey. He seemed always to be within makeable distance.
It was more than appropriate, however, that Graham would seize the lead at the 14th, an extremely tough par-4 that not only requires blind shots but also happened to be the hole on Saturday where he had extricated himself, salvaging a bogey, from a rare detour into a trap bristling with Scotch broom. "I've heard it got over here when Bobby Jones forgot to clean his cleats after a British Open," said Graham.
On Sunday Graham decided to hit a driver off the 14th tee, where previously he had been using a three-wood because the target area is about the size of a throw rug. He nailed his drive perfectly. He then hit a seven-iron to within four feet of the pin on a green that has more levels and speeds than a motor trip around Monaco. There is an old saying at Merion: "The golf course starts at 14." Graham sank the putt for his birdie.
At the 15th, he hit another marvelous tee shot, with a one-iron, and a marvelous eight-iron, and then he sank another marvelous putt from eight feet. As things turned out, with a two-stroke lead at that point and only three holes to play, Graham could have gone ahead and phoned in the order for the 25 cases of champagne he would later buy for the wretches in the press tent.
While Graham played home beautifully for pars on the exacting last three holes, Burns put together a bogey-birdie-bogey finish that left him in a tie with Bill Rogers for second. Rogers, who is known to his contemporaries on the circuit as Slam Dunk for the style with which he plays his short putts, is also among the straightest hitters in golf, which is undoubtedly the best explanation for his success at Merion.
U.S. Opens almost never fail to introduce relatively obscure characters to the glare of the limelight, at least briefly. So it was that Jim Thorpe became a big part of last week's Open. A good-natured black pro, highly popular on the tour, Thorpe led at Merion after a 66 on Thursday and he never completely disappeared from the scene. He finished in a tie for 11th with Ben Crenshaw, whose 64 on Saturday was a story in itself, and Isao Aoki, who dueled with Nicklaus in last year's Open.
If for no other reason, Thorpe was popular with his contemporaries for the expressions he likes to use when talking to his golf ball. While most competitors will tell a shot in flight toward a slick green to bite or sit down, Thorpe says, "Grow teeth!"
All U.S. Opens have incidents, because it's next to impossible not to have them with so many USGA officials strolling about in their striped ties and armbands. Incidents at the Open are usually minor and are made to seem large only because the USGA people work themselves into a cluster and grab microphones and begin to speak interminably in a language that sounds almost like Pentagonese.
The most over-discussed incident of Friday's second round was a penalty for slow play that was not assessed John Schroeder, a notably slow player who shot a 68 that day but finished a full hole and 20 minutes behind the group playing directly ahead. P.J. Boatwright Jr., an executive director of the USGA, had sedulously followed Schroeder, Forrest Fezler and John Brodie, the amateur golfer and ex-pro football player turned NBC announcer, and hit Schroeder and Fezler with two strokes apiece when they came off the 18th green.
Schroeder appealed and asked Brodie to plead his case before the USGA rules committee. The committee then voted 3-1 not to assess the penalty. What had been Brodie's plea?
"John's a close friend," said Brodie, "but he is slow and he makes playing golf with him a misery. But my argument was, he didn't play any slower than he always does." Ultimately Schroeder poked his way to a tie for fourth.
Triple and double bogeys bedeviled the tournament's two most glamorous players. Nicklaus took a double-bogey six at the 16th on Friday, when he shanked a four-iron second shot into the woods. Nicklaus vehemently denied it was a shank; he just caught the ball "thin," he said. On Saturday he got another double bogey when he three-putted the 14th after a poor drive, a poor second and a poor pitch. Neither Jack nor his caddie, Jack Jr., could line up any of those putts. At one point, Nicklaus looked at the gallery and said, "Help." It got a laugh, but it was still a six.
Tom Watson lingered around in remote contention for a couple of days but he departed with a triple bogey on Saturday at the 15th after driving out of bounds with a three-wood and then three-putting.
Graham suffered no such mishaps; no doubles and certainly no triples for the entire tournament, and thus it must have been all the more gratifying that he wound up grabbing the title Sunday with those birdies at the 14th and 15th holes, the very ones that had sent Nicklaus and Watson into retreat.
"Today was as good as I've ever played in my life," Graham said afterward. He is a sincere gentleman and was deeply moved by his feat; he is grateful for the opportunities golf has given him. Once a poor young Australian, he is now a wealthy U.S. resident (Dallas) and has no plans to leave. "I can't vote and I can't work for the government," he said, "but I'm not leaving."
Graham has a sense of golf history, too. On Thursday, after his starting 68, he drove over to Pine Valley in nearby southwestern New Jersey with Crenshaw and had a long look around at one of the game's hallowed layouts. He had never seen it, and Crenshaw, a noted golf-history junkie, was eager to lead him on the sightseeing trip.
The treacherous wasteland of Pine Valley may have reminded Graham of what he still had to do at Merion. That's the thing about U.S. Opens. If you don't keep it straight, the golf ball is going to have to grow more than teeth.
PHOTO
The nightmarish Scotch broom in a trap at the 14th didn't sweep Graham away Saturday but cost a bogey.
PHOTO
The first-round leader, Thorpe wound up 11th.
PHOTO
Nicklaus and caddie, Jack Jr., were two bears in the woods at 16 on Friday. Result: double bogey.
PHOTO
In and out of trouble all Sunday, Burns led for a good while by scrambling from traps and the rough.
PHOTO
Graham had only one bogey on Sunday, took command on 14, and the Open was all but closed.