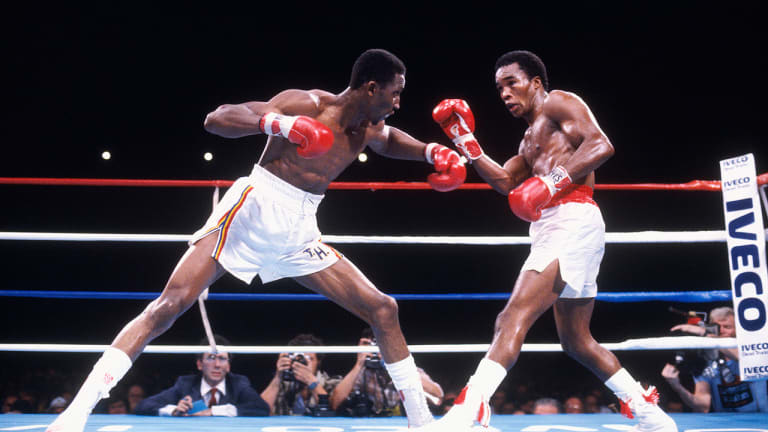 Clearing the Way for the Big Payday
Against a background of lurid dealing, Sugar Ray Leonard and Thomas Hearns won their Houston semis and advanced to the welter finals
Last week, even as Sugar Ray Leonard and Thomas Hearns strode splendidly toward their September shootout, it was discouragingly clear, as if anyone ever doubted it, that boxing is more—much more—than the simple art of laying leather on another man's nose. Man against man in the ring is but a sideshow to men against men in the hotel suites, where the end of a round is signaled by the clink of ice in a highball glass. There paranoia and plunder, like a hook following a right cross, is the classic combination, and the rule of thumb (in the eye?) is something like, never buy cookies from a Girl Scout unless you get the options on the Thin Mints and the site rights to her wedding. And so it went in Texas last week.
Houston was cast as Fight Town, U.S.A., and while it drew some of the best in the sport, it also attracted the bad and the ugly, the big wheels and the bizarre. The star attractions, of course, were Leonard and Hearns, although not in the same act. If you're searching for two nicer people than that pair, you're on the wrong planet. Also in attendance were bit players like Hearns' opponent, Pablo Baez, who added five to 19 and got 22, and Ben Mugimba, a Ugandan witch doctor who once ran a gas station in Kampala. And there was Bob Arum, the boss of Top Rank Inc., which was trying to sell closed-circuit TV of last Thursday's fight card to theaters across the U.S. Arum was betting the no-pass line in a crap game against common sense.
In the bouts that involved exertion and took place in the Astrodome, Hearns hit the inept Baez in the mouth and dispatched him in the fourth round, thereby retaining his WBA welterweight title. And Leonard, the WBC welter champ, fighting with one hand—which seemed a reasonable impost—used all but one second of nine rounds of a tough and interesting fight to take the WBA junior middleweight title from Ayub Kalule, a Ugandan fighting out of Copenhagen.
For Leonard, who earned $2.5 million, and Hearns ($525,000), the night was a lucrative public workout meant to whet appetites for their megabuck bout on Sept. 16, most likely at Caesars Palace in Las Vegas for the unification of the welterweight titles—perhaps.
The "perhaps" is contingent first upon the greed of the World Boxing Council. Word filtered into Houston that the WBC would henceforth demand 3% of every champion's purse, 1½% of the challenger's, and would exact 2% of the fighters' total purses from the promoter. Just to sanction the fight. If Leonard earns $8 million and Hearns $5 million at Caesars, which is more than possible, the official WBC benediction would cost $575,000. At those prices you can be sure the letters WBC will grace no fight posters come September.
Then there is the WBA. Pepito Cordero, a powerful voice in that group, claims to hold an option to promote one Hearns fight and is calling in his marker. Reportedly he wants $300,000 to get out of the way. The odds on Cordero's money grab are only slightly better than the WBC's. With brilliant foresight Leonard and Hearns signed contracts calling for only a 15-round bout at 147 pounds. There is no mention of them fighting for anyone's world title.
As for Arum, when he volunteered to handle the Leonard-Kalule fight, he came up with the idea, apparently all on his own, that he would then have a piece of the September show. A few days before the Houston fight, chewing on the fact that a New York rock-'n'-roll promoter named Shelly Finkel would have the closed-circuit rights for Leonard-Hearns, Arum went into a screaming rage.
"We never discussed the September fight with him," said Mike Trainer, Leonard's attorney and financial guru. "He assumed he would be a part of it. He assumed wrong." Arum unleashed a volley of abuse. He said Trainer was idiotic for letting Leonard fight Kalule anyway, because the Ugandan was too strong for him. "This match wasn't my idea," Arum said. "They [the Leonard people] made me do it. I don't make stupid predictions. I don't have to." He was forgetting that a few weeks earlier he had picked Leon Spinks to beat Larry Holmes.
In an afterthought, Arum also picked Baez to beat Hearns.
It was enough to drive boxing writers to drink.
When he arrived in Houston, Kalule first had to dispose of Mugimba, the witch doctor imported air-express from Uganda to drum up publicity. Mugimba was the brainchild of Irving Rudd, an Arum press agent. Rudd found his man by calling the Ugandan Mission to the U.N.
"Irving Rudd here," he said to Roy Magara at the Mission. "I'd like to talk to you about Ugandan cultural things. Do you have a witch doctor?"
Magara mentioned Mugimba, a Catholic with six kids who had given up pumping gas to run a coffee plantation. They flew him in for $1,500. When he arrived, Kalule told him to get lost.
Kalule is a member of the Baganda tribe, Uganda's most prominent, and speaks four languages. "I am embarrassed," he said. "Why do they do this to me, like I am a fool? I didn't just come out of the jungle. Take him away."
Hearns was on the card as part of the deal for Leonard-Hearns in the fall. Only a 10-rounder, pick your own opponent, Emanuel Steward, Hearns' manager and trainer, was told. He dipped into the unknowns and found Baez. Then he thought. Why should Hearns play preliminary to Leonard's main event? He suggested they make Hearns-Baez a title fight. Arum said it sounded good.
"Then if it's a title fight we'll want more money," said Steward.
"No," said Arum, who could see red ink oozing from the closed circuit.
Trainer solved that. "Take $100,000 off Ray's purse and give it to Hearns," he said, not wanting a trifling hundred grand to threaten the September payday.
Now Steward demanded that Hearns get equal billing on the Houston fight posters. Trainer said he didn't care: "They're still going to look at Ray anyway," he said.
The final point was which fighter would go on last. Steward wanted it to be his man until he was told that if Hearns fought last, no one would see him because the media would be talking to Leonard. Steward then saw the light, insisting only that "they play the national anthem before our fight."
Although the fight was now a title match, Baez was still Hearns' opponent despite his 12-9-2 record, which somehow came out in the press releases as 14-8-2. Either way it was lousy, which didn't stop the WBA from upgrading Baez from unranked to No. 9 after it learned he was to fight for the title. Perhaps the WBA was unaware that he had won but three of his last eight fights. When he arrived in Houston, the 6'1" Baez said he was 22, had come to the U.S. when he was 19, and had been here five years. He also said he had been knocked down only twice, which came as a surprise to Victor Abraham, one of Leonard's sparring partners, who said he personally had knocked Baez down three times in a bout in 1978.
Baez lasted until 2:10 of the fourth, when he collapsed on the lower strand of the ropes with Chaplinesque grace. He was paid $75,000, or $69,000 more than he made for his last fight.
Leonard came into the Astrodome ring at 153 pounds, the same as Kalule, wearing a black robe with yellow serpents on each sleeve and black trunks with a yellow cobra head on the left leg. While Leonard was training in Phoenix with Janks Morton, his ring mentor since age 13, he had dispatched an aide to the local library to research Ugandan witch doctors. Witch doctors, came back the report, fear the color black and aren't all that happy with snakes, which are too quick to put a spell on. In any case, Leonard won the best-outfit prize.
A natural righthander, Kalule fights southpaw, although his stance is more often square. He's a plodder without much of a punch. He was undefeated in 36 fights because he is an iron man, wearing opponents down with relentless pressure. He had never been knocked down.
Kalule's Danish handlers had expected that he would have to chase the fleet Leonard. They were shocked when Sugar Ray went right at their man. Kalule was only confused. For the first two rounds, Leonard pierced the champion's compact defenses with a crackling jab. And then the jab was gone. Early in the third, Leonard bounced a left hook off Kalule's head and bruised the knuckle of his middle finger. It's a familiar injury with Leonard, one that causes pain when he jabs to the head but still permits him to hook to the softer body. But clearly Leonard was handicapped. Everything he does comes off the jab; it's the trigger for his brilliant combinations.
Although worried about the injury, Leonard came out in the fourth like a starved lion pouncing on a tethered antelope. Four times he rocked Kalule, but each time he moved in to finish him, Leonard ran into a stone wall.
In the fifth Kalule began to zero in on Leonard with his right hand. Midway through the seventh, a right to the head caught the challenger off balance and spun him around. A ball of ice formed in the stomachs of those looking ahead to September. "It scared the hell out of me," said Steward. Recovering quickly, Leonard danced away. Kalule followed him with growing confidence; he is a patient fighter with unlimited endurance. In the eighth round the Ugandan looked even stronger.
But then Kalule came unglued. Firing from the right side, Leonard caught him with two smashes to the head, drove him into a corner with another right and hammered him twice before he could get away. It was a momentary respite. Another right drove Kalule back to the ropes, and a thunderclap left-right-left-right combination—savage punches—sent him crashing; Kalule, dazed, was up at six. When Carlos Berrocal, the referee imported from Panama, asked him if he was O.K., Kalule shook his head. Berrocal wigwagged a ceasefire. The time was 2:59 of the ninth round.
At that point, Leonard, a reformed gymnast, did a full 360-degree, no-hands flip, a stunt he had practiced in secret. Only while in midflight did Leonard realize, to his horror, that he had neglected to allow for the restriction of his protective cup. "Oh my God," Leonard thought as he spun, "what have I done?" Fortunately, he landed on his feet. But then he always does.
Later on Kalule's people would protest that their man had been unable to understand Berrocal, who speaks only Spanish, which is not one of Kalule's four languages.
Still, it really didn't matter if Berrocal could speak a dozen languages and Kalule understood them all. The Ugandan wasn't filing any protests. As he told New York sportscaster Bill Mazer, who was doing the closed-circuit broadcast, "I told the referee to stop it. I didn't want to be like Leon Spinks."
He meant unconscious.
THREE
PHOTOS
A thunderous Leonard right hand put Kalule on the floor for the first time in his career in the ninth. He got to his feet but couldn't go on.
TWO PHOTOS
Kalule flopped and Sugar Ray flipped through a full, stunning 360 degrees.
TWO
PHOTOS
Baez equaled Hearns in reediness but little else. The champ had him on the ropes for a fourth-round TKO.