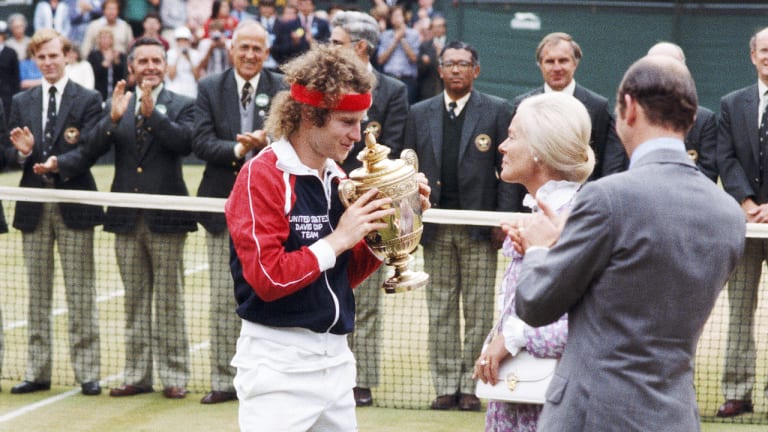 Publish date:
His Earth, His Realm, His England
John McEnroe drew censure—but also gained admiration—as he stopped Bjorn Borg at Wimbledon
When it finally ended in the gathering greens and grays of a long Fourth of July afternoon, he was alone. Just he and his racket and the ball coming shoulder high on the left. There were no more "incompetent fools" or "disgraces to mankind" in the chair. There were no more "cheats" on the lines. There were no "vultures" in the stands, no "trash" or "liars" in the press box and none of the other abominable demons at this place he called the "the pits of the world," which had visited upon him persecutions, both real and imagined, for an entire fortnight. Now it was only he, reaching out on the forehand and jabbing a volley. When the ball landed smack in the corner, clean and clear where nobody could overrule the call or replay the point or "screw" him or even touch the bounding white rabbit he had so artfully slashed into posterity, he had beaten them all. Most of all, John McEnroe had finally beaten the great Bjorn Borg at Wimbledon. For that he will be remembered long after his outrageous behavior and guttersnipe quotations are forgotten.
It had taken a thoroughly preposterous six Wimbledons, with Borg winning 41 straight matches, for this moment to arrive. It had taken nearly a lifetime out of Jimmy Connors, who had come oh-so-close to overthrowing the champion in a thrilling semifinal two days earlier. But for the brilliant McEnroe it required merely the experience of contesting last year's final against Borg, with its magnificent 34-point tiebreak—the ultimate warmup—as well as another three hours and 20 minutes last Saturday.
The scores were 4-6, 7-6, 7-6, 6-4, the American lefthander pitching positively Valenzuelan in the clutch tie-breaks, which he won 7-1 and 7-4. When the Centre Court clock struck 5:30 p.m. at the instant the championship changed hands, McEnroe looked to the sky for a moment, transfixed by what he had accomplished. Then he whirled to salute his family in the visitors' box. Brother Mark already had the champagne out.
Along with his unexpected equanimity in the heat of several questionable line calls, the difference in this year's final was the effectiveness of McEnroe's huge sidewinding southpaw first delivery. He connected on 104 of 167 first serves. He won 82—or 79%—of those 104 points but barely half of those that started with his second serve. On the critical points he almost always nailed what Borg called "the big one"—12 times to ward off 13 of 15 break points, nine times out of 10 in the tiebreakers.
"I was surprised that I served so well," McEnroe said. "I wanted to show that Bjorn's not the only one who can come from behind and win. But I can't say if I was mentally tougher."
In fact, on this day McEnroe was indeed tougher. Which might have been the biggest surprise of all considering the commotion of the previous two weeks, during which he exploded at officials, berated spectators, cursed the media, was warned, penalized and fined, more or less confirming the Fleet Street headlines: SHAME OF SUPER BRAT. If the Wimbledon tournament committee has its way, McEnroe will pay a total of $14,750 in fines. He also could face a one-year suspension from tournaments, although punishment of such severity seems unlikely.
McEnroe has disdained Wimbledon since 1977, when, at 18, he reached the semis as a qualifier. Back then he was simply "McNasty." Even before this year's tournament began, McEnroe was grousing that the All England Club meant nothing to him but rain, cold, lousy unrolled courts, unfair scheduling and stuffy people. "The only thing 'championship' about Wimbledon is its prestige," he said. After the tournament started, he took the gloves off.
In a first-round match against Tom Gullikson, McEnroe got into a row—a McEnrow, of course—with the umpire, demanded to see tournament referee Fred Hoyles and then four-lettered Hoyles up and down the baseline. Forsooth, the tournament committee was on the verge of defaulting McEnroe. "Eve never seen Wimbledon so mad, I mean burning," said Arthur Ashe. "Not even when Connors insulted the Queen by not showing up for the centenary celebration in 1977."
Now we're talkin' mad.
The subsequent warnings and a $1,500 fine were thought to have tamed McEnroe, but in later appearances on Centre Court he was heard to bellow, "This place stinks, it reeks."
One day the Indian Vijay Amritraj, a spokesman for dignity, was asked about McEnroe's behavior. He replied that if he had to act like McEnroe to win the championship, he wouldn't want it. Very soon Amritraj found himself playing doubles with his brother, Anand, against McEnroe and Peter Fleming, the eventual champions. McEnroe accused a dark-skinned linesman, who happened to be wearing a turban, of being "biased."
In an awkward, interminable semifinal with the unseeded Australian Rod Frawley, McEnroe was especially irascible, shouting objections to calls as well as assorted unprintables 13 different times before earning another on-court audience with Hoyles. Lady Diana Spencer left the Royal Box during the match. "The wedding's off," someone said. "Her ears are no longer virgin."
Though McEnroe's complaints were undeniably exaggerated and his actions inexcusable, at the core of his running battle was a beef cited by many competitors, namely that Wimbledon is overly regimented and haughty, an antiquated relic. "The root problem is that officials on and off court didn't acknowledge our words or feelings," Fleming said. "It really isn't much fun to play here."
Or sometimes even to watch. Take the case of former champion Stan Smith's wife, Margie, who was once kicked out of the members' tearoom while sitting with her husband. It didn't matter that, seven months pregnant, Margie needed a rest. She wasn't a member. This year Adriano Panatta telephoned the All England Club to request a delay in his opening match because he had played a final in Venice the day before. According to player association bylaws, he was allowed a postponement in such a situation. Wimbledon defaulted him. Even Frawley, a consummate sportsman, called the officiating "blackmail."
Further uproars came over the treatment accorded Borg, who gets the best match times and who hasn't had to battle the noise, crowd chaos and crazy bounces on the field courts in four years. "To win the title, a guy should have to play under all the conditions," said Connors. What about grunting, Jimbo? Yes, here came another Wimbledon proclamation, this one condemning the filthy, vile, national-security threat of grunting. You know who you are. "Rules, rules," said Connors. "I might as well have been defaulted all my life. We get no consideration here. The players are nothings."
Easily the most bizarre effect of McEnroe's pervading influence on the proceedings came on semifinals day after he had been embroiled in still another yell-off. This time he confronted James Whittaker, a gossip columnist for The Daily Star whose usual beat is up the nearest tree where he can spy on Prince Charles with his trusty binoculars. After Whittaker persisted in questioning McEnroe about an alleged tiff with his girl friend, Stacy Margolin, McEnroe called him and the British press in general every name on the bathroom wall and then stormed out of the interview room. A remarkable scene ensued in which the merits of snoop journalism were debated among media reps from several countries, and soon a Brit and a Yank were on the floor engaged in...why, yes, a "punch-up."
Meanwhile, out on Centre Court, Connors, having rallied from two sets behind against Amritraj in the quarters, was roaring about the greensward and belting the daylights out of the ball and Borg, too. Soon it was 6-0, 4-2 Connors. In Set 2, Game 8 the old adversaries played some of the more amazing tennis in Wimbledon memory, rivaling last year's Borg-McEnroe tiebreak. The game lasted 24 points and 19 minutes, Connors wasting six points to hold serve for 5-3, Borg needing five break points to hurtle back into the match at 4—all. Though Connors took the set 6-4, he was hardly the same player thereafter. Borg swept the next two sets 3 and love and kept serving aces (16 altogether) before he and Connors put on the best theater of the tournament in the fifth. "It was great," said an interested third party, McEnroe. "Clay-court tennis on grass." Connors, still the most exciting player in the game, has never played better in defeat. He seldom has played as well in victory.
Game 3: Connors held from 0-40. Game 4: Connors had two break points for 3-1, but Borg boomed two aces to Jimbo's forehand corner in the ad court. Game 5: Connors held from 0-40 once more. Game 7: Connors, at 0-40 yet again, saved once, twice. Then Borg knifed a medium-pace backhand return cross-court. Connors prepared to come over the ball for a forehand kill, but he changed his mind in mid-swing, let up and sailed the ball deep: 4-3 for Borg. He then held twice to take the set 6-4.
"Pride in extending him? That's crap," said Connors. "You win or you don't." But Connors also said, "He had to play his best stuff to beat me." Borg was to admit later, "Me and Jimmy had an unbelievable match."
On Saturday, though Borg controlled the championship round through a set and a half, his service wasn't sharp. He hit 10 aces, but converted only 55% of his first serves. Still, McEnroe couldn't pierce the champion's armor until Game 7 of the third set on his 11th break point of the match. And that came after a long rally in which a McEnroe backhand took a bad bounce and died in the grass as Borg fanned. He walked hangdog to the chair. Did he know this must be the day?
Game 8 was a 12-pointer, but Borg came up empty. Game 10 was an 18-pointer that included The Call. At 15-30 McEnroe's volley to the baseline was called good by the linesman but ruled out by the umpire, leaving McEnroe with two set points against him. He stared, bowed his head and walked away. McEnroe had enough respect for the occasion and too much for Borg to blow up now. "It's too hard to deal with other problems when you're trying to beat him," McEnroe was to say. Instead he rallied to deuce behind a pair of first serves. Then came two more set points, and McEnroe responded with two more winners. Four set points in one game, gone. Did Borg know now?
In the second tiebreak, Borg down 4-3 and serving, McEnroe displayed his facile touch, wristing a sensational pass from each wing to reach triple set point. He converted on the second with a lunging drop volley.
In Games 7 and 8 of the fourth set, Borg unleashed his major arsenal—return rockets, sprinting gets, reflex volleys—but the best he could do was stay even. McEnroe's racket was a fishnet now, and he kept catching and flinging Borg's minnows into the vacancies on the lawn. Down 4-5, Borg played three loose points to give McEnroe his first Wimbledon championship point, ever. McEnroe blocked a backhand wide. An overhead gave him a second championship point.
Throughout the tournament, among the nicer things McEnroe screamed at himself was "play like a human being." As he paused for that final volley, as he crunched it home, as he waited for the fallen champion to walk to net and honor his conqueror, how secure McEnroe must have felt knowing that, on one marvelous afternoon at least, he had defeated Bjorn Borg, played like a human being and acted like one as well.
If there were imperfections at Wimbledon, you couldn't prove it by the women, who seemed to be preoccupied in speculating on what Lady Di would be wearing in the Royal Box or quaking in the path of an aroused, avenging Chris Evert Lloyd. Actually, the All England Club can do no wrong on the distaff side. This year their champion even collected more loot than her male counterpart. While the prize money allotted her was $4,000 less than the $43,000 McEnroe won, she also received a $6,000 pendant from the De Beers diamond people. Well, two women do run England. Evert Lloyd, who ended up wearing the diamonds, acknowledged she had been "always in awe of this place." The club, not the country. And she has played 10 Wimbledons. Now, at least part of the time, she lives just down the lane. Neighborhood girl makes good. Or, as the screaming tabloids might put it, WIMBY KISS FOR LOCAL CHRIS.
This was Evert Lloyd's Wimbledon from the beginning. She had lost in the championship round three years in a row, and no tournament beats Chris Evert Lloyd in four straight finals. Then, too, she was coming off that oddest of oddities, a defeat on clay. When Hana Mandlikova, the 19-year-old Czech flamethrower, beat her en route to winning the French Open last month, Evert Lloyd was stung, shaken, near torment. Clay was her home, and Mandlikova had ransacked it. "I told myself that if I played Hana at Wimbledon I would beat her," said Evert Lloyd.
Early on there, Mandlikova was the innocent source of controversy. First, Martina Navratilova, who's ranked third on the computer, as well as Tracy Austin (No. 2) and Andrea Jaeger (No. 4), complained bitterly about Hana's No. 2 seeding. Mandlikova is fifth on the computer. Then some misguided pundits proclaimed that Mandlikova, having won the Australian Open last December, was already halfway to the Grand Slam. Their reasoning was that to win the Slam one only has to win the four major titles consecutively, not all in the same year.
To prevent Hana from becoming a Grand Slamma, Evert Lloyd practiced four hours each day of the tournament with her husband, John, and his coach, Dennis Ralston. They drilled "my behind off," said Lloyd femme. She would eat peanut butter sandwiches and work crossword puzzles in the car on the way to her matches. At night her mother, Colette, would cook at the Lloyds' apartment. "I feel so relaxed," Chris said. "This Wimbledon is...so family." It was also...so easy. She dropped but 26 games in the entire tournament.
Meanwhile, the teen-age Evert Lloyd clones were conveniently being dispatched back to the factory for repairs. Kathy Rinaldi, 14, the youngest competitor at Wimbledon since the Edwardian era, lost two love sets to Claudia Pasquale from, you guessed it, Switzerland. Jaeger, 16, was upset by the veteran chubette, Mima Jausovec.
Then there was Austin, 18. Tracy Austin 18? Yesterday, all my troubles seemed so far away. "I can't believe this is my fifth Wimbledon," she said. "I feel like a pioneer." In truth, Austin was an outpatient. Out of action for five months with an inflamed sciatic nerve, she had returned to the circuit with a victory at Eastbourne. But that was false security. Austin hadn't been challenged, was not match-tough. When she arrived in the quarters, who should be waiting but her personal pigeon, Pam Shriver, 0-11 lifetime against Austin. Now she's 1-11.
The 6-foot Shriver used to call Austin "that little twerp," and then die like a dog in their matches. This time—"playing with my brain, not my mouth," Shriver said—Pam pounded her big serve and attacked Austin's lollipop deliveries with chip returns. Time and again Austin missed her hole card, the backhand pass. She was slow getting to the ball and not connecting solidly. She looked nervous but she called it "complacency." On one changeover Austin filed her nails.
After prevailing 7-5, 6-4, Shriver said, "This was a perfect match if I ever had it. Now we'll see if I can put together two in a row." Because she couldn't—Evert Lloyd won their semifinal 6-3, 6-1 without smearing her eye shadow—it was left to the Mandlikova-Navratilova headband championship of Czechoslovakia to determine a worthy opponent for Chris.
The stately, beguiling Mandlikova is obviously the next mega-star of women's sports. No less an authority than Ginger Rogers, a Wimbledon spectator, said Mandlikova has "the most beautiful legs I've ever seen." Yet in this match she was made to appear unattractive by both the nature and the pace of play. Rallies? Two or three shots, max. It was all groaning serve-and-volley stuff with both women rushing along—Mandlikova-Navratilova, red rova-hurryonova—as if they had 24 seconds to shoot.
Navratilova had been wrestling with an errant toss all tournament, and finally, in the third set, her first serve fell apart. In Game 4 a careless volley gave her opponent break point, and Mandlikova cashed in with a backhand return winner off a second serve. Leading 3-1, 30—all, Mandlikova footfaulted. She asked the linesman, left or right foot? He said back foot. "I don't understand," Mandlikova said later. "I don't have back foot." But she had spunk. After the ruling she won 11 of the last 13 points to close out the match 7-5, 4-6, 6-1.
Ralston was so impressed with Evert Lloyd's warmup the morning of the final he said if Mandlikova wasn't at her best the match would be a "slaughter." As nervous as Evert Lloyd was, she knew Mandlikova would be a "wreck." In the changing room Mandlikova asked Evert Lloyd about a picture on the wall. It was a shot of Mo Connolly. Mandlikova said she had never heard of her. Evert Lloyd thought, "My God, this girl is young."
And not yet ready. Mandlikova's plan was simple: Bring Evert Lloyd in with drop shots and then lob or pass. In the second game three drops earned Mandlikova two break points, but she was wide with a backhand on one and Evert Lloyd passed her on the other. In the next game Mandlikova double-faulted three times, and that turned out to be the ball game.
Mixing speeds on delivery and converting 41 of 51 first serves, Evert Lloyd kept Mandlikova off-balance. Often Chris had only to wait for Hana to embarrass herself. Set 1, Game 8: She twice hit wide of the doubles alley and then dumped a drop shot at her own service line to fall behind 6-2. Set 2, Game 5: Mandlikova double-faulted twice and bunted another horrendous drop outside the alley. At the end of the 6-2, 6-2 rout Mandlikova said, "I sink I should be nervous here first time in final."
While that's true, talent alone never wins Wimbledon. Head, guts, mental toughness, determination, they all count. Nobody was going to take this title from Evert Lloyd. "When I'm determined," she said, "I'm still the best."
Just as she wavered on court, Mandlikova struggled to describe what the new champion symbolized for her. "I sink," she began in her delightfully fractured English, "Chris is the most toughest, difficult to play.... I sink most nicest. For all players...I sink she is best we never had in the world."
Nobody in the whole world would call McEnroe the most nicest male. But the most toughest? Last week he was.
PHOTO
At the moment of victory, McEnroe started to his knees but recalled that had been done the past five years.
TWO PHOTOS
For two sets Connors jumped all over Borg, but by the fifth set Jimbo barely had a leg to stand on.
PHOTO
If Borg could hit this shot—a backhand volley—as well as McEnroe, he might have won title No. 6.
SIX PHOTOS
Although McEnroe had a dream draw into the finals and dispatched his opponents en route without much trouble, he seethed, anguished, agonized, berated, pouted and jeered every step of the way.
PHOTO
When Mac was McNasty, Lady Di departed.
PHOTO
Mandlikova lived up to her controversial No. 2 billing, but she was no match for Evert Lloyd.
TWO PHOTOS
Chris worked long and hard on movement, and at times her feet didn't even touch the ground.