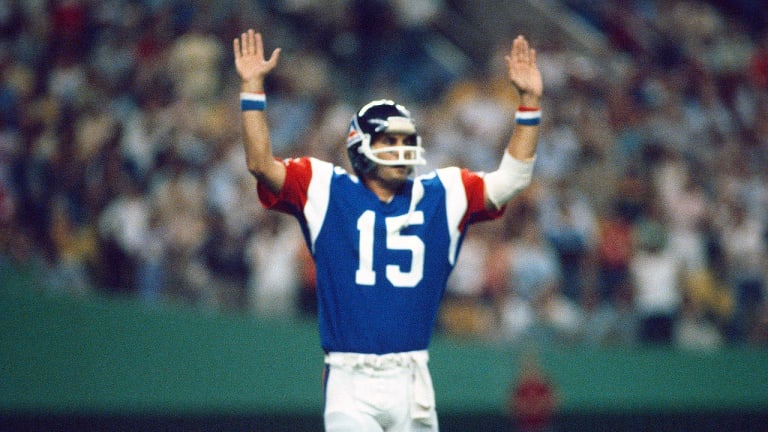 Giving His All for the Als
But making it in Montreal has been tough so far for Vince Ferragamo and some of his hotshot U.S. teammates
Vince Ferragamo, the most celebrated student currently enrolled in French 202 at Montreal's John Rennie High School, has now played in two regular-season parties for his new team, the Montreal Alouettes of the Canadian Football League. But neither was much of a party for the ex-Los Angeles Ram quarterback, now hyped as "le meilleur quart du continent," the best quarterback on the continent. Ferragamo's debut on July 4 against the British Columbia Lions in Vancouver was a disaster. He completed just 13 of 30 passes for 155 yards, and had two interceptions in a 48-8 defeat. Last Friday night, in the Als' home opener against the Toronto Argonauts, he did engineer a last-minute drive that produced a 23-22 victory, but not before he had thrown three interceptions and had heard his first chorus of Canadian booing from the crowd of 35,281 at Olympic Stadium.
Ferragamo is not the only American having problems in Montreal. Since Canadian entrepreneur Nelson Skalbania bought the Alouettes on March 30, he has also lured two first-round picks from this year's NFL draft and two established NFL veterans north of the border. The two vets are both wide receivers brought in as targets for Ferragamo—Billy (Souliers Blancs) Johnson of Houston and James Scott of Chicago. The two first-round choices both played at Oklahoma—Running Back David Overstreet and Defensive End Keith Gary, the top picks of the Miami Dolphins and the Pittsburgh Steelers, respectively. None of them has taken Canada by storm.
Arriving in Montreal a few days before the Toronto game, Gary failed his physical because of an irregular heartbeat. He subsequently passed a second physical, attributing his problems at the first to nervous stress. "I am a very sensitive type of person," said Gary. Scott set a league record for "missed arrivals" before finally showing up in Montreal on the day of the opening game in Vancouver. Scott had signed a contract on April 27, the same day as Ferragamo, but he failed to show up for training camp. On several occasions he told team officials he was coming to Montreal on such and such a flight, but when they met the plane Scott wasn't on it. Nevertheless, after just four days of practice, and after being booed as he was introduced before the Toronto game, Scott caught three passes for 37 yards, including a 26-yard touchdown toss from Ferragamo.
Overstreet has looked the best of the Americans, even though he has fumbled three times in the two games. He missed training camp while his agent, Jerry Argovitz, jousted with the Dolphins, who have since accused Argovitz of using Overstreet as a pawn in his dealings with other NFL owners who have drafted his clients. Overstreet disagrees. "What made me really feel like I wanted to come up here," he says, "was when my wife could see Miami wasn't being fair with me. She didn't know anything about Canada, but she thought we should come." Overstreet himself thought they should after he heard Skalbania's offer, which has been estimated as high as $250,000, though Alouette officials say that figure is inflated. Argovitz has said that the Als offered more money for two years than the Dolphins did for five.
Of all the Americans, Johnson probably had the most to gain in Canada. The Oilers distrusted his knees—he had minor surgery on the right one in 1978 and major surgery on the left one in '79—and they seemed committed to the two-tight-end offense that made him a part-time player last season. And, even if he's not making $175,000 with the Alouettes, as he is said to be, he is undoubtedly getting more than he did at Houston, where his salary was about $100,000.
Clearly the heaviest pressure is on Ferragamo. Because of the dearth of sports news resulting from the baseball strike, his CFL debut attracted a lot of attention in the U.S. as well as in Canada. Both his regular-season starts have been aired in the U.S. by ESPN, which regularly televises some CFL games. After the debacle in Vancouver, Ferragamo's wife, Lodi, said, "I can just hear my friends in Los Angeles complaining, 'I paid thirty dollars for the cable to watch that! "
Skalbania gave Ferragamo two one-year contracts, reportedly for $400,000 per year but which may in fact be worth almost twice that much, in a league in which the average salary is about $40,000 and some players have to hold down second jobs. Every CFL contract has an automatic option year, so Ferragamo could choose to play for Montreal as long as four years under his current deal. However, he holds the right not to renew after the first contract has expired, so he might be in Montreal just two years. Ferragamo's decision whether or not to stay after the '82 season will most likely depend on the rules governing free agents in the NFL collective bargaining agreement to be negotiated next year. "I feel I'm in a no-lose position up here," he says. "After two years, if conditions are such that it's right for me to go back, then I will. If not, I'll reap my rewards here, live it up for four years, then consider going to medical school and being a doctor."
Whatever happens, Ferragamo seems sincere when he says he doesn't need the NFL and that a career in medicine is realistic. He took a pre-med curriculum at the University of Nebraska, getting his B.S. in 1977, and, in the semester following his rookie season with the Rams, he studied at the Creighton University Medical School. "If the NFL owners try to begrudge me the opportunity of coming back," he says, "med school is a viable alternative."
That's what the CFL started to look like for Ferragamo before the 1980 season, his fourth with the Rams. His original three-year contract paid him about $47,500 a year, with an additional option year at $52,000, the best bargain in Los Angeles until $42,500 Fernando came along to pitch for the Dodgers. Ferragamo had taken over for the injured Pat Haden 12 games into the '79 season and had led the Rams to the Super Bowl, where he performed heroically in the 31-19 loss to the Steelers. But last year, after the Rams had given the starting job back to Haden and failed to offer Ferragamo a contract he found satisfactory, he decided to play out that option. From a base of $52,000 it was unlikely the Rams would get near what Skalbania was offering. Their final offer was reportedly about $300,000 a year.
In the past Ferragamo has had trouble making decisions. He once mailed a letter of intent to Stanford only to retrieve it from the post office because of family pressure to enroll at the University of California, which he later abandoned for Nebraska—but no one could say his defection to Canada was lacking in courage. Neither Johnson, Scott nor Overstreet was with the Alouettes at the time, and for all Ferragamo knew about the CFL, his wide receivers could've been Neil Young and Margaret Trudeau. "All I knew was that the rules were different," he says.
Alouette Coach Joe Scannella, a former special-teams coach with the Oakland Raiders, says Ferragamo's biggest adjustment is picking up the extra defensive back who is in the pass coverage because there are 12 men on a side in the CFL. With six interceptions in four exhibitions and five more in the two regular-season games, Ferragamo is obviously having trouble with that extra man. Also, the wider field (65 yards vs. 53⅓ in the NFL) puts a premium on quickness. Ferragamo is a classic dropback quarterback with little mobility, as his career rushing record with the Rams (42 yards in 21 carries) will attest. And though Ferragamo's offensive line isn't small by Canadian standards (it averages about 250 pounds), no one is pretending it can offer Ferragamo the kind of security he got from, say, Doug France or Dennis Harrah of the Rams.
Ferragamo recognizes all these problems. Yes, the extra defensive back has been troublesome, but he'll work it out. Yes, the wider field seems made for rollout quarterbacks, but don't forget that rolling out cuts the field in half. Yes, the offensive line isn't like the Rams', but neither are the opposing front fours.
Off the field Ferragamo can't expect to match the fringe benefits he enjoyed in the U.S. He did both national and regional commercials, but felt he had only begun to crack the market. "A lot of people were hesitant about giving me big endorsements because my situation with the Rams all along was so up in the air," he says. "I go to the Super Bowl and the next year the Rams come out and say Pat Haden will be the starting quarterback." His looks (choose one from the following list of regulars—1. matinee idol, 2. sculpted, 3. classic Italian) had gotten him offers for appearances on Fantasy Island, Laverne & Shirley and B.J. and the Bear. He turned them all down—"I had to be a little careful with my image because I'm a football player first"—but, no doubt, the offers would've kept coming.
Ferragamo does get attention in Canada, of course, and he's handled it well. So have his teammates, particularly backup Quarterback Gerry Dattilio, who had the most to lose from Ferragamo's arrival. A roll-out quarterback who runs well, Dattilio was the Eastern Conference's most valuable player last year, only to lose his job to Ferragamo before the first jumping jack of training camp. "I don't like the situation, though I'm taking it better now," says Dattilio. "There's no doubt that Vince, being the type of person he is—a hard worker, a good guy and all that—has made it easier."
But the Ferragamos have had to make adjustments, too. They'll return to their house in Irvine, Calif. after the season, but for now they're living in a modest apartment complex in West Island, a predominantly English-speaking Montreal suburb. Jodi is trying to get by without a dishwasher, a garbage disposal or a double sink, deprivations which undoubtedly interest her husband less than, say, the extra-defensive-back problem. Jodi's spirits picked up last week when Vince bought her a new Trans Am, but she has yet to make sense of the dubbed version of The Mary Tyler Moore Show. "Ted Baxter speaking French will just blow you away," she says. But the biggest sacrifice of all? "We can't find any Mexican restaurants in the city," says Jodi. "It was our second anniversary recently and Vince asked me what I wanted. I told him to fly me back to California for some Mexican food."
The Ferragamos are making an effort to learn passable French. They're in diffferent classes because Jodi studied the language in high school; she can count to 1,000, while Vince struggles to 50. "I'm not trying to become real proficient," he says. "I just want to pick up some of it to get along. Things like, bonjour, ma-dame or comment ça va?" But it's slow going. Football takes up a lot of time and Ferragamo is a frequent class-cutter: He missed two last week while preparing for the home opener.
That preparation seemed wasted early in the game as the Alouettes, who trailed 21-1 at halftime, resembled the team that lost 48-8 in the opener. Had Skalbania not been vacationing in Greece, surely he would have been tempted to come roaring into the dressing room at halftime. But, finally, the American cast got moving. There was Scott hauling in Ferragamo's second TD pass with 8:57 left to bring the Alouettes to within 21-15. There was Souliers Blancs picking up 17 yards on a wide-receiver screen to give Montreal a first down at the Toronto one with only 19 seconds left. And there was Overstreet leaping over the goal line on the next play to tie the game at 22-22 and set up Gerry McGrath's winning placement. It was exciting enough to make Ferragamo (18 of 38 for 240 yards and two TDs) shout, "Au revoir, NFL, au revoir!" One wonders, though, if the NFL hasn't already said, "Au revoir, Vince Ferragamo, au revoir!"