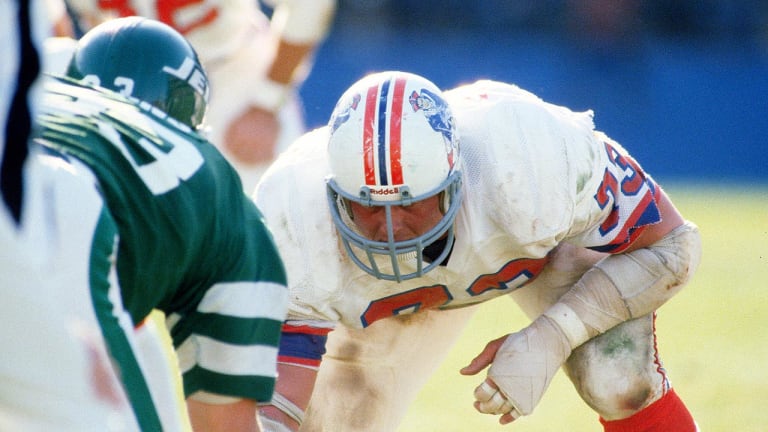 John Hannah Doesn't Fiddle Around
At least not on the football field, where, says the author, his brains, brawn and speed have made him the top offensive lineman in NFL history
See now, it's starting. Ah, what a parade. Simply magnificent. All the great linemen in NFL history, the offensive linemen, those quiet, dignified toilers in anonymity. Here they come now. Look who's leading the way. Jim Parker. So big, so graceful. God was certainly generous when He created him. And see that little one snorting and pawing the ground, the one with the blood on his jersey? That's Abe Gibron. And there's the Boomer, Bob Brown. Look at those forearms. He once shattered a goalpost with one of them. And that giant blotting out the sun, that's Bob St. Clair, all 6'9" of him. And there's Mike McCormack, tall, humble, brainy. Yes indeed, this is a parade.
What's that you say? You want to know who's the best of them? The very best? Now how can someone pick something like that? The mere act of it would be an insult to so many players who were so great in their eras. You say I must? O.K., fasten your seat belt. The greatest offensive lineman in history is playing right now and probably hasn't even reached his peak. He is John Hannah, the left guard for the New England Patriots, out of Alabama. He stands 6'2½" and his weight fluctuates between 260 and 270 (no lineman can honestly claim only one weight). He is 30 years old and is in his ninth year and is coming off the best season he ever had. He is a pure guard; he's never been anything but a left guard since he started playing in the NFL. He hasn't bounced around between guard and tackle as Parker did, or Forrest Gregg or Bob Kuechenberg; never had to go the offense-defense route like McCormack and Gibron and Chuck Bednarik.
Is it sacrilege to pick a current performer as the greatest who ever lived, in anything? Greatest actor, chef, rodeo rider? Should we wait until he's retired and enshrined and halfway forgotten? Weeb Ewbank, the former coach of the Baltimore Colts and New York Jets, thinks so. "Back off a little, give it some historical perspective," he says. "Let John make the Hall of Fame first."
Weeb's man is Parker, whom he coached for six years in Baltimore. Parker is also the choice of most of the coaches and personnel men who have been around the NFL for a few decades. McCormack generates surprising support, particularly from the Cleveland Browns' faction. Gibron is a dark horse. Don Shula, who coached Parker for five years and has coached against Hannah for eight, gives Parker a slight edge, but then he whispers, "Don't forget about our own guy, Bob Kuechenberg." Hannah's line coach, Jim Ringo, favors a troika of Hannah, Parker and his old Green Bay teammate, Jerry Kramer, but some people feel that although Kramer and Right Tackle Forrest Gregg were legitimate superstars, they fell under the category of a perfect mesh in a perfect offensive line. The big-name centers of the past—Mel Hein, Frank Gatski, Bulldog Turner, Bednarik, Ringo—receive little support. The opinion is that guards and tackles work in a less protected environment. Only George Halas might remember Cal Hubbard, the legendary giant of the 1920s, and Halas isn't returning phone calls.
But Hannah has his following. Former Denver coach Red Miller says he's the man. So does John Madden, who coached against Hannah when he was with the Raiders. Parker says, "Hannah's the only offensive lineman I enjoy watching these days." New England General Manager Bucko Kilroy, one of the pioneers of modern scouting, who has been rating and evaluating players ever since he lined up against Bronko Nagurski in 1943, says Hannah and McCormack are the only offensive linemen to whom he'd award a perfect "9."
It starts with the firepower, with Hannah's legs, incredibly massive chunks of concrete. "Once we measured John's thighs, and they were 33 inches," says Hannah's wife, Page, a slim ash blonde. "I said, 'I can't bear it. They're bigger than my bust.' "
The ability to explode into an opponent and drive him five yards back was what first attracted the college recruiters to Albertville, Ala., where Hannah grew up and played his final year of high school ball. It's the first thing you look for, if you're building a running game. Hannah says he always had that ability, but it was his first coach at Baylor School for Boys in Chattanooga, a tough, wiry, prematurely gray World War II veteran named Major Luke Worsham, who taught him how to zero in on a target, to aim for the numbers with his helmet, to keep his eyes open and his tail low. Next came the quick feet. Forget about pass blocking if you can't dance. Worsham helped there, too.
"Oddly enough," Hannah says, "he helped me develop agility and reactions by putting me on defense in a four-on-one drill. You'd work against a whole side of an offensive line. It was the most terrible thing in the world. If the guard blocked down you knew you'd better close the gap and lower your shoulder. If the end came down and the guard came out, buddy, you grabbed dirt because you knew a trap was coming."
"For all his size and explosiveness and straight-ahead speed," Kilroy says, "John has something none of the others ever had, and that's phenomenal, repeat, phenomenal lateral agility and balance, the same as defensive backs. You'll watch his man stunt around the opposite end, and John will just stay with him. He'll slide along like a toe dancer, a tippy-toe. And that's a 270-pound man doing that, a guy capable of positively annihilating an opponent playing him straight up."
Hannah's credentials include five consecutive years on the combined AFC-NFC All-Pro team. He missed in his first three years, when the Patriots were a weak team and he was struggling to get out of the Alabama four-point Wishbone stance and master the intricacies of pass blocking. By contrast, Parker made All-Pro his second season and for seven straight years thereafter, dropping off in his last two, when his legs started going. The NFL players have voted Hannah Most Valuable Offensive Lineman in each of the four years the award has been in existence, including the 1977 season, when the coaches failed to select him for the Pro Bowl squad. That was the season he and Leon Gray, who played alongside him at left tackle, staged their celebrated contract holdout and missed the first three games of the season, an event that seemed to bother the coaches a lot more than the players. "Bad little boys in the NFL don't get picked to the Pro Bowl," Hannah said.
Parker, 47 years old now and the owner of a successful liquor store in Baltimore, says he's only gone to three games since he retired in 1967. "I get so flustered watching football nowadays," he says, "so carried away by watching guys making $100,000 a year and making so many mistakes in technique. I get so upset that I wake up with a headache the next morning from banging my head all night in my sleep. But I like to watch Hannah play. He's the only one out there who can do it all—every aspect. I pray to God that he doesn't get hurt, but the way he plays football I don't think he will, because he gives it everything he has. If you want me to rate myself, compared to him, I'll say that I sure would have enjoyed playing alongside him. We would have been hell on that side of the line. I always thought my best games were at tackle, not guard. The only comparison I can make between us is that I made All-Pro for eight years and he's got to accomplish that. The way he's going, I think he will.
"I see some things in him that remind me of myself, the way he teases 'em on plays going the opposite way, the way he changes his style on aggressive pass blocking. One time he'll fire out, the next time he'll sit back, lazy, and make 'em think it's a regular pass and then—pow! He'll pop 'em. And on the running plays he's big enough to beat the hell out of them. I've seen him beat them right down into the ground. That's the joy of it, the joy I got out of it."
The joy of being even bigger in a big man's game. And quicker. The joy of being a superior athlete. Parker and Hannah were both gifted in other sports. They were both wrestlers. Parker was a mid-America champion. Hannah won the National Prep Championship and was unbeaten as a freshman at Alabama, before he quit wrestling because it was cutting into spring football. Parker did some amateur boxing before he went to Ohio State; he says he received offers from the Rocky Marciano group to turn pro. Hannah was a three-year letterman in the shot and discus at Alabama and his 61'5" toss in the shotput was a school record at the time.
"He didn't even work at track," says his brother Charles, an offensive tackle for the Tampa Bay Buccaneers. "He'd just show up for the meets. There were so many things he could do. At that time he might have been the greatest large athlete in the world."
The scouts were noting his numbers carefully. In the spring of Hannah's junior year, Bear Bryant, in an unaccustomed moment of generosity, let the CEPO combine scout onto the campus to time him in the 40 at the end of a track workout. Hannah weighed 305 pounds. He finished the last five yards falling on his face. "I apologized to the scout for being fat and out of shape," he says. "The guy said, 'Don't apologize. You just ran a 4.85.' "
At a Hula Bowl workout after Hannah's senior year, John Madden was overheard saying casually, "You know, the best player I've seen out here is John Hannah." That observation was widely quoted but Madden never regretted the remark. In fact, he repeated the sentiment several years later at a league meeting, on a questionnaire which asked: "If you were to start a new franchise and you could pick one player in the NFL to start your team with, whom would you pick?" Without hesitating Madden wrote "John Hannah."
"The thing I always liked about Hannah," says Madden, "is that he' has that defensive player's attitude, that same aggression. There's no rule that says an offensive player has to have that milder kind of personality, although most of them seem to. I've heard that when you tend to go after people aggressively, like Hannah does, it hurts your pass blocking, and I looked for that weakness in Hannah. But I never saw it, except maybe in his first year or so."
Dick Steinberg, a Patriot scout when Hannah was coming out of college, and now the club's player personnel director, says that when he first started scouting Hannah, "all you saw was that raw power. Boom, the shot, and then he'd be scrambling on all fours." Steinberg's first direct contact with Hannah came at the Hula Bowl. "I ran into him in the lobby of the Surfrider Hotel in between practices and sat him down and gave him a little quiz we used to give," Steinberg says. "There was a lot of noise, a lot of people running around every which way. They'd wave at him, he'd wave back. He was sweating like hell. He apologized because he'd been up late the night before. But he was the only guy who answered every question in the time allotted. His IQ was very high. If you look at the great offensive linemen in history you'll find that they were all smart people."
New England, picking fourth in the first round, drafted Hannah, right after Philadelphia had chosen another offensive lineman, Texas' Jerry Sisemore. He reported to the Pats' mini-camp that March in Tampa and ran a 4.8 on grass. "I remember we were all shocked," says Patriot Coach Ron Ehrhardt, who was then the backfield coach. "That's all we talked about that night, this big guy coming down the runway and, bang, hitting the clock in 4.8."
It is 8:30 p.m. in Crossville, Ala. Hannah's 253-acre cattle and chicken farm is here, 15 miles northeast of Albertville, on a plateau in the Sand Mountain range. It's bedtime for the little Hannahs, nine-month-old Mary Beth and 2½-year-old Seth, except that Seth has no such plans. He's giving a graphic demonstration of what is known as bloodlines.
Seth is running wind sprints—through an obstacle course of chairs and toys. He weighs 37 pounds, not extraordinarily big ("John weighed that when he was a year old," says Page Hannah. "He was very fat"), but sturdy enough, very solid through the shoulders and chest, big in the legs, like his daddy. He is running at top speed, all out, but under complete control, with absolutely perfect balance. There's not a trace of a wobble. Every now and then he stops and throws back his head and lets out a loud roar. The Hannahs watch him, waiting for the motor to run down. It shows no signs of it. He turns his head to look at his daddy, and then runs smack into a high chair, bop, forehead first. He blinks, shakes his head and starts running again. "An offensive guard for sure," Page Hannah says.
The blood of two generations of linemen runs through Seth's veins. There's grandpa Herb, who came up to the New York Giants from a Georgia dairy farm in 1951 as a 30-year-old rookie and won the starting offensive right tackle spot on a team that finished one game out of the playoffs. There was Herb's late brother, Bill, a starting guard for Alabama. And there are John's two younger brothers, Charles, the Tampa Bay tackle, and David, who started at defensive tackle for Alabama. Three knee operations cost him a pro career.
An athletic lineage is just one of the similarities in the backgrounds of many of the keynote offensive linemen. They all had speed, they all had high intelligence. And none of them was especially interested in lifting weights, either because they didn't believe in it or because it wasn't fashionable at the time.
"I always felt that wrestling helped me more than weightlifting," Parker says. He was a fully grown 6'3" and weighed 248 when he came out of high school. "I was always more interested in agility than strength."
"For us, weights were taboo," McCormack says. "It was the old traditional idea about getting yourself muscle-bound, just like those ideas about swimming being no good because it would loosen your muscles, or the evils of drinking water during a workout because it would give you cramps. I was a big man in those days, 6'4", 250. Now I'd be just average, or maybe even small."
Hannah, who weighed 11 pounds at birth and 150 by the time he reached the fifth grade ("I was just a big fat kid who looked like a balloon"), played at 230 at Baylor School for Boys. A picture in the Baylor yearbook shows him as a very imposing-looking sophomore wrestler, built much as he is now, bulky rather than fat. That was the year he won the prep championship.
Weightlifting is something he got into only a year or so ago, and then he did it to keep his weight down. He was coming off knee and ankle injuries that limited his effectiveness in 1979 and forced the Patriots to cut back on a lot of their running plays. Their rushing yardage had dropped from an alltime NFL record of 3,165 yards in 1978 to 2,252 in '79 (trading Gray to Houston didn't help), and they suggested that Hannah keep himself lighter to save his legs from the pounding they'd get on the Schaefer Stadium artificial turf. He says the weights made him feel tighter and quicker. Last year his game-day weight, which in other years has been as high as 270, never went over 261, and he played as light as 255. It was his best year in football. He showed up at this spring's mini-camp in May at 265 and ran a 4.85 forty.
Hannah had built his strength through work—farm work and heavy equipment work at the family farm-supply business. Parker held down three jobs after school as a high school senior. Kramer grew up bucking bales in the Idaho hayfields; McCormack worked in a lumberyard in Kansas City when he was a youngster; in the summer he'd follow the wheat harvest. Gibron held down a job on a section gang when he was a kid. "I worked in construction all my life," he says. "A lot of people don't realize it, but we were doing almost the same things on the job that kids do in the gym these days. You work on a cement gang all day long, you're doing a lot of 500-and 600-pound dead lifts. You carry a hod up a ladder while you're holding onto the ladder with one hand, well, you're doing one-arm dead lifts. And even in the pros, we were always doing strength-type things. We'd go out at night and instead of chasing broads we'd get a six-pack and then arm-wrestle all night long."
Another thing the great ones have in common: When they first came up, pass blocking was a mystery.
"I started in my first exhibition game with the Browns," Parker says. "It was against the Bears. Here I was, just a few days out of the All-Star camp and I was going up against Doug Atkins and Earl Leggett. We threw 47 passes that night. In my three years at Ohio State we'd thrown 27 passes, and half of them were just throwaways... 'Just throw it deep down the field so they'll think we've got a passing attack,' Woody Hayes would say. Leggett and Atkins humiliated me all night long. They were driving me 15 yards past John Unitas. They were laughing at me and calling me 'Buckeye.' The game was played in Cincinnati and when it was finally over I told Weeb, 'You can just turn me loose here, and I'll get back to Columbus. Don't even take me back to camp.' "
Hannah's moment of truth came in the second regular-season game his rookie year when he faced the Chiefs' 6'7", 275-pound Buck Buchanan. "He said, 'Home Boy, I'm gonna welcome you to the NFL,' " Hannah recalls. "He's from Bessemer, Alabama. One time he actually picked me up and threw me. No one had ever done that before. Then I started trying to cut him and he just stepped over me—or on me."
It was a miserable year for Hannah, in all areas. He came to the Patriots "with a head so fat I couldn't fit it through the door." He split up with his wife for six months. He'd go out at night looking for trouble. His car was stolen and then he banged up his roommate's. He liked the NFL, but he didn't much like Foxboro.
Before long, however, he settled down. He gives a lot of credit to religion, to rediscovering Christ with Page. He started getting his life in order. On the field he was picking up tricks to go with his raw power and great natural quickness.
"I got films of some of the other offensive linemen and tried to study them," he says. "I tried to copy Kuechenberg because I thought my style would be suited to his. I also tried to copy Randy Rasmussen of the Jets because we were built similarly, the same wide base. He's got to get some low-top shoes, though. Those high-tops....
"I studied my opponents. Ernie Holmes of the Steelers, for instance, hated to be cut. So I cut him four or five times. He'd get so mad he'd just keep going for me and forget about the ball carrier. He'd beat me up but he wouldn't make many tackles.
"One thing I found out was that the guy you'd see on film wasn't always the same player you'd meet on the field. If they thought you were one of the best, they'd get all fired up and play over their heads, just like teams when they go up against the Steelers. They all seemed to try to use more movement against me. If they did use muscle, it was always set up by movement.
"There was a certain amount of fear I took into the games. Not physical fear, but the fear of being humiliated, being made to look bad. The worst thing is to get beat early. That fires a guy up. A guy like Coy Bacon, for instance. He just goes wild if he gets to the passer early.
"Having Leon Gray next to me all those years helped so much. We got to know what each of us could do. We ate together, studied films together. I knew the air he breathed." Off the field Hannah and Gray shared an interest in music even though their talents in that sphere weren't as well matched. Gray was accomplished on the trumpet well before he started playing football as a senior in high school. Hannah only took up the country fiddle a few years ago, teaching himself how to play from books. But as friends will attest, he's no All-Pro with a bow. "When the Patriots traded Leon...well, I never wanted to sign another contract with them," says Hannah. "I still haven't gotten over it."
Everyone has a showpiece game that he frames and nails to the wall. Hannah's came against the Cowboys' Randy White in 1978. The coaches still talk about it in Foxboro. But Hannah says he's had his share of bad ones, too. "Oh, Alan Page gave me a rough time one year," he says. "And Gary Johnson of the Chargers. He got by me one time and he had a clear shot at Steve Grogan, so I tackled him. The ref threw the flag. I said, 'Gee, I'm glad you did that. For a minute I thought I was going to get away with something.' The ref started laughing. He thought that was the funniest thing he had ever heard.
"No matter how good you are you're going to have one or two bad games every year. All you can do is take it calmly and think about technique and fundamentals and try to get yourself together. Joe Klecko of the Jets gave me a bad time two years ago. I was sitting back on my heels too much. Last year I had a rough one against Larry Brooks of the Rams. And Larry Pillers of the 49ers—in the mud. That game made me change my style. I realized you can't fire out so much on a muddy field. Pillers was just sitting there waiting for me."
Ehrhardt likes to run films of Hannah leading the sweeps. "You see people taking a dive to get out of his way," the coach says. "You'll see John clear out a cornerback, then a safety, and he'll just continue on. He won't leave his feet. Sometimes he'll just stick out a big paw and swat 'em out of the way. He thinks on his feet, too. He doesn't make any wrong choices. He knows exactly which man to concentrate on and which one isn't in position to make the play."
"Mack Herron taught me to hit on sweeps," Hannah says. "He'd sit back there behind me and touch my hip so I knew where he was, and vice-versa. He told me that if I couldn't reach out and touch a defensive guy with my hand, then he wasn't in position to make the play. Andy Johnson ran like that, too. He and I got it down to a science. Vagas Ferguson is learning it. Horace Ivory still has to learn. He's got so much speed he always wants to run to daylight.
"I used to have trouble with defensive backs coming up quick and cutting me. Now what I do is lower my shoulder and get down low with them. If they're going to go low on you, you've got to make them pay for it."
Hannah's father has some films of John's early games. They go back to the fourth grade. "We laugh when we look at them now," he says. "John came waddling out on the field and looked like a penguin." But Herb Hannah filmed some of his son's high school games, too, and he says that when he ran them over, "I saw John doing some miraculous things. One time he was running in front of the ballcarrier, and a defensive guy came up and knocked his legs down. John just stuck out an arm and pushed up off the ground and he was back running in full stride. It's something to see the way he went after a linebacker. He'd cover those three or four yards so fast...he was into him before the guy could even get set. John would have that three-yard advantage nullified right away. At every stage in which he played, I thought he was the best I'd ever seen."
The people who give Hannah the advantage over Parker in the head-to-head matchup point to that extra dimension—the agility and body control downfield that have allowed the Patriots to build more of a running game around Hannah than any club has ever done around a single offensive lineman. Parker was devastating on in-line blocking and short traps, but he wasn't primarily known as a pulling guard, maybe because he was almost 30 years old when he moved inside from tackle.
Very few players have faced both Parker and Hannah because there's a five-year gap between the end of one's career and the start of the other's. The closest anyone came to going against both in their prime was Mike Curtis, who played linebacker for the Colts in Parker's last three years, facing him every day in practice, and was also around during Hannah's first six years. Curtis gives a slight nod to Parker.
"It's a bitch to compare the two," says Curtis, who sells commercial real estate in the Washington area. "If he wanted to, Jim could collapse the whole side of a line. I never saw anybody he couldn't block. He was a good holder, too. Both had about the same speed and same intensity. Hannah maybe was more consistent, and I'm not trying to be derogatory to Jim. One time in practice I thought Jim was loafing around too much, so I came across the line and gave him a couple of shots. He came right after me and just crushed me. I was young then. I hadn't learned yet about sleeping dogs.
"Jim was so big and strong naturally. I think he had more upper body strength than John. If I look back and think of both of them setting up for pass protection I see Jim setting up quicker. And Jim would improvise more; he was more of an open ballplayer. Hannah was a machine, a highly trained player. Of course that could be coaching.
"You've got to look at who they played against. Parker probably played against guys who were shorter and not as quick, but they played with more intensity. But if Jim were playing now, his own intensity level would probably be higher and he'd control 'em the same way. That's the difference between the ballplayers then and now—the intensity. It sounds trite, doesn't it, kind of old, talking like that now?"
Curtis was asked if he still goes to Colt games and he shook his head. "I don't enjoy watching mediocrity," he said, "average players who bitch if they don't make All-Pro and then figure that after three years in the league they're the greatest. I didn't enjoy playing against them, either. That was one thing I liked about playing against Hannah. If you beat him, at least you beat somebody. He was after you so quick. You'd have to react and get to the hole right away or you were a dead pigeon."
He paused. "There's another aspect to this Hannah-Parker thing," he said. "We. haven't mentioned camaraderie. Parker was very good for the team, very good for his teammates, and I don't know how Hannah is with his teammates. I'm talking about guys you can rely on, now. Didn't he hold out for three games one year?"
Yes he did and it brought the wrath of every moralist from Attleboro to Swampscott down on Hannah's head. There are, as the judge would say, mitigating circumstances.
When Hannah joined the Patriots in 1973 he had very vague ideas about how much a 22-year-old should earn but he knew the value of money. His father had built up the family business, Hannah Supply Co., from nothing, and he didn't do it by tossing dollars away. His own rookie contract with the Giants in 1951 was for $6,000, plus $600 in bonuses, and that was very good money back in those days. After the '73 draft John was in New England for a banquet and the Patriot coach, Chuck Fairbanks, invited him and his wife to step into his office to talk about a contract.
"He told us to keep it strictly confidential," Hannah says, "and then he offered a $20,000 bonus and a three-year contract for $25,000, $27,500 and $30,000. That's a lot of money for Albertville, Alabama, but I knew a first-round draft choice was worth more. I looked at my wife, and she looked at me. Then I decided I'd better get me an agent."
Hannah's first agent, Mike Carroll from Gloucester, Mass., negotiated a contract for four years, at $30,000, $35,000, $40,000 and $46,000, plus a deferred $55,000 bonus. Hannah knew that those numbers were low, but he didn't feel like getting into a contract squabble.
"That's one thing I always resented about Bear Bryant, that he never gave me any guidance on a contract," Hannah says. "Before the draft he told me, 'You won't have to worry about getting a lawyer. You won't get drafted that high.' "
In 1974 Hannah wanted an advance of $30,000, to be used as a donation to the Big Oak Boys Ranch in Glencoe, Ala., a refuge for children from broken homes. The club gave it to him. Part of it was from his deferred bonus, part of it as an additional bonus to extend his contract for three more years—through 1979, with an option for 1980—at $65,000, $65,000 and $70,000. They now had Hannah wrapped up for six seasons, and while they were telling everyone they had, potentially, the greatest offensive lineman in the game, they were paying him peanuts. "Don't worry," he was told in '74. "Your salary will be upgraded if you rank with the top linemen in the league."
"I was," Hannah says, "a dumb, immature, rednecked idiot, and they stuck it to me."
He kept quiet for three years. His salary was never upgraded. At his first Pro Bowl, after the '76 season, he found out what other linemen were making. "I nearly cried," he said. Charley Hannah, drafted in the third round by Tampa Bay in '77, was signed for more money than his All-Pro brother was making. John reminded the Patriots about their promise to upgrade his salary. They didn't remember it. He reminded them again. They told him to see them after the '77 season. So he walked—with Leon Gray, who was having similar problems. They missed the first three games of the year, then were ordered back to work by a newly formed NFL Player Club Relations committee, which also ordered both sides to resume good-faith bargaining. In 1978, with Howard Slusher now negotiating his contract, Hannah signed for four years for a reported base of $140,000 each year and "easily attainable" incentives designed to get him up over $200,000.
Hannah and Gray got little sympathy while they were out. The Boston Globe printed a reader's parody of the 23rd Psalm, a slap at Hannah's deep religious convictions: "He restoreth my Greed. He leadeth me in the path of hypocrites for his own gain. Yea, though I abandon all honor, I fear no conscience."
When Hannah showed up at the Player Club Relations committee hearing in Washington, D.C., the Patriots had a little surprise for him. Chuck Sullivan, the club's vice-president, began to discuss a letter which owner Billy Sullivan's wife had sent John's mother in Alabama. It was along the lines of "I wouldn't want a son of mine to show such disdain for what is right," etc.
"The thing backfired," Hannah said. "I broke down completely and cried. Wellington Mara just shook his head and stared at the table. My dad had played for him. Dan Rooney was horrified. Len Hauss of the Redskins looked embarrassed. I had to excuse myself and go to the bathroom to try to get myself back together, and Ed Garvey came in there and said, 'Great performance, John!' I said, 'Dammit, I broke down. I flat broke down. It wasn't a performance.' Then I broke down again."
What the letter had done was firm up the Hannah family and place them solidly in John's corner. You have to understand this about the Hannahs. They are very close. Herb Hannah and his wife, Geneva, nicknamed Coupe, are proud of their sons (Ron, the oldest and the only non-football player, is the accountant for Hannah Supply), but they are not in awe of their football achievements. They see things through twinkling eyes, never losing sight of the humor in this world, and they express things in a wry and cryptic style.
"Can you imagine me up in New York with the Giants?" Herb Hannah says, "A country boy from Alabama. I remember Bill Stribling and me...he was an end from Mississippi...taking the subway one day and ending up in Queens. I was always getting lost on the subway. Anyway, we stepped out there in Queens, and everyone was speaking Spanish, and Bill said, 'Herb, this thing's done carried us to a foreign country. Let's get on it and get back.' "
All the Hannah boys work for Hannah Supply and John and Charley will continue to do so when their NFL careers are over. The company has six warehouses; it distributes through seven states in the South. John is the management equipment director and troubleshooter. His office overlooks the Albertville warehouse, and he isn't above driving 50 miles to make sure that Hannah Supply is installing the wiring correctly in a chicken house.
Members of the family are in constant touch. When Charley made the switch from defense to offense with the Bucs, he called John once a week.
"Sometimes we'd have two-hour conversations," John says. "I'd be telling him stuff and I'd say, 'Get on the floor,' and I'd get down in my stance with the phone in my ear, and so would he, and I'd say, 'O.K., now let's work on the crossover step.' Page would watch me, and Charles' wife, Margaret Anne, would watch him, and Page would say, 'What is this, telephone football?' "
John has never hidden his dislike of the New England organization. This spring, when a story broke out of Foxboro that he was considering a future job with the club, he laughed. "Just someone making something up," he said.
Like the giant Antaeus, he gets his strength from the earth—those 253 acres of it, 75 planted in feed crops, the rest devoted to livestock. He raises chickens, 43,000 at a time, in two houses. He has a bull and three cows of his own, and a herd of 134 Holstein cattle that he's raising for a breeder in Tampa. Someday he'll have his own herd of Santa Gertrudis, a Shorthorn-Brahman crossbreed developed in Texas. "Only registered stock," he says. "I'll have 100 to 120 brood cows, three or four good-quality bulls. I'll raise the calves to 500 or 600 pounds and then we'll have production sales, our own auction, closed sales; I'll go in with two more breeders like myself who want to upgrade the Santa Gertrudis stock."
The farm is set in rolling foothills. There's a pond as you enter, mink and deer in the woods. The house stands on a treeless knoll in the middle of the property, a stark, striking, sharply defined house, a Grant Wood painting.
"When I was holding out," Hannah says, "they said up in Boston, 'Well, I guess you'll go back home and slop those hogs for a while.' I think you can see that I've got a lot more going for me than that down here."
It is a Saturday afternoon in June, and the temperature is in the 90s. Hannah has just finished inspecting his chickens and trimming weeds around half a mile of electric fencing. His shirt is black with sweat, and he sits on the ground, his back against a wooden fence, watching his 2,200-pound Santa Gertrudis bull.
The bull is walking slowly to the water trough, the rich red-brown of his hide gleaming in the afternoon sun, his hindquarters swaying gently, the huge muscles of his shoulders bunching and relaxing. He seems longer than a bull should be, more like a mini-locomotive. His hind legs seem different, too, bulging with heavy muscles, instead of tapering. A gentle, magnificent animal. The three heifers at the trough slide sideways to let him through, and then stare at him as he drinks. Hannah laughs and shakes his head.
"Goes anywhere he wants, does anything he wants," he says. "Who's gonna argue with him? People come from all over just to see him. He's still a baby, only four years old. He'll be 2,800 pounds, at least, when he's full grown. I like to come down here and sit against this fence and just look at him.
"Ain't he something?"
Something indeed. And so is John Hannah.
PHOTO
FRANK
WHITEPHOTOFRANKWHITEHe weighs only 37 pounds but Seth appears headed in the same direction as his 265-pound papa.PHOTOFRANK WHITEJohn followed his father Herb, an ex-Giant, to pro football.PHOTOFRANK WHITEHannah's magnificent 2,200-pound bull seems much larger than life, as does Hannah himself.PHOTOFRANK WHITEIf it takes a tough man to raise 43,000 tender chickens, there's none tougher than farmer John.TWO PHOTOSFRANK WHITENo mere man-mover, Hannah is an all-round athlete who held a shotput record at Alabama and plays a lot of Softball in the off-season.PHOTOFRANK WHITEA family portrait of the Hannah family portrait: Seth is on John's lap, Mary Beth is on Page's.PHOTOFRANK WHITEParker was All-Pro at Baltimore for eight straight years.PHOTOFRANK WHITEPaul Brown says McCormack, a tackle, was the best he ever coached.