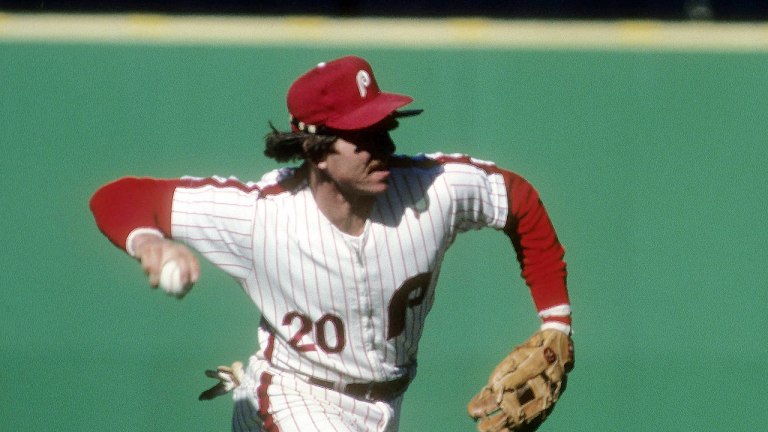 Now that the strike is over, it's time to look back at the season past and ahead to the season to come. Weren't those divisional races exciting? Remember how the New York Yankees overtook the Baltimore Orioles in the last week to win the American League East by two games, how the Oakland A's survived by a game and a half in the AL West, how the Philadelphia Phillies caught and passed the St. Louis Cardinals in the NL East by 1½ games and, in one of the most thrilling finishes in memory, how the Los Angeles Dodgers nipped the Cincinnati Reds by a mere half game in the NL West?
Say what? You weren't aware of any pennant electricity last June? Tough. As the game's owners pondered whether to turn Baseball 1981 into something like the Hambletonian, with heats and everything, a "second season" to start next week was a real possibility. The Chicago Tribs would have just as much of a chance to get into the October Classic as the Orioles. Last year, had a second season started on Aug. 10, the Minnesota Twins, Atlanta Braves, Orioles and Phillies would have been divisional winners. Of course, the owners were also considering an unsplit season, but that would make sense. Either way, herewith our 1981 scouting reports Part II.
AL EAST
The strike hit the fan at a most opportune time for the Yankees, who weren't getting optimum performances from pitchers Ron Guidry (foot injury) and Tommy John (back) and Outfielder Reggie Jackson (psyche). Guidry and John are sound again, but Jackson still has to free himself from the torment of a slump in which he was batting .199 with only six home runs. Those are hardly All-Star credentials, but Jackson will still be coming on after Roberto Duran in Cleveland this weekend, thanks to the fans' balloting. The two defrocked Padres next to Jackson in the outfield, All-Star Dave Winfield and Jerry Mumphrey, were more than pulling their weight. Speaking of weight, New York stole Rick Reuschel from the Cubs for Doug (The Fidrych) Bird just before strike time, and he of immense girth should be of immense help. The Yanks, in fact, seem to have everything going for them except incentive. Even if they should win both halves of a split season, there was a ridiculous, but real, possibility that they might still have to play a wild-card team in the quarterfinals.
A split season would take away one of Baltimore's great strengths, which is long-haul pitching. Still, the Orioles may best be able to handle the task of assembling a pitching staff on such short notice. Dennis Martinez could turn out to be the club's strongest starter in the second half. Most of the Orioles have been keeping in good shape, although Third Baseman Doug DeCinces and Shortstop Mark Belanger have been too busy at the negotiating table to do so. There are, however, ready replacements for them at Rochester in the Triple-A International League: Third Baseman Cal Ripken Jr., who had 17 homers and 61 RBIs at the end of last week, and Shortstop Bob Bonner. Baltimore will also benefit from a cake schedule: It plays 31 of its 51 remaining games at home.
Milwaukee, on the other hand, will play 31 of 53 games on the road. If the Brewers are to have half a chance at half a loaf, they will need more typical performances from Catcher Ted Simmons (.207), First Baseman Cecil Cooper (.270) and Outfielder Ben Oglivie (.237). They will also need continued fine form from starter Pete Vuckovich (8-2) and a new form for Reliever Rollie Fingers. Fingers was looking rather roly when he reported last week; in fact, he jokingly asked for Frank Howard's old uniform. At least Milwaukee should have a healthy Paul Molitor back in centerfield. Boston players should be happy to have a second season, partly because the strike wiped out nine games against the Orioles and seven against the Yankees and partly because their relief pitching will serve them well in the short run. Dwight Evans, with a .341 average, 13 homers and 39 RBIs, would have been the league's MVP if the season had ended June 12. Now he has to prove those figures weren't a fluke.
Is Bo Diaz a perfect 10? This burning question will be answered in the next few weeks as the Cleveland catcher tries to maintain his .356 average. The Indians also have perfectionist Pitcher Len Barker and are quite sound fundamentally, but they do lack power—their 22 homers are a league low. The Tigers, too, are solid, but they will need more pitching to go with Jack Morris (9-3, 2.56 ERA). Oh, if only Mark (The Bird) Fidrych could come back a fourth time. The Blue Jays were embarked on a club-record 11-game losing streak at the recess, so they more than welcome a fresh start.
AL WEST
Texas and Chicago would have every right to scream over a split season. Oakland may have won the first half, but the A's played five more games than the second-place Rangers and seven more than the White Sox, who were 2½ games back in third. Had Texas and Chicago been able to make up those missing games, Oakland might well have wound up in third place. The funny thing is, all three teams may finish behind Kansas City and California in the second season.
The Royals are simply too good for a .400 record to be true, and they might have a chance to prove themselves without having to make up a 12-game deficit in the standings. Although Pitcher Larry Gura was bitten while trying to clean a snapping turtle during the strike, the players are hale again. George Brett, who's been sailing in his spare time, should come about and boost his homer (1) and RBI (13) totals, although his average is a respectable .323. The Royals can also get immediate pitching help from the minors, particularly from the unlikely-sounding Atlee Hammaker, who is part Chinese and part Indian, and last week was 10-5 with a 3.72 ERA at Omaha.
California was moving before the strike, and new Manager Gene Mauch can now count on a healthy Fred Lynn and Bobby Grich. Bruce Kison may even be ready to pitch again. Owner Gene Autry got married during the interregnum, and the wedding had him blissfully confused. Referring to Shortstop Rick (Rooster) Burleson and his attempt to hit .300, Autry said, "He doesn't want to lay an egg out there."
Pity the White Sox, who immediately embark on a 17-day, 16-game road trip with stops in Boston, Baltimore, New York and Milwaukee. That acid test should tell the league whether the White Sox are for real or not. Shortstop Bill Almon can't possibly be a .326 hitter, but then Outfielder Ron LeFlore shouldn't be batting .234. The Rangers have both a solid starting staff and a league-leading batting average of .284, but something deep in the heart of Texas keeps them from winning. During the early part of the strike, as many as 15 players were involved in organized workouts, but lately the number had dropped to four or five.
Want to or not, Billy Martin will have to go to his bullpen in the first few weeks of the new season. The Oakland manager will also have to see Lee MacPhail, the league president, about his run-in—bump-in, rather—with Umpire Terry Cooney. And the infielders are as bumpy as the outfielders are smooth.
The Twins apparently didn't train very hard in their off time, at least not hard enough to make up for their lack of talent. The Mariners, however, could surprise a lot of people. Not only did they work hard the last two months, but Jim Beattie and Jerry Don Gleaton also found winning ways in the minors. And Seattle has the big bats of Gary Gray (13 HRs), Tom Paciorek (.328) and Richie Zisk (.321, with eight homers).
NL EAST
A second season almost certainly would produce some kind of aberration, a fluke team getting hot for two months. This could be the division, and the Mets could be the team.
Go ahead and laugh. Let's say, for instance, that Dave Kingman goes on a tear, that Ellis Valentine responds well to his new surroundings, that Mookie Wilson plays as he did during the last week before the strike, that Lee Mazzilli bats the ball as sweetly as he bats his eyes. Joel Youngblood, hitting a mere .359, can't even find a place to play on the club. The Mets' defensive weaknesses, which are many, won't be as telling over a short span. Craig Swan, Pat Zachry, Randy Jones, Mike Scott and Neil Allen could provide enough pitching to get by.
If form holds, however, the Expos still should be the strongest team in the division. Leftfielder Tim Raines, with 50 stolen bases in 55 games, was on his way to breaking all stolen-base records. Centerfielder Andre Dawson was fourth in the league in homers with 13 and fourth in batting at .325. Except for Charlie Lea, who had a no-hitter May 10, the pitching had been something of a disappointment. But then, Scott Sanderson has been throwing to his wife, Kathleen, lo these many weeks. After Pete Rose passes Stan Musial on the National League hit parade, the Phillies can go about the business of—what? Defending the world championship? Defending their first-half title? Their oldies-but-goodies may feel a little older after this week of training. The same holds true for the Pirates, who may have to call up Luis Tiant to bolster their pitching staff. Pittsburgh will need the continued hitting of Bill Madlock (.326) and Mike Easier (.317) and more production from Dave Parker (.286).
The team hurt most by the strike may be the Cardinals. Time has not healed the wound of Darrell Porter, who is only now beginning to throw after tearing a rotator cuff. When the workouts began, the Big Stopper, Bruce Sutter, hadn't picked up a baseball in two months. And St. Louis has to play 30 of its last 52 games on the road. The Cubs were sold to The Chicago Tribune shortly after the strike started, which means that 1) Wrigley Field may soon have lights and 2) "The World's Greatest Newspaper" now has The World's Worst Baseball Team.
NL WEST
Remember the sweet passion of Fernandomania? That was back before the NLRB, the pool concept and the Secretary of Labor wormed their way onto the sports pages. Thank goodness Valenzuela is back, and though the kid got lit up a few times, there's no reason to think he can't win again. The Dodgers certainly need him. Davey Lopes, who'll be the starting All-Star second baseman, was hitting .169, and Shortstop Bill Russell was only slightly better at .196. Lopes had an injured ankle and Russell had hand and wrist injuries. First Baseman Steve Garvey, playing with a painful wrist, was hitting only .279. If not for Valenzuela (9-4, 2.45 ERA), Jerry Reuss (5-2, 1.90) and Burt Hooton (7-3, 2.97), the Dodgers wouldn't have won the coveted spring championship. Now Garvey, Russell and Lopes are all close to full strength.
The Reds benefit from the recovery of Johnny Bench, who would have been lost for approximately the same period that baseball was. A healthy Bench joining George Foster (14 HRs, 49 RBIs) and Dave Concepcion (44 RBIs, .306) could give Cincinnati that Old Red Magic again. A jazz festival had booked Riverfront Stadium last week, so the Reds bopped over to the University of Michigan facilities in Ann Arbor. Houston Manager Bill Virdon was thinking of using J.R. Richard to pitch in an exhibition game this week. Richard has made remarkable progress in recovering from his stroke the past two months, and his return would be a physical and spiritual boost to the Astros, who were sluggish in the spring. And back is Mike Ivie, the first baseman who had been hospitalized for mental exhaustion. The bad news is that only 23 of Houston's 53 games will be in the Astrodome, where the Astros traditionally shine.
The Padres appeared to be in better physical condition than most clubs, although Juan Tyrone Eichelberger, their best pitcher (6-3, 2.80 ERA), came down with a slight case of tendinitis from painting his house. The Giants were one of the few clubs to indicate they might bring in a lot of minor-leaguers. Manager Frank Robinson would like to call up Outfielder Jeff Leonard, who's batting close to .400 for Phoenix, Outfielder Chili Davis, .330, and First Baseman Rich Murray, Eddie's brother, .330. The Braves are also thinking of calling up some minor-leaguers, one of whom is a Richmond outfielder romantically named Brett Butler. His appearance would be appropriate in a season that was nearly gone with the wind.
[originallink:10614326:70951]