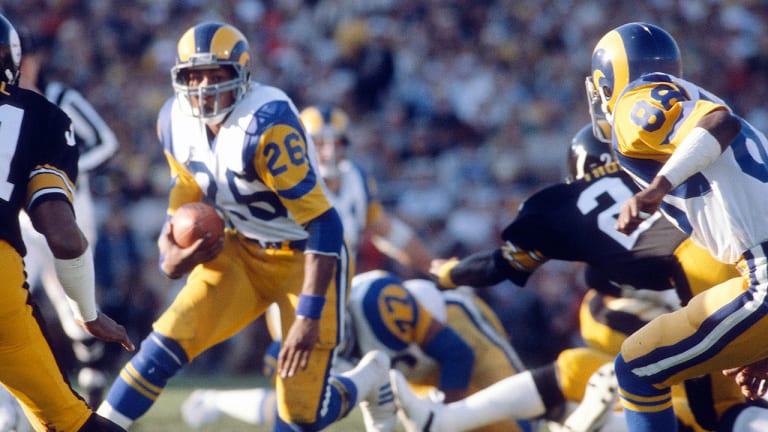 L.A. Will Stand Pat
After five very frustrating and contentious years, Pat Haden is posilutely, absotively the Rams' starting quarterback
In the annals of not quite making it, the Los Angeles Rams have few equals. From 1973 to 1979 they won seven straight NFC West championships but not one Super Bowl ring. In the '79 season they finally got to the Super Bowl, right there in Pasadena, but they ended up losers again. Then last year the Rams deserted Hollywood for Anaheim, failed to win their division and were blown out of the playoffs in the first round by the Dallas Cowboys.
But last Saturday night in Anaheim the Rams served notice that they are once again a serious Super Bowl threat by trampling those same Cowboys 33-21. It was just an exhibition game, but while the regulars were on the field the Rams drove for touchdowns on their first two possessions, Running Back Wendell Tyler taking the ball in both times. It was 21-0 after Jewerl Thomas scored early in the second quarter.
Tyler was a big factor in the Rams' drive to the Super Bowl two seasons ago, but last year, after dislocating a hip in an automobile accident, he played in just four games and gained only 157 yards. After his touchdowns against Dallas he genuflected at the foot of the goalpost and crossed himself.
While giving thanks for Tyler's return, L.A. fans were picking up on a wondrous, and probably more significant, Ram development. L.A. had a single solitary uncontested starting quarterback. For the previous seven years—and indeed through most of the Rams' history—no one had held the quarterback position unchallenged. But now the Rams have handed sole possession of the job to Pat Haden, who had been on the premises for a good while. To be sure, Haden hadn't been a giant at the position. He is in fact sort of short. Haden is listed in the Rams' program at 5'11", and if you believe his critics he needs a stepladder to see over his line. Well, on Saturday against Dallas he saw well enough to complete 17 of 25 passes for 207 yards and a touchdown in three quarters of action, and when he trotted off the field after one Ram scoring drive he was greeted with an enthusiastic high-five by one of his offensive linemen. Of course, Haden had to jump several feet into the air to reach his teammate's outstretched hand.
In a town where image is everything, Haden has a very tough act to follow. Vince Ferragamo, who came on strong when Haden was injured in each of the last two years and then jumped to the Montreal Alouettes of the Canadian Football League, was tall and had sculpted good looks, as well as an arm that was strong and accurate enough to enable him to rank second in the NFL in touchdown passes; he had 30 last season. Haden is in his sixth year with the Rams, and despite some creditable accomplishments (he has been wholly or partly responsible for the Rams' last four NFC West titles), he is still trying to prove himself to the L.A. fans. In a recent "open letter" to that constituency, Haden wrote, "I know I'm short, I know I can't throw deep and I know I'm not Italian.... I'm taking Italian lessons, eating more spaghetti and trying to talk my wife into changing our name to Hadenlione." The strength of Haden's arm was of particular concern in Los Angeles after Ferragamo's success with deep patterns, so Haden faced it head on. "Ryan, my youngest, whispered his first words to me the other day. He said, 'Daddy, throw long on first down.' I'll never forgive him for that."
Haden got off to a bumpy start in the Rams' first exhibition this season when he threw four interceptions in the first half of a lopsided loss to New England. That performance fueled speculation that L.A. would go shopping for another quarterback (Ken Stabler? Dan Pastorini?), but the Rams quickly quashed that notion. Indeed, Haden seems to have arrived at a state of grace that his Ram predecessors have seldom known.
Bob Waterfield was the Rams' starting quarterback in 1949, the team's fourth year in L.A., when the club drafted Norm Van Brocklin, whose idea of a good time was to drill a football into the backsides of unsuspecting souls during practice. "That was the beginning of the rivalries," says Don Klosterman, the Rams' general manager, who in 1952 was a promising—if overmatched—Ram quarterback himself. Waterfield and Van Brocklin ranked one-two in the NFL in passing in 1951 when the Rams won their last world championship. The fans, naturally, began to choose sides. "That was the start of the booing, too," says Klosterman. "I think Waterfield could have played another five years, but he finally got tired of the booing." He retired after the '52 season.
When Billy Wade joined the team in 1954, Van Brocklin once again found himself splitting playing time, and the Dutchman didn't much like the arrangement. He liked Wade even less. "Dutch was a hard-nosed guy," says Jack Faulkner, an assistant coach at the time and now the Rams' assistant general manager. "Wade was the Ail-American boy—he didn't smoke or drink, and he was very religious—so Dutch was just naturally hard on him." It wasn't Van Brocklin's nature to hand out pointers to his young rival, either. As Herb Rich, a defensive back for the club in the early '50s, once put it, "The only boost Dutch ever gave Wade was to kick his butt off the field." Van Brocklin was traded to the Eagles in 1958.
Wade was known as a brilliant technician. Whenever a receiver had to stretch for one of his passes, Wade would always say, "Nice catch of a badly thrown ball." He said things like that a lot, and it tended to rub some people the wrong way. When Waterfield returned as the Rams' head coach in 1960, he went to General Manager Elroy Hirsch and asked him to trade Wade.
"What do you think we can get for him?" asked Hirsch.
"Peace of mind," said Waterfield.
Quarterbacks came and quarterbacks went. Rudy Bukich, a local hero from USC, had battled Wade for the starting job for three seasons. Bukich once confided that his greatest delight was his ability to break his own receivers' fingers with his bullet passes, He was traded in 1956. Wade was traded to the Chicago Bears in 1961. Frank Ryan, who used to pass the time on road trips by proving out complicated mathematical formulas, held the job for a time. Then, pffft. Traded to Cleveland. Van Brocklin, Wade and Ryan led their new clubs to world championships.
In 1963 Ram Coach Harland Svare actually tried shuttling quarterbacks Zeke Bratkowski, Terry Baker and Roman Gabriel in and out of games on alternating downs, with predictably disastrous results. As a rookie a year earlier, Gabriel was so green he believed almost anything. One story goes that he went to the Rams' trainer complaining of a sore shoulder and was told to tape two aspirin to his skin and let the aspirin work into the shoulder. The next day, Gabriel still had the aspirin taped on and said his shoulder felt much better.
Karl Sweetan ushered in the '70s by playing with the Rams for two seasons and then being arrested for trying to sell his Rams' playbook to the New Orleans Saints. Between 1973 and '76 the Rams won four NFC West championships using four different starting quarterbacks (John Hadl, James Harris, Ron Jaworski and Haden), but by the start of the '77 season all had been traded but Haden. He threw his first pass for the Rams on opening day in 1976 against Atlanta—for a 47-yard touchdown to Ron Jessie. "I was a hometown kid and I was a breath of fresh air for a while," says Haden, "but, inevitably, if you don't complete every pass or if you don't win the Super Bowl, people want a new quarterback." The following year they got one when owner Carroll Rosenbloom brought in Joe Namath for one last fling. The team was 2-2 under Namath, and after a four-interception disaster in Chicago, Haden took over again and finished the season ranked second in the NFL's quarterback standings.
In 1978 Haden set three club passing records before breaking the thumb of his right hand on Cowboy Randy White's helmet in a losing effort in the NFC Championship game. That season a headline in the Los Angeles Herald Examiner read HADEN SAYS L.A. FANS STINK. Haden never said it and there was no such quote in the story, but the headline damaged his standing with the fans, and the wounds are still healing.
In the 10th game of the following year, against Seattle, Haden had just set a team record by completing 13 straight passes when he caught the pinky of his right hand in a seam of the Kingdome's AstroTurf and fractured it. Under Ferragamo the Rams promptly went to the Super Bowl. There was no enjoyment last season for Haden, either. After winning a bitter struggle for the starting position with Ferragamo in training camp, he started the Rams' opening game against Detroit in Anaheim Stadium, only to break his right index finger on teammate Doug France's shoulder pads. "I was sitting on the sideline with an ice bag on my hand," Haden recalls, "and a message was flashed on the scoreboard saying I had hurt my hand. There were loud cheers. When I thought about it later, it seemed to me there's something wrong with the sports ethos in America. But at the time I was just angry. Cheering another human's misfortune is beyond comprehension to me, very alarming. It's almost as if the fans are trying to participate in the violence on the field."
Haden knows that every pass he makes this season will be closely scrutinized, but for now, at least, there's no pressure from an understudy. The Rams have three other quarterbacks in camp—Bob Lee, Jeff Rutledge and Jeff Kemp—but they are only on hand in case of emergency.
Still, Haden has no illusions about his job security. "They don't keep me around because I'm a great guy," he says. "I am a great guy, but this is a $50 million business, and if I don't do the job I'm sure they'll find a replacement and depreciate me very quickly. There's tremendous pressure on me, sure. I think the thing that drives all athletes is the fear of failure. It can get scary."
But in Los Angeles it can never get dull.
PHOTO
ANDY
HAYT
At his program height of 5'11", Haden can't always see over the likes of 6'3" Rich Saul.
PHOTO
ANDY
HAYT
In Saturday's win, the Rams, again doughty on defense, ganged up on Dallas' Robert Newhouse.
PHOTO
ANDY
HAYT
Jewerl Thomas was a jewel against Dallas.