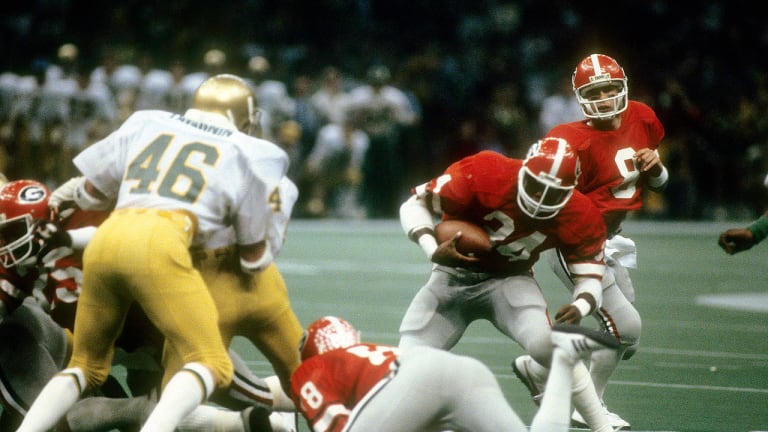 More Than Georgia's on His Mind
His roots are in the Deep South, but Herschel Walker sees the whole world as his stage
You could say that we become what we are not so much in the sanctuary of the womb or the groves of academe but in that Elysian drive-in joint known as high school. Most everyone went to high school, even a few hockey players. It is there that we were nurtured, our personalities shaped, our bodies structured, our habits and moods and values all having jockeyed for position in the chaotic halls of puberty. High school is enduring. Chuck Berry: Ring, ring, goes thebell...deliver me from the days of old. No one is completely delivered from the days of high school.
This is especially true in the case of heroes who learn to be heroes in high school and stay that way. High school nerds can change and turn into real people, but high school heroes aren't permitted the luxury. So why all the hullabaloo over Herschel Junior Walker, 19 and never been hissed? Why such astonishment about his poise, intelligence, charm, graciousness, humility, charisma, and his ability to put together more than two words at a time? Sir John Gielgud once said of Jean Seberg, who came out of little Marshall town, Iowa, "She had learned to be a star before she became an actress." And so, now, Herschel Walker, the End Zone Stalker.
Walker, the All-America football player, says he runs track better than he plays football.Walker, the world-class sprinter, says he dances better than he sprints.Walker, the jump-splits hoofer, says he spends more time writing poetry than sashaying around the disco floor. But if there is one thing he knows more about than all of this, it is how to be a hero. Herschel Walker, out of little Wrightsville, Ga., learned that before he became anything else.
If all the Georgia Dawgs will please hunker down for a moment and cease woofing, we can put away Walker's historical debut against Tennessee and his historical NCAA freshman rushing record of 1,616 yards and his historical rookie-year third-place finish in the Heisman Trophy voting and his historical one-man-gang-despite-a-dislocated-shoulder Sugar Bowl routine against Notre Dame for the national championship and...woof, woof, woof. All right, all right. Healthy all season, Hushel—that's the way you Dawgs say it, now ain't it? Hushel—would've gone for 2,000 yards easy. And, yeah, yeah, he got absolutely jobbed out of the Heisman. If the voters had waited two more weeks,Walker would have won it laughing. Now git down, you hairy dawgs.... If we put away all the football elements, and the track stopwatches, too, it becomes fairly clear from Walker's endearing way with people, plus an obvious relish for this hero business, that his race is not with Art Schlichter or Carl Lewis for yards, finishing tapes, banquet appearances and other boring stuff. It is with—why, of course!—Sugar Ray Media Leonard for the role of America's next black sports idol.
Doubtless the word "idol" hasn't crossed Walker's own lips. He insists he never had a role model. Indeed, he says, "I don't remember ever admiring anyone....Well, maybe Richard Pryor." And yet his mentors from Wrightsville—Tom Jordan, a former head track coach and assistant football coach at Johnson County High, and Bob Newsome, Walker's employer at the corner Ford agency in town—dispute this. Jordan says Walker "kept close track" of Muhammad Ali. Newsome remembers Walker's following the career of O.J. Simpson, being impressed with his "class and stature."
Wasn't Ali the one who rhymed anything that moved? Wasn't Simpson the one who gave so much credit to his offensive line? Well, late at night while everybody else was asleep in the old house on the hill outside Wrightsville, little Herschel Walker composed poems about life, love, his football team and his algebra class, at times conveying a feel and sensitivity that would shock and amaze ya,even Joe Frazya:
I wish they could see
The real person in me
Someday I reckon they will know
I'm not only here for the show
And when Walker arrived in Athens with all the bugles blaring, he proceeded to diffuse any resentment on the part of his teammates by being the first freshman to unload the seniors' luggage on the opening day of practice. Following that, he unloaded volley after volley of Simpson ilities. Like "I'm just here to make the traveling squad." And "The tailback position is one of the easiest to play." And "I play to satisfy my coaches and teammates. I'm just grateful to the offensive line for taking me in as a member of their family."
Richard Pryor?
"Herschel has the unique ability to make you feel good about yourself," says LaTrelle Troup, a Wrightsville housewife who has known Walker through her son, Chris,the current starting quarterback and safety at Johnson County High. "The folks who know Herschel Walker only as an athlete will be severely cheated in life."
On campus at Athens, Walker's wholesomeness, his closeness to family, his inclination to do all the right things and use all the right phrases, including "yes sir"and "no sir" (simple, unadulterated quotes which sent the media into mass cardiac arrest), his respect for elders, his manners in the presence of women, his patience with autograph-seeking children of all ages...collectively,these responses seemed almost too good to be true. "But don't you see?"Newsome, the car dealer, says. "Herschel knew exactly where he was going and the best road to get there. This was all planned."
Nevertheless,Walker's behavior was nothing more than a finely tuned emulation of a value system taught by his parents, Willis and Christine. He was, and is, a child of the Old South, possessed of all that implies—gentility, courtesy, devotion to Sunday School, punctuality at supper, loyalty to home and hearth. He is sincerely a mama's boy, Christine Walker's boy through and through. When Walker arrived at the state university, a school that first gave an athletic scholarship to a black in 1968, the fact that he was a black child of the Old South who hit the books, quoted from Macbeth and insisted he would graduate with a degree in criminology (he had about a 3.0 grade-point average last year)was the dynamic that shocked everyone. And, besides, the guy could run the football a little bit.
Immediately Walker disarmed potential critics (read: the press) as easily as he evaded potential tacklers. Herschel, don't you get tired carrying the football so many times? "No sir, the ball ain't heavy." This was great stuff for awhile. But then: Herschel, don't you get tired signing all those autographs?"No sir, the pen ain't heavy." Enough was enough. The Georgia offensive line was good but, hey, they weren't the 12 disciples or even the Seven Blocks of Granite. Walker's confession that he had never given the Heisman a thought was quaint but, hey, he knew the precise number of juniors who had won the award and the seniors as well. After Walker received a summons for a traffic violation in Dublin, Ga., he telephoned his apologies to the officer who pulled him over, for wasting the cop's time. Hey, what was this, Hill Street Blues? Given these downs and the yardage to go, it was inevitable that cynicism would rear its ugly head. Chinks appeared to tarnish the All-America armor.
It was noted that, a year before Walker's matriculation, Georgia had created a women's track team specifically to get his older sister Veronica ("Nep"), a sprinter,up to Athens. But last April Veronica was suspected of shoplifting, though no charges were brought; after she was called on the carpet about other troubles,with her grades, she told school officials that if she was sent home, Herschel might just go with her. Well, he was his sister's keeper, but this certainly wasn't his fault, nor his idea.
And how about the way Walker had made Georgia Coach Vince Dooley squirm during the 1980 recruiting season by waiting so long, until he was the 29th and last freshman to sign? Surely he was coming to Athens all along. Or the way Walker had made all of college football wriggle this past spring by permitting Montreal Alouettes owner Nelson Skalbania's offer to play pro ball in Canada this fallto dangle in the scalding Georgia sun?
"I don't remember his daughter's name," Walker says of Skalbania's emissary to Athens, "but she sure was pretty." Certainly he never was going to abandon the national champions to go take hand-offs for something called the Alouettes? Walker's mother drove more than two hours up Highway 15 to school to discuss the Montreal offer, but, she says, "Herschel wouldn't even turn that stereo down. Lord, how he blares that thing."
Then there was the aborted Herschel Walker Insurance Agency, a scheme devised by Newsome and an Atlanta lawyer as an "off-season summer job." As if Walker would have time to go door to door peddling fire and flood policies, what with all those 10-and-change 100-meter dashes he would be running in places like Osloand Amsterdam between semesters. As that fiasco unfolded, to the horror of Dooley as well as the NCAA, the previously benign press opened fire.
In the spring of 1980 Walker refused to get involved when Wrightsville black groups held marches and boycotted stores in his hometown, protesting what they felt was police mistreatment and a lack of job opportunities. Walker attributed the confrontations to "outsiders." He says, "I never go jumping into something I don't know what I'm jumping into." In Athens the small black community began to wonder why Walker was always seen around campus with many more white friends than black. Walker watchers of both races confirm that he has gravitated toward white society and doesn't relate to his fellow blacks.
"Herschel shouldn't be underestimated," says Dr. Leroy Ervin, a black who is the assistant vice-president for academic affairs at Georgia. "There is a kind of genius there that has enabled him to synthesize things at a much quicker rate than most adults. He's not the kind to put an umbilical cord anywhere—even where race is concerned. He gets close to some people...at a distance. In the same way, he will never be directly offensive or affrontive. He has developed all the appropriate responses at an autonomic level."
The net result is that the person Herschel Walker has turned out to be is more, much more, than a little bit impossible to dislike. Just as his stability emanates from a tightly knit family, so his worldliness has been attained through travel. He asks not to be photographed in that clichè, out-of-the-backwoods shot in front of his home—a neat, one-story, white clapboard house six miles outside Wrightsville over the railroad tracks and up a dirt road that overlooks a picturesque hill with green pastures and wild flowers sprinkled across the horizon. (In fact, he wants to demolish the house and build another on the site. That way he can, in a sense, obliterate the past without abandoning it.) Smoky, the horse, is outback. A pit bulldog and a chihuahua are on the porch. Trophies nearly fill an entire room. But inside, where a camera also isn't allowed, books are everywhere as well. The adults of the house, both factory workers who met picking cotton in the nearby fields, always tended to their book learning.
Out of this background Herschel Walker somehow developed terrific sociopolitical acumen."The kid is a politician par excellence," says one Georgia man. In the 1980 election returns of Greene County, Ga., Walker received three write-in votes for President of the United States.
Lest it be forgotten that, above everything else, Walker is still a relative infant fromthe boondocks who has been forced too early to form—and asked to state—opinions on issues both athletic and otherwise, his open, almost baby face and pragmatic mind are always there as a reminder.
Examining the situation long and hard, Walker figured out correctly that the National Football League shouldn't be permitted to deprive a football player of a job because of his age. He also determined that it would be foolish—certainly nowif not ever—to challenge the league in court, even if he were to win. Earlier Walker, rejecting the Canadian Football League, announced, "I grew up in America and I don't think I should have to leave the country to make a living." That was his and his alone. He came into Dooley's office one day,sat down and said just that. The Georgia people, hearts in throats, wrote up the press release. They didn't unfurl any flags. On the Bulldog highlight film a voice off camera asks a 19-year-old sophomore-to-be in a letter jacket whathe would most like people to know about himself. "That Herschel Walker is not some make-believe character," Walker says.
The story is told of a disc jockey in Savannah whose mother called from New York last fall and asked who this nice Jewish boy "Herschel Somebody" was, the one running up big numbers for the Georgia Dogs. Well, the name happens to be a common one in Walker's neck of the woods. Lovett Stadium, the field where the Johnson County Trojans play, is named for a prominent former banker, Herschel Lovett.The county itself is named for a former Georgia governor, Herschel V. Johnson.Two generations ago Big Herschel Walker and Little Herschel Walker were brothers, distinguished not by name but by size. Big Herschel Walker was the grandfather of Biggest Herschel Walker. How 'bout them Herschels?
In their den in the unphotographed house up on the hill Willis and Christine Walker proudly point to plaques, ribbons and honors won by all of their offspring—Willis Junior, 25 now, Renneth, age 24, Sharon, age 23, Veronica, age 20, Herschel Junior (Christine just liked the name Junior. The family calls him"Bo"), and Lorenza, age 17. Everyone but baby Carol, 14, who can really shoot the basketball and may ultimately be the best athlete of the brood. That will take some doing. Sharon was quite the softball player in her day. Renneth and Lorenza made their marks in several sports for the Trojans. And Willis Jr.—"Spunk" to his buddies—was the first genuine Walker star. Because of an accident with a gun, Spunk played with one thumb as a defensive end for Johnson County. Back there in the ninth grade, he was as big and strong as Herschel was to get later, which is to say enormous and very. Nobody could run a play by Spunk Walker. He was a major college prospect, possibly a pro prospect. But he got married, took a night job and finally had to drop out of school. "Well, you know how kids are," says Christine Walker.
By his junior year in high school, Bo could finally outrace his sister, Nep, in their sprints by the house. He was chomping at the bit to whip his brothers, too. It wasn't that he even liked football. His mother hated it. "I just close my eyes until everybody gets up from the collisions," Christine Walker says. Peer pressure and sibling rivalry forced Walker into the game. Then a couple of unusual developments took place which were to color the legend born in Johnson County.
Unlike the other Walker children, Herschel was uncommonly quiet, always staying by himself."I cherish privacy," he says. "I stayed by myself so I could grow." But how, physically, did he grow? He never lifted a weight. Still doesn't. He never even lifted a pitchfork. "I raked the yard once," he says. Suddenly, Walker filled out from his short, chubby frame into a veritable Hercules. Wrightsville veterans remember him in 11th grade as a speeding bullet, a muscle-bound hulk, an "elephant roaming through a toothpick factory." Herschel was nicknamed "Hurt" Walker for the way he applied himself on the gridiron. Whenever he appeared to be smothered at the line of scrimmage, he would "rise up from the ground and be gone."Local folks see him today as this marvelous physical specimen—6'2", 220 pounds, massive thighs, ox neck, peaked shoulders, tiny 31-inch waist tapering up and out to what the glistening fellows down at the flex salon would refer toas "the perfect upper-body V"—and insist he hasn't changed one iota."I'm telling you, Herschel was a monster down here," says Chris Troup,the erstwhile quarterback. "And he had to ease up all the time. If he didn't, he would have killed guys, just broken their necks with one hit."
Calling defensive signals back then, Walker's shouting made his voice hoarse and may have harmed his vocal cords. In conversation now he finishes most sentences with his voice cracking into a funny, alto pitch, as if a "Wolfen" had instantly turned into Olivia Newton-John. When he grew up—that is to say, at age 17—he seemed to have had enough of food and sleep as well. "I think I overdid the vegetables," Christine Walker says. At any rate Herschel abandoned most accepted nutrition and started packing in hamburgers and junk food. Now in Athens milk and orange juice are necessary training-table evils, but his main sustenance is boxcar loads of Snickers bars. Pregame meals? Perish the thought.Walker hardly eats anything at all for up to two days before football games.
As for his sleep habits, or lack of same, those too were ingrained on the hill outside Wrightsville. He would reserve the wee hours for doing his homework or reading his books or writing his poetry...anything but sleep. A few years later, during Sugar Bowl week, Claude Felton, the Georgia sports-information director, would ask Walker in New Orleans if he wanted a wake-up call for his appearance on the TV show Good Morning America. "No need," Walker said. On the morrow he was waiting in the hotel lobby at 5:20 a.m. "I don't want to risk missing anything of life," Walker says. "I reckon late at night is the only time I get to think about anything."
Time has always been of the essence for heroes. In Wrightsville there was time enough to run for 86 touchdowns and 6,137 yards, 45 and 3,167 of those in his senior year alone, when Johnson County won the state Class A championship. Current Head Coach Jimmy Moore remembers the practices: "Track meets," he says."Run a play—TD. Run a play—TD. I swear Herschel used to let people tackle him so he wouldn't have to run so far." There was also time to win the dashes and the shot put in the state Class A track meet. There was time to ride his horse and his motorcycle, to win dance contests and shoot pool, to serve as president of the Beta Club and prepare for his Brown Belt in karate, and to meet all the recruiters who made the Holiday Inn look like the site of an NCAA coaches' convention. There was time to do what Walker's mother says he does best—"pay attention to people." But there was no time to think. What a fine, harmless excuse for procrastination.
Where would he go to college? A Clemson man supposedly requested a clandestine meeting with Walker in a graveyard outside of town. Southern Cal Coach John Robinson supposedly registered in a hotel, fully prepared to whisk him off to the Pacific Coast; that John Robinson turned out to be a salesman from Huntsville,Ala. Finally, on Easter Sunday, when Walker's decision was relayed to Mike Cavan, the Georgia assistant coach who had virtually lived for six months in Bob Newsome's lakeside cabin while pursuing his quarry, Cavan screamed so wildly his family thought he'd been shot.
Four months later Walker fled his sheltered, teen-age kingdom. "It is time to move on and give life a try," he wrote in a poem entitled It's Almost Gone. The night before Walker set out on the trail—of whom? Jim Thorpe? Red Grange? Thurgood Marshall?—he paid a visit to the Troups, then took one final drive by the old high school field. He was all alone. The next morning he left for Athens before dawn. He didn't wake his family. It was easier that way.
Is Herschel Walker the first hero ever to ride off into the sunrise? No matter. From his beginnings in the big time, this gentle, poised creature, blessed with such a magnificent body, such immense talent, couldn't seem to escape the circumstances which kept mounting to certify him as mythical. Either thator...this was all planned.
In the Georgia media guide, first-semester freshmen aren't listed on the depth chart. Under"tailback" last fall there were five other names. During preseason practice Walker moved up to third string, but his timing was off; he wasn't hitting the proper holes and he didn't break one long gainer. Walker showed no consistent power or quickness or assertiveness. He ran straight up and down,not "under the shoulders," as the Georgia coaches teach. He was,according to one observer, "a non-person. Herschel just chugged into the line and disappeared into a heap."
There were easyouts, of course. Walker had played in Class A, consisting of the smallest schools in the state. The Georgia varsity was angered by his delay in signing and was ready, gunning to nail him. Defensive Lineman Eddie (Meat Cleaver)Weaver: "I just stuck him a couple of serious shots. No whoop-de-do. Theman just went down."
As is his wont,Dooley issued daily pessimism pills to any fans who might inquire. The general feeling was that Walker wasn't ready. Privately, Dooley told a friend, "I'm afraid Herschel is just a big, stiff back."
Later, with the full spotlight of the freshman's astonishing season blazing away, an opposing theory gained momentum. It was simply that Walker, the sensitive soul, the pragmatist, the babe from the backwoods who knew the best road, was playing possum. He was never a practice player anyway, remember. "I play as well as I want to," he said once, slipping. Could it be that this phenom was so good he could deliberately set out to pace himself, to gradually fit into the team picture, to be unspectacular, to drink no wine before its time?
Dooley says it took Walker seven games to become a seasoned, intelligent runner, to"escape the sandlot." Did Walker actually conceal his skills, refusing to impose his stardom on his elders until it was absolutely necessary? Could he get away with all that and then just, just happen? "It's like fishing, I guess," the youngster would say in explanation of his gift many weeks after the fact. "You drop the hook in the water and when you see it bob you pull it out."
What happened that first time, that cloudy night of Sept. 6 in Knoxville, Tenn. and, indeed,what happened on all the rest of Georgia's fairy-tale Saturdays, furnished no more logical explanation. Walker didn't enter the Tennessee game until the second quarter. He didn't gain his 25th yard until his 11th carry. Then in a span of a little more than seven minutes in the middle of the second half—with the Dogs whimpering and seemingly long gone—Walker took command, carried the ball on eight of 12 plays, gained 53 of Georgia's 91 yards and scored two touchdowns to rally the Dogs from a 15-2 deficit to a 16-15 victory.
The first touchdown run was instantly burned into the souls of Dog fans forever because during the few seconds it took Walker to slant right, cut back and explode 16 yards up the middle, they could see the future—and the future had WALKER MY DOG plastered on bumpers all over the state. As his family, gathered on the front porch in Wrightsville, listened to the car radio, screaming "Do it, Bo! Doit, Bo!" Walker beat six different Tennessee defenders, most notably Safety Bill Bates, who met him helmet-on and was toppled head-over-fanny backward as easily as if he were an inflatable rubber toy with sand in the base. While Bates was left to wonder if anybody caught the license number, Walker split two more Vol defenders at the goal line and went in standing up.
Dooley would later describe the play as "fantastic, electric. All of a sudden, you just knew...." Center Joe Happe says, "It was stunning. The effect that single run had on our team, I just can't explain it. All of us, we went crazy and played over our heads the rest of the game. [The rest of the season?] There was no way we would lose. Everybody was so psyched."
Everybody but one. For a brief moment after the run, and just before he was pummeled by Offensive Tackle Nat Hudson and then engulfed by what looked like an entire republic in red, all of them hugging and waving and jumping up and down, he was alone there in the end zone. Just Herschel Walker and history.
Ninety-five thousand fans, the largest crowd ever to see a football game in the South, were on their feet not knowing whether to laugh or cry at what they had just witnessed but knowing it was something very special. Walker himself slowly turned around to face the oncoming hordes. He held out both his hands, palms up, for the routine congratulatory hand-slap. At this transcendent moment, it was obvious that Herschel Walker had been there, somewhere, before. Ring, ring,goes the bell.
There would be other glorious Herschel Walker journeys encompassed in Georgia's perfect 12-0 season. The very next week the Dublin Courier Herald greeted Walker's first home game at Athens with this stentorian headline: DEBUT! HERSCHEL BETWEEN THEHEDGES! The newspaper suggested to its readers: "You might want to stash this away somewhere to show your grandchildren one day." Walker ran for 145 yards and three TDs against Texas A&M.
Every week a new wrinkle. For power aficionados there was Walker's 60-yard ramble against Vanderbilt following a play in which he was penalized for a late block. So he got mad and took off, looking for people to blast until he finally, mercifully,found pay dirt. For speed freaks, there was the 76-yard scamper against South Carolina in which three Gamecock defenders had the easy angle to spear Walker over the sideline and into Athens' famous greenery. The trio came up empty. For record keepers, there was the 65-yarder late in the game with Georgia Tech that broke Tony Dorsett's total yardage mark for freshmen.
Running backs are forever being compared to each other, Payton to Simpson to Sayers, Campbell to Brown to Motley. In reality such an exercise is futile because, like concert pianists, each RB has some distinct characteristic with which he delivers the goods. After one has rounded up clichès like inner drive and concentration and competitiveness, there is simply this about Walker—probably no runner has ever been so powerful and so fast concurrently.
Dooley, speaking in Early Colonial coachese, mentions Walker's feet. How "close together" and "close to the ground" they are. How he has "the nice base" and "the good plant and spurt." How he "slides"so well. Dooley says Walker's improvement graph in practices and games was avast upward slope. "Herschel kept getting better and better. He just never leveled off." Georgia Offensive Coordinator George Haffner speaks of Walker's "happiness," his "zest and enjoyment for running."Haffner says it always looked like Herschel was saying, "Here I come, boys.I'm a competitor and you've got your hands full now."
The sine qua non for all running backs is their ability at that moment when the hole closes. Dothey whirl, shift direction, lower the helmet? Spin off? Slow up? Power move?What Walker seems to do better than anyone before is to accelerate right then and there and whip into a gear unbeknownst to mere football players. Remember,we are talking about an Olympic gold medal aspirant who has run the 60-yard dash in 6.24 and a wind-aided 10.22 100 meters. We're talking quick."Herschel won't impress you with his slick moves or feints," says Cavan. "But don't let him get even with you on the field or the points start clicking on the scoreboard."
Spec Townes, the former Georgia track coach who won the gold medal in the 110-meter hurdles in the 1936 Olympics, likens Walker's gliding motion in the open field to that of an old teammate, Jesse Owens.
Walker closed out the 1980 regular season by rushing for more than 200 yards in three of his last four games. Some of his other numbers were equally staggering. Thirty-five of his 274 carries were for 10 yards or more. Seven of his 15 touchdown runs were for 48 yards or longer. His many records were achieved despite injuries that caused him to miss more than 10 full quarters. He was the first freshman to make the consensus All-America team in this century.
What may be more significant about Walker's extraordinary first year was the effect he had on 99 others, namely the members of the Georgia team whom he turned from a 6-5 crew of stumblebums into national champions partly by showing them how to hang on to his considerable bootstraps. With Walker on their side the Dogs knew they always had a chance against anybody. "I've thought about it a lot,"says Happe, "and I guess what Herschel gave us was a sense of image for ourselves. He hardly talked on the field, but his own discipline seemed to diffuse our rambunctiousness. He set a standard of excellence, to try hard all the time, and damn if anybody was going to let up. You knew if you did your job, Herschel would work it out and we'd win. It sounds corny, but I get excited just thinking about him."
Possibly nothing like what happened to Georgia had taken place in college sports since the present junior Senator from New Jersey singlehandedly carried a ragtag Princeton basketball team to the NCAA final four in 1965. But Bill Bradley was a senior then. And Bradley failed.
At New Orleans,going for the brass ring against the mighty Fighting Irish, the Georgia offense came up empty; Quarterback Buck Belue missed on his first 12 passes, and the Dogs' team yardage—excepting the tailback—amounted to minus 23 yards. On his second carry Walker's left shoulder "subluxated" after a chilling hit from Notre Dame's Bob Crable, and he had to leave the game. Georgia trainer Warren Morris said it was the kind of injury that normally knocks a player out for three weeks. On Georgia's next possession Walker went back'in. A major part of the Dogs' game plan was to throw screen passes to Walker to counter the Irish rush. No runner had gained 100 yards on Notre Dame all season. But now Walker was ordered not to try to catch a pass, not to stiff-arm and to hold the ball only with his right hand.
Subsequently,half crippled, Walker ran for 150 yards, scored two touchdowns and led Georgiato a 17-10 victory and its first national championship.
Someday I reckon they will know
I'm not only here for the show
Now that there has been time to reflect, is it possible that Walker had the most dramatic,successful, heroic year any college athlete ever had? Now that he is a wizened sophomore on the verge of another chapter in this remarkable saga, is it possible that Walker will have three more years like it? Moreover, now that this quiet colossus of a young man has put himself in position to take on the Russians on the cinders, the NFL in the courts and who knows what-all in the adult garden of verses and politics, is it really possible that Herschel Walker will never get tired because his life is too filled with wonders to risk missing any of them?
Yes sir.Immortality ain't heavy.
PHOTO
MANNY
RUBIOPHOTOMANNYRUBIOTo watch the 6'2", 220-pound Walker running on a gridiron is stunning...PHOTOMANNY RUBIO...to know he can accelerate to world-class speed (a PR of 10.22 for 100 meters) is flat-out scary.TWO PHOTOSMANNY RUBIOThis season Georgia plans to make even more of Walker by using him on option passes and as a receiver.TWO PHOTOSMANNY RUBIOScottie Johnston, a cheerleader, and Coach Vince Dooley count on Walker's making 1981 another dream season.PHOTOMANNY RUBIOThe Wrightsville Walkers: (from left) Lorenza, Willis, nephew Shaun, Christine, Carol and Veronica.PHOTOMANNY RUBIOFord dealer Newsome wanted Walker to sell insurance in the off-season, but Herschel had second thoughts.PHOTOMANNYRUBIOWalker, a pool player of no small ability, cues up for a game with LaTrelle, Chris and Earl Troup.