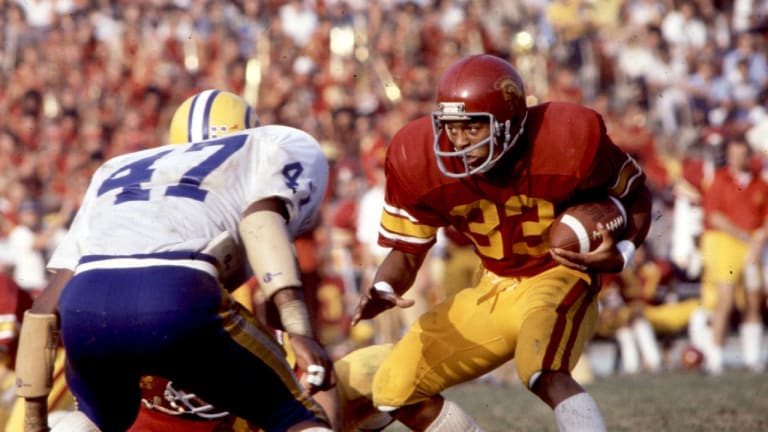 Them's the Bounces
USC capitalized on the rushing of Marcus Allen and fast and loose ball handling by Oklahoma to pull out a last-minute victory
My biggest problem is I get so excited for every game that I can't stand it," Marcus Allen, the University of Southern California's splendid tailback, was saying one night last week at his Inglewood apartment. "But I can't press, because then there's the danger that I'll try so hard to do well that I'll mess up."
If being too excited and trying incredibly hard are shortcomings, they might be the only ones Allen has. He runs, he catches, he passes, he blocks and he tells his mom he loves her. Already, Allen is being touted as the greatest of all those spectacularly talented USC tailbacks—a roster that includes Mike Garrett, O.J. Simpson, Anthony Davis, Ricky Bell and Charles White. The thought that M.A. might mess up just doesn't compute.
"I think that Marcus came here assuming he was going to be a great player," USC Coach John Robinson says, "but he just didn't know at what position." Nor did Robinson, if truth be known. Allen was recruited as a defensive back from Lincoln High in San Diego (Oklahoma was his second choice; Sooner Coach Switzer wanted him as his quarterback), but after a week of practice Robinson broached the idea of converting Allen to tailback. "Think about it," Robinson told Allen. "I have," Allen said. "I want to do it." But along the way he had to serve time at fullback, blocking for Heisman winner White in 1979. "I was afraid if I played that position too well, Coach Robinson would make me stay there," Allen says, laughing.
Allen's conversion to tailback was no laughing matter for Switzer last Saturday, as the Trojans, ranked No. 1 by the Associated Press, relied on their running back to keep them in the game and then scored a touchdown with two seconds showing on the L.A. Coliseum clock and 85,651 frenzied fans clutching their hearts to beat No. 2 Oklahoma 28-24. It was a thrilling game full of ebbs and rushes of fortune. Oklahoma continually fought back after its own miscues (10 fumbles, five of them recovered by USC), while the Trojans, who never led until those final two seconds, desperately scratched and clawed no matter how depressing the numbers on the scoreboard. It was a sight for sore, cynical eyes.
Everybody thought it would be. Especially Robinson, who before the opening kickoff sat on a bench at midfield, relaxing as best he could, and said, "Isn't this great? Our team is here and their team is here. Our band is here and their band is here. The blimp is here and I just thank God I'm here. Of course, I'll thank Him more if we win. And I'll tell you this, the team that plays the longest will win."
Oh yes, Robinson's words would prove to be accurate, but it also helped that Robinson had Allen on his side. After the game, Switzer, trying to recover from the emotional hurricane he had just been through, said softly, "Allen is probably the best back in the country. He's better than I thought from looking at films, and he's better when it's toughest. I'd vote for him for the Heisman." The always expansive Robinson said of Allen, "He's absolutely the best tailback I've ever seen. He was a great football player out there over and over and over and..." The obvious exuberance with which Allen plays the game isn't lost on Southern Cal's offensive line coach, Hudson Houck, either. "Marcus doesn't consider life a dress rehearsal," he says.
The Trojans, symbolized by their white horse, Traveler III, who races around the Coliseum's running track when USC scores, always strikes fear in the opposition because, like that steed, they are big and flashy. Big as in an offensive line that averages 262 pounds, flashy as in Allen, who gained 208 yards rushing against the Sooners, the third straight game in which he has gone over 200. Only four other college runners—John Cappelletti of Penn State, Bill Marek of Wisconsin, Jerome Persell of Western Michigan and the Sooners' own Billy Sims—have accomplished that feat.
USC's size obviously was much on the minds of the Sooner coaching staff in the dressing room moments before the game. Switzer had never coached in the Coliseum, and thus lacked firsthand knowledge of Traveler and fellow travelers. But his chief assistant, Merv Johnson, had been in the Coliseum before as a member of the Notre Dame staff. Johnson looked over at Switzer and said helpfully, "Let me caution you that the horse is the one without the headgear."
As it turned out, Traveler fell down during a celebration of a fourth-quarter Trojan score, throwing Richard Saukko, his rider. But they both got up, just like the USC football team. Twice the Trojans had to hike back from 10-point deficits, the last time with only 13:08 left in the game. And while it did seem on paper that USC was bigger, faster, stronger, deeper and more experienced than the Sooners, anybody who understands Oklahoma football knows that doesn't matter a lick come showtime. There are few teams that love a big game more than the team from Norman. And this matchup clearly filled that bill, pitting the arrogance of Southern Cal, which lines up, sends its tailback at you all afternoon and dares you to do anything about it, against the firepower of the Sooners' wishbone, which seems to be a rapid-fire demonstration of the theory of combinations and permutations.
Predictably, Allen ran the ball the first four plays of the game, gaining 26 yards and proving USC's point. But the Trojans were stymied by an illegal-procedure penalty, and ended their first series with a punt into the Sooner end zone. Then the wishbone got cracking as Quarterback Kelly Phelps directed Oklahoma 80 yards in 10 plays, running the last seven yards himself for a touchdown—and thus proving Oklahoma's point.
But with 2:52 to play in the first quarter, Oklahoma Fullback Stanley Wilson fumbled at the USC 23. That was a double whammy because it prevented the Sooners from driving in for a second score—and a 14-0 lead—and gave the ball to the relieved Trojans, who weren't having much luck in pegging down all those permutations. The Trojans promptly tied the game at 7-7 when Allen ran over the left side of his line, was sprung by Guard Bruce Matthews' block, and sailed, glided and flew 27 yards for the TD. That the Trojans' score had been set up by a fumble was to be typical of the game. Oklahoma fumbles. A lot. Always has. If you revel in predictability, watch the halftime close-order drills—not the Sooners. "Our backs don't protect the ball. They spin out, hurdle, jump, twist—and sometimes drop the ball," says Johnson.
But when the 'bone is good, it can be unstoppable. The Sooners emphasized this on the first series of the second quarter when they blitzed USC with a 14-play, 74-yard TD drive, Wilson scoring from the one. Moments later Mike Keeling kicked a 27-yard field goal for a 17-7 Oklahoma lead.
Once again, however, an Oklahoma fumble—this one the fault not of the wishbone but rather of freshman Elbert Watts, who flubbed a fair catch at the Sooner 35—gave USC the ball, and the Trojans marched right down the field for a TD, closing the gap to 17-14 just 42 seconds before the half. Allen saved that drive on a fourth-and-two at the 32 when he bolted around left end for 11 yards. Three plays later, a two-yard pass from Quarterback John Mazur to Flanker John Kamana got the TD.
The Trojans were grateful to be close because they knew they hadn't played well. As USC Defensive Coordinator R.C. Slocum told his troops at halftime, "O.K., what we're going to do is come out and win the second half." To this end, he changed his secondary coverage, shifting the emphasis from containing Sooner Halfback Buster Rhymes (who had been held to 44 yards) to tackling the quarterbacks "who were killing us." Or as Slocum put it, "I really believe you've got to scratch where you itch."
While the USC defense scratched better in the third quarter, the offense just itched. The Trojans got to the Oklahoma 27, 24 and 37 on their first three third-quarter possessions, but failed to put any numbers on the board.
And when Oklahoma's backup quarterback, Darrell Shepard, ran seven yards for a touchdown to make the score 24-14 with only 13:08 to play, the Trojans seemed dead. But the 6'2", 202-pound Allen soon pumped life into USC by charging for nine yards around right end. That, in turn, seemed to awaken Mazur. Faced with a third-and-nine, the left-handed quarterback hit Split End Jeff Simmons up the middle for 17 yards. Moments later, on fourth-and-six at the Sooner 33, Simmons ran the same pattern for a 17-yard gain. And with a third-and-17 on the 19, Mazur hit Simmons again, this time for 16. Allen crashed for three yards and the touchdown, and Oklahoma's lead was 24-21. This was all heady stuff for Mazur, who is a sophomore. "I'm still just feeling my way into the game," he says. "But every time I came to the sidelines, Coach Robinson was smiling at me, so I just smiled back."
Oklahoma was no longer smiling. With 6:32 to play, it was reduced to just hanging on, which was exactly what it didn't do, literally or figuratively. Another fumble, this one on a pitch from Shepard to Halfback Alvin Ross, botched one play ("Without the fumbles, we would have had more success," said Switzer, in a world-class understatement), and suddenly Oklahoma was fourth-and-one on its own 40. Switzer elected to punt, even though his Sooners, when they weren't fumbling, were ripping off" huge chunks of yardage against the uncertain Trojan defense; for the game Oklahoma averaged 5.6 yards per rush and gained 307 yards. "If a team's good enough to take it 80 yards, it deserves to win the game," said Switzer, explaining his decision to punt. "That's percentage football, and I'll never second-guess that decision."
USC took over at its 22 with 4:30 on the clock. Naturally, it was Allen who set the tone, carrying the ball three of the first five plays for 42 yards. However, his third effort—for 18 yards—was called back because of a holding penalty on Tight End Fred Cornwell. "It wasn't blatant," Cornwell said, "but I knew if we lost, a lot of the blame would be mine."
On the sidelines, Robinson pulled a piece of paper from his pocket and quickly drew a pass route for Simmons, one that would take him outside rather than inside, where he had been heading all afternoon. "It was just like we used to do on the sandlots," said Simmons. "Draw a play, then go run it." It worked, for 26 yards to the Sooner 33, but Simmons took a vicious hit and was knocked cold. "I saw the ball coming," he said, "and the next thing I remember was smelling salts under my nose."
And then Mazur, facing more crises than Days of Our Lives, looked at a fourth-and-one on the Sooner 24 with only 59 seconds to play. He ran it himself for two yards. With 25 seconds to go and a third-and-10 on his hands, Mazur threw to Split End Malcolm Moore for 15 yards to the Sooner seven.
The game looked to be won, at last, for the Trojans when on the next play Mazur saw Allen crossing to his right and open in the end zone. But suddenly, coming from the other direction, leaping to tip the pass away, was Cornwell, the same guy who had just been called for holding. On the play, Cornwell normally would have delayed at the line of scrimmage, but Robinson had instructed him on the sideline to fire out immediately. Thus, he was in the way of Mazur's throw. Ignorance sometimes is bliss, and Cornwell had no idea that the pass was intended for Allen, not him, until so informed by reporters after the game.
"Really?" he exclaimed, and shouted over to Allen, "Well, sorry, Marcus." It was poetic justice that Cornwell—the man of double-blunder—would run the same route on the next play, make the catch for the winning TD and turn the Coliseum into bedlam. "That," said Cornwell, "was fun."
Which is how Allen has viewed it all along. "I have nothing to complain about," he says. "I'm on a team everybody wants to play on, playing a position everybody wants to play." That the Trojans are hot on the trail of another national championship just makes it all the more fun.
PHOTO
The Sooners twice led by 10 points, but five of their 10 fumbles were recovered by Trojans, including this one by Linebacker Byron Darby.
PHOTO
Center Bill Bechtold (51) stands up a would-be Trojan tackler with a crunching block to help Stanley Wilson (32) rush for some of his 89 yards.
PHOTO
Sooner wishboners pounded away for 307 yards on the ground, but in this case Quarterback Darrell Shepard is stopped for no gain by Roverback Troy West.
PHOTO
Allen's 208 yards included this fourth-quarter touchdown leap that closed Oklahoma's lead to 24-21.
PHOTO
With 17 seconds left, Malcolm Moore hauls down John Mazur's pass on the Oklahoma seven.
PHOTO
Midway through the fourth quarter, Traveler III dumped its rider, but like USC, he was on top later.