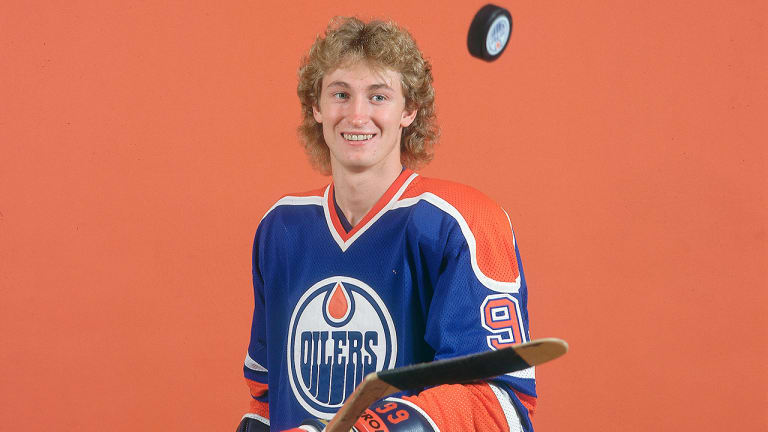 The Best And Getting Better
At 20, Wayne Gretzky is without question the NHL's top player. All that's left to ask is: How good will he become?
Wayne Gretzky shares a 14th-floor two-bedroom condominium in Edmonton, Alberta with Kevin Lowe, a teammate on the Edmonton Oilers. Lowe has temporarily moved out so Gretzky's mother, Phyllis, and his 18-year-old sister, Kim, who are visiting from Brantford, Ontario, can stay with Wayne during the first week of the Canada Cup series. The night before, Team Canada, for whom Gretzky plays, won its first game, beating Finland 9-0. Today the team practiced at noon, and it has the afternoon off. Phyllis is sitting at one end of the living room couch, and Kim is sprawled at the other end, looking slightly catatonic. Gus Badali, Gretzky's agent and a friend of the family's, is seated across the room beside a stack of life-sized cardboard cutouts of the Boy Wonder himself modeling jeans, which are headed for clothing stores around Canada. A man from GWG jeans, the brand Gretzky endorses, sits near Badali. Gretzky is seated at his desk opening mail, and his girl friend, 19-year-old Vickie Moss, is bouncing off the walls, as usual. She's what's known as vivacious. It's a pretty good crowd for a weekday afternoon, but Gretzky is used to that. He likes gatherings. "I'm not big on independency," he says.
"So who wants to hear my song?" asks Vickie.
Everyone would like to, but no one is feeling chipper enough to make much of a fuss over the offer. Gretzky had a midnight curfew the night before, but his guests were all out on the town till four a.m. Drinking ice water seems to be their top priority. Badali finally gurgles, "I do." Phyllis and Kim are content just to rattle their ice cubes in concurrence.
This will never do. "Who wants to hear my song?" Vickie, a budding vocalist, demands. She's a very pretty girl, but she's also an accomplished arm wrestler, and this time there are five or six I do's and half as many please's. Vickie flashes an accommodating smile and turns on the tape, a fight song for the Edmonton Drillers soccer team that she recently recorded.
"Chalk up one more win for the Drillers," the song begins. Other lyrics encourage the Drillers goalward, and Vickie is singing along with herself, pretending to kick and block shots at the appropriate moments. It's a terrific little number, and if it's possible for a career to be launched by a soccer fight song, hers will be. When it's over she asks, "Want to hear it again?" and she's virtually bowled over with I do's and please's and the clicking of cubes.
Alan Thicke calls from Los Angeles. There isn't much news to be had there about the Canada Cup, and he wants to hear about the games. Thicke is sort of a Canadian Merv Griffin, and Wayne and Vickie were guests on his show this summer. Gretzky calls everyone older than he "Mister," and when he says "Mr. Thicke" over the phone, he makes Alan sound like a frozen milk shake. They talk hockey for a while. Then Mr. Thicke tells Gretzky about a funny thing that happened. Anne Murray, the singer, who's also Canadian, had called him that morning to find out if he had any amusing stories she could use for an upcoming concert. Mr. Thicke said he did. He tells Gretzky one. It must be a pretty good one because Gretzky is really tickled when he hangs up, and can't wait to relay it.
Problem is, Gretzky is a bad storyteller. He laughs all the way through his delivery, so when he gets to the punch line, it doesn't sound like a punch line. However, that doesn't keep him from trying. He's a game one and outgoing when relaxed. He has been like that ever since he was a kid—always ready with an answer, always striving to be the center of attention. This story has something to do with a supposed rumor that Murray wants to go out with Gretzky because she would like to find out what the "Great" stands for. That's what the GWG jeans people call him—The Great Wayne Gretzky. In the newspaper headlines it's usually THE GREAT GRETZKY. It has been like that since he was 16 years old. Now, at 20, he carries the title well.
It wasn't that the joke was so funny to Gretzky. It was the idea that Murray, the singer, and Thicke, the talk-show host, would casually refer to him in such a way—ho-hum, just another celebrity-rumor joke. Hockey players aren't used to that. Not since Bobby Orr came into the NHL in 1966 as an 18-year-old has anyone captured the imagination of hockey fans the way Gretzky has, and no one has appealed to the general public like Gretzky since Bobby Hull appeared on the cover of TIME in 1968. Gretzky, a center, is the most dangerous offensive player in the game, the most exciting, the most fun to watch. But he's more than that. He's The Kid. There has always been something special about that sobriquet, something that reaches out to everyone. The Kid. Someone who will grow up before our eyes.
"He's only 20, and he's torn the league apart two years in a row," says Red Berenson, coach of the St. Louis Blues. "It's scary to think what he might do before he's done."
Scary to Berenson, who must coach against Gretzky, but fun for the rest of us because we know, as good as he is now, that we haven't seen his best. There came a time with Orr, who's generally acknowledged to be the greatest hockey player of all time, when we knew "that's it, he can't show us any more, no one can." The remaining question was, how long could he continue to play at such an extraordinary level? But with Gretzky, we still don't know what his best will be. We can't yet know just how many points this phenomenal performer will amass in a single season once he matures physically and his team matures around him. The Oilers are a young club. They have no other star. "The mystery about Gretzky is the things he has been able to do with the players he has had around him," says Bill Torrey, general manager of the New York Islanders. "Everything that happens when he's on the ice revolves around him. Either he's got the puck or the other team does."
What Gretzky did last year, his second in the NHL, was break Phil Esposito's single-season scoring record (152 points) and Orr's assist mark (102). Both had been set 10 years ago and had never been seriously threatened. Gretzky was 19 at the start of last season, 5'11" and 165 pounds. He either scored or assisted on a staggering 50% of Edmonton's goals (when Esposito set his record, he was in on 38% of Boston's league-record 399 goals), finishing with 55 goals and 109 assists for 164 points. He became the first NHL player since 1917-18 to average more than two points a game, and he won his second Most Valuable Player award.
He had the type of year no one had thought possible, but most hockey experts now assume Gretzky will surpass it. No other star has ever had his best year when he was 19. Orr had his best at 22; Esposito at 28; Hull at 29. Why should Gretzky be any different? What might happen if he gets to play alongside another exceptional player, the way Esposito did with Orr? Edmonton has some of the best young players in the game, and one day they may be superb. What then? Will The Kid then stop being The Kid? Will we finally sit back and say, "So that's how good he really is" and start to worry about how long we will have him?
Gretzky played junior A hockey four years ago with a mediocre team called the Sault Ste. Marie Greyhounds. He already was a media sensation, a 16-year-old dazzling a league of 20-year-olds. He was polite, well-spoken and charming—rare traits in the hockey world—and the public and press ate him up. Kids identified with him because he was scrawny and not very fast. Yet he would go out there and stickhandle through all these hulking goons, fulfilling the fantasies of every boy who has ever picked up a hockey stick. It wasn't as if he had an incredible body like Hull's, or amazing grace like Orr's; Gretzky just kind of slithered by you or threaded a pass between your skates. But a lot of scouts had misgivings about him because 158-pound hockey players, which was what Gretzky weighed then, weren't in vogue. Slow 158-pound hockey players, especially.
Gretzky was never actually slow. He just looked it. "He never had to skate well," says his father, Walter, "because as a kid he could stay in the same place and beat a player three or four times." Walter, not surprisingly, is responsible for Wayne's remarkable early development. He had his son on the backyard rink before Wayne was three years old. He began teaching him fundamentals when Wayne was four. At six Wayne began playing in a league with 10-year-olds. The backyard rink wasn't just for yuks. Walter set up pylons and had Wayne practice crossovers and figure eights. He would throw a puck into the corner and tell Wayne to get it. After Wayne had chased several pucks around the boards, Walter would say, "Watch me." He'd throw it in again and skate to a spot where he could intercept the puck as it caromed around the boards. "I always told him, 'Skate to where the puck's going to be, not to where it has been,' " says Walter. "I've never believed that it's an instinctive thing that one kid anticipates better than another."
Gretzky's anticipation, whether innate or learned, has long been astounding; he always seemed to know what his opponent would do with the puck. And he knew exactly where everyone was on the ice. Ask him where his four teammates were on a given goal, and he could tell you. He also could tell you what they should have been doing if they were out of position. He and his father would watch hockey games together, and as they drove home, Walter, who never advanced beyond junior B hockey, would ask Wayne if he remembered such-and-such a play. Then they would talk about the options each skater had. Most coaches will tell you the most important trait a player can have is speed. Walter disagrees. "He has got to be aware of where everybody is all the time," Walter says. "His mind has to be like a camera. That's going to make his reaction time that much quicker."
It's true. Gretzky always looks as if he has been given a head start when there's a race toward a loose puck. His anticipation makes him faster than he appears to be. Says Lou Nanne, general manager of the Minnesota North Stars, "Gretzky has to see the game five times slower than the average guy."
As a youngster Gretzky saw life five times slower than the average guy. He looked ahead. When Wayne was 16, nice-looking, famous and blessed with an imminently marketable talent, he could have gone out with just about any girl in Ontario. But he seldom even went on a date and never saw anyone special. He didn't drink, drive or smoke—not because he didn't want to but because there would be time for all that later.
"My father always told me to get what I wanted most and the rest [girls, cars, money, fame] would follow," he says. Gretzky was living on the straight and narrow; he knew exactly what he wanted and the quickest way to get it. Never mind what he was telling the press: that he was considering going to university instead of pursuing a hockey career. "Gretzky hesitates about a pro career for the finest of reasons—education," one story in the Toronto Star read. It was such obvious tripe; he already had Badali as an agent, for heaven's sake. You see, Gretzky had been in the public eye since he was eight, and he had learned to manipulate his image through the press.
Gretzky turned pro at 17, signing a four-year contract worth $875,000 with the Indianapolis Racers of the WHA. It was crazy, everyone thought, asking a 161-pound 17-year-old—Boy Wonder or not—to play in the pros. Lunacy.
Gretzky played eight games with the Racers before the club's financial troubles forced owner Nelson Skalbania to sell Gretzky's contract to Peter Pocklington, owner of the Oilers, for $850,000. Pocklington renegotiated Gretzky's contract, tying him up for nine years, with two six-year options—21 years in all. The agreement guarantees Gretzky somewhere around $300,000 a year.
Now that deal looks like a steal. "I didn't know I was going to get more than 50 goals each of my first two years in the NHL," says Gretzky. He's trying to renegotiate, though he isn't yet pushing the matter that hard. Glen Sather, the coach and general manager of the Oilers, points out that the Oilers took a risk in signing such a young player to a contract of such long duration. He recalls an incident in Gretzky's first pro season that convinced him The Kid was for real, that Gretzky had been worth the risk. It occurred in a game against the Cincinnati Stingers, when a defensive lapse by Gretzky cost Edmonton a goal. Sather benched him for more than a period and then, with the Oilers trailing 2-1, played him again in the third period. "He could have pouted and sulked," says Sather, "but when I put him back in, he scored a hat trick and we won 5-2. That to me was the turning point of his pro career. Not just anyone could keep his motivation with a contract like his. But he wants to be the best."
Gretzky finished the season with 110 points and was named WHA Rookie of the Year. Equally significant, he didn't miss a game. He had proved he could handle the faster pace and bigger players of the pro game. Still, when the NHL and WHA merged before the 1979-80 season, few observers believed Gretzky could duplicate his scoring totals in the NHL. The NHL had little respect for the upstart WHA, and it wasn't about to give some 18-year-old kid from an inferior league the benefit of the doubt. "Everybody said, 'He's scrawny; he'll never tear up this league the way he did the WHA,' " recalls Torrey. That was all Gretzky needed to hear.
Gretzky set a goal for himself: getting at least as many points in his first year in the NHL as he had in his WHA season. If he didn't, the NHL, the media and the public all would probably slight his accomplishments in the other league. Gretzky never doubted for a moment that he could achieve his goal, but even he was surprised at the kind of year he had in 1979-80. He tied for the league scoring championship with 137 points, won the Lady Byng Memorial Trophy as the NHL's most gentlemanly player and was named the league's MVP. Pocklington rewarded those efforts with a Ferrari. Gretzky's father had been right. The rest would follow.
Curiously, despite Gretzky's brilliant debut, most teams continued to defend against him last season as though he were simply another player. "I honestly believe there were still people around who thought of Wayne as a flash in the pan," says Sather. The result was Gretzky's record-shattering 164 points. The Kid was for real, all right.
But it was Gretzky's performance in the playoffs that convinced everyone he was more than just a scorer, that he was one of those rare players who can lift a team onto his shoulders and carry it upward. The Oilers finished the regular season in 14th place, with a 29-35-16 record. Their first-round playoff opponent was Montreal, which finished third and came into postseason play with a 24-1-2 record in its last 27 home games. The Canadiens were healthy, and Guy Lafleur, Montreal's leader, was eager to have an excellent series against Gretzky to atone for what had been for him a dismal season. The Canadiens' goalie, Richard Sevigny, went so far as to predict that Lafleur would put Gretzky "in his back pocket." That remark was a grievous error.
Gretzky reads everything written about him. I remember, in Sault Ste. Marie, when I was there writing about the 16-year-old Gretzky, a local reporter asked me what I thought of Gretzky's play. I said something to the effect that offensively he was peerless but defensively he had a long way to go. No one cared much about defense in junior hockey. The next game, Gretzky was the principal star, with a goal and a couple of assists in a 4-2 win. Afterward, as he walked by me, he asked slyly, "Good enough defense for you?" He had been flawless in his own end all night, and he was just proud enough to let me know it, in case I'd been too stupid to notice.
Edmonton beat Montreal 6-3 in the first game of the playoffs, and Gretzky tied a Stanley Cup record by getting five assists. And just in case Sevigny had been too stupid to notice, after the Oilers' sixth goal Gretzky skated by the Canadien net and patted the general vicinity of his back pocket. No question about it. The Kid has got brass.
When Edmonton won the second game 3-1, the Montreal fans rose to applaud the Oilers as they celebrated their victory at center ice. It was as if the fans had sensed the baton being passed from Lafleur, who had been the most exciting player in hockey the six previous years, to Gretzky. It was kind of a sad thing, but it was too obvious to ignore. Right there in the Montreal Forum, in the playoffs, Gretzky was dominant, playing on a different level from even Lafleur. When the papers tried to depict the series as a matter of Gretzky-over-Lafleur, Gretzky rose to his rival's defense, saying, "One guy can't win the Stanley Cup, or the Boston Bruins would have won it seven straight years with Orr. The better the team plays, the better you play." It works the other way around, too, but only with some players, the great ones. That's what was happening in this series. The Oilers won the next game 6-2 to complete the sweep. Lafleur had one point in the three games. When Gretzky was on the ice and the teams were at even strength, Edmonton outscored Montreal 11-0.
In the next round the Oilers lost to the defending Stanley Cup champion Islanders four games to two, but not before Gretzky had made his way into one of Torrey's poems to Nanne (page 52 et seq.).
This epistle will be rather short and sweet
I need time to figure a way to keep number 99 off the score sheet.
It's scary to think disaster lurks due to some 20-year-old,
But after looking at the tapes, Gretzky is something to behold.
The Islanders' strategy was to hit Gretzky every opportunity they got, which is easier said than done. "He's an open pond guy," says Torrey, "an eel who's hard to hit because he's not around the boards much. But Dave Langevin caught him with a helluva check, and Bryan Trottier hit him once. Those shots slowed him down. By the fifth and sixth games, Gretzky wasn't the same player he was in the first three or four."
Sather noticed it, too. "They bumped him a lot more in the last few games," he says. "He was tired against the Islanders. He won't ever admit that to you. But then again, you can't rest him if he's the only guy winning games for you."
Nevertheless, the series was a lot closer than New York had dreamed it would be, and it served notice that the Oilers may be the team of the not-too-distant future. Edmonton, needless to say, is rather pleased to have Gretzky aboard. For one thing, he fits the city's image—young, vibrant, confident. Edmontonians are ready to take on the world. The balance of power in Canada has rapidly been shifting west, where the money is, so it's only fitting that the present and future star of the national sport should come from this boomtown.
"They should rename the place Gretmonton," says Al Morganti of The Philadelphia Inquirer. Gretzky's picture is everywhere—on jigsaw puzzles, T shirts, key chains, billboards, television, drugstore counters. About every third kid wears a No. 99 jersey to the hockey games. Gretzky endorses seven products, ranging from hockey sticks to chocolate bars. His best-known advertisement in the States is an engaging 7Up commercial he does with his 14-year-old brother, Keith. The income from these activities nearly matches what Gretzky makes playing hockey. The Kid is hot.
This fact has not escaped the attention of the brighter executives around the NHL, who have winced at the league's pathetic attempts to market itself in the U.S. Nanne thinks that the NHL should start a films division, with the first assignment being to produce a highlight movie of Gretzky. Then The Kid could show up on, say, The Tonight Show, and television viewers could see the impossible things he does on the ice. You can't do them justice by talking about them. Eddie Mio, an Edmonton goaltender, says that even the players can't fully appreciate what Gretzky does because they're watching from ice level. "I sat in the stands one game when I was injured, and it was magic," says Mio.
Magic sells. Sather thinks the league should come right out and make a commercial about The Kid and pay for it to be aired. "You've got to create some sort of hero image in the U.S." he says. Gordie Howe, who once filled that role, has said, "The NHL needs someone to hang its hat on, and Gretzky looks like a hat tree."
He's already the most recognized athlete in Canada. Gretzky made at least two appearances in each of Canada's eight largest cities over the summer, and once, in Montreal, 7,500 people came to see him in a shopping center. During an autograph-signing session at a Toronto food fair, two girls stood and watched him for four hours, never saying a word, apparently too love-sick to do anything but gawk. "It wasn't normal," says Badali. Gretzky finally asked that the girls be requested to move along—they were giving him the willies—and he undoubtedly lost two fans as a result.
Badali, who handles Gretzky's schedule, is a gentle, soft-spoken man, and for years he has told Gretzky to model himself after Howe. He certainly could do worse. Howe, always modest, always patient with strangers, is beloved in Canada. Gretzky is following the same pattern and gaining similar affection. "So far he has been willing to take advice," says Badali. "As long as he does that, things will be all right."
It can be trying, though. Gretzky has been on the straight and narrow for a long time now. So much of growing up is learning from your mistakes, and it seems as if Gretzky hasn't been allowed to make any for years. "Back in the Sault Ste. Marie days, I did what I wanted to do," he says. "Right now my life isn't in my hands as far as summertime goes. It's in my management's hands."
In addition to trips around Canada, Gretzky made three appearances in New York City this summer and one in Las Vegas. Leroy Neiman painted a portrait of him, the original of which is immodestly priced at $125,000. Prints can be purchased for $2,675 in the U.S., $3,200 in Canada. Gretzky also taped a segment for ABC's Kids Are People Too, which is filmed in New York. As a surprise, the producers flew in his three brothers: Keith, Glen, 12, and Brent, 9. Gretzky was surprised, all right, but when his brothers ran out onto the stage, he hardly changed expression. "Nothing surprises me anymore," he says. After the show, Gretzky, alone with all his brothers for one of the few times in his life, took them to a Mets game.
Gretzky is discreetly affectionate with people to whom he feels close. A family friend once described him as "a toucher." Vickie, who describes Gretzky and herself as having a "great, close, backing-each-other, busy relationship," says, "Probably what's most important to him is pleasing his father. His father's brilliant. He's always right. And he's old-fashioned when it comes to family upbringing. When he says 'Jump,' they say, 'How high?' They all have a lot of discipline. It's in their blood."
Even with mere acquaintances, Gretzky displays a puppy-like desire to please, to be liked. For a while he winked at everyone. "He's more outgoing and seemingly younger than Orr was at the same age," says Nanne. "As a result, Gretzky's presence does not command that mystique. He's more like a kid brother or a son."
Orr wasn't particularly concerned about cultivating his image. He was very much a player's player. One of the guys. Gretzky is well liked by his teammates, but he's clearly on a different track. In 15 years it's unlikely that he'll be a scout or a general manager or a player representative. He'll be a corporate executive or a movie star, or something outside hockey. He mingles better with people outside his profession than those in it. The thought of Thicke and Murray discussing him so tickled Gretzky because he has not fully come to grips with the breadth of his celebrity. "He still thinks of himself as an average Canadian guy," says Sather, "and the public responds to that."
This summer in Las Vegas, Gretzky practically gawked when he met Judy Landers of B.J. and the Bear. Says Mio, who was there, too, and admits he did the same, "It's all right for me to do that but Gretzky shouldn't. He's one of them."
Gretzky took August off from personal appearances to get in shape for the Canada Cup. Not that he ever gets really out of shape. He ran a little and lifted weights, beefing up to 173 pounds. In strength tests the Oilers held in 1979, Gretzky finished last. Yet on tests that measured endurance and recuperative powers, his performance was outstanding. Those results help explain why he picks up so many of his points at the tail end of shifts or in the third period. Since turning pro, Gretzky's speed has improved greatly, and he's now one of the fastest forwards in the league, despite an awkward skating style. "He's not what you'd call fluid," his father says. "It's because of his arms. Watch his arms. I always told him to hold them away from his body. You can't do anything with your elbows tucked up against your body, but keeping them out makes you look funny when you skate."
When the best players in the NHL assembled for Team Canada, the coach, Scotty Bowman of the Buffalo Sabres, assigned Gretzky to center a line that had Lafleur as right wing. Bowman later settled on Gil Perreault, who is naturally a center, as their left wing. "They couldn't wait to play with Gretzky," Bowman says. Lafleur and Perreault each had had his most disappointing season in 1980-81, but in Team Canada workouts each was skating as he had in his prime. "The Kid has gone into rejuvenating careers," said Frank Orr of the Toronto Star. It became obvious how badly Lafleur missed his old centerman, Jacques Lemaire, who left the Canadiens after the 1978-79 season. Since then no one has been able to get the puck to him consistently. With Gretzky, it was as if he and Lafleur had played together forever. "Lafleur is kind of a free-spirit player, as is Gretzky," says Berenson, who was one of Bowman's assistants on Team Canada. "They can anticipate each other's moves. And they have a mutual respect, the kind great, great players have for each other."
They played with total selflessness. No egos were at stake, no attempts at one-upmanship were made. At times, they over-passed, forgoing good shots in an effort to make the perfect play. Perreault caught the spirit, too, and until he broke his leg, they were the best line in the tournament. In the world. But it was Gretzky's show. He had brought out the best in the other stars. Gretzky, though, doesn't accept that assessment.
"He doesn't think of himself as the greatest, because of his respect for Guy," says Mio, who, of Gretzky's peers, may know him best. "He just loves Guy. He'd like to have the same public image as Lafleur—not sophisticated and not a jerk."
Gretzky isn't the only one who loves Lafleur. During the Canada Cup games in Edmonton, the fans chanted "Guy! Guy! Guy!" whenever he touched the puck. It was the first time he had been the object of such an outpouring of affection, and Lafleur joked that it was Edmonton's way of thanking him for the way he played in last spring's playoffs. But it was more than that; it was for services rendered, for the years when he was the greatest and carried the burden that will be Gretzky's for the next little while. "They give more to the game," Sather says of the few true superstars. "They care about it more. Gretzky's got to pay his dues yet, but I'm 100% sure he'll do it. The way it shows is how the team around him plays better each year."
Sather thinks this season will be Gretzky's toughest. The main reason is that with the new unbalanced schedule Edmonton will play each of the clubs in its division eight times. "They're going to have to figure out a way to stop him," Sather says. "Last year you'd play a team once and might not see it again for two months."
Theories abound on how to stop Gretzky. The Bruins enjoyed some success by assigning a man to shadow him all night. Berenson, though, doesn't believe that tactic makes good sense. "If Gretzky plays 40 minutes," he says, "and I play my best defensive player 40 minutes, sooner or later Gretzky's going to score because he's better at his game than my guy is at his. Furthermore, Edmonton's going to win because when Gretzky's out there, he always has a chance to score, and my defensive line has very little chance of doing so. You have to stick with what you do best." It should be noted, however, that Gretzky got five goals and two assists in one game against St. Louis last season while the Blues presumably were concentrating on what they do best.
Nanne has a different idea. "It sounds stupid," he says, "but the way to play him is to put as many guys on him as it takes to keep him away from the puck and leave his teammates alone and hope they don't score. You can't say that if you cover Gretzky's linemates he'll have no one to pass to, because he creates his own scoring opportunities."
Another Nanne idea is to push the goal back against the boards so that Gretzky can't set up behind it. When Gretzky was 14, his junior coach told him to find a place for himself in the offensive zone where he wouldn't always get knocked down. So he went behind the net, and the tactic may revolutionize the game. "It's like having an extra player out there, particularly on the power play," says Cliff Fletcher, general manager of the Calgary Flames. "He uses the net like a pick."
A puck fired around the boards invariably passes behind the goal—remember the drills Gretzky's father put him through—so when Gretzky is back there, he's easy to hit with a pass. The defenseman then has a problem. If he chases Gretzky from one side of the net, Gretzky will scoot out the other. If two players come after him, one from either side, Gretzky will slide the puck to one of the areas they've just vacated. A teammate should be sweeping in. And if the other team leaves him alone back there, he either will thread a pass onto someone's stick in front or come out in front himself, forcing a defender to commit himself. "The best you can hope for is to get on him quickly and force him to his backhand," says Berenson without much enthusiasm, because Gretzky, of course, will find a solution to that, too.
Team Canada is practicing in Edmonton. The style of play in the NHL is starting to change, starting to adopt aspects of the European game, which emphasizes speed and passing over size and power. Gretzky is now a role model, and it's possible that other young Canadian forwards will begin setting up behind the net, flicking accurate passes to teammates, using brains instead of brawn. In the post-Orr years, every young defenseman in Canada carried the puck into the offensive zone, an unfortunate habit that probably set back hockey in North America 10 years. But this style of Gretzky's, it will be something else, if it catches on. It's fun, creating plays. It can be seen in the way Lafleur, Perreault and Gretzky practice this day, in the way they weave and pass, nearly laughing.
Two girls are watching. They're oblivious to the wonderful hockey they are seeing. One says, "Did you hear?"
"What?"
"Wayne and Vickie are breaking up."
(Hopefully) "Really?"
"For sure. I feel really bad for her. She was the most popular girl in school, you know."
(Even more hopefully) "Are you sure?"
"Poz."
(Sighs) "I'd like to meet him. Maybe I could find out exactly why they call him [giggles] The Great Wayne Gretzky."
The Canada Cup games will now shift to Winnipeg, and a bus will take the players to the airport. Everyone is aboard but Gretzky. The Kid is late again. As the team waits, Phyllis Gretzky sends someone onto the bus to get Lafleur to sign a picture of him and her son. Lafleur is one of Phyllis' favorite players.
Gretzky arrives with Vickie, embarrassed to have caused the delay. His sister and Badali have gone to get Gretzky's suitcase. He and Vickie haven't broken up, but as long as schoolgirls carry hope in their hearts, there will be rumors.
"Bet you $5 The Kid kisses her good-by," someone on the bus says. The players start an "Ohhhhhhhh" that builds and builds, like before the opening kickoff at a college football game.
"Ohhhhhhhh...." This is going to be really funny. "Ohhhhhhhhhh...." Gretzky does nothing, and they run out of air. Then Badali arrives with the suitcase, and Gretzky gives Vickie an affectionate kiss on the cheek. Everyone on the bus boos. You see, The Kid has timing. Why do you think they call him Great?