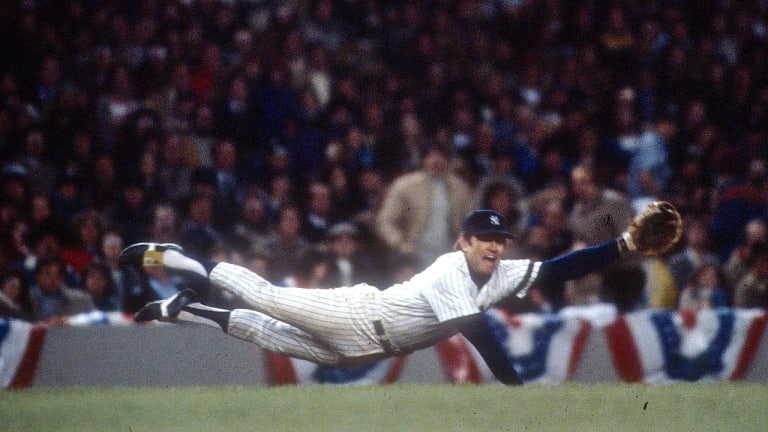 All The Yankees Were Dandies
New York won its fourth American League pennant in the last six seasons by dusting off the Oakland A's
The Oakland A's had the American League playoff well in hand. Sure, they had lost the opener 3-1 at Yankee Stadium, but now they were leading by the same score in the fourth inning of the second game, and their winningest pitcher, Steve McCatty, was on the mound. If anything, the A's seemed headed for a rout. New York's Mr. October, Reggie Jackson, had left the game an inning earlier with a pulled leg muscle, the A's had bombed starter Rudy May, and they appeared ready to feast on the soft underbelly of the Yankee bullpen, Ron Davis and Goose Gossage needing a game's rest. Then the best-of-five series would move to Oakland Coliseum, a pitcher's park favoring the A's starters.
Or so it seemed until the fatal fourth, when McCatty, the league leader in earned run average (2.32), got into trouble. Graig Nettles led off the inning with a single, Rick Cerone reached base when a pitch grazed his helmet, Willie Randolph singled home a run, and Jerry Mumphrey walked on four pitches. With that, Dave Beard, a fine young reliever, replaced McCatty, but he was no match for the experienced Yankees. Beard allowed a single by Larry Milbourne, a double by Dave Winfield, a homer by Lou Piniella and two more singles, by Oscar Gamble and Nettles. By the end of the inning, 12 Yankees had batted and they had scored seven runs en route to a 19-hit, 13-3 victory that set playoff records for hits and runs. The Yankees at their "worst" had beaten the A's at their "best." Their bats, their spirits and, eventually, their bodies broken, the A's would lose the series' clincher 4-0 in Oakland. A heady dream had become grim reality.
In retrospect, the New York-Oakland series seems a hideous mismatch, the worst in the 13-year history of interdivision playoffs. That the A's made it this far is testimony to the weakness of the American League West and the brilliance of Oakland's diabolical Manager-General Manager Billy Martin. The A's roster has six Yankee castoffs, including four platooned players and one regular.
It was no surprise that the A's, basically untested, should have fallen apart under pressure. Outscored 20-4, they batted .120 with men in scoring position. Their pitchers surrendered two killing blows on 0-2 counts and a third on an ill-advised fastball late in a scoreless game that was hit out. Even the Oakland outfield, baseball's best, made defensive mistakes. "It's like a boxer who throws right crosses when he's supposed to throw left hooks," said Pitcher Mike Norris. Billy Ball? Silly Ball.
The Yankees, however, didn't reach the World Series by default. As usual, they earned it. How do they love October? Let us count the ways:
•It's the month they execute. Davis and Gossage yielded no earned runs in the two 1981 playoff series, 12⅖ innings against the Brewers and six against the A's. The Yankees' victorious lefthanded starters, Tommy John and Dave Righetti, limited the A's predominantly righthanded lineup to one run in 12 innings.
•It's the month they show the meaning of poise. Dropped from first to ninth in the batting order, Randolph kept any feelings of displeasure to himself, batted .333 and powered the Yankees into the World Series with a clutch home run with the score tied 0-0 in the sixth inning of Game 3.
•It's the month they don't show their age, just their experience. "When a player reaches 35, that's the danger period," says Piniella, 38. "You start to lose hand-eye coordination. But if you get by 35, you can stay around as long as you pay the price. It's emotion." A sub, Piniella went 3 for 5.
New York's success is often attributed to owner George Steinbrenner's bankroll—"the best team money can buy"—but there must be something special about those Yankee pinstripes, too. Remember, this is a team with 10 men who once played for the Blue Jays, Padres or Cubs. "I think of the guys who wore this uniform—Yogi Berra, Thurman Munson, Elston Howard," says Milbourne, late of Seattle, who batted .462 last week while continuing to replace the injured Bucky Dent at short. "The uniform is pride."
It's somehow fitting that the series' Most Valuable Player was the Yankee of longest continual service, 37-year-old Nettles. Nettles, who has been with New York since November 1972, batted .500 and drove in a playoff-record nine runs—producing all the Yankee scoring with a three-run double in the first game, adding three more with a homer in the second and contributing three insurance runs with another bases-full double in the ninth inning of the third victory.
He entered the series as a symbol of a fading dynasty Steinbrenner seemed intent on dismantling. Nettles missed much of the 1980 season with hepatitis, batted .244 this year and went 1 for 17 in the Milwaukee mini-series. But last week he redeemed himself, much to the delight of his friend Jimmy Buffett, the singer. "There's a song Jimmy sings, Growing Older But Not Up," Nettles says. "I still feel like a little kid. Some guys are old at 28, others are young at 40. I'd rather die while I'm living than live dead."
If Nettles was the focus of attention after the series, in more ways than one, Martin commanded the spotlight before it began. After all, he had twice managed the Yankees, resigning under pressure in 1978 and getting fired in 1979.
The first team to score in Game 1 figured to have a pronounced advantage—the A's because they could unveil their running game, and the Yankees because they could close things out with Davis and Gossage.
The Yankees scored three times in the first inning when Nettles jumped on Norris' 0-2 mistake—a high screwball—and lined it to left-center. The Yankees kept threatening to break the game open, but their base runners lost close calls on plays at second, third and home. Even so, the three runs were all John needed. He kept his sinker down, producing 10 ground balls in six innings and ending two innings with double plays. "I pitch better when I'm tired," said John. "When I was warming up, I threw 18 to 20 minutes instead of 12 to 15 and used a lot of breaking balls to wear myself down. When a sinkerballer is tired, he'll throw lower."
The game was played under a full moon, and the Yankee Stadium werewolves made their appearance in the seventh. Skyrockets erupted from the upper deck, fizzled and left a smoky haze over rightfield. A baseball thrown from the stands struck Tony Armas on the back but didn't injure him.
With Dwayne Murphy on first, one out in the eighth and the Yankees leading 3-1, Martin produced fireworks of another sort. John had left the game after six innings, complaining of "a little toothache" in his right ankle, and Davis was facing A's Designated Hitter Johnson. With a 1-2 count, Johnson convinced Home Plate Umpire Nick Bremigan that his bat was chipped and took a considerable amount of time at the rack exchanging it. Only a cynic would suggest that Martin had ordered the delay. When Johnson finally stepped back in, Davis, clearly rattled, threw three consecutive balls and was finished for the night.
"Billy found Davis' nerve," said an A's insider. "Davis wants to have the ball and pitch." To be sure, the stalling brought in Gossage, who nailed down the win by retiring five batters in a row, but that, too, was part of Martin's grand design. "Billy wanted to waste Davis and Gossage and set up the second game for McCatty," the A's source said.
For all his cunning, though, Martin may have outfoxed himself. Going into the fourth inning of Game 2 McCatty figured to win even if his pitching became spotty. Six A's had hit safely, and a seventh, Armas, had been robbed of a homer on a circus catch by Winfield, who literally climbed the leftfield wall to reach the ball. Still, Martin removed McCatty in favor of Beard with a 3-2 lead. "My manager made that move," said Martin, the G.M. Two hits later the Yankees led 5-3, and Martin's logical move was to walk Piniella and bring in a lefthander to face lefty Gamble. But Martin insisted on having Beard pitch to him. Piniella hit a three-run homer and the Yankees took an 8-3 lead. Even so, Beard finished the inning. "The game got totally out of hand," said Piniella, winking. "When that happens, I think Billy loses interest."
Martin wears a gold cross on his cap and says he abhors violence, but on the first pitch of the third game, Oakland's Keough threw a fastball at Mumphrey's chin. If Martin thought the gesture would bring the game down to his level, he was mistaken. What ensued was a three-hour, 19-minute low-scoring game in which, at times, the pitchers could not pitch, the hitters could not hit, the fielders could not field and the healthy could not stay healthy.
The Yankees stranded 11 batters in the first seven innings against Keough, but had gotten one run up on Randolph's sixth-inning homer. "Inside fastball," said Keough. "It is the way to pitch Randolph, but not with an 0-2 count and two outs in a scoreless game." Righetti needed 112 pitches to get through six innings but allowed only four hits and turned over the 1-0 lead to Davis.
Having lost both Henderson and Murphy by that time—Murphy with back spasms, Henderson with a strained wrist—the A's had only one base runner in three innings against Davis and Gossage. The Yankees added three more runs in the ninth, when Murphy's replacement, Rick Bosetti, turned the wrong way on Nettles' long fly, which landed on the warning track.
The Yankees' postgame celebration lacked its usual zest because Steinbrenner banned champagne from the clubhouse. "We haven't won anything yet," he declared. The team then repaired to an Oakland restaurant, whereupon Nettles and Jackson came to blows over seating arrangements and, doubtless, old feelings. Nettles got the biggest hit, something he'd been doing all week.
PHOTO
When Jeff Newman couldn't make a play at the plate in Game 1, Oscar Gamble slid safely home.
PHOTO
Winfield helped gum up the A's works.
PHOTO
Billy Ball made Davis lose his composure.