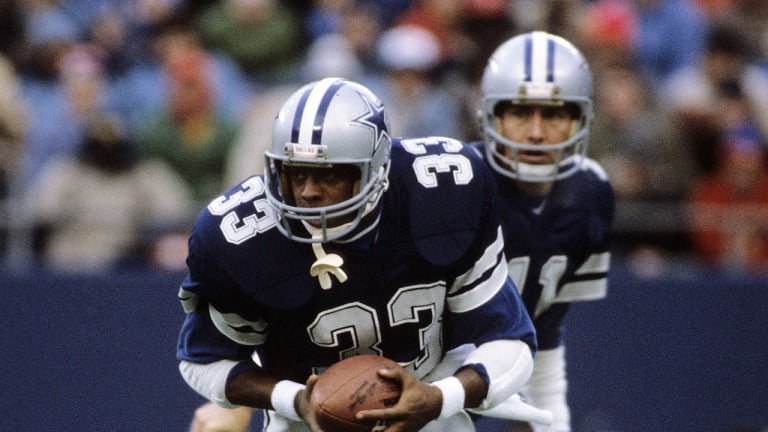 Hell on Wheels
Having mastered The System, Dallas' Tony Dorsett is speeding to the finest season he has had since turning pro
Pete Gent is there, in the second row, looking troubled. In front of him sits Don Meredith, long-jawed, half-hayseed, smiling like a sharp. Don Perkins is there, too, and Bob Hayes and Dan Reeves. Way in the back looms big Bob Lilly. Nobody seems to know how the 1965 Dallas Cowboys team photo made its way onto the locker room bulletin board next to the sign-up sheet for a team dove hunt at the Helms Ranch in Mount Vernon, Texas and a quote about football and hell from Herschel Walker. But there it is. And as the players trickle out, most stop to look at the old-timers.
Tony Dorsett walks up and puts a finger on the photo, looking up at the faces and then down at the names listed below. "Don Perkins," he says softly. "Renfro." His eyes move to the grimacing young man sitting in the second row, the one who looks upset, betrayed somehow, as though the sun is shining in his eyes only.
"Pete Gent?" asks Dorsett. It is Gent, a Cowboy receiver from 1964 to 1968, the player who fell out with The Cowboys' System and later wrote his indictment of it, North Dallas Forty. There have been other name players who fell out—Pat Toomay, Duane Thomas, Hollywood Henderson; The System doesn't even tolerate sitting on the fence—but Gent is probably the best known and most thoughtful of them, the outcasts, the Men Who Didn't Fit.
If there is tension in Dorsett as he gazes at the photo, it is because until recently he seemed to be falling out, too. Though he routinely gained a thousand yards a year for the Cowboys, Dorsett didn't have that something—obedience, perhaps—that let Dallasites know where he stood, whether or not he was a real company man. Early along he did that uncool stuff—got into a bar fight, changed the pronunciation of his name from DOR-sett to Dor-SETT (which is how a buddy said they said it in France), told folks he'd be quitting football after five years to go into acting full time, had "TD" painted on the doors of his Lincoln Continental.
Dallas fans, described by Gil Brandt, the vice-president for personnel development, as "a white-collar, discerning audience," cheered players like Randy White and Harvey Martin. But they showered Dorsett with ambivalence. In 1978 Dorsett's parents flew in from the family hometown, Aliquippa, Pa., to watch a game. Dorsett had missed a practice earlier that week and been fined, and when he entered the game, the crowd at Texas Stadium heartily booed. It was a bad scene.
Dorsett was a proud but confused young man back then. In 1977, his rookie year, he told a reporter, "No one's gonna bad-mouth me in Pittsburgh, Dallas or Timbuktu." It sounded worse than he meant it. On the field he was good; as a Cowboy he wasn't making it.
And then, last spring, things changed abruptly, amazingly. Dorsett got married. He gave up his apartment in town and with his wife, Julie, and her 5-year-old daughter, Shukura, moved into a house 21 miles northeast of Dallas. He stayed out of bars; he worked out furiously; he showed up for camp last July in perfect shape. Tom Landry took one look and named Dorsett a team captain. The hottest items on Dallas sports pages became "New Tony Dorsett" stories. He seemed happy enough, and yet there was something almost grim about the 27-year-old's determination, his measured speech, his avoidance of controversy. He has maintained that attitude this season, and no doubt as a result is having his best year ever, with 1,331 yards rushing, 5.0 yards per carry. What happened?
"You hope in this life" that you grow and don't always repeat your mistakes," Dorsett says, turning from the 1965 team picture. "I'm in the best shape physically and mentally I've ever been in and I don't want to waste anything now. I've made adjustments." He shrugs. "I mean, I guess I've matured."
As Dorsett walks blank-faced across the parking lot, it's clear that Pete Gent is no longer on his mind.
If you want one play that best illustrates what Tony Dorsett can do on a football field, you could go with a run he made off left tackle last year against St. Louis. The ball was on the Cardinals' four-yard line. The right defensive end was crashing down, the right linebacker was filling, the two corners were blitzing, and Dorsett was heading full steam into what was essentially a cup of defenders. Suddenly he pivoted on his right foot and stepped straight back out of the hole, turning 360 degrees. The two corners, Roger Wehrli and Carl Allen, collided headfirst at the exact spot where Dorsett had been an instant before. Dorsett swung wide around the left end, and though hemmed in by the safety, somehow outran him for a touchdown. The play lasted only a few seconds, but during it five defenders knew they were going to tackle Dorsett, yet none of them even touched him.
Dorsett speaks often of seeing "flashes of color" when he runs, blips of enemy hue that steer him through trouble like warning lights. On that play, though, he doesn't know what he saw. "It wasn't even color flashes," he says. "Sometimes it's just this feeling for everything that's happening around you, almost like an outside force. I knew people were coming and I stepped back in a spin...and...it was incredible." He stops there, humbled by the memory.
When a great runner gets the ball, the last thing you want him to do is think. Al Lavan, the Cowboys' running back coach, says that one of the big differences in Dorsett's rushing this year is that he now comprehends all the elements of the plays he runs—the blocking, the timing, the pursuit angles, the purpose of the plays—and can call these things up in midstride, without thinking.
"He has that great reflex," says Lavan. "When something flashes in front of him, he'll run away from it—but it can also be a liability on certain plays. So we try to get him the ball where he can best utilize his abilities—deep in the backfield, quick up the middle, in the open, one on one. Our toss play, which is like USC's Student Body Right or Left, is really our bread and butter, the one play that has to be effective for our offense to work. When we come out in the I formation, everybody figures we're going to toss to Tony, but it doesn't matter as long as we run it right. Tony has such a good feel for the toss right now—we're averaging over five yards on it—that it's making everything else work. I try not to tell him too much, and I never tell him how to run, because at this point it would only restrict him."
Tony Dorsett is little—5'10", 188 pounds—but he is quick, agile and fast, three distinct qualities. He is even tough. At Hopewell High School in Aliquippa he was All-America as a running back and all-state as a monster back. But the adjectives quick, agile, fast set him apart.
"The reason he strikes fear in everybody's heart on the field," says Chicago General Manager Jim Finks, "is that he has that rare ability to start and stop—which you usually don't find in the blazers—plus the ability to go all the way at any time. He reminds me most of Gale Sayers, who, until his knees went, never got caught from behind."
The Cowboys, as everyone knows, have tests for everything. No one has run their agility test, a course that is dotted with cones and hurdles, faster than Dorsett. They have another drill, developed by Conditioning Coach Dr. Bob Ward, called the Agility-Speed-Unexpected Visual Stimulus Test, which uses flashing lights to direct runners in various directions. No one has come close to Dorsett in that one, either. As Ward says, "Dorsett's ability to perceive the unexpected is extraordinary."
Brandt speaks of the "trout" in Dorsett, his ability to wiggle upfield, to make tacklers behind him miss. But in a straight line Dorsett is also unique. He repeatedly ran 4.3 40s at the University of Pittsburgh, and at the 1979 Super Stars competition he clocked a 9.5 hundred—in tennis shoes, on cement, with a bad start. In fact, Dorsett probably is one of the two or three fastest running backs ever to play the pro game.
Still, it is remarkable that no one has ever stopped him, at any level. He has been a running back for 11 years—two in high school, four in college, five as a pro—and he has rushed for more than 1,000 yards all 11. His lowest total—1,004 yards—came in 1974 as a sophomore in college. His highest—1,948 yards—came in 1976 as a senior. As a pro he averaged 1,156 yards a year before this, his best season. His durability doesn't compute; he has had no knee surgery, no serious injuries of any kind. When he arrived at Pitt, he weighed 155 pounds. Four years later he had broken or tied 14 NCAA records, including most yards rushing in a career (6,082) and most points in a career (356). He won the Heisman Trophy in 1976—"If held played both ways, he could have won three," says Johnny Majors, his coach at Pitt—and a year later he led the Cowboys to their second Super Bowl championship. "He was the ingredient that made us champions," says Brandt, in case there is any doubt.
On the surface everything has gone splendidly for Dorsett all along. In Dallas he started right off with the endorsements for Converse and 7Up. His football contract, renewed last season, was for six figures. The girls were always there. Maybe he fumbled too much, but he was a small man in a vicious game. In a 1979 Gallup survey, American teenagers voted Dorsett their second favorite sports personality. First choice was near-saint Roger Staubach.
The problem was that although Dorsett was an adult, he was reluctant to put away youthful things. A lot of it was friskiness, just plain I'm-rich-and-happy exuberance: the stories about acting ("No, I don't think I want to act," he says now), the time he and a date were taken to jail in handcuffs (because Dorsett didn't think the cops were acting civilly toward them), the vanity license plates that read TD 33 ("I got rid of those fast," he says). But some of it was because he was spoiled.
Dorsett had created ripples in Pittsburgh—had a child with his high school sweetheart (they agreed not to marry); piled up reams of parking tickets at school—but people forgave quickly around there. After all, Dorsett was born just about 20 miles from the Golden Triangle. But now he was in Dallas, a Texas boomtown where rich people wore boots, ate chicken-fried steak and liked their football players respectful. The paradox was that certain things were so easy—Dorsett didn't even start for the Cowboys until the 10th game of his rookie year, but he still set team records for most rushing touchdowns in a season, longest run from scrimmage and most yards in a game—while other things were so hard. Why didn't Landry run him more? Who cared if he was late for a practice? Why couldn't you have fun and still be a Cowboy?
"Tony is shy to a degree," says his good friend, Cornerback Dennis Thurman. "And from the start people here misunderstood him. Realistically, having that much money and coming from where he did, well, he needed time to adjust. But he got labeled a troublemaker—which he certainly isn't—and it's hard to get rid of that. He was always accepted by the players. But it's only now that he's acting the way outside people expected from Day One."
Today is an interesting one for Dorsett. He has been named Best-Dressed Man in Professional Sport by the Custom Tailors Guild in New York, and he thinks that's a hoot, typical of the press he has come to distrust and fear. "I mean, how do they know what I wear?" he asks. "How many times do I even go to New York?"
He stares with awe at the floor in front of his locker. Though Dorsett is indeed a snappy dresser, the award does seem rather silly just now. He has plans to go to dinner at a nice restaurant, but he has forgotten his dress shirt. And he slammed his new sport coat in his car door, ripping it and spotting it with grease.
As the room empties, various items near Dorsett's locker become evident. Dennis Thurman has a picture of Sugar Ray Leonard in his locker. D.D. Lewis has a picture of Drew Pearson. Drew Pearson has a picture of Tony Hill. Robert Newhouse, the veteran fullback, has syringes in his locker, and he limps off to give himself an allergy shot in the bathroom. "When Tony arrived, the fullback stopped running," Newhouse says. "Just kidding."
Prominent in Dorsett's locker is a New York Yankee hat and a tall jar of gumballs. On the bench is a large stack of envelopes; Dorsett has had to hire a secretary to answer his mail. At the bottom of the locker is a cracked stained-glass picture of Dorsett, given him by a fan. People give Dorsett a lot of things, which is a problem because they usually want something in return. In 1979 someone gave him a mirror. Dorsett dropped it on his right big toe, breaking it, and missed the entire preseason and the first regular-season game.
"Probably Tony's biggest problem in the beginning was that he couldn't say no to anybody," says Brandt. "He spread himself too thin. He'd say, 'I'll be at your house at eight and yours at nine,' and it was impossible."
At dinner Dorsett considers his past. "I'd say that things did come at me too fast, and that I was a little naive. But everything was so easy. Going from nothing at Pitt to the national championship and the Heisman. Then the Super Bowl. Then Rookie of the Year.... It still freaks me out.
"After a while I just started drifting, taking it easy and getting my thousand yards. I don't know why—maybe it was not carrying as much as I wanted—but I wouldn't do anything for two or three series and I'd lose my feel for the game.
"The thing that changed it for me was the NFC championship game last year. I didn't get a lot of yards and we lost to Philadelphia. I know I didn't lose the game, but something came together then and made me want to reach out. I'd always worked and now I wasn't working anymore. I decided I would run and lift weights and do whatever it took. If I failed, I wanted it to be all of me. I'd do whatever the team wanted. If I ran only two times a game, I'd be the best two-carry-a-game runner that I could be."
At halftime of the Dallas-Miami game six weeks ago Mel Renfro walks out onto the field to be inducted into the Cowboys' Ring of Honor. The Ring is a metal band on the facade between the two suite levels of Texas Stadium, and the few names engraved there represent the most hallowed of Cowboy greats—Lilly, Don Perkins, Meredith, Chuck Howley. The Ring is different from most honor rolls: Players' numbers aren't retired, but next to their names go the years they played as Cowboys. Thus, at first glance, it appears that none of the enshrined men lived more than 13 years.
Tex Schramm, the Cowboys' president and general manager, a man whose real first name is Texas and who only a few moments ago was up in the press box hurling obscenities at the Dolphins and the refs and anyone else who stood in the way of his team, introduces Renfro.
In front of the podium the Dallas players and coaches stand in three lines, at attention, the players with helmets at their side. The men look so much like an elite guard that the parallel between football and armed conflict seems unusually clear; give the players weapons and they could defend a bunker or a palace. Tony Dorsett will remember later feeling very happy for Renfro at this moment (they were teammates in 1977), but not thinking of his own chances of being similarly honored by the Cowboys. If things continue as they have, though, Dorsett is a shoe-in for the Ring. He is already the best running back in Cowboy history. Though the criteria for being selected aren't precise, being a good and loyal Cowboy clearly is important.
When asked earlier how or why or when a player is chosen for the Ring, Schramm shot back, "The organization decides."
Mel Renfro, 1964-1977, cornerback supreme, looks like a good Cowboy. He stands there now solemnly, bald head shining, in a Dallas-blue leisure suit. On his feet are Dallas-blue cowboy boots with "20" (his number) and "Renfro" tooled up the sides—a sort of Charley Pride for the NFL.
"What happened with my name," says Dorsett, "is that my freshman year at Pittsburgh they said, 'You're Tony now.' There was Anthony Davis at USC—'A.D. in the West.' And I was going to be Tony Dorsett—T.D. in the East.' But I don't like 'Tony.' My name is Anthony Drew Dorsett. I'd always been called Anthony, and I just like Anthony as my name. For two years I wouldn't sign 'Tony,' but it didn't matter because that's what I was called. Now even my friends call me Tony. Even my parents do.
"So I figured, O.K., if the press can do that, why can't I change the accent on my last name, like a friend suggested. It was just a gimmick, something to do to see people's response. And people said all this negative stuff, that I was crazy, that I was on drugs. Man. It's not as bad as changing your name to Ahmad Rashad, is it? Or Kareem Abdul-Jabbar? It's strange." Dorsett pauses. The press, which promotes as well as dissects star athletes, mystifies him. He thought it would be fun to use its powers early on—to have it as his forum—but he soon realized that words spoken to one person looked different when printed for the many. He now thinks hard before answering questions.
"I'd still like to be called Anthony," he says, almost wistfully.
A reporter offers to call him Anthony from now on.
"No, no, that's O.K. Call me Tony," says Dorsett quickly. "I'll never do anything like that again."
In the Dallas-Los Angeles game seven weeks ago, Tony Dorsett, weakened by an upset stomach, broke away for a long touchdown run. Normally, he is the essence of nonchalance in the end zone, dropping the ball as soon as it's no longer needed. In his weakened condition that day Dorsett could have been expected to lie down after scoring. But instead he joyfully heaved the football into the stands, earning an automatic $100 league fine. He did it, he says, to buy some emotion for the Cowboys. As a team captain, Dorsett says he'd like to see more enthusiasm from the players. "Sometimes when we play, we're almost mechanical," he says.
Ironically, that's a rap that was previously laid on Dorsett himself, that just the way he picks himself off the ground—more slowly even than the legendarily weary Jim Brown—indicates how emotionlessly he plays. "Well, some things I can't change," he says. I've always done everything slowly. You can ask my mom." (Myrtle Dorsett, who is visiting her son, agrees that Tony was about as slow a child as ever took out the garbage. He never fell off anything, either, she adds.) And in truth, Dorsett is one of the most impassioned, aware competitors around.
He has always gone all out in practice, running the ball 20 or 30 yards upfield after each play. And no opponent has ever questioned his intensity during games. His eyes, which can give him a sleepy, Flip Wilson look in civilian life, enlarge afield and, like radar, miss nothing. Johnny Majors' father, the late Shirley Majors, a football coach at the University of the South for 21 years, saw Dorsett in person in just one college game. "Johnny," he told his son later, "I watched that little rascal with those great big eyes and, I'll tell you, I've never seen a man look around so much."
The real problem with emotion in the Dallas setup is that, like Dorsett's resilience, it doesn't compute. "America's Team" has been skillfully manufactured to dispatch opponents with methodical precision. Any new device which may enhance the juggernaut is tested—the latest being a Sensory Deprivation Tank, a silent, water-filled coffin, in which, according to Dorsett, Kicker Rafael Septien lives—and anything that can be computerized, is. The motifs are conservatism (players are encouraged to marry, buy homes and settle in the community) and stability (the ruling quartet—owner Clint Murchison, Schramm, Brandt and Landry—has been with the club since its inception 21 years ago). The result is The System, and a team that is remarkably consistent—could any other club lose a quarterback like Staubach and not miss a beat?—but which seems to lack soul.
But in truth, Dorsett is nearly as fortunate to be with the Cowboys as they are to have him. With his eagerness to carry the ball more, Dorsett could have been used up in a hurry by a hungry coach. Landry wants him running toss plays for 16 games a season for a long time.
"We have a multiple offense with a lot of skilled people, and Tony is part of the overall plan," says Landry. "But when a player comes back in the condition Tony was in and performs like he has this year, then he takes more of a major part. I'm sure when teams play us now, the first thing they want to do is stop Dorsett, and I don't think that was the case in the past. But I'd never use him like Earl Campbell's used. He can't carry the ball 30 or 40 times a game, even in great shape; he's still small."
Tampa Bay took Ricky Bell first in the 1977 draft. Seattle was set to pick Dorsett second, but Dorsett told the Seahawks he'd go to Canada if they did. The bluff worked, and for its first and three second-round picks Dallas got the Seahawks' choice. Brandt wanted Dorsett so badly he might have been willing to offer half of Murchison's oil holdings for him. "We just realized we were never going to win the big games without a great tailback," says Brandt.
Now the elements—organization and runner—are very closely meshed. Of the 28 games in which Dorsett has gained over 100 yards, Dallas has won 26. It is even said that the Great Wall himself, Tom Landry, has a weak spot for Dorsett. "I get along with him fine," is about all the coach says. But a few years ago when Dorsett missed that practice, the only one he's missed, and then apologized to teammates, Landry actually began a sentence to newsmen that went, "Probably it was my fault...."
Of course, the bottom line for any corporation is productivity. Good labor, good management. And Tony Dorsett is that good.
When Dorsett was 14, Melvin Dorsett, the oldest of the five Dorsett brothers, died of a heart attack in the family home. For a while Tony couldn't sleep in the house and moved in with his older sister. After that, he spent a lot of time swinging on a particular swing at a nearby playground. Dorsett doesn't like to reveal any of these things about his past; in fact, he'd be happy now if reporters sort of left him alone. But there it is: A beloved older brother with a drinking problem died in sight of his kid brother.
When Dorsett first came to Dallas, he got serious with a girl who subsequently died of a rare nerve disorder. This year a Cowboy defensive tackle named Don Smerek was shot in the chest outside a Dallas nightclub frequented by some of the players. The Cowboys were told of the shooting just before a game at San Francisco; they were thrashed by the 49ers, 45-14, their worst defeat in 11 years.
A strong man, Smerek survived, and after being released from the hospital he visited the Cowboy locker room. Dorsett was shocked. "His chest used to be huge, like two dumbbells," says Dorsett. "But now, my God.... He said when he was shot, he could feel himself dying."
These things have their effect, and it isn't surprising that over the years a lot of the kid stuff has been wiped out of Dorsett. "Tragedies make you realize how selfish you are," he says. "Death has a way of putting things in perspective." Since going into the NFL, Dorsett has been active in numerous charities, notably the American Heart Association, to which he feels a closeness because of Melvin.
"Marriage isn't the thing that changed Tony entirely," says Julie, who met Dorsett while she was working as a lab technician in California, near the Cowboys' Thousand Oaks summer training camp. "He's told me that I've made a big change in his life—because now he has somebody to share things with. Right after the Cowboys lost the NFC championship game last January, we sat and talked and he said how he just wanted to straighten out all of his life, to change a lot of things so he could do what was best for his career. He proposed to me then, and we were married in April. I don't understand a lot of things about football—in fact, I had to think a long time before I knew I wanted to share the pressures of his life with him. And there are a lot of pressures. But I know that being named captain shocked him and moved him. And I know he really wants to succeed with the Cowboys."
Says Brandt: "A bad wife can be bad, but a good, understanding wife can help a lot."
Dallas has just stunned Miami. Down by 13 points with five minutes to play, the Cowboys rallied for two touchdowns and a 28-27 victory. The crowd was noisy (for Cowboy fans). Dorsett, who gained 122 yards on 24 carries, says the fans were the reason the team had momentum on its last drive.
Wide Receiver Butch Johnson and Dorsett sit now at a table in the party room at Dorsett's house, out there on the plains where people tether horses in their backyards. (Dorsett fell while riding a horse a couple of years ago and these days prefers to charge around the countryside on his Kawasaki 750.) The room features a huge stereo, a bar, a trophy or two, and Dallas-blue and silver decorations. Dorsett had it done this way and calls it his "Cowboy Room."
Earlier Dorsett had said that his major goal was to go to Super Bowl after Super Bowl, but that a smaller goal was to be mentioned some day "in the same breath" with O.J. Simpson, Jim Brown, Gale Sayers, Walter Payton and Earl Campbell. He also said that it's time for him to start thinking about life after football, to start meeting the right business people. "In a way, I feel like I've wasted four years," he said.
Johnson, an entertaining and excitable person—something of a Cowboy anomaly—has been explaining why Dorsett isn't as popular in Texas as Campbell. And he has been explaining what Dorsett can do to rectify the situation. Among other things, he says, he can socialize with Howard Cosell. Dorsett is listening, with a determination that verges on obsession.
A few days later Dorsett would discuss the changes he is now going through. "People can say, 'You can't buck the system,' right? 'Perform or leave,' right? But a lot of it is realizing what your role is. I've found I can do certain things and still remain me. With friends, my wife and I can be ourselves; with diplomatic people, we can be diplomatic. Now I know you've got to be versatile in life. Programs go on with or without you."
Pete Gent, the loudest of the Cowboy misfits, wrote something similar in a piece on Tom Landry in a recent issue of D magazine: "The great players have come and gone. The System has won."
You can be cynical and buy that and say Tony Dorsett has been broken, whipped, that unlike Paul Newman in Cool Hand Luke, he "got his mind right." Or you could say he's grown up.
Whatever. He sits there now, a young man staring into the dark with his immense, relentlessly searching eyes, ready to play the game.
[originallink:10616266:70985]
PHOTO
MARK
PERLSTEINTHREEPHOTOSMARKPERLSTEINDorsett eats on the run, and to keep him running Landry designs game plans to limit the pounding that his star must take from Dallas' opponents.PHOTOMARK PERLSTEINDorsett's comfy spread 21 miles northeast of Dallas is far from the demanding crowd.PHOTOMARK PERLSTEINNow that he has settled down with wife Julie, Tony's dog days are far behind him.PHOTOMARK PERLSTEINDorsett may be all but untouchable on the gridiron but hearthside he's an old softie smothering folks like Shukura with affection.TWO PHOTOSMARK PERLSTEINIn high school Dorsett won an award for scoring; as a college junior he ran for 303 yards vs. Notre Dame.