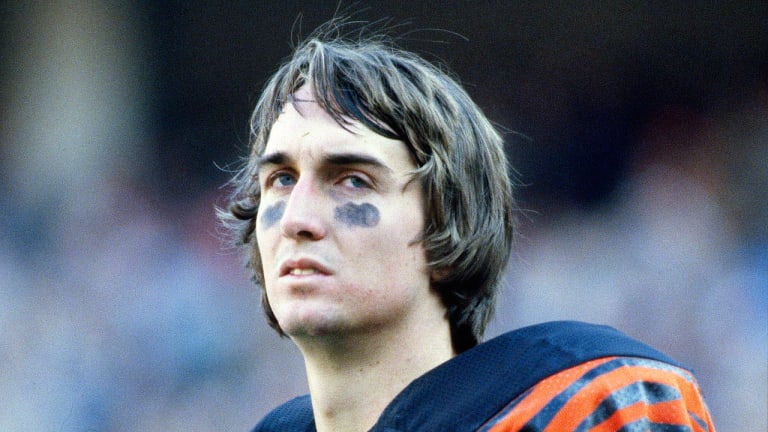 Catch A Catching Star
Give a listen to Cincinnati's rookie sensation, Cris Collinsworth, who can drop a quote as well as he can grab a pass
Cris Collinsworth is meeting the press. Cris loves to meet the press. "I enjoy the attention," he says. And the attentive press loves Cris. He is a breath of fresh air, coursing through the secondaries of the National Football League, catching passes and dropping lines, and as the surprising No. 1 wide receiver of the surprising No. 1 Cincinnati Bengals, his rookie season has been a celebration. It is Nov. 1 and the Bengals have just beaten the Houston Oilers to take a one-game lead over Pittsburgh in the AFC Central. (They still lead the division despite last week's 21-3 loss to San Francisco.) Collinsworth has contributed five catches, one for a touchdown, and has delivered a number of tenacious (if not picture-perfect) blocks. The press crowds four-deep around his locker at Riverfront Stadium, competing for position like hungry sparrows under a mother's hovering beak.
At a lanky 6'4" and 190 pounds, Collinsworth, 22, does, indeed, seem to hover—casually, amiably—over the surging sparrows of the press. The sparrows flock to him whether he catches a lot of passes or not because he makes their lives easier, not to say more enjoyable.
Ask of Cris a sentence, say the Riverfront regulars, and ye shall receive a paragraph.
Ask Cris a dumb clichè question, they say, and ye shall receive a bright, sensible and expansive answer.
And because there is no telling what might pop out when a thought leaps from his fertile mind to his facile tongue, it is best, they say, to drop by early. If you don't, you're likely to miss the meal.
Collinsworth (for example), on the heavy pressures of being a high-profile football mercenary: "I feel like I'm stealing from the Bengals. I've played football all my life for nothing and now they're paying me to do it. The money they pay me to play this game, it's just incredible."
Collinsworth on the Bengals' emergence as a force in the NFL: "The writers keep asking us, 'Are you thinking about the playoffs?' They expect us to say things like, 'This is a tough league,' and 'It's a long season,' but when they ask me I tell 'em, 'Go ahead and make reservations for Detroit. We'll be there in January.' The fans are loving it. It's been about six years since we started like this, and everybody wants to go to the Super Bowl. I'm worried about finding enough tickets. I've got relatives in this area. I discover a new one every day."
Collinsworth on being a Collinsworth, born the first son of a high school administrator in Dayton, raised in Mims, Fla. (pop. 8,309): "My parents named me C-r-i-s because they didn't want to spell it like everybody else, with an 'h.' Actually, Cris is my middle name. Anthony Cris Collinsworth. They were going to call me Cris Anthony, but it sounded too much like chrysanthemum."
Collinsworth on his father, Abe, now assistant school superintendent in Brevard County, Fla.: "His full name is Abraham Lincoln Collinsworth. He was a great basketball player in high school, and people say when he went on to play at Kentucky in the '50s, the fans used to come out just to watch him dunk the ball in warmups. He still likes to put on a show. He's got a big ol' potbelly and he goes out and puts 'em in two-handed from 40 feet. He does all this fancy stuff, dribbling the ball behind his back and everything. He saw the Globetrotters as a kid and he went right home and started spinning the ball on his finger."
Collinsworth on his mother, Donetta, Abe's college sweetheart: "When I was in the third grade, I outran everybody in the class and won a medal. When I came home, I told Mom what a fast dude I was. She said, 'Don't brag.' I said, 'But it's true.' She said, 'O.K., come with me,' and she took me outside the house and had Dad pace off a 50-yard strip. Fifty yards is about as long as Mims itself, and she was gonna race me. I was laughing. 'C'mon, Mom, get serious.' She beat me three straight. I swear. You don't mess around with Mom."
Collinsworth on being a modern athletic rarity, a four-sport (football, basketball, baseball, track) star at Astronaut High in Titusville, the metropolis of 31,494 people adjacent to Mims: "It's not just the games themselves that attract me, it's the people. Being involved in pressure situations with somebody else. That's the reason I love sports so much. I love to watch boxing for that reason. I love to watch the girl gymnasts on that four-inch beam. Competing under pressure. The Carter-Reagan debates had me on the edge of my chair."
Collinsworth on being recruited as a quarterback by Alabama (among many others) before winding up at the University of Florida, where he was both a football and an academic All-America in 1980: "I went into Coach Bryant's office. His desk sits way up high, and the couch you sit on is way down low, and it's like facing the Supreme Court. He talks so deep you can't always understand him. So every time he said something I said, 'Yessir.' It must have been right because he offered me a scholarship. Joe Namath called the house. My mom answered the phone. She thinks Namath is the coolest thing around, and she talked to him about 30 minutes. She advised him to get married and settle down. Finally, he said, 'Can I speak with Cris now, Mrs. Collinsworth?' She said, 'Oh, I'm sorry, Joe. He's sleeping.' I never did get to talk to Namath."
Collinsworth on the only major disappointments of his young life: "My freshman year at Florida I threw a 99-yard touchdown pass against Rice, the longest pass in Florida history. I had my future planned. I'd be an All-America my junior year, and win the Heisman my senior. You gotta have goals. The next spring Coach (Doug) Dickey went to the I formation and discovered my true ability as a passing quarterback. A disease called 'lack of spiral.' I was nothing-for-about-50 in the spring game. They switched me to wide receiver. I changed my goals.
"My junior year Coach (Charlie) Pell came in, and we didn't win a game. We were 0-10-1. Teachers told jokes about us. Students wanted to know why we had scholarships. Until then I always felt that out of 11 games I could win at least one by myself. It taught me something. About that time I became a Christian. I'm not going to be a minister or anything, but it straightened out my thinking, realizing there's more to life than winning football games."
Collinsworth on playing what is now stereotyped as a black man's position, and being compared only with white receivers (Lance Alworth et al.): "I see myself as someone who has to grit his teeth and scratch for everything he does. I can't get out there and prance around. But I don't believe you're fast or slow because you're black or white, and you don't have to pattern yourself after somebody your own color. I want to be the best, and the best I see nowadays are guys like Swann and Jefferson and Nat Moore and Wes Chandler. I want to be as good as them.
"When I won the state [Class-AAA] 100-yard dash championship in high school [in 10 flat], 16 guys were in the heats, and 15 were black. You talk about your lone honkie. Up in the stands, all the relatives were betting like mad on the finals. My brother Greg heard them asking who that white boy was. Greg said, 'Bet the white boy.' The black guy next to him said, 'You sure?' Greg said, 'Positively.' The guy got great odds. My big schnozzola won it for me, and the guy slipped Greg 20 bucks out of his winnings."
Collinsworth on becoming a Bengal after being drafted in the second round behind another wide receiver, David Verser of Kansas: "I was more scared about making the team than anything else. They picked Verser, and they already had Isaac Curtis, Pat McInally and Steve Kreider. There weren't many openings left. I think the fear of being rejected helped me a lot. I was geared up. One day in camp I must have done something good, because they put me at No. 1. I said to myself, 'Well, you gone and done it now. You'll have to kill me to get me out of here.' "
Collinsworth on being easily identifiable as no Arnold Schwarzenegger: "One of the scouting reports said I might not be physical enough to play in the NFL. I could understand that. My skinny ol' body won't win any prizes. When I took the [NFL] physicals, I couldn't believe some of those linemen. The receivers were ashamed to take off their shirts. But if the guy who said that would like to line up across from me, I'd be glad to show him how physical I can be."
Collinsworth on discovering he could, after all, survive the gauntlets of the NFL: "My first catch against the Steelers was a crossing route—the kind where they see what kind of man you are. It's the kind of route all us honkies run. I just went out and put a little move on [Mel] Blount, and Kenny Anderson drilled the ball right in for about 22 yards. From then on I was O.K. I had done stepped into the lion's den and come out alive."
Collinsworth on discovering that it wouldn't always be that easy: "The [Buffalo] linebacker rammed his helmet up under my chin and split it open, four stitches worth. It was gross. Blood flying all over the place, a big chunk of chin falling onto the carpet. But my coach at Astronaut, Jay Donnelly, always said never show 'em you're hurt because that gives 'em a psychological advantage. So I got up and kind of flung the ball behind me, and it hit the linebacker right in the head."
Some of these thoughts Collinsworth allows into print under his own byline in the hometown (Today) newspaper. He is called weekly by writer Al Vieira who "puts it together for me." Others he parcels out free of charge to anybody who happens to be near with a note pad or a tape recorder.
Now the crowd at Collinsworth's locker closes in. Pencils scribble erratically as elbows intersect. Microphones bloom under Collinsworth's nose, the dangling wires crossing like licorice whips. Cris is bare to the waist, his thumbs hooked in his jeans. Beads of shower water stand out on his narrow white chest.
In this stance his legs look even longer than they do when he runs. Split high, he seems, in motion, to be two parts instead of one, and 90% legs. They appear to precede him, his upper body teetering on the back of his hips like a piece of freight that has shifted on a dolly. As he talks, he grins and occasionally laughs.
How do you feel, Cris?
"I'm still walking," he says. "For a scrawny guy, that's an achievement."
You sure draw a crowd around here.
"I love a crowd. Hey, did you see that sign in the end zone? WE LOVE CRIS, signed Marsha and Donna. Well, la-di-da. Things are looking better all the time."
Who're Marsha and Donna?
"I have no idea."
Why'd you let (Tackle) Anthony Munoz spike the ball after your touchdown?
"Anthony's my designated spiker. He's got great spiking style."
You had another touchdown called back because he was holding on the play.
"Yeah, doggone it. I gotta talk to Munoz about that. I knew something was wrong. I was down on one knee in the end zone, kind of looking back upfield through everybody's legs, and no Munoz. Uh, oh."
The quarterbacks must like you, as many passes as you catch.
"When Kenny Anderson screws the ball into your belly, you ought to be able to catch it. If he doesn't go to the Pro Bowl, it's politics."
Greg Stemrick (the Houston corner-back) kept talking to you. What was he saying?
"You got an underground newspaper? I don't see how you can print it if you don't."
You guys could make the playoffs.
"Well, shoot, I wouldn't mind that at all. I understand they give out money for those things. I could have myself a paid vacation. I hardly been out of the state of Florida all my life, except to come to Cincinnati."
The sparrows, well fed, finally disperse. Collinsworth is one of the last to leave the locker room. It is long after dark before he makes it to dinner with his "serious" girl friend, Jeannie Hazel, up from the University of Florida for the weekend, and a former Gator teammate, Jimbo Donigan. They, in turn, are joined by a sparrow from New York to whom Cris introduces Jeannie as not only a good-looking Florida cheerleader, a Stefanie Powers look-alike, and the daughter of a Miami dentist "who beats me at golf," but also a girl worth, well, competing for. He says he stole her from another guy at Florida.
"I did everything I could to sabotage the relationship," he says, grinning happily. (Jeannie has dropped her gaze into her salad, not quite sure what turn this revelation might take.) "I'd tell her, 'He's a great guy and all, I'm not trying to change your mind, but did he really say that?' "
Jeannie smiles wanly. Cris laughs.
They are occupying choice seats in the dining room of The Precinct, a police station converted into a restaurant that many of the Bengals favor. Cris frequents the place, he says, because the food is good, there's an active dance floor upstairs, and the owners are "terrific guys" who could "use the pub." One of the owners prepares a special hors d'oeuvre for Collinsworth's party.
A smartly dressed black man drops by. He greets Collinsworth warmly and they chat. The little finger of the man's left hand is in a splint. When he leaves, Collinsworth identifies him as Isaac Curtis, long the ace of the Bengal receivers and the man Cris himself has—for this year at least—overshadowed.
"His finger's broken. He's been playing with it that way," says Cris, awed. "He's unbelievable, that guy. He puts moves on you that leave you spinning. We had a one-on-one drill in camp, when the veterans usually don't go all out, and Isaac decided to go full speed. You've never heard so many oohs and ahs."
You learning a lot from him, are you?
"All the time. He gave me a great tip on shaking a defensive back. When the guy's stride for stride with you, he said, just turn and look him in the face and he'll back off. So I tried it, and it worked. Well, shoot. He didn't have to tell me that. But that's the kind of class guy he is. This team is loaded with class guys."
Jimbo asks if Cris is still driving the classy 1977 Mercury Bobcat he had at Florida, the one that looked like a moving accident.
"[The Bengals] kidded me about that all the time. They said, 'Hey, man, you're in the big time. You can't be seen in a heap like that.' I told 'em, 'Listen, I can't afford a new car right now because I'm still making payments on my yacht.' That quieted 'em. Finally, I bought myself a Porsche 924, brand new. I don't think I got the hang of it yet, though. It might be too much car for an ol' country boy."
What's this old country stuff, asks the sparrow. The east coast of Florida isn't country.
"It's as close as I've come," he says. And Cincinnati, he says, is his idea of what a "big city" ought to be. Friendly. Fun. Safe at night. Here, he says, "I'm enjoying football more than ever. It's like a regular job now. Practice. Go home. Watch The Waltons. Do a little reading. Watch Love Boat. Play the games on Sunday. Play golf with the guys on Tuesday. In college I had two full-time jobs. School and football. I was humpin' all the time."
Nevertheless, he says, he has applied to Florida's law school and will start classes in the off-season.
"I've got the chance now to be the best football player I can be, and that's what I want. But after that, in 10 years or so, I'll want to do other things. Try courtroom cases, competing there. Like Perry Mason. Maybe get into politics. There are opportunities in life and you have to take advantage of 'em. My senior year at Florida I was invited to the Hula Bowl. Then I got an invitation to a game in Japan. I went to Japan. How many times does anybody get the chance to go to Japan?"
There is a remarkable, even wonderful consistency to the opinions people close to Cris Collinsworth have about this remarkable young man. If being beloved is a legitimate goal in life, then Collins-worth has already got it made. By every external evaluation, he is a young man so comfortable with the world about him that he can deal with success (and infrequent failure) with stunning candor and still come away not only undiminished but also enhanced.
He delights those who know him. Friends and family praise his basic goodness and caring; coaches and peers praise his ability and equanimity and his contagious good humor. They all say the same significant thing: When he isn't around, they miss him.
On a recent Friday afternoon, two neighborhood couples joined Abe and Donetta Collinsworth at the Collinsworths' middle-class brick-faced home in Mims, packed up a motor home and drove the 14 hours to New Orleans to see Cris play against the Saints. One of the neighbors said it was nothing unusual: "He was always the kind of kid you'd go out of your way to be around." Donetta Collinsworth, onetime balloon buster of bigheaded sprint stars and now the family's tennis ace, has made several trips to Cincinnati, ostensibly to help Cris find a car and a place to live, and "to keep his diet from getting completely out of hand." Typically, she says, whenever she sees him he is doing two things at once. "The last time he was watching a game on television, but he had the sound off and was reading a copy of Gordon Liddy's book, Will. He could talk to you about either one of them."
Abe Collinsworth says he cannot remember Cris ever getting down on himself for very long. At those times when you think he would be down he usually wound up "making you feel good. When Florida switched him to wide receiver, I called and told him he could come home if he wanted, maybe transfer. I knew it was eatin' him up, not being a quarterback anymore. He said, 'Dad, I came here to play football for Florida, not to play quarterback.' "
Dickey was fired at Florida before Collinsworth blossomed as a receiver. The beneficiary was Pell, who calls Collinsworth's contributions in 1979 and '80 "the best leadership I've ever been associated with. You miss that when you don't have it." Cris came to Pell when the Gators were losing in '79 and volunteered "to play anything—fullback, tailback, tight end. Anything to contribute. He was our best player, the most dangerous back we had, and we couldn't get the ball to him.
"Unfortunately, moving him wouldn't have changed our luck. But that kind of unselfishness, that concept of giving, is a rare thing in a great player. I know our younger kids learned from Cris. [Sports Information Director] Norm Carlson says they used to eavesdrop at his locker when the writers came around after a game, listening to him praise the other players, never putting himself on a pedestal." Carlson has been telling Collinsworth since his sophomore year that "he'll be governor of Florida in 20 years. He thinks I'm kidding, but I'm not."
Athletically, the edge that now makes Collinsworth a favorite for AFC Rookie of the Year is that "unique ability to give 100 percent all the time," says Pell. "There are guys who can run as fast, leap as high and catch as well. But to give 100 percent all the time, that's unique. Even in practice, if the play calls for him to go 35 yards and break at a 30-degree angle, that's precisely what he does. All out, all the time."
For a time Cincinnati Coach Forrest Gregg was concerned Collinsworth's size would be a liability in the bump-and-run of the NFL. "I was wrong," says Gregg. "After the first preseason game, I knew he was tough enough. He gets laid out, but he bounces back up." Receiver Coach Lindy Infante, himself an ex-Florida halfback who lobbied for Collins-worth as the team's No. 1 draft choice but was outvoted, says Cris's toughness is a kind peculiar to receivers: "They have to be mentally tough to go into areas where they know they'll be taking abuse. Collinsworth has that." Says backup Quarterback Jack Thompson: "He'll sell out his body to get the ball."
General Manager Paul Brown compares Collinsworth with his alltime best with Cleveland, Dub Jones. "He's built like Jones, he's intelligent, and he's a sprinter," says Brown. McInally calls Collinsworth "a natural. He plays like he's been here five years." Says Gregg, "He's far ahead of any rookie I've ever coached. I don't think there's a limit on how good he can be."
The phone is ringing in Cris Collinsworth's three-story $70,000 townhouse his mom helped find at Woodlyn View on Cincinnati's east side. Cris is ignoring it. He is lolling on the couch in front of the fireplace and complaining mildly that without a training table and without a mom to cook for him, he will have to make a lunch stop at McDonald's again. He says he suffers a lot these days from indigestion.
On the wall near the fireplace is a framed glass replica of the Cadillac logo, with the inscription, "The standard of the world." Cris says Jeannie gave it to him because his nickname at Florida was "Cadillac." But for the wrong reasons. "I was trying on helmets my first year there and I couldn't get one to fit. Van Jones, a lineman, said, 'You got a Cadillac head.' Not very flattering, actually."
He says his development as a receiver wasn't as painless as people think. That it wouldn't have occurred at all were it not for an assistant coach at Florida named Lee McGriff. "When I first switched over about the only thing I could catch was my breath," Collinsworth says. "I swear, it was two weeks before I could catch the routine pass. They called me 'Old Stone Hands.' Coach McGriff—I owe him so much. He worked me to death on techniques. 'Give with it,' he'd say. 'Watch it into your hands.' "
Collinsworth admits he really doesn't get just those "dollar ninety-eight routes over the middle that get your chin busted open," that he just says that "for fun" after a game to entertain the press. Gregg's sophisticated passing attack makes the split end, flankers and slotback positions interchangeable this year, says Cris, and "everybody's seeing the ball." In 14 games so far for the Bengals he has caught 54 passes for 791 yards, which makes him not only the team's leading wide receiver but also the top rookie receiver in the NFL.
When it's time to head for practice, he gets into the light-blue Porsche 924 Mom helped pick out, and which still smells of newness, and backs jerkily out of the parking area. He engages Jimmy Buffett in the tape deck and adjusts a pair of glasses around his ears. He says the glasses keep him from being "blind." He says he found out about it when he was looking for excuses for his grades in chemistry at Florida. One eye tested at 20/200. "But as far as the chemistry was concerned, glasses were not the problem."
He says he has his route to the Bengals' practice field down to the minute, allowing just enough time for a stop to pick up a fish sandwich and a Big Mac to eat on the way. He says with the Bobcat he didn't dare cut it that thin. One breakdown cost him $50 for being late to practice. He says it didn't wreck his budget, not the way it would have before "they started throwing all this money at me."
He says he now has an attorney friend in Florida investing for him. "I'm big in warehouses," he says, grinning.
He says he doesn't think money can change him at all, really, but it sure has been fun finding out.
How much does he make?
The Bengals' policy is not to reveal contract figures, he says. (A good guess for a second-round wide receiver would be a five-year, $600,000 deal.)
Does big money put pressure on athletes when the public knows it, he is asked. The kind of pressure, say, that Dave Winfield now suffers?
"Yeah, I suppose," says Collinsworth. "But if I had a choice of keeping it quiet and making $20,000, or making $2 million and having the hassle of everybody knowing it, I'd take the hassle. Lead me to it."
He grins and goes inside the Bengals' training quarters at Spinney Field. A spray of flowers, with a card signed "from Patti K," is waiting for him in the front office. Who is Patti K, he is asked.
"I dunno," says Cris Collinsworth. "But I love it."
TWO
PHOTOS
Anderson-to-Collinsworth has helped the Bengals see light at the end of the tunnel.
TWO PHOTOS
To catch Cris, Jeannie went to Cincinnati, and his mom and dad hied to New Orleans.
PHOTO
Collinsworth and Anderson often link up.
PHOTO
Cris gets a kick out of playing for pay.
PHOTO
McInally and Collinsworth get high on winning.
PHOTO
Collinsworth's will to succeed has led to a cushy life in his Cincinnati townhouse.