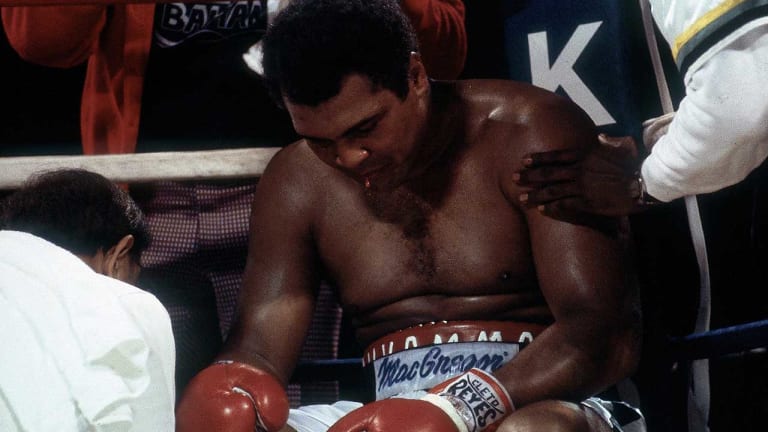 Not With A Bang But A Whisper
After losing to Trevor Berbick, a subdued Muhammad Ali softly admitted that his illustrious career had come to an end
With his suit coat off and his tie loosened, Muhammad Ali perched on the edge of a couch in a villa in Nassau and for 40 minutes put on his most engaging entertainment of the week. "You want to see a magic show?" he had asked, opening up a black and red attachè case. In the time it would take to go 10 rounds, the former heavyweight champion of the world turned half dollars into quarters and pennies into dimes, explaining the tricks as he went along. He made a small handkerchief and a candle disappear. He mysteriously transferred a foam rubber ball from his left hand to a guest's right. And he folded a silk hankie into quarters on the table and made it flutter up, phantomlike, as he chanted: "Rise, ghost. Rise, ghost. Rise...."
This was last Saturday afternoon, and Ali's magic show stood as an ironic denouement to most of the preceding now-you-see-it, now-you-don't week. There was only one ghost in the Bahamas, and it was Muhammad Ali, and the only magic he had left was that which he performed in his villa on—further irony—Paradise Island.
The evening before, in a ring set up in a decaying sandlot baseball stadium, the 39-year-old former three-time champ embarrassed himself the same way his old adversary, Joe Frazier, had done in Chicago eight days earlier. In his first fight since heavyweight champion Larry Holmes beat him up in Las Vegas 14 months ago, Ali lost a unanimous 10-round decision to 28-year-old Trevor Berbick, a Jamaican who now lives in Halifax, Nova Scotia and is ranked fourth by the WBA. Until Friday, Berbick was best remembered for losing a decision to Holmes last April 11, and best forgotten for knocking out John Tate after chasing him across the ring and striking him on the back of the head.
The Ali-Berbick fight had little to recommend it: One of the greatest fighters of all time nearly bereft of the means not only to do damage but also to defend himself, facing an artless, often awkward opponent. Yet this lamentable affair was, in a way, an appropriate capstone to what veteran trainer Eddie Futch, who has spent 50 of his 70 years in the boxing business, called the most disorganized boxing promotion he had ever seen. "This is the worst I've ever been in," he said. "I thought at my age I wouldn't run into anything that wasn't a second-time-around thing. But this is definitely a first. They were consistent—they did everything wrong all the way through."
For weeks there were rumors that the promoter—Sports Internationale (Bahamas) Ltd.—and its show were on the verge of collapse. Not only did the card include Ali, who received $1.1 million, and Berbick, in for $350,000, but also Thomas Hearns, at a reported $500,000, and heavyweight contender Greg Page, for $50,000. Even the old war horse, Earnie Shavers, was to get $140,000 for fighting someone named Jeff Sims. Some of the money to pay for the show was to come from pay television, but where all of it was coming from—and who raised it—was never clear.
The president of Sports Internationale, James C. Cornelius, was described in press handouts as "a Los Angeles-based entrepreneur." Tall and angular, he was a highly visible if remote and unresponsive presence all week. The promotion was the object of controversy before the fight, and so was Cornelius. The previous Sunday, New York promoter Don King was in Freeport, the Bahamas, where, he said, five men burst into his room and beat him up. King had been there to talk with Berbick, who was training in Freeport. King claimed that he had an option on Berbick's next fight, and that Berbick had violated their agreement when he signed to meet Ali. King said he had flown to Freeport to work out an accommodation with Berbick. A few days after the attack, for which he says he was hospitalized, King charged in New York that Cornelius was one of those who had assaulted him. "Bull," Cornelius said.
Meanwhile, Berbick announced he would not step into the ring until he had been paid his entire purse; he had been given $100,000 and wanted the remaining $250,000. On Thursday, trying to save his promotion, Cornelius and three sidekicks went to Berbick's room with a letter of credit. Whatever the paper was worth, it wasn't enough, and Berbick shouted them out of the room.
While the promotion lurched from one crisis to another, the central character in the drama—the very reason for its being—held his final workout on Tuesday and rolled with the punches. Ali had arrived in the Bahamas on Sept. 21 weighing 249 pounds. He had long since convinced himself that he wasn't washed up; that the beating Holmes had inflicted on him was the result of his being weakened by thyroid pills; that so slow and inexperienced a fellow as Berbick—he'd had 22 fights since he had turned pro in 1976, of which he had won 19, 17 of them by knockout—would surely be easy pickings; and that, five months after beating Berbick, he would thrash Mike Weaver, the WBA heavyweight champ, and retire with that title.
"Four times champion!" went the refrain, borrowed from Ali's fight against Holmes. "Four times! The stage is set. All the critics are here. They're gonna be all messed up. I've just gotta kick behind. Oh, man, oh does this feel good. I can't wait to see their faces when I win...the big day's comin'! The miracle. The world of critics, I'll make 'em bow. Crawl. They have motivated me. I need motivating!"
Ali had said, "I shall return" after the Holmes fight, but finding a place to return to wasn't so simple. Concerned about Ali's health and his eroded skills, several commissions wanted none of the responsibility inherent in allowing him to fight.
But the Bahamas welcomed him. "I made boxing," Ali said. "I made it possible for them to say, 'Gimme 12 million.' Those suckers couldn't ask for a million till I came along. I built the audience. And they put me in exile. The whole world was watching boxing because of me. My talking. My poems. My predicting. My shuffle.... Then they ran me out of the country because I had a bad night."
The concern for Ali's health was widespread and legitimate. Two physicians, including his former doctor, Ferdie Pacheco, had stated that Ali was suffering brain damage from having absorbed too many blows. His speech had slowed and was occasionally slurred. Worried himself, and wanting to put the question to rest before fighting Berbick, Ali submitted to a series of tests two months ago at New York University under the supervision of Dr. Harry Demopoulos, a professor of pathology. Demopoulos said the tests, along with others administered at UCLA and the Mayo Clinic, included a CAT scan, neurological exams, electroencephalograms and blood checks.
Demopoulos said that 30 doctors were involved in the studies and that they all came to the same conclusion: "There's absolutely no evidence that Muhammad has sustained any injury to any vital organ—brain, liver, kidneys, heart, lungs—nervous system, or muscle or bone systems. His blood tests indicate he has the vessels of a young man."
And the slurring? "We think it's a psychosocial response," Demopoulos said. "If the slurring were due to permanent damage, it would be there all the time." It occurs under certain circumstances, Demopoulos said, such as when Ali is under stress or when he is fatigued. The Bahamian minister of sports, youth and community affairs, Kendel Nottage, approved the fight. "I was shown a number of medical reports, and they were satisfactory to me," Nottage said.
That Ali would be 40 in a month was, of course, an illusion, a trick of time that he could conceal in the palm of his hand. To Ali, it was still Oct. 1, 1975, when he beat Joe Frazier in the Philippines, his last great fight. "Forty is fun because life has just begun," Ali said. "Age is mind over matter—as long as you don't mind, it don't matter.... I'm like I was in Manila. I'm movin' and punchin' now like in Manila.... Ten rounds is so simple. I can sizzle and dance for 10 rounds. This man stands still and waits.... Berbick's easy to hit. He's so easy to hit that he gets mad if you miss him."
Ali said he was in training for the 11 weeks that he was in the Bahamas—"I'm in such good shape," he said—but there were days when he hiked far longer than he ran, wearing a rubber corset as he trudged through town, his midriff jiggling. One morning, in the company of two British writers, Ali walked through his roadwork, shadowboxed desultorily along the way, jogged about 50 yards, then climbed into a waiting limousine that took him back to his hotel. Lounging on his bed three days before the fight, he talked of a book he had in mind.
"On middle age and me," he said to several onlookers. "How to get in shape. What you do every day. For 10 weeks. How many rounds on the speed bag." The title: How to Do It Like Me.
Only one man has ever done it his way, forever promising to dance. "Stay out of range," he said, sitting up in bed. "Pop! Pop! On my toes. In range. Out of range. Pop! Pow! Building points. See how fast they come."
Ali's longtime trainer, Angelo Dundee, had just arrived from Miami, and was watching him. Dundee had tried to dissuade Ali from coming back, but he had been with him too long to desert him now. Ali stopped throwing punches in the light of the half-darkened room.
"The hand speed is still there," Dundee said. "Once he starts cooking with his jab, he'll be home free."
"Oh, guess what?" Ali said. "I had a four-round brawl with Hearns and it was right on."
"With Tommy?" Dundee said.
"Stickin' and jabbin'," Ali said. "Over his jab. Trading punches. Getting him in the corners. One on one."
"I love you goin' with little guys," Dundee said. "I love it!"
"He's tall, fast."
"I like it, I like it," Dundee said.
Ali told his audience to believe. He said he would soon be the biggest hero of all time. "If I win six rounds and lose four, ain't it my fight?" he asked Dundee.
"Right."
"I ain't gonna lose that many."
"You're gonna win 10 out of 10," Angelo said. "If you don't knock the sucker out with a good right hand. This guy don't throw that much glove. He's a bit of a clown. He'll try to con you. He won't be able to hit you. You'll do a number on this guy."
"As long as I'm on my toes, poppin' and movin', I'll win—right?"
"Every round," said a voice from the back of the room.
A few minutes later a parade of visiting children came by to say hello, and just before they left Ali asked them, "Hey, kids, can I show you some magic?"
As it turned out, there were moments when the whole promotion needed some magic. Berbick persisted in his demands for the balance of his guarantee—$250,000—and through the entire afternoon of the fight held out for it. When the promotion was floundering a few weeks before, it was apparently saved by the appearance of another enigmatic figure, Victor Sayyah, a Denver businessman who carried a briefcase wherever he went. At 5:40 p.m. Friday, a few minutes after Berbick's trainer, Lee Black, had announced that Berbick would fight—more TV money had materialized, he said—the bespectacled Sayyah strode into Berbick's room in the Harbour Cove Hotel. Berbick clapped his hands when Sayyah appeared with whatever it was he had in his magic case. With barely five hours remaining to the bell, the fighter had finally agreed to fight.
Fighters, fans and press made off across town to the Queen Elizabeth Sports Centre to witness "The Drama in Bahama," as the promoters called it, or "The Trauma in the Bahamas," as the press had lately dubbed it. The scene there was no less chaotic. Ali, Berbick and Hearns had their own dressing rooms, but the rest of the fighters—including Scott LeDoux, Page, Shavers and former light heavyweight champion Eddie Mustafa Muhammad—were assigned to a sweltering locker room in which they shadowboxed side by side.
"Now I know what the gladiators felt like in Rome," said LeDoux, who was to fight Page. "Ever see the movie Spartacus? The gladiators all waited together in one pit. This is unbelievable." The promoters had forgotten to supply equipment, and judge Jay Edson dashed about looking for trainers. "There are two pairs of gloves for the whole show," he said. "I'm trying to grab the trainers to tell them not to cut off the laces."
There was no official timepiece, so a hasty search was made and someone came up with a stopwatch. Then it was discovered that they had forgotten to bring a bell, but television promoter Sheldon Saltman dug through his sound truck and uncovered a cowbell.
When the fights began, Mustafa dispatched his opponent, Mike Hardin, in eight rounds; Hearns, fighting now as a middleweight after losing the welterweight title to Sugar Ray Leonard three months ago, bloodied and beat Ernie Singletary; and old Shavers got off the deck to knock out Sims. LeDoux had provoked Page in the days before their fight and got into a fight with Page's brother in the hotel elevator, so Page punished him for it in the ring. In a frightful show of malice, the superior Page rolled his hips, made faces and faked swoons, taunting LeDoux to no purpose but to humiliate him publicly. Finally, belatedly and mercifully, Page knocked LeDoux out in the fourth round.
It was in the wake of this appalling scene, in the middle of a tired baseball field on a small island in the Atlantic, that Muhammad Ali, who had fought so much of his career with such style and grace, made his last fight. Looking paunchy at 236¼ pounds to Berbick's 218, the master of illusion revealed himself as the quintessential victim of self-delusion: The truth is, Ali had never really learned how to fight. What elevated him and sustained him in his most creative years were his surpassing hand and foot speed, his remarkable reflexes and strength and what someone called his "dazzling unorthodoxy." Without the natural gifts, only the unorthodoxy remained, and against Berbick he appeared too often like an unschooled amateur.
"The timing wasn't there and the reflexes weren't there," he said afterward. "I could tell I was 40." And so could everyone else.
Ali jabbed, and there were phantom flashes of the jab that used to snap. Now and again he shot out the right as of old, but more often he flailed weakly with his arms, pushing and patty-caking and failing to turn his punches. When they landed, they struck without voltage. "His punches had nothing," said Edson. "It was like a pillow fight." Berbick never hurt Ali, but he was the aggressor, scoring most heavily with windmill body attacks that had Ali wincing and covering up against the ropes. These assaults were fitful, and Berbick had little else to offer.
Ali drew cheers when he danced for a few moments in the eighth round, but the cheering was as brief as the roadwork behind him. He was tired by the seventh round, when he figured he was beat, and there was nothing left to dance with. And he lost the last two rounds, retreating as Berbick flailed away. "I think I'm too old," he said. "I was slow. I was weak. Nothing but Father Time."
The eyes saw the openings and they conveyed the message. But the body couldn't react. "The things I wanted to do, I couldn't do," Ali said. "I was doing my best. I did good for a 39-year-old." But his best wasn't good enough. Judges Alanza Butler and Clyde Gray scored it 97-94 and 99-94, while Edson made it 99-94. All for Berbick.
Ali has retired more than once before, but now he says this is the end. "I think I'm finished," he said. "I know it's the end. I'm not crazy. After Holmes, I had excuses. I was too light. Didn't breathe right. No excuses this time. I'm happy. I'm still pretty. I could have a black eye. Broken teeth. Split lips. I think I came out all right for an old man."
An hour later he was back in his villa doing magic tricks, the only ones he still had left in his bag. As the guests got ready to leave, he said softly, "I didn't get knocked out. Didn't get knocked down. I lost, but not like other fighters, like George Foreman and Ken Norton. '7...8...9...10.' I lost, but I lost honorably." He was sitting on the couch now, with his head back. He had fought professionally for 21 years, won the title three times and beaten the best fighters of his day with uncommon talent, courage and cunning.
"I'm tired," he said. And he closed his eyes.
PHOTO
In his prime, Ali would have rolled with the punches from a heavyweight like Berbick.
PHOTO
When Ali connected, it was more like a push than a punch.
TWO PHOTOS
On the ropes or off, Berbick got over and under Ali's guard often enough to win the decision on the cards of all three judges.
PHOTO
Before the ninth round, Dundee (left) and Bundini Brown had to lift Ali off the stool.