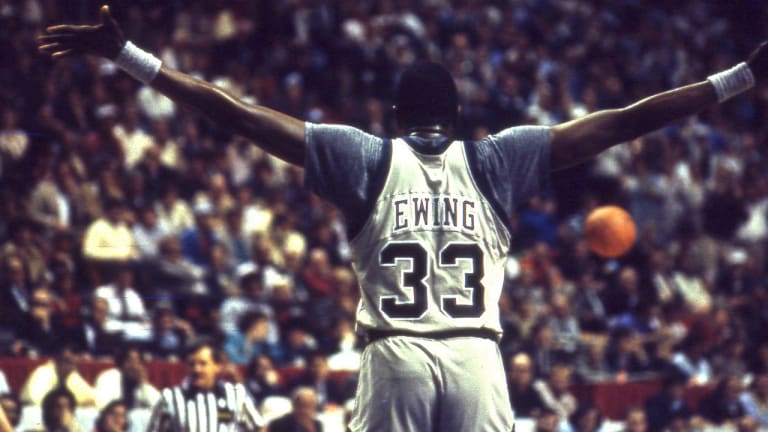 They're cutting it with Ewing
Georgetown has got a new edge in 7-foot freshman Center Pat Ewing
If Patrick Ewing, Georgetown's freshman center and college basketball's new Secretary of Defense, doesn't become another Washington monument in the next few months, he can only blame his own shaky hands, wayward elbows and/or hot temper. To put it another way, his immaturity, physically and emotionally. And if it seems odd to say that Ewing, a 7-footer, isn't grown-up, consider that last Saturday afternoon he stumbled over his own feet during the player introductions for the Hoyas' game with Nevada-Las Vegas and nearly fell flat on his face. Monuments must never trip.
As productive as Ewing was in Georgetown's 76-52 rout of the visiting Runnin' Rebels—his line read six field goals attempted, five made, 10 points, eight rebounds, four assists and four blocked shots in 29 minutes—mere numbers will never accurately describe the impact he'll have every time the Hoyas take the court.
Even Eric (Sleepy) Floyd, Georgetown's star senior guard, couldn't diminish the attention that is accorded Ewing, though, in the course of scoring 27 points against UNLV, Floyd made shots after triple-pumping through traffic and after rebounding and somersaulting backwards in the lane and, on defense, avoided a collision foul by leapfrogging a thoroughly astonished opponent. Nor did Floyd wish to take anything away from Ewing. "Just him standing there creates problems," Floyd said. "We can see they're concentrating on Patrick, and that makes it easier for everybody."
Since a disastrous season-opening trip to the Great Alaska Shootout, where the Hoyas lost two of three games, Georgetown has won six straight, which is more like it. The Hoyas were highly touted in part because of Coach John Thompson's famous '81 recruiting class of Ewing, from Cambridge, Mass., and homegrown forwards Anthony Jones (6'6") and Bill Martin (6'1"). Georgetown is thriving on a defense that has limited the opposition to a .405 field-goal percentage. Against UNLV the Hoyas had 14 steals and forced 28 turnovers. Such stats are direct results of several aggressive, reaching, gambling defensive formations, both half-court and full, that, in turn, are effective because of Georgetown's towering new goalie.
The 220-pound Ewing appears not to have grown into his height yet; as he walks, he heaves his shoulders to and fro as if shifting a refrigerator on his back. But running and jumping and searching for balls to reject up over the girders? Lord, he's not so much Secretary as Secretariat. Or what a young, developing Bill Russell must have looked like.
There's still little subtlety in Ewing's game, but it isn't difficult to project him as the next defensive dominator in college. On offense he's a bobble-handed pass receiver, and even when doing his specialty at the other end, he has no idea how to use his body, to hold and push and deny without being whistled by the refs. At times, his response to physical harassment is a whirling elbow, and against George Washington early last week he practically begged for a fight on three occasions. He's all brute force and athleticism.
On Saturday Ewing got in foul trouble when Vegas' 6'8", 243-pound Michael Johnson twice drove the baseline and drew Ewing's second and third personals, sending him to the bench with 8:04 left in the first half. Without him, the Hoyas scored eight straight points, but at halftime led only 36-33.
The obvious strategy in the second half was for Johnson and the other Rebel big men, 6'9" Richie Adams and, especially, 6'9" Sidney (El Cid) Green, to take the ball right at a tentative Ewing. But no. Vegas stayed away. El Cid inexplicably turned into Ben Hur, drove his chariot in circles outside and scored one basket in the final half. Meanwhile, Ewing was not being tentative. On three separate forays he dunked off his own rebound, drove for a reverse layup and stuck a fadeaway jumper that appeared to have been released from behind the backboard.
The lasting vision from Georgetown's 20-2 second-half blowout surge, during which Floyd got 10 points, is one of Ewing leaping up, up and continuing up to grasp teammate Fred Brown's sky-pass somewhere over Baltimore, bring it back into the building and, in the same motion, slam the dunk home.
The heralded freshmen notwithstanding, what Thompson has wrought in the Jesuit school overlooking the Potomac fits in very neatly with the architecture of the neighborhood; it's a team more of weathered townhouses than modern high-rises. That's because seniors are all around, placed as if by design at every key position where they might serve as mentors for the recruits.
One is Center Ed Spriggs, a 25-year-old former post-office worker whom Thompson discovered in Washington while watching games in the Melvin's Crab House summer league. Spriggs didn't play sports in high school. For three years he worked at the post office in Riverdale, Md., "out on the loading platform, inside and driving a truck," and often was seen with his younger brothers, Gregory and Larry, who mirror his 6'9", 240-pound physique. Larry was drafted out of Howard University by the Houston Rockets. Gregory is a bodyguard for Sugar Ray Leonard. "You'd see those brothers walking down the street at night and hope, holy God, that they were nice people," says the 6'10", 300-pound Thompson. Spriggs is nice enough to be serving his second year as captain of the Hoyas. He started 31 games last season and now is content to be a valuable backup to a budding legend. "In common with these guys?" Spriggs says. "Hey, I'm six years older than some of these guys. No, wait. Hey, I'm seven years older. Whew."
It's Spriggs's duty to lean on Ewing in practice, to muscle him, test him, toughen him up. "Intimidation is everybody's thing," he says. "You have to be crazy to play underneath anyway. My first year I was constantly being separated from fights myself. Pat just goes one step too far sometimes. This is a mental game, and he's got to use his head more."
"Patrick is definitely a warrior," says Thompson, "but his fierce attitude has been projected out of all proportion to his personality. He's just not tactful. Right away he comes out and glares at you. He wants you to know that's his dominion. And stay away. He's not trying to intimidate. It's his competitive honesty. The kid is so up, tuned-in, ready, psyched. I've mentioned the elbows. We talked about it. And he's getting better. But he really does get beat on. The way he responds is normal for a non-docile person. Understand now, I don't want any of my centers smiling. I'm not raising any St. Therese, The Little Flower."
Thompson says he has had "unsportsmanlike" players before, but not now. "I did my practicum for my master's in counseling in the D.C. jail," he says. "I know intimidation. I know bad guys. This is not a tramp athlete, a bum. Pat is not a dirty player. In our society people are afraid of any tall black man who is aggressive. But labels are odious. If you talked one-on-one with him you'd find a gentle, nice, polite kid."
Unfortunately, such a conversation is impossible because of a Thompson dictum: no interviews with freshmen before January. To be fair, Thompson has applied this rule—along with some other quaint coaching strictures, such as closed practices—since 1972.
If Ewing, who was born in Jamaica and moved to Massachusetts when he was 12, could be confronted, it would be interesting to hear if he sounds like Bob Marley or Tip O'Neill and to know how he is getting along in the classroom, because he has a reading deficiency. Among the extraordinary academic conditions demanded of recruiters by Ewing's family and his Cambridge Rindge & Latin High coach were permission for Ewing to tape-record lectures and take untimed testing once he got to college.
Thompson denies that Georgetown, which has a distinguished academic reputation, made any deals regarding Ewing's course of study. "I am not hiding anybody or anything," says Thompson. "Sure, I could have open house on Pat and he could do interviews every hour. Then the same people who took all his time would criticize him for not adapting to school. Un-unh. We're not talking about a messiah here. Or an illiterate savage. Just a very special kid."
Maybe even the second coming of Bill Russell.
PHOTO
With Ewing at goalie, the Hoyas have held opponents to .405 shooting from the field.