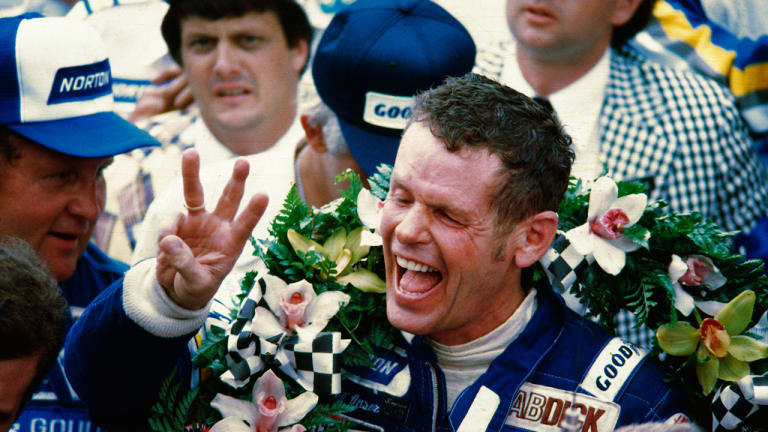 'I Will Go Fast Until The Day I Die'
That is the credo of Bobby Unser, whose third Indianapolis 500 victory typified his career
Old Route 66 crosses the New Mexico desert and feeds into the outskirts of Albuquerque. Back a bit from the highway is Bobby Unser's house, surrounded by sand, scrub and sage. Up the road is a tiny Mexican-American café, just down it is a drive-in theater that shows X-rated movies, and directly across it is a wrecking yard for trucks. Behind Unser's modern 15-room ranch house is the foundation of the two-room house in which he and his three brothers were raised—it was so crowded they often slept on the porch. Hard by the highway is the garage Jerry Unser, the boys' father, built when he moved his family from Colorado in 1937. Its location at the end of town is no accident; Mr. Unser wanted his to be the first garage westward migrants would see after they crossed the desert in their exhausted, overloaded and overheating automobiles.
On a crowded wall in a corner of the ranch house, next to the bar, hangs a small, framed message, written in 1951. It says:
Dear Daddy & Bobby:
Hang your foot in it and Don't let anyone push you around.
I love you.
Al & Mother
The note was a send-off for Bobby and his father before Bobby's first big race: the Carrera Pan Americana, 1,933 miles through Mexico, from the Guatemala border to the Texas border. Bobby drove and his father navigated their Jaguar sedan. Bobby's hand had been broken in a fight two nights earlier. They started 90th, and passed 67 cars on the first day. On the second day Bobby approached a mountain turn, an Alfa Romeo on his right, a 500-foot cliff on his left. The slower Alfa swerved toward the Jaguar and the cars banged fenders. The Unsers just missed going over the cliff; the Alfa smashed into the mountainside, and its driver was killed. Bobby kept going, down out of the mountains and into a village, the stone walls lining its narrow dirt streets flying by him at 100 mph. The wall outlining a 90-degree turn in the town square claimed the Jaguar. Seventeen-year-old Unser led the race at the time. Could brother Al, who was 12 when he wrote that note with his mother, ever have known what a perfect family motto he had created?
Raised on Route 66. Was it inevitable that the Unser brothers would become race drivers? Their father was a driver. Their Uncle Louis was a driver—a legendary one. Between 1926 and 1967 he raced up Pikes Peak 46 times in the annual Fourth of July hill climb, at times competing in more than one class. He was called the King of the Mountain, and he quit only when, at 72, the race officials made him. Their Uncle Joe was a driver—killed while practicing on the highway for the 1929 Indianapolis 500. Jerry, the oldest brother, was USAC stock-car champion in 1957 and was killed in a fiery crash at Indianapolis in 1959. Jerry's twin, Louis, twice won the stock-car class at Pikes Peak. He was an expert mechanic as well. In 1964 he discovered he had multiple sclerosis and switched full-time to engine building. Today he is confined to a wheelchair. Al, the youngest, is a three-time Indy 500 winner like Bobby and second on the alltime Indy-car victory list with 36, one ahead of Bobby. He lives on Route 66, too, across from Bobby's place and next to Toby's Truck City.
The career of Bobby Unser touches five decades; 1949 to 1982, 34 years a race driver. His road up was a tough, slow one. There were nearly 20 years of hard work and heavy dues before the big rewards started coming. First he was a young punk jalopy hotshot, as likely to get into a brawl as Victory Circle. In the 60s and 70s he campaigned sprint cars on the county fair circuits and displaced his Uncle Louis as King of Pikes Peak—breaking the old man's heart in the process—with 12 championships over its treacherous 12½ miles and 156 turns.
It took Bobby 13 years to get to Indianapolis. In his rookie year, 1963, he drove a brutish supercharged Novi that no one else wanted—and crashed on the third lap. In his second attempt at the Brickyard he crashed on the second lap. He won the 500 for the first time in 1968, and not until then could he afford to move for good out of the backseats of cars and into motel rooms. In 1975 he won the 500 again, a rain-shortened race that was stopped after 435 miles.
But it is Unser's third Indy 500 victory that will be remembered longest. He finished first at the Speedway last May, but the morning after the race he was penalized one lap for passing nine cars under a yellow flag and was placed second to Mario Andretti. Unser protested, lost, appealed, and four months later a special USAC panel voted 2-1 to change the penalty to a $40,000 fine. Thus his victory was restored. (At least for the moment. Andretti has now filed an appeal, with the American arm of the Federation Internationale de l'Automobile, which oversees international racing. FIA is expected to decide on this appeal sometime this month.)
When Unser passed those nine cars on the pit apron while returning to the track under the yellow, it was in violation of a rule he knew to be vague and believed to be unenforceable. What this story is about, and what Bobby Unser's life is about—all those years of hanging his foot in it and not letting anyone push him around—was summed up in that pass.
Unser's earliest memory is of the train ride to Albuquerque when his father moved the family down from Colorado. The end of town where they settled was on the wrong side of the tracks; the Unser boys were "stomps," tough guys, and their enemies were "pachucos," tough Mexican-Americans. Knife fights were almost as common as fistfights. At 14 Bobby carried a .45, a possession so prized he had it chrome plated. The two-room house was full of holes from the brothers' rambunctiousness with guns. Bobby was drinking whiskey with the best of them at 16. His pet was a black Lab named Nick. "We never had to feed him," Bobby says. "He'd kill other dogs and eat them. About two a month."
When Jerry and Louie were 11, Bobby nine and Al five, they rebuilt a Model A pickup that was rusting behind the garage. They tore around the outside of the house in it, Baby Al sometimes bouncing out of the back onto the ground. At night they'd leave Al home and sneak into town in the truck, often to be chased home by the sheriff, who could never catch them because they would kill the lights and drive over a mesa, where they knew every ditch and rock.
At 15 Bobby began racing at Speedway Park in Albuquerque, and at 16 he was the hottest thing on the track. He drove a '31 Pontiac with a Cadillac engine, bumpers welded to its sides for protection against the bashing he gave it. His father made him maintain the car himself, and he spent hours in the garage, both rebuilding the car and pumping gas to pay for parts. When they didn't have any money, the brothers would cruise the parking lot at the races, equipped with a flashlight and wrenches, peeking under hoods until they found the part they needed. Sometimes they left a note.
Though Bobby kept improving as a driver, the road to the top was slow getting smoother. Sometimes he found himself at night between race tracks with an empty tank and no gas money. The solution was the nearest parked car and a siphon hose. "It was simply something I had to do to race," he says.
His easiest time may have been his 3 l/2 years in the Air Force, though he hated it; taking orders is simply something Unsers aren't cut out to do. He enlisted impulsively in 1953 and quickly decided it was the dumbest thing he had ever done. But by exercising his artistry at the scam, he made out. When he was assigned to the Air Force automotive and electronics school in Cheyenne, Wyo., he discovered he could race nights. Brother Louie was his manager and mechanic—and his stand-in. Bobby had moved him into the barracks to reduce their expenses. Louie wore Bobby's fatigues, ate in the mess hall and floated around the base at will.
"I figure we could have gotten away with it forever if Louie just could've learned how to salute," Bobby recalls. "They're really hell on that saluting in the service. Louie was going into the damn mess hall one day and walked right by this lieutenant. He got mad and told Louie to report to his office first thing the next morning. I had to go in there. You know, that dumb s.o.b. didn't even know the difference—and Louie and I don't even look alike! But word got around after that, so Louie had to move out."
The brothers operated a garage in Cheyenne, where they worked on the personal cars of the CO., the duty sergeant and the secretary to the base commander. As a result, Unser never had weekend or night duty, which left him free to race. He and Louie would drive their '49 Ford to Denver, Boulder, Colorado Springs—sometimes racing four nights a week. With the prize money and income from the garage and virtually no expenses, Unser's pockets were full. So he expanded the scam. "I had a loan service on the base," he says. "It was a hell of a deal. I charged 100 percent interest a month. I was a barracks chief, so I traded favors to the other guys for taking care of me. They used to clean my room, make my bed, wake me up, bring me my meals. I'd come back from racing at two or three in the morning and my bed would be all turned down for me. And since I was working on the C.O.'s car and my duty sergeant's car for free, naturally they'd also cover up for me. Before long I had everybody paid off one way or another."
The trading of favors didn't stop there. After Cheyenne, Unser was assigned to Alaska, but he got that changed to Albuquerque after visiting a general who happened to be a race fan. Unser ended up working on the general's car while stationed in Albuquerque. He continued his racing career uninterrupted and became a star on the base. He made the rifle team and got additional privileges. (He is still an excellent shot; he sights in his rifle by picking birds off the television antenna on Al's house across the highway.) Bobby seldom had to report to the base, and he took weeks off without leave for racing trips. "All I had to do was keep shooting and racing—and working on the right people's cars," he says.
He got a hardship discharge, thereby getting out of the Air Force six months early, because of his father's health. ("All his life Daddy had been rode hard and put away wet.") A major at the base arranged that. The major had a nice '48 Ford.
Today Unser has a rather original international travel kit: a letter of introduction from a New Mexico senator, a stack of racing photos of himself, a gold deputy sheriff's badge. He says that's all he needs to get most anywhere, including across borders. He flashes the letter where the English may be a little slow or where such things impress. He uses the photos the way fat cats use ten-spots to grease their way, in particular at customs. And as for the badge, he says, "You wouldn't believe the mileage you can get out of a police badge."
The badge isn't counterfeit, nor is his possession of it illegitimate; he is a policeman of sorts. In the leather folder that holds his badge is a color photo of himself on which it says "Captain Bobby Unser." Officially, he is the Pursuit Driving Instructor for the Marion County, Ind. sheriff's department. What that means is that each May when he's in Indianapolis, he teaches the local police how to drive fast on the highway, as a favor.
A number of Unser's friends are New Mexico Highway Patrolmen—one of them first met him after a 130-mph chase. They visit his house in Albuquerque and hang out at his ranch near Chama, 180 miles to the north. They look after the places for him, and he looks after their patrol cars for them. He drives 90 mph up and down the state and doesn't worry about tickets.
When Unser says he has people paid off, he sees it merely as barter, a simple exchange of favors. If the favors are special privileges, so be it: They are available to anyone who is hard-working enough or smart enough to get them. To Bobby's way of thinking, anyone who can earn or buy or con or trade for special treatment is entitled to it. He passionately believes that is how life should work—but doesn't often enough. It's the American way: If you can get around a rule, you deserve to.
It's a complex sort of elitism. Unser doesn't believe he should be treated differently, or that he's better than anyone else because he's Bobby Unser, but that whatever he gets is O.K. because he has made himself Bobby Unser. He's convinced of the Tightness of whatever he does, and this conviction gives him complete confidence in his own ability to talk anyone into or out of anything. He once got stopped in Colorado for speeding downhill in a motor home with no license, towing a trailer with no brake lights, and talked the cop out of a ticket. Rick Mears, Unser's teammate on the Roger Penske Indy team for the past three years, says, "I've never known anyone who could convince you that black was white better than Bobby Unser." Says Unser's third wife, Marsha, "The man never loses a bet or an argument. He only bets when he knows something you don't, and he either wins it legitimately or because he has a loophole." It's his relentlessness: He won't take no for an answer, and he won't quit until he gets his way. "Bobby should have been a hunting dog," says one of his mechanics. Says another Penske teammate, "Hell no, he should have been a World War II tank commander in Africa."
One time the Unsers were driving through West Germany—Bobby and Marsha, Al and his wife, Karen, and "Mom" Unser (who died in 1975). Bobby saw a castle deep in a valley. "He couldn't believe it," says Marsha. "He was so excited. He said we had to go in and see it.
"It was closed, but that didn't stop Bobby, he wanted to see it anyhow. He drove the station wagon right up to the door. There was this big long rope hanging down, and Bobby tugged on it; I guess it rang a bell inside. Nobody answered, so he kept tugging on it and tugging on it; it must have been for 10 minutes. Finally this weird guy came out. It was like something out of an Alfred Hitchcock movie, I mean this guy was eerie.
"Bobby said, 'We want to see your house,' and the guy said, 'No, closed, come back July.' Bobby said, 'I can't come back in July, I want to see it now.' The guy was still saying no, no, go away, and Bobby told me to go to the car and get some racing pictures. So I got Bobby's briefcase and Al's briefcase and came back with some pictures of each of them. The guy recognized the name—it's so German, anyhow—he must have been a race fan. He saw those pictures and said, 'Oh, yes, O.K.,' and he took us in."
"He gave us the whole tour," says Bobby. "I mean, it was the real thing. The whole shooting match. It had towers, a moat, it had a drawbridge, it had one of them iron doors with spikes that drops down. He even showed us the dungeon; it was just a big hole in the stone floor. I mean they just dropped people down in there and forgot about them forever."
But what most impressed Unser was a suit of 13th-century armor. "It was just like they use in the movies about knights, only it was the real thing," he says. "But what I'll never figure is how it got through the war without getting stolen. I mean, you know damn good and well if you had a chance to take one of them armor suits, you'd take it."
In the pasture next to Unser's 125-acre ranch in Chama there is a landing strip for his single engine Cessna 206. He built the strip himself, using a grader that had been left unattended beside the road. He's been commandeering loose construction equipment ever since he and Al, as boys, flooded Route 66 when a valve stuck open on a water truck they had borrowed from the city. "If they didn't want me to use those things they wouldn't leave the keys in them," he says. He believes it. And one can hear him saying, "If they didn't want me to pass those nine cars they wouldn't have left me the opportunity." And believing it.
From Chapter 1 of The Bobby Unser Story, by Joe Scalzo and Bobby Unser: "Drivers under the yellow were always trying to improve their position by making up time on cars ahead of them, and a few got caught. If you were a big name they wouldn't say anything about it. If you weren't, they'd nail you.... About the only car [the chief steward] really wouldn't do anything about was the leader's. The leader got away with murder just because he was the leader."
Unser was speaking about the pacer-light system for keeping cars separated at Indy when the yellow flag was out, which was abandoned at Indy in 1978. Now cars are allowed to pack up behind the leader. But only the system has changed, not the drivers' attitudes toward beating it. What Unser did at the 1981 500 was what race drivers do: push things to the limit. He was merely one push bolder than the rest, which is precisely how he has led his life. Hang your foot in it and Don't let anyone push you around. Take whatever you think you can get away with, and if you get away with it, it must be right.
Unser goes one step beyond believing that a man is innocent until proved guilty. The way he sees it, unless a man is caught in the act of doing something, and that something is defined as wrong by walls with no cracks to squirm through, it never happened. He can convince himself of it. To Bobby Unser, truth becomes what you can get people to believe.
"Because I didn't finish high school, a lot of people think I shouldn't be smart," he says. "I am smart. I can think better than most people can think because I think all the time. At Indy I was the only motherbleeper out there that thought about that rule! I read the bleeping rule-book! I understand that bleep! No one is as good as me at understanding the rules and taking advantage of them."
Bulletin 27, given to the drivers before the race, says a driver leaving the pits under the yellow must position himself behind a "pack up." "Pack up" isn't defined. Unser defined for himself what a pack up was not: nine strung-out cars. It was an intelligent assumption and a legitimate loophole. Still, USAC would have been able to enforce the one-lap penalty had it been assessed on the spot; when Chief Steward Tom Binford decided the situation was too confusing for him to figure out until after the race, he handed Unser his case. The appeals panel changed the sentence, not the verdict, because Binford hadn't taken immediate action.
It was all completely unnecessary, of course. The edge Unser gained by passing those cars was insignificant; leading in the fastest car, he had the race under control anyhow. He had courted trouble.
"A race driver is a highly tuned athlete," he says when it is suggested that the pass was a dumb move. "I'm wired for sound. I'm like a goddamn razor in that car. It is my natural instinct to do the things that I do. There are things that I can't stop. It's just not within my personality, it's not within my training, my upbringing, my nature...to be able to deviate. I didn't even know what I did wrong after the race. I didn't even remember passing the cars."
Unser was explaining this one afternoon last August, four weeks before the panel's decision. He was driving to the Colorado Rockies for four days of off-road riding and varmint shooting, his annual vacation of sorts and the closest he comes to relaxing. His foot was on the floor of the motor home, the engine so strained that the air conditioner's breath was being sucked right out of it. Tensed on the dashboard and howling was Cosworth, a Siamese cat Unser has attempted to train as if it were a dog. Towed by the motor home was an (unlicensed) trailer carrying Unser's turbocharged VW buggy and a new Honda XR500 dirt bike. As Unser crossed the double yellow to pass an old pickup truck he was yelling at Jackie Stewart, who was probably in Switzerland, where he lives.
Stewart was the ABC color commentator for the '81 500; he had called attention to the pass and had babbled speculatively about it. Unser's voice cracked as he shouted over the 75-mph wheezing of the motor home. "All that bull about me being tired and knowing better!" he cried. "He never read the bleeping rule-book. Primarily because of Jackie Stewart, I was crucified, found guilty and treated like a convict, when in fact I had done nothing wrong!"
It was startling how easily Unser lost his cool, how he talked himself into a red-faced rage. Race drivers are supposed to be cool. Unser's own image has been that of a man with nerves like icicles. But inside, he has never been tranquil. "I used to get the dry heaves before a race all the time," he admits.
The Indy affair gave him an ulcer. He has Valium to take with his stomach pills to calm himself down. The very idea: a race driver needing Valium! It's astounding.
"I am the way I am, and I can't change that," he says. "I've tried, I've tried many times. My stomach is bad. It all happened after Indy. It 'finally got the best of me. I've got to change my life some way. If I keep going like this, I'm not going to be worth a damn to anybody. I work myself to death, that's my big problem. Every time I cut out one thing, I go find two more things to do.
"I have no slow days in my life. There is no such thing as a slow day in the life of Bobby Unser. I was trained to go fast, and I will go fast until the day I die."
It was the realization of what he was doing to his stomach—his life—that caused him to announce a cutback in October. Next season Unser's only definite race will be the 500; he will be driving for Roger Penske again. In the rest of the Indy-car races he will manage Josele Garza, the wealthy young Mexican who was Indy's Rookie of the Year in 1981. Unser will operate the team—Unser/Garza Racing—out of the shop on Route 66 that his father built 40 years ago. He considers this cutting back, though he acknowledges that switching from driver to manager may turn out to be a good example of cutting out one thing and finding two more things to do.
When Penske, Indy-car racing's most successful owner, with four seasonal championships in the last five years, hired Unser in 1978, it appeared to be a mismatch. Penske is as controlled as the perfect creases in his slacks. Unser is as loose as a snake. He quit his first day on the job. But that evening Penske and Unser talked, and they realized that beneath their contrasting styles they had a common attitude: to work as hard as necessary to win. Odd couple that they were, in three years together they acquired a solid respect for each other and became the fastest combination in racing. Says Unser, "After 33 damn years, I finally found the answer to happiness and success in racing: Roger Penske. The man doesn't care what I do. All I have to do is what comes natural and is the easiest for me: make speed."
With Penske, Unser proved that if he is given his own way, he's the best development driver in Indy-car racing. Geoff Ferris, Penske's talented English designer—Unser calls him "Pencil"—drew winning cars on paper, but a lot can be lost in the translation from blueprint to racetrack. Finishing a race car is a driver's job, and not many can do it well. The 1979 PC-7 (the PC stands for Penske Cars) began shakily—Penske was ready to write it off, in fact—but Unser persevered and turned it into a winner. Penske says Unser is the key to his Indy-car victories since 1979—22 in all—even though 10 of them have been by Unser's teammate, Mears. "For every dollar I've invested in that man, he's brought me back two," says Penske.
Last winter Unser decided he could test race-car aerodynamics—nothing less than a full-fledged engineer's domain—without a wind tunnel, by using scale models and a flow bench, which is a device about the size of a small desk normally used to test cylinder-head and valve design. He stayed up nights in the shop off Route 66, working like a mad scientist. It seemed like a crazy notion to Penske, but Unser badgered him until he agreed to come to Albuquerque for a sales pitch. Late one night Penske, on his way to L.A., dropped his Lear down in Albuquerque to catch Unser's midnight demonstration. Penske left at 3 a.m., shaking his head. But Unser, of course, had persuaded him to finance the rest of the project. The method worked. "That's my race car," Unser says of the PC-9B that won the '81 Indy. "I invented that bleeper, and I'm proud of it."
His respect for Unser notwithstanding, Penske sometimes has the same trouble communicating with him that everyone else does. So he often uses Marsha, whose path to the outside world has fewer brick walls along it. Marsha can both get the message and deliver it. What makes her valuable to Unser is her ability to deal with him, and what makes her special to him is her ability to tolerate him.
They met in a Phoenix bar in 1973. She was an art teacher in a Phoenix junior high school. She asked for his autograph on a cocktail napkin for one of her students. He persuaded her to dance with him first. During the dance he found out that she wasn't serious about anyone. When he phoned her later, he said, "This is your new boyfriend, Bobby." "Bobby who?" she said. He wouldn't take no over the phone, so she wrote him a letter calling him egotistical, self-centered and a male chauvinist. He booked her a flight to Albuquerque for a date. She went, wondering why. He put her on a dirt bike, and she fell off and landed on a snake. He watched and laughed. They drove up to his ranch in Chama, where he introduced her to "dune buggies, guns, chili and varmints." They had a wonderful time for five days. Two weeks later he called and said, "Quit teaching. You belong where I want you."
So Marsha moved to Albuquerque. With two divorces and four children behind him, Unser was wary of marriage, so they lived together—maybe the only "liberal" thing he has done in his life. Nearly four years later, in 1976, came a surprise marriage—as in surprise party—for Marsha. They were in Las Vegas. Unser hailed a cab, and he and Marsha went to the municipal building for a license. They went back to their hotel and into a suite complete with judge, champagne, cake and photographer.
What other women might find demeaning, Marsha accepts with a superhuman equanimity. She only quivers when Unser is at his worst. She says, "He's got so many other wonderful qualities that I can overlook the impatience and temper tantrums."
Unser was first married when he was 20 and still had two years left to serve in the Air Force. His wife, Barbara, was 18; she helped support them by singing with bands at clubs around Albuquerque. When Bobby was discharged they lived in a converted roadside café on the site where Al's house now stands. She quit singing—Unser says she was good enough to have really made it—when Bobby Jr. was born, soon followed by Cindy.
They were divorced in 1966. Three months afterward Unser, then 32, married Norma Davis, 22, the daughter of a local Mexican-American rancher. "I was constantly falling in love down in Mexico," he says. "That first year at the Mexican road race I wanted to elope with a girl. God, she was beautiful. She didn't even speak English, which was probably the best thing I had going for me. But Daddy stopped that deal. He told me if I married her, I could say goodby to racing any of his cars ever again."
In two years Norma bore him Robby, now 14, and Jeri, 12. Robby's was a difficult delivery. Norma was sick all night in the hospital. Bobby crawled in bed with her, refusing the nurses' orders to leave, and cried when Robby was finally born in the morning.
"I loved Bobby fast and furious," says Norma, and it may be an understatement. She is as mercurial as he, and jealous as well; the divorce and subsequent suits she brought took 2½ years to decide—nearly as long as the marriage. An early court decree would have wiped Bobby out. He fought it—dancing around a jail sentence for contempt—to the New Mexico Supreme Court, where he finally got his way. Although Norma receives no alimony, she did get a lump sum settlement and Bobby helps support the kids. Incredibly, Bobby and Norma are still close. When asked why, they give the same answer: He/she is the father/mother of my children.
Unser does have a way about him, even if one has to look to find it. Mostly he loses his temper only with those he loves, and the burst can be as brief as one or two sentences. He has many friends, and in his own way is generous to them. His door is always open. His little commands—he gives them to everyone, including brother Al—his arranging and dictating everything, including other's likes and dislikes, can have the effect of making one feel Unser has taken one under his wing. A sign of his fondness for someone is to set him up. Marsha might have known he was crazy about her when he laughed as she and the snake lay pinned under the dirt bike. One year, practicing before the Pikes Peak race, Louie was driving on the brink of disaster, letting the wheels of his car flirt with the precipices. Other drivers were worried about him. They suggested to Bobby that he have a word with his brother. Bobby's "word," right before the start, was, "Bet you $50 you can't get through the first five turns without backing off." Louie set a class record on a wild run.
Unser doesn't like to be alone. He needs people around him—not admirers, just company. Marsha calls him an "endless chatterbox." He's always persuading people to hang around, not to go. Once he crashed at a race in Phoenix and was taken to the hospital with a broken collarbone, broken ribs and a broken ankle. He made Marsha climb into the bed with him and squeezed her so hard she bruised. When he fell asleep at 3:30 a.m., she slipped out of bed for a break. "You left me alone," he said when she returned, feeling so betrayed he ordered her home to her mother. An hour later he called her back—she had never left the hall outside his room—and apologized and gave her a diamond wristwatch.
The crashes have taken their toll, though for 34 years of aggressive race driving it might have been much higher. One of the mementos in Unser's house, hanging on his office wall, is a savagely twisted steering wheel, removed from the car that slid under a guardrail at Phoenix; he had come within a whisker of being decapitated. He has a slight tightness about one eye, a reminder of the time when he drove a go-kart into a brick wall early in his career. At first there was extensive facial paralysis. He doesn't recall the exact number of times his legs have been broken: He constantly rubs them with DMSO and drives his Bronco or buggy when elk hunting because the legs won't carry him. He has recently begun using a foam neck brace when he races—only macho ego prevented him from using it earlier. "I can't tell you how much my neck has hurt me for the last 10 years," he says somewhat sheepishly. "I just got so old I finally had to admit I couldn't hold my neck up in the race car anymore."
He may sometimes feel his 47 years, but he rarely shows them. His pace still would drive most 20-year-olds into the ground. He weighs 165, not much more than he did at 17, and he eats like a teenager, despite the ulcer. He sometimes has torrid green chili for breakfast—from the cafe up Route 66—and given a dinner of roast chicken with a cream puff for dessert, he may push the chicken aside and eat the cream puff.
He believes it's the sunken whirlpool in his house that keeps him upright. He thinks it's added three years to his career, and, if he can, he heads straight for it the morning after a race. There, submerged to his chin, he stares into the eyes of a polar bear. The huge white rug is a souvenir of a contest between Unser and A.J. Foyt. It was really only Unser's contest, though; he went to Alaska for the bear when he heard A.J. had shot one.
"Foyt announced his was an 11-footer," says Unser, "which I figured was a bunch of b.s., but I didn't know for sure. I couldn't gamble. I told the guides, 'I want nothing less than an 11½-footer.' We must have passed up 50 bears in our airplane. We'd buzz a polar bear, and I'd say, 'No, that one's too small.' We had to fly damn near to Russia to find it. There's this circle you're not supposed to fly above, and we were so far above it, it wasn't funny. I finally got that dude, though. It's an 11½-footer."
There is nobody Unser would rather beat at something than Foyt—brother Al comes a close second—but even where there's no Foyt to one-up, life is a contest to Bobby. There is more to it than the athlete's normal competitiveness; he uses the word "contest" frequently, with varied applications, and many of his contests exist only in his mind. He won't let Marsha socialize with the other wives at the races because he figures their gossip is a contest among them, and what she might hear might be damaging to him in his contest with her. Tell him he can't do something—such as train Cosworth the cat to roll over, fetch and speak—and it becomes a contest.
On his off-road vacation to the Rockies, every hill becomes a contest for his buggy. Once a boulder by the trail caught his attention. It weighed hundreds of pounds. There was no reason to do anything at all about it, but that rock sitting on the ground bothered Unser: It was as if he saw it defying him to move it. After half an hour of tugging and pushing and grunting and cursing—and snarling at Robby for not doing his part—the boulder crashed down the hill spectacularly, and Unser went on his way, satisfied he had won another contest. It seemed such an apt metaphor for the compulsive stubbornness that rules his life.
Throughout Unser's house there are portraits of him. And his name is painted, printed and stenciled all over the place: on the front door, the side door, the fireplace, the mailbox, the pickup truck door, the buggy's windshield, all the toolboxes, in three places on the Honda. When Marsha answers the phone she doesn't say "hello," but "Bobby Unser's." He says mail addressed simply "Bobby Unser, New Mexico" will reach him. "This isn't immodesty, but reality," he says. And it isn't really egotism, but pride: in the name and what it stands for, which is what he has accomplished. As with privileges, not because he is Bobby Unser, but because he made himself Bobby Unser.
He also has put his name on both his sons—that is egotism. Bobby Jr., called Junior, is 25; Robby is 14. Having used up his name on his two boys, he named his fourth child, daughter Jeri, after his father. Jeri is dark and pretty and she adores her father, though he doesn't claim to know much about raising girls. Then there is Little Al, Al's son. At 19 he is the SCCA Gold Cup Series champion and the hottest young driver in the country. "He wakes up in the morning and it's there" says Bobby. "You can't stop it. Al can't believe it himself. When you find one like that he ought to be gold-plated."
Having the name Bobby Unser stamped on him is something of a curse for Junior. It pressures him into trying to be something he wasn't really cut out to be: a race driver. Broad-shouldered, square-jawed, curly haired and easygoing, Junior looks more like a rodeo cowboy than a race driver. At the races he looks as if he'd rather be somewhere else, his heart doesn't seem to be in it.
To be sure, Junior is a good driver, but if your name is Unser, merely good isn't enough. There is a doghouse behind the shop that says "Junior" over the door, which is his lot in life. When Bobby and Barbara got divorced Junior was 12, and Barbara got custody. "She joined the country club when she remarried, and that's where Junior went wrong," says Bobby. "She made me a penalty box. The only time Junior came to see me was when he was being punished."
Genes might have had more to do with Junior's "going wrong" than country clubs, however; he showed more of his mother's interest in music than his father's in racing. He played drums in a rock 'n' roll band, then grew long hair and began smoking marijuana, which was more than enough for Bobby to decide to have nothing much to do with him for nine years. "When he was a teenager all he did was pop them pills, smoke that wacky terbacky and pound on them drums," says Unser.
Six years ago Bobby Jr. told his father he was ready to give up rock 'n' roll for racing. Bobby Sr. said O.K., but like everything, it would have to be on his terms: Work 20 hours a day at it, for starters. "Junior is only an average race driver," he says. "That's all he'll ever be. But he can get better if he works at it. I didn't have any natural talent when I was young, but I made it out of sheer stubbornness. He can make it, but he's not stubborn enough yet. He can make it."
Robby is the favored son for two reasons: He follows his father's orders, and he loves to race. He sleeps in a bed shaped like a race car, on which the name BOBBY UNSER appears in the form of a racing decal. The bedroom is crowded with his father's and uncle's trophies and racing photos—and the omnipresent portrait—as well as trophies of his own. He's been racing karts since he was seven, and he wins so much it's overkill. "That Robby is hungry," says Unser with pride. "He don't think you ought to do anything but win."