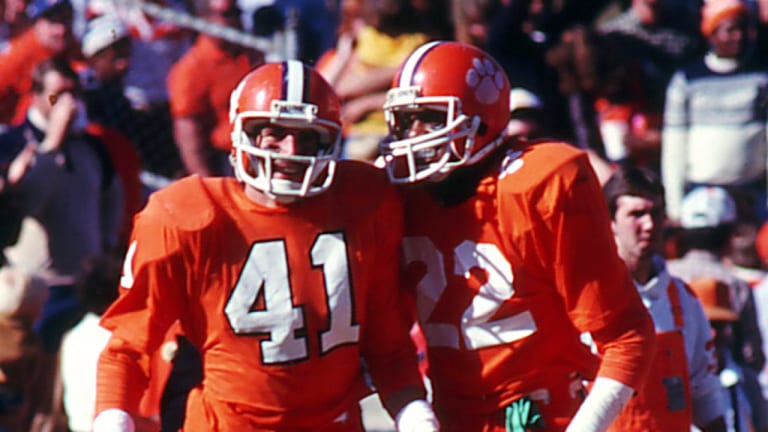 Year Of The Tigers
Scratching and clawing, Clemson upset Nebraska in the Orange Bowl to win its first national championship ever
Until the game was finally over and the 12-0 season and undisputed national championship that had seemed like such a "stupid" idea—to use Danny Ford's favorite word—four months, or even four hours earlier, became real, the 33-year-old coach kept seeing the dream end in just about every unhappy way possible.
"Shoot," said Ford after Clemson's 22-15 Orange Bowl victory over Nebraska, "before the game I saw us getting behind by a lot of points early. When it started I saw us staying close all the way and them blowing us out in the fourth quarter. Then when the fourth quarter came I saw them winning by one point with a two-point conversion in the last minute. I saw everything. From what I had been hearing and reading I figured there were more ways for us to prove we didn't belong on the field with Nebraska than to prove that they didn't belong on the field with us."
That was the way most everyone in Miami and across the nation felt, it seemed. Except, that is, for the tens of thousands of orange-clad Clemsonites with paw prints painted all over their faces who refused to let their dream die. A team from the Atlantic Coast Conference might be favored in the NCAA basketball tournament, but no ACC team had won a national football championship since Maryland in 1953, and the betting line favored Nebraska by 4½ points. Nevertheless, at the beginning of the fourth quarter Clemson led 22-7, which gave the disbelievers pause—or paws—although in the next few moments the miraculous Clemson season appeared destined for trivia-land.
Throughout the game the Tiger defense had stopped Nebraska's ground attack cold and foiled the passing of sore-armed Cornhusker Quarterback Mark Mauer, who completed just five of 15 attempts for 38 yards. Mauer's arm began to twinge two weeks ago. "He doesn't have a tremendous arm to begin with," said Husker Coach Tom Osborne. "But against Clemson we're going to have to put the ball up." The only time Clemson was hurt on a pass, it was a halfback option throw from Mike Rozier to Wingback Anthony Steels in the first quarter. Clemson Free Safety Terry Kinard read "run" and was on his way up while Steels passed him going the other way for a 25-yard touchdown play.
But that was early. Clemson had already scored on a 41-yard field goal by its Nigerian kicker, Donald Igwebuike. After Steels's TD, Igwebuike hit another, a 37-yarder. Clemson had pinned Nebraska deep in its own territory, with help from a holding penalty—one of three the frustrated Nebraska line would commit in the game—against Center Dave Rimington. Nebraska punted short from the end zone, and soon Igwebuike's foot was swinging again.
All in all, penalties cost Nebraska dearly, and the Clemson defenders thought there should have been more, particularly Middle Guard William Perry, who went nose to nose with Rimington much of the game. Perry acknowledged that he and Rimington, the Outland Trophy winner, exchanged some harsh words. "I wouldn't say he was dirty," said Perry, smiling after the game. "But he was holding all night. Once I told Jeff Davis [leader of the defense] about it and he spoke to the referee. On the very next play they dropped a flag on him. Holding."
It was clear that the Huskers had come up against more of a team than they had expected. "I could tell they were taking us lightly," said Davis, "just being around them during the week, around town, at discos, the hotels, the stadium. You could feel it, as if they were saying, 'We're from the Big Eight and you boys aren't of the same caliber.'
"I almost had to laugh a couple of times. Like on the first play. I came up to the fullback and forced him inside. It looked like he thought that was the best I could do. I was just feeling him out. So the next time I hit him and knocked him flat on his back. He looked up surprised, like that wasn't supposed to happen." Just as if Clemson's holding opponents to an average of 88.7 rushing yards per game had been some sort of statistical aberration.
So the Clemson defense kept presenting the offense with the ball in Nebraska territory or near it throughout the game. Which brings us to Homer Jordan, the versatile junior quarterback. Ford had intended to do a lot of set-up passing against Nebraska, which, he figured, didn't see much of it in the Big Eight. But that simply didn't work out.
"The one advantage I thought we'd have would be quickness," said Ford. "But I saw during warmups that they were just as quick as us up front. We couldn't set up. We had to sprint out."
Which was exactly what Osborne did not want. Before the game he had said, "I'd rather play against a set-up quarterback like Art Schlichter than a guy who sprints out and can run or pass like Jordan." Jordan did just that, by completing 11 of 22 passes for 134 yards and a touchdown and rushing for 46 yards.
The drive that gave Clemson a 12-7 halftime lead began when Defensive End Joe Glenn separated Nebraska Fullback Phil Bates from the football on the Husker 27. Seven plays later, on the two, Jordan pitched to Tailback Cliff Austin, who swept right for a touchdown.
Jordan was en route not only to victory but also to exhaustion in the humid 77° heat. In the locker room immediately after the game, which was thick with the smoke of victory cigars, Jordan nearly fainted and had to be stretched out on a training table for an hour, taking fluids intravenously in his left arm. "It's a little bit more severe than most cases of heat exhaustion," said Dr. Byron Harder, one of Clemson's team physicians. "If the game had lasted any longer, Homer wouldn't have made it."
By Saturday morning Jordan was back on his feet, showing a few "blue spots" on his arms and legs from the beating he had taken. "I'm bruised and hurt all over," he said, "but the game went just like I'd pictured it."
Which meant that Jordan had to perform his most heroic work in the fourth quarter when he was bone-tired. In the third he had completed four passes in a 75-yard, 12-play drive, finishing up with a 13-yard touchdown pass to Tuttle. "You know, at 7:30 this morning Homer came to my room and woke me up and said, 'I'm so nervous I can't sleep,' " said Tuttle. "I said, 'Homer, those big farm-boys are going to kill you.' But in the game he was so confident. I came into the huddle before the touchdown and Homer said to me, 'If they're in Coverage One [inside zone], run to the corner. If they're in Coverage Five [outside zone], hope that it doesn't get intercepted.' They were in One, I think, so I went to the corner. And there was the ball."
A moment later, after yet another shutdown by the Clemson defense, Billy Davis returned a Nebraska punt 47 yards to set up a third Igwebuike field goal, this one of 36 yards. So it was 22-7 and the Clemson players were already beginning to celebrate. But suddenly there was another factor to deal with. The Sugar Bowl final score was announced—Pitt 24, Georgia 20—and now Nebraska was playing for the championship every bit as much as Clemson was. Patiently, the Cornhuskers proceeded to mount their best drive of the game as the Clemson defense abruptly came unglued. Rozier carried four times for 37 yards before Tailback Roger Craig broke a left-end sweep for a 26-yard touchdown.
"I think we kind of relaxed a little bit then," said Jeff Davis. "It was the only time we went to sleep. We got fast, flowing linebackers, and what they were doing was running wide and cutting back inside." The effect was to set up the sweep, which went perfectly. Craig broke outside and stayed outside when Davis and Safety Tim Childers, responsible for that territory, expected him to cut back in. Now nine points down, Nebraska needed to go for a two-point conversion. But there was a mixup on the alignment. Mike McElroy, the snapper for placements, was on the field instead of Rimington, and by the time things were straightened out, Nebraska was called for delay of game. The two-point play had to be made from the eight instead of the three. Mauer was supposed to pass; instead he pitched out to Craig, who ran it down the left sideline, the same way he had for the touchdown.
Ford felt the lump in his throat tightening. "The odds for making a two-point conversion from eight yards are not good," he said. "But they did it. That was when I saw them doing it again to win the game."
Now Clemson was in trouble. On its previous possession, Jordan had twice tried to pass instead of keeping the ball on the ground to run out the clock. Now, with 9:15 remaining in the game, he was trying to pass again, into the teeth of a fierce Nebraska blitz. Four plays later the Tigers punted.
"I was sure stupid then," said Ford, "having Homer try to throw. I had been pretty smart up until then, too."
But the Clemson defense woke up, and desperation caused another Nebraska holding penalty. Then Perry, Davis and Tackle Jeff Bryant put a fearsome hit on Rozier trying to go left from the Nebraska 33-yard line. On second down Rozier was stopped by End Andy Headon. On third-and-four, Perry nailed Mauer for a three-yard loss.
But there was still 5:24 left when Clemson took over the ball, and so far in the quarter its two possessions had gained a total of 12 yards. Now Jordan kept the ball safely on the ground, in the hands of Jeff McCall and Chuck McSwain, who made two first downs as Clemson gobbled up all but six seconds of the time remaining.
Those six seconds were counted down by the orange-clad crowd—loudly, of course—and then it was over. No one had to wait for any pollsters to vote. The Tigers had made their "stupid" dream a reality.
PHOTO
William Devane snagged a Cornhusker fumble to set up Clemson's first score.
PHOTO
ILLUSTRATIONPHOTOWhen Tuttle went up for this third-quarter touchdown catch, Clemson went up 19-7.PHOTOJordan jarred the Huskers with rollouts, passing for 134 yards, rushing for 46.