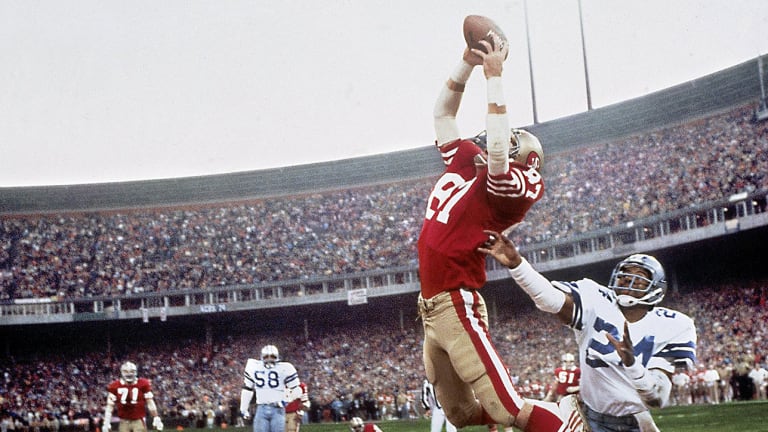 Off On The Wrong Foot
...but right on target was 49er QB Joe Montana, who found receiver Dwight Clark for a miraculous catch to deliver an NFC title
It will be part of San Francisco's history; it will become a legend of this city, right up there with the Great Earthquake of 1906. The Drive. Eighty-nine yards to the Super Bowl, 89 yards at the end of a day that seemed hopeless. The Drive. In 10 years at least half a million people will claim to have been in Candlestick Park the day the 49ers drove the length of the field in 13 plays to beat Dallas 28-27 and win a trip to Super Bowl XVI. In 20 years the number of people who were there will be more than a million.
"Were you in Candlestick that day, Grandpa?"
"Damn right I was."
"Tell me about it?"
"Well, you see, there were less than five minutes left and it looked bad for us, boy, real bad..."
Eddie DeBartolo, the team's owner, didn't see The Drive. He had threaded his way through the crowd to get down near the 49er locker room so he could tell his players how proud he was of them in defeat. "Before that, I'd been out on the deck outside our box leading cheers," he said, "but now it looked hopeless. Just hopeless. I wanted to get in the locker room to commiserate with them."
It hadn't been the 49ers' day. They had turned the ball over only 25 times in 16 regular season games, but they had coughed it up six times against the Cowboys, two of the turnovers leading to touchdowns. Two interference penalties against their brilliant rookie cornerback, Ronnie Lott (one of them on a very questionable call by Side Judge Dean Look), had led to 10 more points. A tough game. The lead had already changed hands five times, with neither team ever leading by more than a touchdown. The 49ers had moved smartly up and down the field and outgained the Cowboys, but Dallas had an historical hook into them in playoff action—the Cowboys had knocked them out of their last three playoffs—and as the 49ers took the ball on their own 11-yard line, down 27-21 with 4:54 left, a deep gloom settled over the Candlestick fans.
"I didn't feel gloomy. I felt like we were going to win," said John Brodie, who'd been the 49ers' playoff quarterback in the 1970s. "I knew we were the better team. I'm so sick of Dallas saying, 'Well, those weren't the real Cowboys out there.' They said it when we beat 'em this year and when the Giants beat 'em. How many guys do they carry on their roster anyway?"
"I looked down the field and I saw that patch of grass between our huddle and their goal posts," San Francisco Center Fred Quillan said, "and I thought, 'That's it. That one patch of grass between us and the Super Bowl.' "
Bill Walsh, the 49er coach, gave Quarterback Joe Montana the first two plays to call, sent him out and adjusted his head set. He checked his phone hookup with Line Coach Bobb McKittrick, 10 yards upfield, and Quarterback Coach Sam Wyche, in the press box. He looked up at the clock.
"Almost five minutes left and all our time-outs," Walsh would say. "I liked our chances. If we got as far as the 35, we'd go for it on fourth down, no matter what. If we got stopped before that, we'd probably punt."
The Cowboys were in their nickel defense—four linemen, one linebacker, Champ Dickerson, and six backs. On the first play, Montana threw low on a little dump-off pass to Lenvil Elliott, his halfback. Elliott is 30 years old, a Cincinnati castoff. The speed is gone from his legs, but San Francisco activated him the previous week because he knows Walsh's passing scheme. Misfire, second and 10. A draw play to Elliott picked up six. "I cut-blocked Dickerson, and he went flying through the air and landed on his head," Quillan said. "I don't think he expected that. I think the run surprised them a little."
Walsh signaled a sideline pass to Flanker Freddie Solomon. He grabbed the ball just above his knees for a six-yard gain and a first down on the 23.
"Bob-18," McKittrick said into his head phones—Elliott sweeping right and both guards, John Ayers and Randy Cross, pulling. "Our best running play for the last three years," McKittrick calls it. It picked up 11 yards. First down on the 49er 34.
"Let's run it the other way," Wyche called down from the press box. "You got it," Walsh said. Bob-19, Elliott sweeping left, good for seven yards. Ayers, who'd thrown the springing block, picked himself up slowly. He looked over at Dallas' Randy White, who'd been battling him all day. White was still down. "We were both laying there," Ayers said, "but he didn't get up right away." White left the game for Bruce Thornton. Leg and chest cramps.
"Before our last drive," Cross said, "Walt Downing, our reserve center, came up to me and said, 'Wait till you see the films of Ayers vs. Randy White. They've been flailing and kicking and screaming all day."
On second and three Montana misfired to Elliott. Thornton was called offside on the next play, and the 49ers had a first down on the 46. White came back in, the 49ers completed a five-yard curl pass to Fullback Earl Cooper, and the two-minute warning sounded. Cross, who'd been battling the flu, along with a dozen other 49ers, dropped to one knee and got sick on the field.
"I'd thrown up on the sidelines twice before that," he said. "This time I couldn't make it over there. A couple of guys in the huddle got annoyed. They said, 'What the hell did you want to do that here for?' I said, 'Sorry, I couldn't help it.' "
On the sidelines Walsh asked Montana, "What do you think of Freddie Solomon on a reverse left?" "I'm not sure," Montana said. Then he said, "O.K., I'll block the defensive end," who was Harvey Martin. "I aim for the knees," Montana said later. "The great equalizer. Actually, Harvey went upfield, and I sort of collided with Randy White, chest high. I remember last game I did that once and he just started laughing."
The reverse gained 14 yards to the Cowboy. 35, then Montana drilled Split End Dwight Clark on an out pattern, right, for 10 more, a very risky, low-percentage pass into the teeth of double coverage by Everson Walls, who'd already intercepted two, and Nickel Back Benny Barnes. "Walls actually got a hand on it," Clark said. "Then the ball hit me in the chest." "I thought it would be a knockdown for Walls," Montana said.
A minute and a half left now. Montana hit Solomon on an underneath pattern for 12, down to the 13-yard line, and the 49ers called time with 1:15 showing. Clark slowly sank to the ground. Hal Wyatt, the co-trainer, went out to him. "You O.K.?" he asked. "Water, gimme some water," Clark said. Half a dozen Cowboys were on one knee, heads down, chests heaving. "I looked over at them," Cross said. "They had, well, I don't want to say, a beaten look, but I saw on their faces the same look Thomas Hearns had when Sugar Ray hit him a few times. They had had us backed up, but now they were no longer the aggressors. They were fighting for their lives."
The 49er coaches had taken off their head sets. Walsh talked to McKittrick. They conferred with Montana. The play would be 29-Scissors, the big banana, Solomon dipping inside and then breaking for the left corner, behind a semipick by Mike Wilson, who'd replaced Clark. A TD play. Solomon got clear, but the ball sailed wide. Walsh, who seldom shows emotion, let out a yell and leaped high in the air.
"I jumped as high as I've ever jumped in my life," he said. "I thought that was the championship right there. We were never going to get that open again. It had worked perfectly to get Solomon free in the end zone, and we missed it."
"The timing on it was a little off," Montana said. "Yeah, I did happen to see Coach Walsh's reaction. He looked pretty disgusted."
Second and 10 from the 13. "Eighteen or 19-Bob," McKittrick told Walsh. "Pick one." He picked 19, sweep left. It gained seven yards, down to the Cowboy six. "I wasn't thinking TD in that situation," Elliott said. "I was thinking, 'Hold on to the ball, get as much as you can, try to get out of bounds.' "
"They were executing with guys that I didn't even know who they were," Cowboy Strong Safety Charlie Waters said. "I mean who is No. 35? [Elliott]. Who was that No. 30 [Bill Ring] who was in there? I don't mean to be demeaning, but they're not exactly Tony Dorsetts."
"I felt like running out on the field and tackling somebody," said Cowboy Quarterback Danny White.
The 49ers called time with 58 seconds showing. The Cowboys got out of their nickel defense and put three linebackers back in. "Bob-18," McKittrick told Walsh. Sweep right. Walsh shook his head. "We'll pass," he said. "Sprint right option." In the press box Wyche smiled. It was the play that had given the 49ers their first touchdown, Solomon slotted inside Clark on the right side and breaking to the corner after Clark had cleared out underneath in a semi-pick. But it was Step Two of the play that Wyche really enjoyed. Step Two, if Solomon were covered, involved Clark's cutting across the end zone, right to left, doing an about face and breaking back right. Montana, rolling to his right, had to find him.
Clark, 6' 4" and 210 pounds, is one of the NFL's great possession receivers. The 49ers drafted him out of Clemson in the 10th round in 1979 when they'd gone there to scout Steve Fuller, the quarterback. They had liked the way Clark worked with him in practice. The stop and reverse move is something Clark and Montana have going together. They'll work on it on their own time in practice. "We practiced it from Day One in training camp in Sierra College in Rocklin, Calif.," Wyche said.
"Surround Joe," Quillan told the linemen in that final huddle. "Give him time." The Cowboys gathered themselves for one last rush. Montana scrambled right. Solomon was covered. Too Tall Jones and Larry Bethea and a blitzing D.D. Lewis were closing in, forcing Montana to the sidelines. "I wasn't going to take the sack," he said. "I couldn't see Dwight open. I knew he had to be at the back of the end zone. I let the ball go. I got hit and wound up on my back. I rolled over. I saw Dwight's feet hit the ground. I heard the crowd screaming."
They were screaming partly from the memory of another great 49er combination, Y.A. Tittle to R.C. Owens, the famous Alley Oop, only this time it was Clark who climbed the sky wire and came down with six points with 51 seconds left. "It was over my head," Clark said. "I thought, 'Oh oh, I can't go that high.' Something got me up there. It must have been God or something."
Walls had lost coverage on Clark. The supposed double coverage never came.
"They're so good at it," Waters said. "It's kind of like sandlot football, but they're the best I've ever seen at it in the NFL. It's like Fran Tarkenton football, maybe even better than Tarkenton."
The game now stood tied, but, almost anticlimactically, Ray Wersching's extra point resolved the issue. One thrill was left for the record crowd of 60,525. The Cowboys had one last gasp, a 31-yard pass from White to Drew Pearson that carried to the 49er 44-yard line and was halted only because Cornerback Eric Wright got a hand on Pearson's collar and yanked backward. Ten or 15 yards more and Dallas would have had a shot at a winning field goal. It was lights out on the next play, though, when Tackle Larry Pillers shot up the middle, sacked White into a fumble, and End Jim Stuckey recovered.
"The center had pulled out to help on Fred Dean," Pillers said. "I grabbed the center's jersey and hung on for the ride. He pulled me right up to the quarterback and gave me the extra momentum."
Later on, Dallas Coach Tom Landry was asked what was the key to the 49er victory. "Montana has to be the key," he said. "There really is nothing else there except the quarterback."
Well, Cincinnati will find out in the Silverdome. Even now the Cowboys don't seem to be fully convinced, but they're still suffering from shock. The shock of The Drive.