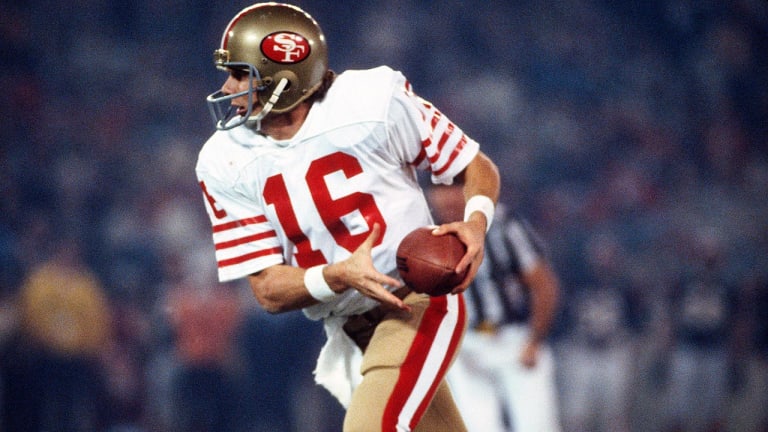 Walsh's Boys Go Head To Head
San Francisco's Joe Montana and Cincinnati's Ken Anderson are both students of the same pass master
There are skeptics who claim that the two best NFL teams are not in this year's Super Bowl. Cowboy and Charger fans, in particular, tend to argue that homefield advantages, officials' calls and wind-chill factors unfairly did in their "obviously superior" teams. But as San Francisco 49er Coach Bill Walsh proclaims, "I guarantee people will be seeing the two best quarterbacks in the Super Bowl."
And who can argue with Walsh, the celebrated "offensive genius" of the NFL, the silver-haired gent who turns out signal callers the way Stradivarius turned out violins? But you don't have to take Walsh's word for it. You can, as they say, look it up.
San Francisco's Joe Montana was the highest-ranked quarterback in the NFC this season. His counterpart, Cincinnati's Ken Anderson, was the highest ranked in the NFL. Montana, who is in only his third pro season and first as a full-time starter, is a newcomer to the top, but as Bengal Coach Forrest Gregg says, "He didn't do it with mirrors. Montana is great." He's so great that last week he had to practice in a No. 19 jersey, 49er fans having glommed all his No. 16s. Anderson, who was also the NFL's top-rated passer in 1975 and '76, just finished his best season ever and now is being swamped with awards, including the league's Most Valuable Player. Indeed, if Anderson were more controversial, if the Bengals played more TV games and if Anderson's given name weren't the real-life equivalent of David W. Gibson, the pallid handle a San Francisco writer gave Montana in a mocking effort to find a nickname for the 49er quarterback, Anderson might be recognized for what he is: a superstar.
Unlike many other quarterbacks who have met up in the Super Bowl—Namath and Unitas, Stabler and Tarkenton, to name a few—Montana and Anderson have a lot in common. Both were born and raised in small midland towns (Anderson in Batavia, Ill., Montana in Monongahela, Pa.) located less than an hour from major cities (Chicago and Pittsburgh, respectively). Both are the only male children in their families (Montana is an only child; Anderson has a younger sister), and both played sports year-round as kids—"Whatever was in season," as Anderson says.
As kids, both liked basketball more than football, and both were better at it. Anderson, who went to Illinois' Augustana College on a basketball scholarship, had a hoop in his driveway but played most of his games at the house of neighbor Dan Issel, now of the Denver Nuggets. Montana, who turned down a number of basketball grants-in-aid to play football at Notre Dame, had an 8-foot rim at his house "for dunking" and a regulation court at the end of his street.
Both Montana and Anderson are polite, unpretentious and accommodating and will describe themselves right off as "quiet." Anderson, 32, is married and has two children, Matt, 6, and Megan, 2. Montana, 25, is recently married and has two horses, Simmy and Mac. Both have bought homes and settled close to their teams' cities, and both plan to stay after quitting football. Anderson just completed law school and will take the Ohio and Kentucky bar exams this spring; Montana plans to get his master's in business administration. "From what I can tell," says Montana, "Ken's personality seems a lot like mine."
Physically, the two are moderately alike, though at 6'2½", 208 pounds, Anderson is sturdier than the bird-legged, 6'2", 193-pound Montana. ("Straighten my bowed legs, and I'd be 6'5"," says Anderson.) Facially, they're near opposites. Anderson is dark, mustachioed and earnest-looking; Montana is blue-eyed, fair and looks as if he'd short-sheet your bunk. On the field both are good scramblers and throwers off the run. Both were third-round choices of their present teams, Anderson in '71, Montana in '79. Both will be playing in their first Super Bowl. Both are Catholic.
Montana's and Anderson's game stats this year are eerily similar. Anderson attempted 479 passes and completed 300 for 3,754 yards. Montana threw 488 times, completing 311 for 3,565 yards. Anderson's completion percentage, 62.6, was the highest in the AFC; Montana's, 63.7, led the NFL. Montana's interception rate was the lowest in the NFC; Anderson's the lowest in the NFL. Anderson was sacked just 25 times; Montana 26. The only significant difference was in touchdown passes—Anderson had 29, Montana 19. But both led teams that out-scored opponents by 13 TDs.
Both quarterbacks threw to wide receiver pairings that are nearly mirror images of each other. Dwight Clark and Cris Collinsworth are the two young, tall, white "possession" receivers; Freddie Solomon and Isaac Curtis are the two veteran black game-breakers. "Our teams are so similar," says Collinsworth, "that the Super Bowl's going to be like an intrasquad game."
If there's a difference in perspective for Montana and Anderson, it's that in his brief pro career Montana has never been booed. Anderson, the 11-year vet, has. After having winning years from 1972 to '77, the Bengals fell below .500 for three straight seasons and Cincinnati fans blamed Anderson, who because of injuries was for the first time in his career throwing more interceptions than TDs. Fans cheered when Anderson got injured against San Diego last year, and this season they booed mightily when he threw two interceptions in the opener against Seattle before being benched in the first quarter.
Anderson nearly quit after that game, but a meeting with Gregg, in which the coach promised his support, turned Anderson around. He started the next week in a 31-30 victory over the Jets, and the rest is history. Anderson's wife, Bonnie, has implied that if that game hadn't been on the road and if Anderson hadn't played well, the pressure might have broken him.
"I've only had friends booed," says Montana, shaking his head, "but even that's awful." Anderson now shrugs off such matters, victory apparently having made him more philosophical than he was at the beginning of the season. "One thing you learn quickly in the NFL is that the fans are fickle," he says. "You have to divorce yourself from all that. If I have any advice for Joe, it would be just to enjoy the game. The closer you get to the end of your career the more you realize what a great life pro football is."
But the real common thread for Montana and Anderson is Walsh, the quarterback teacher. It's well known that in his first year as coach and general manager at San Francisco Walsh drafted Montana and made him his special project. And as the quarterback coach at Cincinnati in the early '70s, Walsh did the same thing with Anderson. After persuading General Manager Paul Brown to draft Anderson, Walsh worked with the quarterback for the next five years until, as Walsh says, "Everything Kenny did was perfect, the way I see it."
Anderson attended tiny Augustana (enrollment 2,250) because he could play two sports, because "no big schools recruited me" and because he could fulfill his language requirement with Swedish, which he spoke at home with his father, who knows little English. Anderson soon outgrew small-college competition. He scored more than 1,000 points in his three basketball seasons, and in one football game he ran, threw or kicked for all the Vikings' 38 points. But coming from humble roots—Anderson's father is a retired high school janitor—Anderson never seriously considered a life in the big leagues.
In the fall of 1970 Walsh arrived at Augustana to scout Anderson in a game against Carthage College. "There wasn't any doubt who Kenny was," Walsh says. "He was bigger than anybody on the field. But what impressed me most was that early in the game Kenny got a hip pointer and could barely walk. At that level they generally cart the guy off, give him a trombone and let him finish with the band. But Kenny came back and played the whole game. That convinced me he could play in the NFL."
To sell Anderson to the Bengals' brass, Walsh needed a game film of him. Augustana didn't' take such movies, and when Walsh finally did get a film from an Augustana opponent, it proved worthless. "Every time Kenny would do something good, the people at the game would stand up and the camera would shake and you couldn't see a thing," says Walsh. "By the time I finished showing that film, nobody was left in the room but me."
The Bengals drafted Anderson anyway, and in February Kenny quit school—he would go back in his first off-season to get his degree in math—and moved to Cincinnati to begin intensive training with Walsh. A sprint-out quarterback in college, Anderson had never dropped straight back to pass. "Basically, I knew nothing," he says. Walsh showed him how to cradle the ball, how to move back into the pocket, how to set up. "We'd literally walk through the steps, counting out the numbers as we went," says Anderson.
There were films and lectures and endless drills on fundamentals. What Anderson got was the now-famous Walsh teaching blitz, the intense reconstruction process Bengal quarterbacks Greg Cook and Virgil Carter had gotten before him and San Diego's Dan Fouts, Montana and others would get later. Walsh spoke quietly and rationally, joked a lot and emphasized restraint and discipline in throwing. "I don't advocate the discipline of a Marine drill sergeant," says Walsh. "What I try to get across is the discipline you'll see in a ballerina or concert pianist."
A year and a half later he had produced a starting NFL quarterback, one who would complete 20 of 22 passes in a game against Pittsburgh in 1974 to set an NFL completion-percentage record and who has the lowest career interception rate in NFL history.
"Bill always utilizes his quarterback's strong points, going with whatever it is each one can do best," says Anderson. "The things he did with Cook and Carter and me were very different, for instance, because we were different. But he always emphasizes not throwing interceptions. What he does is make you aware of all the receivers on all plays, so you know who has to be open."
The word out now is that Walsh is gridiron Merlin, a give-me-a-hundred-pounds-of-steel-wool-and-I'll-knit-you-a-stove kind of guy. But Walsh has had quarterback failures, though he doesn't like to give out names. He knows that to be successful a quarterback must have more than good coaching. The physical attributes needed—a cannon arm, great strength, etc.—are the least necessary assets for success, he says. "I need intelligent people, people without hang-ups that make it difficult to communicate. I don't mean players must have genius IQs. But they need quick, resourceful minds. Joe is exceptionally good at spontaneous decision-making. Kenny is very bright. Every successful quarterback I've had has been very sharp."
Walsh felt so good about Anderson's mental and physical development that when he left Cincinnati in 1976 to coach at San Diego, he took films of Anderson with him to use as teaching guides. Walsh showed them to Fouts at a time when "Fouts really needed help." Fouts has since become the most prolific passer—measured in yards gained through the air in a season—in NFL history. When Walsh moved on to Stanford, he showed the films to quarterbacks Guy Benjamin and Steve Dils, who each went on to lead the NCAA in passing for a year. At San Francisco Walsh showed the reels to Steve DeBerg, who set an NFL record for most pass completions in 1979, and then to Montana.
"Kenny and Joe have similar traits," says Walsh of the two quarterbacks he has worked with longest. "Both will move under pressure, find receivers and hit them when things look worst. Both will hold the ball and not throw big interceptions. Especially Kenny. I think Joe is the quarterback of the future, an active player who may not always run but who always presents the threat of running. And I think Kenny is the best downfield passer we've seen in recent years."
Montana takes such praise with a smile. Anderson accepts it with a grin, too. "Before the game even starts, Walsh is giving me the old snow job," he says.
But Walsh is quite sincere. Oh, maybe it's a way of patting himself on the back—lauding his progeny like that—but, after all, if Dad can't talk up the kids, who can? It must be a nice feeling knowing that whoever wins the big game, your boy can't lose.
PHOTO
Montana was the NFC's top-ranked passer and led the NFL in completion percentage.
PHOTO
[See caption above.]
PHOTO
Anderson was the AFC's top-ranked passer and led the NFL in interception percentage.
PHOTO
[See caption above.]
THREE PHOTOS
In the neighborhood where Matt, Ken, Bonnie and Megan live, fans have decked out their houses. Ken studies law in the kitchen.
PHOTO
Life is a horse of a different color for Cass and Joe, who just recently got hitched.