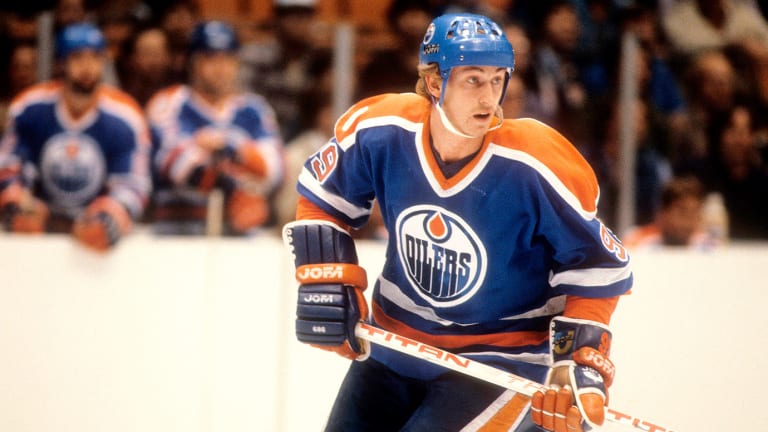 The Lord of the Rinks
As Wayne Gretzky strengthens his claim to being the NHL's top star, his Oilers keep winning—big
The coach is steaming. The bus he's riding in is crowded and hot. Clenched in his fist is a piece of paper—a roster of the Edmonton Oilers. The coach's own team, an established NHL power, has just been outskated, outhit and—what really tees him off—out-scored by the miserable list of names he holds. Pen in hand, he flattens the piece of paper and circles the name Wayne Gretzky. Again. And again. Now he puts slash marks through Wayne Gretzky. Now he inks out Wayne Gretzky, every last trace, down to the serif on the final y. He indicates the great blot of ink. "This way, 75 percent of Edmonton is gone," he says. "No way they beat us." He pauses, deep in thought, and then adds, "But no one around can blot out Wayne Gretzky."
Or the Gretzky-led Oilers. They are the slickest, quickest, most explosive club in the NHL, a boom team from a boomtown. With wins last weekend over the Maple Leafs (5-1) and the Rangers (8-4), the Oilers ran their record to 35-13-10 and strengthened their grip on first place, not only in the Smythe Division but also in the whole 21-team league. At this time last season only one team had a worse record than Edmonton's. What's going on here?
For one thing, in the 21-year-old Gretzky, the Oilers have far and away the most dominant player in the game. He's re-rewriting the NHL record book so completely that last week league headquarters in Montreal felt obliged to issue a press release detailing his accomplishments to date. Seven pages. In brief, it said that Gretzky is having the finest season any NHL player has ever had.
Now in his third year in the league, Gretzky probably will break all the major NHL single-season scoring records. In 1980-81 he broke Phil Esposito's scoring mark of 152 points by getting 164 and Bobby Orr's assist record of 102, with 109. This year, as of last Sunday, Gretzky had 69 goals and 83 assists for 152 points. And with 25% of the season to go, he should topple both records again. He'll also surpass Esposito's hallowed mark of 76 goals in a season. "He's made the record book obsolete," says North Star General Manager Lou Nanne. "From now on, Gretzky's only point of reference is himself."
The Oilers actually began to surge near the close of last season. They lost just four of their final 20 games on the regular schedule. Then in the playoffs, they upset Montreal in three straight and won two games from the Islanders before going under. At the time Gretzky was 20 years old. So were high-scoring wings Mark Messier, Glenn Anderson and Jari Kurri. Edmonton's top two defensemen, Kevin Lowe and Paul Coffey, were 21 and 19, respectively. "We went through bad times together, grew up together, lost together," says Gretzky. "Now's our turn to win together."
Much of the credit for Edmonton's success belongs to Glen Sather, 37, the Oilers' coach, G.M. and president. After bouncing among six NHL teams in nine seasons as a wild-eyed utility forward, Sather closed out his playing career in the now-defunct WHA with Edmonton in 1975-76. Bep Guidolin, then the Oiler coach, took a shine to Sather and had him run a few practices. One day late that season, Guidolin called Sather into his office and said, "Tonight I want you either in the stands or behind the bench." Guidolin was fired shortly thereafter, and Sather has been in charge of the Oilers ever since.
In 1979, when Edmonton joined the NHL, Sather committed the Oilers to building through the draft. He wanted speed and youth, not grinding veterans. His phone rang constantly. Often it was Scotty Bowman of the Sabres, Bill Torrey of the Islanders or Keith Allen of the Flyers. "Wolves howling at the door," says Sather. His players were unproved talents, and it would have been easy to trade any one of them for three or four solid veterans. In January of 1981 Bowman offered four Sabres for Coffey. But Sather held his ground. His steadfastness is now paying off.
With Gretzky leading the charge, the Oilers easily have the highest-scoring team in the league. In a sport in which scoring 40 goals is like hitting 25 home runs, the Edmonton lineup is Murderers' Row. Gretzky and Messier, who already has 36 goals, are the heaviest hitters, and Anderson (27), Coffey (26), Kurri (23) and Dave Lumley (23) also are on pace for 30 goals or more. Looking at it another way, Detroit's leading scorer, Mark Osborne, has 16 goals and 34 assists for 50 points; were he at Edmonton, he would be the No. 7 scorer.
The Oilers pretty much have all the parts. The prolific offense is balanced by such veteran defensemen as Doug Hicks, Lee Fogolin and Garry Lariviere, who stay at home, and by rugged forwards Pat Hughes and Dave Hunter, who held Montreal's famed Guy Lafleur to no goals in last year's playoffs. And though Gretzky and the other scorers might seem like inviting targets, they rarely are hit. Pesky and elusive, Gretzky says only twice in his life has he been banged hard enough to see stars. "Hit him?" says Nanne. "You can't hit Gretzky with a handful of confetti."
Besides, Curt Brackenbury, a human pinball on ice, and, especially, Dave Semenko stand ever ready to protect him. At 6'3", 215 pounds, Semenko, 24, was once the undefeated heavyweight champ of the WHA. He's disliked by rival teams, who mockingly call him "cement head," and not even all that much admired by Oiler owner Peter Pocklington, who once said Semenko skates "like a Zamboni." But Semenko knows his role as one of the league's most unsavory players. He once smashed the face of Islander Goalie Billy Smith so hard that Smith's mask flew over the glass into the stands. "I've seen it a couple of times with us," says Vancouver Coach Harry Neale. "Gretzky just kind of rolls his head in the direction of a guy who just hit him, and Semenko moves in."
While the Oilers' blue-line corps is sound, the heart of any defense is in the nets, and Edmonton's goaltending is superior. That's because at last June's draft Sather broke NHL tradition by selecting a goalie, Grant Fuhr, in the first round. Fuhr stepped right in as the No. 1 goalkeeper. He has lost only three of 33 decisions, and from Oct. 14 until Jan. 16 he went 24 games without a defeat. Fuhr is a standup shot-blocker with keen reflexes and an uncommon knack for steering deflections toward his teammates. His play has been good enough to make him—along with Messier, Coffey and Gretzky—an All-Star. To top that all off, Fuhr is only 19—and he's black.
Adopted by a white couple as an infant, Fuhr grew up outside of Edmonton in Spruce Grove, Alberta. Though he's only the seventh black player in NHL history—and the first to tend goal—Fuhr isn't on any kind of racial crusade. He'd much rather be compared with Ken Dryden than with Jackie Robinson. "It's more interesting," he says. Still, one day might he not enjoy his historic significance? "Not really."
"Grant, do you get excited about anything?"
"Not really."
"Why not?"
"There's not a whole lot to get excited about."
Fortunately for the Oilers, if not for newsmen, Fuhr is as impenetrable in goal as he is in the interview room. "I've never seen anyone like him," Sather says. "He never gets rattled or shakes his head or panics." Adds Lumley, "A puck may have just whizzed by his head, and all Grant will say is, 'Hmm, that was an interesting shot.' "
Last season, while playing junior hockey for Victoria, British Columbia, Fuhr gave up 2.78 goals a game, the least in the Western Hockey League. Normally, junior teams alternate two or more goalies. Thus, draft-age netminders tend to be woefully inexperienced. Not Fuhr. He was so exceptional that Victoria Coach Jack Shupe started him in 59 of 72 games. In his sales pitch to Sather, Barry Fraser, the Oilers' chief scout, called Fuhr the most promising junior goaltender since Bernie Parent. At the moment, he's the leading candidate for Rookie of the Year.
Teammates may tease Fuhr about his lack of loquaciousness, but that's nothing compared with the treatment they give Gretzky, whom they constantly needle, particularly about the size of his nose. He may be The Great One or Mr. Waynederful elsewhere and to others, yet in the Edmonton locker room he's Wheeze—short for Weasel. But while the Oilers razz him and say he's merely their equal, they are all in awe of his talent. "What amazes me most is that he never stops amazing me," says Messier. "He'll do some totally incredible thing and you think, 'O.K., that's it; I'll never see the likes of that again.' Then, damn, he does something even more incredible."
To illustrate, Messier points to a five-game stretch last December. In the first four games, Gretzky sort of hit for the cycle—only in goals—scoring three, two, one and then four. Messier thought, "What can he possibly do for an encore?" Gretzky showed him in the very next game, against defensively strong Philadelphia. Gretzky got five goals. Most astonishingly, the five-goal spree raised his season total to 50. Only two other players in NHL history, Maurice Richard in 1944-45 and Mike Bossy last year, have scored 50 goals in 50 games, and both needed all 50 games. For Gretzky, goal No. 50 came in Game 39.
Afterward, the Flyers' Bobby Clarke and Paul Holmgren violated an NHL taboo by visiting an opponent's locker room. "I know everything's been written about you," Clarke told Gretzky. "I think none of it is adequate." Two weeks ago, another familiar face popped into the Oiler locker room and asked Gretzky if he could please have an autographed hockey stick. It was Orr.
Much has been said about Gretzky's early on-ice training, about his dad, Walter, sailing pucks around a flooded backyard rink for little Wayne to chase. But the fact remains, most NHL players practiced hard as kids, and none of them is as good as Gretzky. "The idea that Wayne is the player he is because of how hard he worked is garbage," says Sather. "What he does on the ice isn't taught; it comes down straight from the Lord."
Sather's chief concern, naturally, is keeping Gretzky's skates on the ice. "His presence alone psychs out our opponents," says Sather. "My job is to manipulate Wayne so that he upsets them as much as possible, without wearing him down." Still, Sather regularly calls upon Gretzky to take abnormally long, 1½-to-two-minute shifts, which means he plays 32 to 38 minutes a game. Most first-line centers are on the ice about 22 minutes. Sather also "floats" Gretzky at center with all four sets of wings almost every game. At times Sather has even played Gretzky at wing and once used him as a defenseman. Last week, in a 6-3 loss to Montreal, Canadien Center Doug Risebrough was assigned to cover Gretzky, but Wayne's manipulations nearly drove Risebrough batty. At one point Risebrough went off the ice, on again, off, and on again—all in about 10 seconds. He was leaping over the boards like a man jumping rope, until Referee Andy van Hellemond finally resolved his dilemma by whistling him to the bench.
Sather has no problem assigning line-mates to Gretzky. All the Oilers practically beg for ice time with him. "Playing with Wayne's a career break," says Kurri. "With him, you know your plus-minus, goals and assists will go up." Adds Anderson, "He opens up the game, lifts the action to a higher level. He makes hockey more fun." In all, Gretzky has set up 14 different teammates for goals this season. Of the Oilers' 313 goals, he has scored or assisted on 152. He has gotten points in 52 games. In the six he hasn't, Edmonton's record is 1-4-1.
"Wayne's like having your own Fantasy Island," says Lumley, who should know. In November, Sather put Lumley on a line with Gretzky, and Lumley immediately went on a 12-game goal-scoring streak, one short of the modern record set by the Kings' Charlie Simmer in 1980-81. Right before the streak, Lumley had spent 13 games in the stands.
When Gretzky assumes control of the puck, Edmonton's Northlands Coliseum—or any other NHL arena, for that matter—crackles with electricity. He likes to set up in the 10-foot area behind the enemy goal line and quarterback the offense from there. Bowman says that from behind the goal Gretzky has such complete vision his passing becomes uncanny. "He's the only player I've ever seen who can consistently center the puck from there through three sets of skates—and softly," says Bowman.
According to Edmonton's backup goalie, Ron Low, Gretzky invented a behind-the-net shot whereby he blasts the puck off the heel of the goalie's stick so that it caroms into the net. He actually practices this play and has scored off it several times in games. Against Hartford last year, Gretzky was trapped behind the net, defensemen barreling toward him from both sides. Kurri was open in the slot. Gretzky flipped the puck onto the blade of his stick and flicked it over the goal—a perfect pass—and Kurri tapped it home. "I never saw that before," says Low. "Not even in practice."
Talent, leadership, savvy—all of these qualities combine in Gretzky with a deep, smoldering drive never to be beaten. "Wayne has simply got to be first," says Fogolin. "With him there's no other way. If someone takes the puck from him, he starts to get red spots on his face, and he becomes very intent. You know next time out he'll go like the wind, lift the tempo a notch. And if everybody keeps up with him, he'll lift it more, and more...until he feels he's gotten even." Gretzky doesn't deny this. "Hockey is supposed to be fun," he says, "but it's fun only when you're winning."
Being the best has made Gretzky rich, even though in his first two NHL seasons he didn't get all the money he might have. He was content with a salary of about $150,000 a year, despite reports that other NHL stars, notably Los Angeles' Marcel Dionne, were making close to $600,000. But before this season began he had a long talk with Pocklington, and two weeks ago Gretzky emerged with a 21-year deal. The first 15 years could be worth $20 million.
Interestingly, Gretzky shied away from any of the incentive clauses such contracts normally contain. "I believe that I sign a contract to do my best," he says. "I should be paid for that, not for scoring 20 goals or 90 goals." In place of such sweeteners, however, Gretzky's contract calls for extra money if the team does well, with increments for making the playoffs and then for each round it wins in them. Gretzky loves the arrangement. "I'm not the Edmonton Oilers," he says. "I'm part of the team." News of the contract also has enhanced Gretzky's image as a rising media star, replete with a fast-growing following of ogling fans and an ever-increasing entourage of newspeople from Canada and the U.S.
This is beginning to cause some strain. Despite his unflagging politeness, last week Gretzky began dodging interview requests for the first time. The day before the Montreal game, he snapped at Oiler publicity man Bill Tuele, "What else can they possibly ask me? I've told them everything I know." But calls keep coming, as many as 100 a day, including one last week from a woman in Los Angeles. "Where's that Wayne?" she asked Tuele. "He's such a cutie. I just want to rape him." The next day, the Oilers announced that all Gretzky interviews must be done in the locker room.
In part, the arrangement is designed to help avoid a repeat of a five-game winless streak Edmonton went through on a road trip in mid-January. All told, 132 reporters requested interviews with Gretzky during that Eastern swing. Between the media crush and playing five games in five different cities in seven nights, Gretzky was pale and tired. At one point he told Allen Abel of the Toronto Globe and Mail, "I bleed, too. People think my day lasts 30 hours. Years ago, my father used to tell me, 'Either go out and practice now or you'll be getting up at six in the morning the rest of your life to go to work.' Now I'm getting up at 5:30 to catch airplanes. We laugh about that a lot."
Last week Gretzky was still laughing. So were the Oilers.
PHOTO
The ever-increasing demands of the public and the news media are beginning to try Gretzky's patience.
PHOTO
After he joined Gretzky's line, Lumley embarked on a 12-game goal-scoring streak.
PHOTO
The fleet Messier has escaped opponents' clutches often enough to score 36 goals.
PHOTO
One of four Oiler All-Stars, Coffey leads NHL defensemen in scoring with 77 points.
PHOTO
Sather faced down all the "wolves" who wanted to snatch away his young skaters.
PHOTO
The first black goaltender in NHL history, Fuhr is 20-3-10