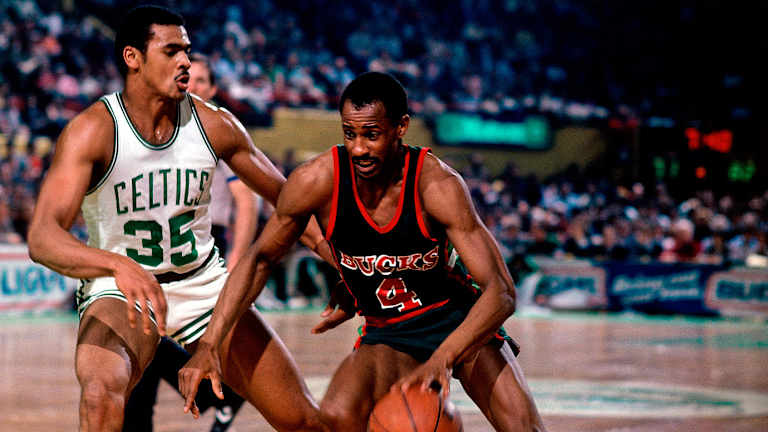 Publish date:
There's No Stopping the Bucks
Despite injuries and a key holdout, Milwaukee is a big winner because of Sidney Moncrief's sparkling play
It's time to put to rest a couple of rumors regarding the heard but not seen Milwaukee Bucks. It isn't true that the Bucks have been jinxed this year by a cover story in The Journal of the American Medical Association. And it is patently false that Sidney Moncrief, who is one of the best guards in the NBA and certainly the most versatile, will simultaneously play for and coach the Bucks while providing color commentary for CBS. Ridiculous. Everyone knows CBS doesn't know where Milwaukee is.
It is a fact, though, that this season an inordinately large number of Bucks have been held out with an assortment of injuries. Then there's Marques Johnson, who just held out, period. In only three games this season have all 12 Milwaukee players been healthy enough to suit up. Swingman Junior Bridgeman, who has missed 20 games with a strained right knee, tendinitis in his left foot and a pulled left hamstring, speaks for his teammates when he says, "This year has just been one continual pain."
Despite all Milwaukee's injuries, it's the Bucks' opponents who are really hurting. Through last Sunday's 125-97 victory at Cleveland, the Bucks' ninth win in a row, which ran their record to 36-14, they were 14½ games ahead of Detroit and Indiana in the Central Division. In intradivision games Milwaukee is 15-4. Of course the division race was probably decided when the schedules were published, but the Bucks' impressive record hasn't been built entirely on cheap wins. In head-to-head competition among the league's top five teams (Boston, Los Angeles, Milwaukee, Philadelphia, San Antonio and Seattle), the Bucks have the best record (7-2) and have six consecutive wins. In one recent six-day span they defeated the Lakers, 76ers and Celtics.
One of the few knocks on the Bucks over the past few seasons has been their inability to defeat Eastern Conference rivals Boston and Philly in the playoffs. Eight years ago, the Kareem Abdul-Jabbar-led Bucks dropped a seven-game championship series to the Celtics. And last spring the Bucks lost a 99-98 heart-breaker to the 76ers in Philadelphia in the seventh game of the conference semifinals. Now Coach Don Nelson speaks hopefully of beating out the Sixers or Celtics or both for the home-court playoff advantage. But whether or not Milwaukee does that, Nelson says, "We have to get that Boston-Philly thing out of the back of our minds."
The way the Bucks have overcome their injuries would seem to indicate that they can handle any challenge. "People don't remember two or three games down the line if you were hurt or not," Nelson says. "It's whether you won or lost." Adds Dallas Maverick Coach Dick Motta, "You can't use the injuries as an excuse to just go through the motions; you just have to hope you're deep enough to cover them. Milwaukee is."
Two seasons ago, when the Bucks traded for instant respectability in Center Bob Lanier, the self-proclaimed Almighty Wonder, from Detroit, the team's management came up with the slogan "Green and Growing" and plastered it on media guides and highlight films, much to the chagrin of the players, who thought it sounded as if they had some sort of fungus. Now the line in the front office is that the team is "Ripe and Ready." Wisely, the players have been kept ignorant of this slogan. In light of their injuries, Brittle and Broken might be more appropriate. Bucks players have missed more than 60 games because of injuries, leading Nelson to almost desperate measures. During Marques Johnson's 18-game holdout at the start of the season, 34-year-old Forward Bob Dandridge was signed as a free agent. He was released on Nov. 25. Guard Mike Evans was let go in late December but had to be re-signed 11 days later because of additional injuries to other players. Naturally, less than two weeks later Evans got hurt and was waived on Feb. 10.
The most bizarre move came on Nov. 20. Kevin Stacom, a former Celtic who was working as a bartender in Newport, R.I., drove up to Boston to watch a Celtics-Bucks game. While he was talking over breakfast with Nelson, a former Boston teammate, the subject of injuries came up. "I've got my sneakers out in the Jeep," Stacom said. Which is all Nelson needed to hear. That night, Stacom—who had starred at nearby Providence College in the early '70s—had a homecoming of sorts, scoring 10 points on 5-of-8 shooting in a 112-89 Buck defeat.
"I hit my first basket and they cheered for me," Stacom said. "I was just trying to get down the floor. I see where [Boston Coach] Bill Fitch said I had a Walter Mitty night. I said, 'Who the hell is Walter Mitty? Some literary figure?' "
In 20 days on the team, Stacom played in all but one of the Bucks' eight games, averaging almost 13 minutes, 4.3 points, an assist and a rebound a game. Then Marques Johnson came to terms and Stacom came back to reality, which in this case is the Dockside Saloon in Newport, R.I., of which he is the co-proprietor.
Nelson may have been able to settle an old bar tab by picking up Stacom, but four days earlier the Bucks made a move that has paid really big dividends. Nelson was "just looking for a body," when he acquired Scott May on waivers from Chicago. A former No. 1 draft pick from Indiana University, May fell on nothing but hard times with the Bulls, beginning in his rookie season, 1976-77, when he missed 10 games with mononucleosis. Things went from bad to worse, and May was released by Chicago on Oct. 27.
May has avoided injury with the Bucks and averaged 9.1 points and 19.2 minutes per game. "There are at least six or seven games that we wouldn't have won without him," Nelson says.
May's signing made a happy man out of Milwaukee Point Guard Quinn Buckner, a teammate of May's at Indiana. "I was so tickled when we got him I didn't know what to do with myself," Buckner says. "He's playing the way he did in college. I have total confidence in him; I'd give him the ball anywhere on the court. I wouldn't do that with everyone on this team."
Ironically, May might not be a Buck today had Marques Johnson been in camp when the season started. Marques held out when the renegotiation of his six-year pact hit snags, first over the amount of money he'd receive and then over the manner of payment. Johnson reportedly wanted to play in a bigger city, so he'd have a greater opportunity for a career in television or movies. To that end, during the negotiations Johnson supposedly spent his time shooting commercials in L.A. instead of hoops in Milwaukee.
Actually, Johnson says, the time was spent doing a lot of nothing. "I was trying to let things work below the surface," Johnson says. "I went public the first time and things got crazy." Since he signed an eight-year contract worth an estimated $8 million and returned to the Bucks, Johnson through Sunday had averaged 14.4 points a game. He'd also missed two games with a sprained ankle, which is to say, he fit right in.
Although Nelson has often said that his team is built around Johnson, the Bucks weren't rattled by his absence, or by the injuries—mainly because of their system. Under Nelson, who has won 254 games in less than five seasons as a coach, the Bucks probably get more repetitive instruction than any team in the league. "We can attack a team's weaknesses rather than only being able to depend on one man," Nelson says of his methods.
As a result, the Milwaukee offense is a series of options upon options, with the choice of which option to use depending on who is on the court. With Marques Johnson at small forward a particular play may result in a shot being taken from 10 feet in. With Bridgeman the same play will yield a 15-foot jumper. The options work so well that seven Milwaukee players are averaging 12 or more points. At the top of the list stands the 6'4" Moncrief, who at week's end not only led the Bucks in scoring, with 20.0 points per game, but also in rebounds, with 6.7 a game, and assists, 5.2. He was the only player in the league topping his team in all three categories. To boot, Moncrief had 368 foul-shooting attempts, fifth highest in the NBA and almost twice as many as that of the closest Buck, Mickey Johnson. Moncrief had made 295 of those, for an .802 free-throw percentage.
Those are some of the more quantifiable accomplishments of a player who Nelson thought might be too undisciplined when he joined the Bucks from Arkansas in 1979. "I remember seeing a facetious quote from Sidney earlier this year," Nelson says. "It went, 'I was a fundamentally unsound player when I joined the Bucks, but due to Coach Nelson's great diligence and patience....' "
If nothing else, four years playing for Coach Eddie Sutton at Arkansas left Moncrief well schooled in the basics—especially on defense. In the finals of the 1979 NCAA Midwest Regionals in Cincinnati, the Razorbacks were being destroyed by Indiana State's Larry Bird. Despite a five-inch height disadvantage, Moncrief was assigned to guard Bird and held him to six points—two field goals and two free throws—in the game's final 10 minutes, which almost won the game for the Hogs; they lost 73-71 to the eventual national finalists. Bird remembers that game, as well as a Celtics-Bucks encounter earlier this season when Moncrief, playing at small forward, held him to 15 points. Moncrief ran the club's spread offense and scored 29 points and had 12 assists. "I was more of a scorer in college but he still did the job on me," Bird says. "He does everything you're supposed to do on defense and doesn't take any short cuts. Plus he does it every night."
Moncrief's blossoming as an offensive star—he averaged only 16.9 points a game in college—has resulted in a change in the Bucks' system. "We've learned how to adapt to him," Nelson says. "We used to run plays for him and expect him to do the same things that our other off guard, Brian Winters, did: come around the pick and shoot the jump shot. But he likes different shots."
Now Nelson seems willing to cater to Moncriefs every whim. Two weeks ago Moncrief was fighting a cold and asked Nelson about the heat at the local high school where the Bucks would practice at 11 o'clock the next day. At the workout Moncrief told Nelson that the gym was satisfactorily heated. "Good," replied Nelson, "I was here at 6 this morning stoking the fire so you'd be warm enough."
Not that Moncrief's about to become hot stuff. "I don't know what that is," says Moncrief. "Maybe it was growing up in Arkansas, going to school there. It was slower paced, there wasn't much for the average person to do there. Milwaukee...things aren't much different."
Life probably would be the same for Moncrief wherever he played. Last month, the Bucks flew his parents from Little Rock to New Jersey for the All-Star game and the hullabaloo in New York that preceded it. "We had a good time, but I don't think it'll happen again," says Moncrief, the implication being that, for parents and son, things were just a bit too slick.
Life in the Little Rock of Moncrief's youth was pretty much cut and dried. Racism? No big deal. "Maybe it helped me mature earlier," Moncrief says. "I learned to take all the abuse and adversity. I like to think I'm a nice person but deep down I'm hard. If the situation requires it, I can be aggressive. I have been before. I'd just prefer not to go that route."
Of course, that could lead to a loss of recognition and the attendant financial benefits. "I'll let my playing do the talking for me," Moncrief says. "I'd like to be recognized more than I am. Sometimes I wish I were different. I hope people take notice of me, but I can't be concerned if they do or not."
It's hard to focus on Moncrief because, apart from the occasional breakaway slam or the acrobatic layup, nothing in his game stands out. He doesn't have Winters' arching jump shot or Bird's uncanny passing touch. In fact the most noticeable thing about Moncrief has little to do with the actual playing of the game. Running on his toes, he prances, like a champion show horse keeping time to some inner beat. Moncrief also engages in little of the bantering that goes on during games between opposing players on the floor or the locker-room joking among teammates. "It's not that he's stuffy or arrogant; he's just a total professional," says Bucks' Vice-President John Steinmiller. "If everyone in the league were like him it would be IBM instead of NBA." Adds Nelson, "I think I've heard him tell one joke since he's been here."
There's a good reason for that. "I don't get paid to tell jokes," Moncrief says. "I'm paid to play basketball." That's not to say he can't be funny. The incessant disco music pulsating throughout the Milwaukee dressing room before a recent game paused for no more than five seconds between songs. All eyes fell upon Moncrief, the owner of the tape deck. Sheepishly, Sidney fell into a long-winded and nonsensical discourse about a foul-up on his reel-to-reel recording system. "Well, it goes like this," Moncrief said as he went to a chalkboard and drew a complete diagram of his recording system, professorially pinpointing the problem as his teammates roared with laughter.
That night Moncrief scored 19 points in a 117-92 laugher over the Mavericks. The dressing room excuse was lame but Moncrief wasn't and Milwaukee would like to keep it that way into the playoffs and beyond.
PHOTO
TONY
TOMSIC
Moncrief uses his quick first step to put Indiana's Butch Carter through the paces.
PHOTO
TONY
TOMSIC
This Marques Johnson move left Magic Johnson (32) and Bob McAdoo (11) awestruck.
PHOTO
TONY TOMSIC
May jumped at the chance to play in Milwaukee.
PHOTO
TONY
TOMSIC
This is known as putting a full Nelson on the refs.