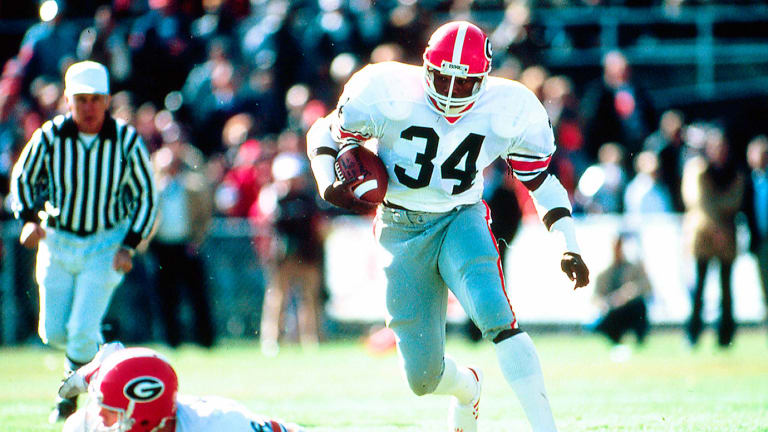 Does Herschel Have Georgia On His Mind?
Or does Herschel Walker want to go to the NFL, a move that would send tremors through college and pro football?
The issue isn't so much whether Herschel Walker will or Herschel Walker won't, but why shouldn't he? And, if he does, what will happen as a result? The answers to that question range from a kind of Emancipation Proclamation (football players getting freedom) to a cry of "Fire!" in a crowded theater (football players causing anarchy), depending on which strident voice you listen to. In any case, the matter is a humdinger, just like the young man on whom it centers. Broken into two parts, it follows these lines:
Part I) Walker, Georgia's All-America tailback and 1981 Heisman runner-up, says he's of a mood to challenge the NFL's rule against signing players before their college class graduates—in Walker's case, the class of 1984, two football seasons from now. Walker feels this way because he thinks the rule is "unconstitutional" and "unfair" to exceptionally gifted athletes like himself who might desire to start their pro football careers ahead of schedule. Walker doesn't say he will do this, only that he wants to explore his "options." He is, as always, a model of noncommittal cool around which everybody else seems to be sweating, trying to figure out what he might do and how it will affect those directly involved—the NFL, the NCAA, the University of Georgia and, of course. Walker himself.
The mere fact that Walker is talking about the possibility of trying to turn pro early is reason enough to listen because he is uniquely qualified for the challenge. In the first place, all those rushing yards (3,741) and touchdowns scored (37) for Georgia the last two years are no lie. Though he won't be 20 until March 3, Walker is nonetheless a talent full-grown—not to mention a body full-grown, at a very muscular 6'2", 220 pounds. Dolphin Coach Don Shula laughed when asked last week if he thought Walker could play in the NFL now. He considered it a silly question. Shula has seen Walker on film and describes him as "awesome." Another NFL coach said, "He could play, he could start and he could star. And he probably would make more money coming in than anybody ever has."
Second, Walker is "different," to use the word of the Georgia assistant coach who recruited him out of rural Wrightsville, Ga. What Walker sets his mind to, that coach, Mike Cavan, says, Walker does. It's not knowing what his mind is set on that drives people nuts. "Herschel marches to a different drummer." says a friend at Georgia, "and the drummer is him." Not even those closest to him are ever really sure what he's thinking. Walker's mother used to steal into his bedroom in Wrightsville to study the poetry he wrote in an attempt to divine what was on his mind.
Georgia Coach Vince Dooley talks of the "tremendous mental discipline" Walker has, an attribute that would make challenging the NFL rule and playing pro football "before his time" something "Herschel could do if he finds it appealing enough," which Dooley doesn't think he will. Walker, Dooley says, "will give it every thought," keeping everybody off balance as long as possible, and then almost instinctively do the thing that will endear him to the most people.
As a high school senior, Walker didn't sign with Georgia until Easter Sunday, long after anybody Dooley had ever recruited, and thereby evoked a statewide sigh of relief. Last year when Montreal Alouettes owner Nelson Skalbania offered Walker a small fortune to quit college for the Canadian Football League, Walker played it to the last dying note before saying no, and when he did, he said it was because it "made no sense to grow up in one country and play football in another." He could have led the Memorial Day parade.
Dooley has discussed the pros and cons of the NFL eligibility rules with Walker and why Dooley feels those rules serve both sides. "I told Herschel I didn't disagree with his thinking," Dooley says. "In fact, I agree with him. But all rules are imperfect. They don't apply to some people. The NFL rule is a great rule for the vast majority. If it were changed, a very, very few underclassmen would make it [in the NFL], and if you consider the number who would throw away their educations to try, you'd realize it would be bad for most."
Dooley believes that when the roll is called down yonder for Georgia's first practice in the fall, Walker will be there, geared up to win the Heisman. (He doesn't have to participate in spring practice because he's running track.) Dooley thinks Walker would be "the last guy who would turn his back on what he has for the money. College life is too important to him. He's having too good a time. Until he tells me otherwise, I'm assuming he'll be here."
Meanwhile, Walker continues to say a lot about the matter without saying anything that would absolutely, positively pin him to the wall or, for that matter to the New England Patriots. The Patriots would be the likely beneficiaries if Walker decides to turn pro and gets the go-ahead from the NFL or the courts. New England has the No. 1 pick in April's draft, which it would almost certainly use to take Walker. If a ruling in Walker's favor comes later than that but before the start of the 1982 season, the Pats would also have the No. 1 pick in a supplemental draft. A New Englander's dream: the Patriots picking Texas Defensive Tackle Kenneth Sims in April and Walker in, say, July.
Last week Walker sat with his back to a picture window separating the offices of the Georgia Bulldog Club from a hallway in The Coliseum and between smiles and waves to passersby who tapped on the glass, gave his thoughts on the issues. He said that nobody knew what he was going to do, that "a lot of people are just guessing." But as a B student in criminology with a fascination for the law—he wants to be an FBI agent—he at least knew "what's fair and what isn't." He said the inequities of the NFL eligibility rules had been on his mind a long time. He said he averages only three hours of sleep a night anyway, and that gives him plenty of time to think. He said when he gets into something like this he "enjoys thinking about it." He said one of his thoughts was that "if you're riding along and come to a tree growing in the road, you can either sit there and wait till it rots, or you can move it."
He also said everybody was talking about everybody else's interests and missing the point. "I'm a religious person. I believe the Bible, and the Bible says God wants you to stand on your own two feet," Walker explained. He added that he is old enough now to speak for himself and that he doesn't think it's right "that everybody tries to hold you back from choosing for yourself, from making your own decision." He said it isn't the money that's the issue, although he certainly could use it to help his family, "and if I get hurt before I turn pro I won't be able to do it." He said the core of the matter was that "I want to be successful, and I want to be happy, and it's my life," not the University of Georgia's life or the NFL's or anybody else's.
Would he, then, challenge the NFL?
"It is a strong possibility," he said.
When? Tomorrow? Soon?
"I never set times," he said.
And then, lounging there in the upholstered chair, his massive muscles straining the fibers of his black T shirt with the bulldog and 1980 NATIONAL CHAMPIONS in a little red-and-white circle on the left breast, he relaxed a little, and he said, "You can do a lot of things with your mind." He said, "You can create things. You can have a lot of fun."
Which brings us to:
Part II) and the more practical, less fun considerations of those with other views on the matter.
The NFL is, naturally, of a mood to repulse such a challenge, even though it expects to see Walker's flying feet on its fields one day soon, anyway. "Commissioner [Pete] Rozelle is obligated to defend the rules of the league," says Jan Van Duser, director of operations for the NFL. The eligibility rule goes back to the 1920s, and though on the surface it seems to favor the colleges, it amounts to a sweetheart deal for the pros. In return for keeping hands off the college players, the NFL gets a de facto farm system that assures an orderly procession of mature talent into the player draft and no bidding wars among the clubs. It also has enhanced the pros' relations with the wary colleges.
It must be remembered, however, that it isn't the draft per se that Walker would challenge. He knows that might be "unconstitutional, too"—it was found to be in violation of federal antitrust laws in 1976, before it was reinstated consensually by the NFL players in the Collective Bargaining Agreement of 1977—but he grants its "fairness" in maintaining competitive balance in the league. What is not fair, he says, is restraining a man "from making a living when he sees fit, not when somebody else decides he's old enough. I think I'm mature enough to play in the NFL right now, but I don't have that option."
Precedents exist for the argument that Walker should be allowed to turn pro whenever he wants. The NBA had a similar rule struck down in the landmark Spencer Haywood suit of 1971. The NBA now considers for selection anyone whose high school class has graduated and who petitions for inclusion within 45 days of the draft, thereby declaring himself a pro. Organized Baseball has an agreement with the NCAA that allows college players to apply for the draft after their 21st birthday, or after their junior year, or after they have been out of school for at least 120 days.
But even though the NFL wouldn't relish a courtroom fight over the eligibility rule, it nevertheless must take the position that any restraint of trade in Walker's case is justifiable in the interests of the majority. Restraint of trade is the central argument in Al Davis' case to move his Oakland Raiders to Los Angeles, and the league cannot afford a damaging precedent on that issue. In the opinion of many lawyers, the eligibility rule is a breathtakingly clear-cut example of restraint of trade. Still, the NFL could win a legal battle with Walker. The fact that the 1977 Collective Bargaining Agreement accepts the eligibility rule would seem to imply that normal restraint-of-trade arguments wouldn't apply if Walker were to challenge the NFL. And even though Walker isn't yet a member of the players' union. Professor Paul Weiler of the Harvard Law School, an expert on labor and sports law, says, "There's some authority in labor and antitrust law that certainly gives the union the right to bargain about the rights of potential employees."
As for the University of Georgia's mood if Walker were to take this step, after it has wrung its hands and cried into its pillow at night, its options are pretty much exhausted. The NCAA would be obliged to do nothing. In the first place, it's already on shaky grounds with some of its limitations on athletes, and it knows it. "Our consistent reaction," says Tom Hansen, assistant executive director of the NCAA, "is not to restrict the freedom of choice of any athlete to begin a career."
Furthermore, a simple inquiry to the NFL by Walker—even if he were accompanied by a lawyer and even if the lawyer were a lawyer-agent, like Walker's friend Jack Manton of Atlanta (Manton is married to a Wrightsville girl)—wouldn't violate NCAA rules. What's more, says Steve Morgan, an NCAA lawyer who interprets these rules for the enforcement department, even if the challenge went to litigation it wouldn't necessarily constitute an attempt by Walker to turn pro. To do that, he would have to officially request inclusion in the draft or approach an individual club.
The irony is inescapable. Conceivably, Walker could hurl this lightning bolt and send the NFL into a screaming frenzy—then blithely pick up his Georgia helmet and go back to practice, his college eligibility intact.
The greater fear that the NCAA and caring coaches like Dooley have is that a change in the NFL's eligibility rules would result in a wholesale defection to the pros of players who would be forsaking their education for a pie-in-the-sky shot at an NFL career. And that once the lid is off, says Hansen, "Unscrupulous agents would swarm over the game," trying to con young athletes into premature and potentially disastrous decisions. Such agents are already nettlesome to the NCAA, according to Hansen, and the problem would only be exacerbated by a looser standard.
But how valid, really, is that fear? If what has occurred in the NBA is a criterion, a wholesale defection isn't likely. Since 1976, only 43 basketball players who still retained college eligibility have filed for the pro draft; 20 made NBA teams, a surprisingly good percentage. Their number includes the likes of Magic Johnson, Isiah Thomas and Mark Aguirre. After '76, when 17 filed and only five made NBA teams, a natural wariness grew on both the pros' part—clubs are more selective in the draft—and on the part of the athletes themselves. Meanwhile, college basketball attendance is up, revenues are up. television ratings are up.
In football, the selection process would probably be even more rigorous because college football players mature less rapidly than their basketball brothers. Nevertheless, a real talent like Walker would be impossible to pass up. Or to hide. Tension would surely arise between college football coaches, already famous for their paranoia, and pro scouts, and that would have to be dealt with. Such tension exists in basketball, where certain scouts have been made unwelcome at certain schools. For instance, until recently LSU refused even to help visiting scouts buy tickets to its games. But the greater danger would appear to be agents, because for them the stakes are incredibly high and big money only a percentage deal away. Manton, a "lawyer who does sports law" and who has among his NBA clients San Antonio's Mike Mitchell, Milwaukee's Sidney Moncrief and Atlanta's Eddie Johnson, says there's not much that can be done about bad agents except hope that the more scrupulous ones will rise to the top. He says he has told "all 50" of the undergraduate basketball players who have come to him with the idea of filing for the draft to "go back to school."
What, then, is he telling Walker?
Yes, says Manton, they "talk," but since an insurance deal he tried to arrange for Walker a year or so ago got struck down by the NCAA, he has been very careful what they talk about. "But if he were to ask me what to do," says Manton, "I would say, 'Know your options. Determine what will make you the happiest.' He has stated he would discuss his options with the NFL. I think he should talk to the commissioner and then determine if he wants to litigate."
Manton doesn't pretend to know what Walker will do. To the contrary, he doesn't even speculate. Those who know Walker as well or better are no less reluctant. Bob Newsome, the Wrightsville Ford dealer who has been Walker's longtime friend and benefactor, was recently quoted as saying "he'll stay" at Georgia. Two days later Walker refuted the forecast. "I don't see how anyone can speak for me," he said. Newsome, stung, retreated from his position, but still pushes for Walker to stay.
"Oh, I think he could challenge the NFL and win," Newsome says. "But I think somewhere in his life it would leave a void. The Heisman he didn't win, the Olympics he didn't run in, the records he would have set. He could wait two years. The money is going to come anyway. He'll be a millionaire five times over. Once you make five million, you don't stop and count it every day."
Walker admits that the Heisman "meant a lot to me" as a sophomore, when he privately harbored a dream of winning an unprecedented three straight, but "it doesn't mean anything anymore," and that running in the Olympics is something "anybody off the street would say he wants to do." New-some says Walker says that now, "but even though he's not a publicity seeker and wouldn't do something just to get his name in the paper, he really wanted those things. Even now, deep down, the Heisman means something to him. I hope for his sake he stays in school. He's good for sport. He's good for people. I'd hate to see him called a renegade. He'd win, but what would he win?"
Cavan says a "mutual friend" has indicated that Walker will stay at Georgia, "but if he left tomorrow, it wouldn't surprise me." Cavan, naturally, thinks Walker would be "making a mistake to leave, because he'll be passing up the chance to be the greatest college player who ever lived. Two more years and there wouldn't be anything on God's green earth he couldn't have.
"But I suppose," Cavan says, "it all boils down to how much of a legend he wants to be."
PHOTOPHOTOWalker, working out here with hurdler Bill Richard, will skip spring football for track.TWO PHOTOSHansen (left) says the ball's in Walker's court; Dooley says his back will be back.PHOTONewsome thinks Walker should sit tight.PHOTOManton thinks Walker should see Rozelle.