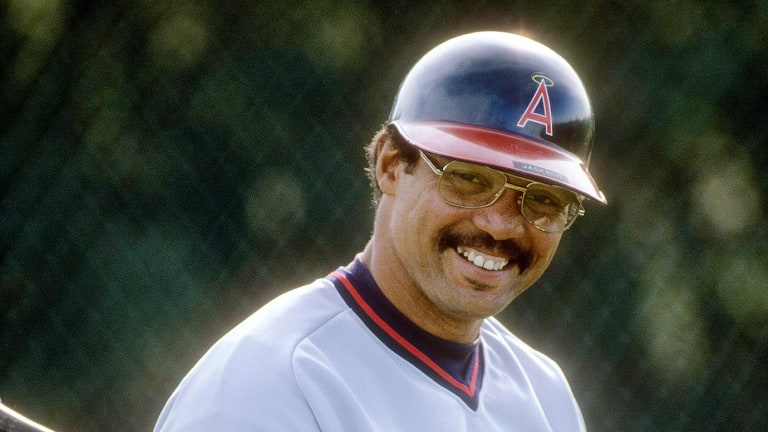 For Both Love And Money
Reggie Jackson is floating on Cloud 9 now that he has joined a glorious host of California Angels
Mr. October was enjoying his moment in the March sun. As he stood behind the cage during batting practice one day last week at the California Angels' spring training complex near Casa Grande, Ariz., Reggie Jackson offered mock-serious counsel to new teammate Tim Foli, who was being confounded by the searing fastballs of Pitcher John D'Acquisto. "Trouble is, you don't choke up enough," Jackson advised Foli, whose grip was just beneath the bat's label. Foli squinted back incredulously at his chuckling tormentor. Jackson next addressed himself to D'Acquisto, who had just zipped another hummer past Foli's truncated bat. "Hey, John," he shouted, "why don't you put something on the ball?" When this sally evoked only a grunt in return, Jackson mounted a bench and, in the sibilant baritone of Red Sox public-address announcer Sherm Feller, declared, "Ladies and gentlemen, girls and boys, get out your scorecards...or you'll be shot."
The Angels hadn't played so much as an intrasquad game, but Jackson, as only he can, had made his presence felt. "Reggie has the kind of personality that when he's around, you're aware of it," said Second Baseman Bobby Grich unnecessarily. And the Jackson presence so far has been a positive one. On a team that has four erstwhile American League Most Valuable Players (Jackson, Oakland, 1973; Fred Lynn, Boston, 1975; Rod Carew, Minnesota, 1977; and Don Baylor, California, 1979) and 11 former All-Stars, Jackson has been not only the stickout but also the camp cutup. "He's already instilled a spirit here that I haven't seen in five years," says Angels Executive Vice-President Buzzie Bavasi. "He's saying, 'Hey, you guys, winning can be fun.' " Indeed, the onetime stormy petrel of Yankee Stadium is trilling like a lark in his new surroundings. "I've never seen Reggie this relaxed," says Third Baseman Doug DeCinces, a Jackson teammate at Baltimore in 1976 and now again with the Angels. "He's always been in the fishbowl," says Baylor. "He knows he can relax here. He won't get all that pressure from the front office."
Cynics suggested that when Jackson signed with California on Jan. 22 for close to $1 million a year there would be resentment among the Angels' other pampered plutocrats. And besides, why would a club so desperately in need of pitching acquire the services of yet another slugger? The Angels are, in fact, still searching hard for pitching help, but as former manager and current consultant Bill Rigney explains, "This man [Jackson] could be the one ingredient a talented club like this needs to make it." And far from resenting Jackson's sometimes overbearing presence, the other Angel stars have clasped him to their collective bosom. Four of them—Lynn, Baylor, Carew and Rick Burleson—appeared at the press conference that announced Jackson's signing and heaped encomiums on his scarcely bowed head. Burleson, in particular, spoke of Jackson as if he were the answer to an Angel's prayers. Burleson has since toned down the hyperbole somewhat, but he's still an unabashed Reggie-rooter. "He'll mean as much to this team as Yaz meant at Boston," Burleson, a former Red Sox shortstop, said last week. "He's been on winners. He's been through hard times and he's come back from them. He's a team player, and I've seen him hit too many big home runs to doubt his ability to come through. He brings experience and lefthanded power. Last year we had only Rod, Freddie and [Ed] Ott hitting from that side as regulars. And only one of them, Lynn, is a power threat. Now they can't load up on us with righthanders." Indeed, in the Angels' first intrasquad game last week, Jackson—and Lynn—hit homers.
Carew, who was himself treated as something of a pooh-bah when he joined the star-studded Angels in 1979, seems equally happy, if somewhat more restrained, about the arrival of his onetime rival. "Reggie will help tremendously," he said. "Sure, he'll strike out in some crucial situations, but he'll come up and hit one out in a lot of others. He has a history of coming through with the big hit." Watching Jackson cavort back of the cage, Carew smiled appreciatively. "He's been having fun here. I think he's found some peace of mind."
Jackson agrees. His attitude in the Angels' camp is in sharp contrast to the braggadocio style he employed upon joining the Yankees five springs ago. He scarcely endeared himself to his new teammates then with remarks on the self-serving order of "I didn't need to come to New York to be a star, I brought my star here." And when he allowed as how he was "the straw that stirs the drink," he ruffled more than one pinstriped ego. The new Jackson can laugh at the old. "I'm a lot more mature now," he says. "I'm more secure. New York can bring that sort of thing out in you. There's so much intensity and tension there. You're under a microscope. I'm getting a lot more respect now than I got then. I've played on some good teams. I'm not competing with anyone for the spotlight. I honestly think that the people here are more concerned now with proving they can win. We're trying to be a team. Everybody knows what I've done. We need each other here."
Had he remained with the Yankees—fat chance—Jackson would most likely have seen more duty as a designated hitter than as a right-fielder, a prospect that filled him with loathing. Gene Mauch, in his first full season as the Angels' manager, says reassuringly, "It would be ridiculous to relegate him to DH with the enthusiasm and the proficiency he has shown in the outfield since he came to our camp. Right now, I can't wait to write his name down on the lineup card as our rightfielder."
Jackson will be handsomely rewarded during the four years of his new contract. He'll reportedly get a guaranteed annual salary of $900,000, plus 50¢ for every paying customer who attends an Angel home game once the team has drawn over 2.4 million in a season, a provision that could add $100,000 or so to his annual earnings if California lives up to its promise and becomes a contender again. (The Angels won the American League West in 1979 but have been 38 games under .500 since.) There are additional considerations that Jackson has been promised by team owner Gene Autry under a "gentleman's agreement" between these two honorable gentlemen. Still, Reggie may be a bargain already. When he signed less than two months ago, the Angels had sold only 4,800 season tickets, which is hardly surprising considering their abysmal 1981 seasons—fourth in the first, seventh in the second. As of last week, more than 15,000 tickets had been sold. Say what you will, Jackson can put fannies in the seats as only a handful of players can these days.
Reggie's salary, his highest ever, is certainly pleasant compensation, but Jackson claims the inner peace he has found in the Angelic environment is a higher reward. Reggie was already rich, anyway. He owns 45 or so automobiles, most collector's items, and has a house in Carmel, Calif, next door to Kim Novak—as well as another house in Oakland and an apartment in New York. He represents so many corporations—ABC, Panasonic, Nabisco Brands et al.—that he keeps a list in his wallet so he won't forget any of the firms if somebody asks him what he's up to. "I feel privileged to play for this team," he says. "I have good feeling here. I can't recall being more enthused about a season. I'm playing in one of the most desirable places in the country, Southern California. I'm with a great bunch of guys who respect me as much as I respect them. And this ball club wants me."
The implication here is clear: The Yankees did not want him. Not exactly, says Jackson. "I don't think George Steinbrenner wanted me. I think the Yankees did, but George does what he wants to. At that victory party after the playoffs in Oakland last fall, when Nettles and I had that problem [a fistfight], George ran down the hall shouting, 'Goddamn it, Jackson, you've done it again!' Right away, you see, it was my fault." But the Jackson-Steinbrenner debates of last season—as distinguished from their set-tos in Reggie's other four seasons in New York—started in the spring. "I told George I'd like to sign before '81, that I didn't want to play out the option year of my contract," Jackson says. "Well, it didn't work out. Then I was late to spring training because I had some work to do for ABC and because I needed to go home to Oakland. George didn't think I had a legitimate excuse, and I guess he was right. We never got along after that. Some article, some press release, was always coming between us. And I got off to a horrific start. I let the uncertainty get to me, which I shouldn't have. George's doubts about me were now confirmed, he thought, by the stats."
Jackson finished the season hitting only .237 with 15 homers in 94 games, a sorry show for a man who has 425 career homers. Steinbrenner seemed to lose interest in him, particularly because Steinbrenner had committed himself to remodeling the Yankees with an emphasis on speed, not power. Jackson started shopping around. He spoke to Atlanta's Ted Turner, who offered intriguing television possibilities. And he called on Edward Bennett Williams of Baltimore. "Talking to that man is like talking to Winston Churchill," says Reggie. "To tell the truth, if Baltimore had been closer to my home in Oakland, I'd be an Oriole today. But my primary consideration was being close to home." That and the fact that the Angels reportedly doubled their original offer.
Mr. Autry, as Jackson calls the septuagenarian former singing cowboy, was no minor factor either. Jackson says he was so impressed after his first meeting with the courtly Autry that he felt impelled to rush right out on the field and win a pennant for him. Reggie's business agent, Gary Walker, was reminded by Autry of one of the most sympathetic characters in literature. "You've read Dostoevsky's book The Idiot, of course?" Of course. "Well, Mr. Autry seems to me to be like Prince Myshkin—often underestimated and misunderstood."
And so, like a Russian novel, its pages aswarm with leading characters, the Angels' season begins. "Reggie's Mr. October," Baylor says. "Now all we have to do is get him that far."
PHOTO
ANDY
HAYT
California's lineup will include four former MVPs: Lynn, Baylor, Jackson and Carew.
PHOTO
ANDY HAYT
If No. 44 hits, he won't be 'Reggie Who' for long.
PHOTO
ANDY
HAYT
Jackson and Mauch must lead the way if California is to make a run for the money.