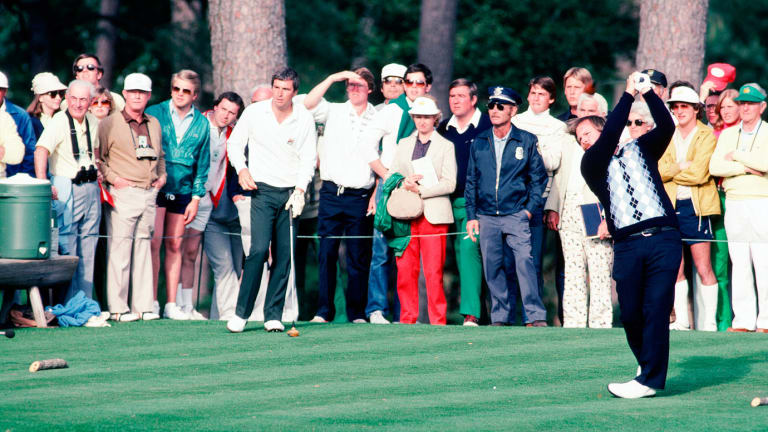 Publish date:
Up To Par When He Had To Be
The Masters' last holes had worked their devilment on Craig Stadler's six-shot lead. But in sudden death he got down in regulation and Dan Pohl did not
It was a goofy Masters that could have been won by any number of speed skaters or snorkelers or tree-climbers, but in the end it went to the man who probably deserved it the most, Craig Stadler. All week long on a frustrating golf course he combined the best shots with the greatest amount of luck. When Stadler finally clinched his victory over Dan Pohl at dusk last Sunday on the first sudden-death playoff hole, the big problem around Augusta, Ga. was whether anybody could find a green jacket to fit a walrus.
Stadler is nicknamed the Walrus because he is built like a freezer and he has a mustache that is only slightly smaller than the forest around Lake Tahoe, where he lives. But over much of the four rounds of last week's tournament he didn't really look like anything but the very fine golfer he is. Stadler can do an irate on you at times, but he kept that part of his personality under firm control, give or take a snarl. The rest of the time he defied his appearance by stroking putts across the glassy and puzzling Augusta National greens with the delicacy of a heart surgeon, and he hit some irons and woods and recovery shots that you could build monuments to.
After three rounds, it was Stadler's tournament to win or lose, because he had survived the two-day opening 18 with a 75 and then added a three-under 69 and a five-under 67 to take a three-stroke lead into the final day. And after nine holes on Sunday, Stadler seemed intent on sending everyone to the veranda earlier than usual. He strolled to the 10th tee with a whopping six-shot lead. To be exact, Stadler was half a dozen strokes ahead of Seve Ballesteros, Tom Kite and Tom Weiskopf. He was also six shots ahead of Pohl, but who cared? Even if you knew that Pohl was the longest hitter on the tour and even if you had noticed that on Saturday he'd made back-to-back eagles at the 13th and 14th holes and followed them with back-to-back birdies on the 15th and 16th, you also knew that he was playing in his first Masters, and that he putts cross-handed, and that he wasn't going to catch up by firing any 61.
Thirty minutes later things were even clearer. Stadler had parred 10 and 11, and he had a four-stroke lead with only seven holes to play, and now that lead was over Pohl alone. Evil things had befallen Weiskopf—two triple bogeys, for instance—while Ballesteros and Kite were either starting to lose strokes or not making a move, and Jerry Pate was yet to get back into the picture after looking for most of the week like the guy with the best chance of making a run at Stadler.
Now there were only two things to consider, history and the fact that the closing holes at Augusta can always make something happen. Golfers have blown leads as large as the one Stadler held in a major championship—just ask Arnold Palmer. In the 1966 U.S. Open at the Olympic Club in San Francisco, Palmer gave away six shots to Billy Casper over the last six holes and eventually lost in the playoff. In the 1937 Masters, Ralph Guldahl lost six strokes—and the tournament—to Byron Nelson over just two holes on jolly old Amen Corner.
But Stadler wasn't thinking any more about history than he was about Pohl at this point. As his wife, Sue, said to a friend out on the course, "Isn't it nice that Dan Pohl's doing well this week?"
If Stadler was thinking about anything, it was Ed Sneed, with whom he had been paired in 1979 when Sneed bogeyed the last three holes without hitting a truly bad shot and let slide a three-stroke lead. That Masters wound up in the lap of a bewildered Fuzzy Zoeller.
It didn't matter all that much then that Pohl, playing three groups ahead of Stadler, went on and made some more birdies and finished the round with his second consecutive 67 and the tournament with a 284, which was four under par. Swell. It would earn him a nice check. What was going to matter was how Stadler would stay out of trouble and nurse along his lead in case Pate or Ballesteros suddenly went on a birdie binge and put a little heat on him.
Well, here's how you squander a six-stroke lead on the always-capricious back nine at Augusta. Stadler hit safely over the water on the evil little par-3 12th, but he hit too far over the water and left himself a nasty chip. He chipped short and missed an eight-foot par putt. Bogey. He tried to make a bogey or something worse at the par-5 13th when he sent an unwise four-iron shot into the creek in front of the green. But the ball skipped over the water and wound up on the grass below the green, and he was able to escape with a par. Why did he go for the green?
"I wanted to make a birdie," Stadler said later. Oh, O.K.
Onward to the 14th. Stadler drove into the trees on the right of the fairway, but as in so many similar situations earlier in the week, he was able to punch out and up to the back of the green. Stadler punched out of a few forests during the tournament, always getting good results. And he blasted out of most of the bunkers he found and got good results, such as holing out for a birdie at the 10th on Saturday, the day he began to move away from Curtis Strange, who had been tied for the lead with him after 36 holes. At the 14th on Sunday, however, his putter started to fail him. He three-putted. Another bogey.
Stadler had a chance for a birdie at the 15th after getting safely over the water and after hitting a bunker shot that should have given him better position than the slick green gave him. But once again, the putt eased by the cup.
Finally, then, at the par-3 16th hole last week's Masters erupted with all of the three-cornered drama, suspense and insanity for which the tournament is famed. Pohl was in the scorer's tent at four-under when Pate put a gorgeous six-iron close enough to the flag to get himself to three-under, after which Stadler put himself into a bunker from which it would be next to impossible to save par.
Pate made the birdie putt, and although Stadler hit a beautiful sand shot, the slope of the green took his ball down the hill and away from the cup. Birdie-bogey, two-shot swing. Stadler five-under, Pohl four, Pate three, two holes to play. Anything could happen—and did.
Pate did not birdie either of the last two holes and, therefore, although he had played as stylishly in the Masters as he had in winning the Tournament Players Championship last month, he could not catch Pohl, much less Stadler. Only Stadler could catch Pohl by going backward, and that was what he did on 18.
The smart play, especially with a one-stroke lead in the Masters, on Augusta's 18th hole, a par-4 with bunkers on the left and trees on the right, is to keep the lumber out of your hand on the tee. Hit a long iron short of the sand, don't flirt with danger. Not Stadler, who is as brave a fellow as he is a talented shotmaker. He took out the old driver and slapped the ball perfectly into the heart of the fairway with a little left-to-right control. Five-iron to the green. He put a good swing on the five-iron as well and got it to the upper ledge of the green, a green where men had been having big trouble all week.
Stadler wasn't worried about the 30-foot putt on 18. He had two putts to win a title, which had started belonging to him on Saturday when he rolled in birdies on the last three greens. Those putts had stretched from his ball mark to Macon. But just when he didn't need to do it, Stadler put a stroke on the ball that was uglier than his golf bag back in 1979 when it advertised Taylor's Prime Steaks, the restaurant in Los Angeles where he had met his wife. He left the putt six feet short of the hole.
If Pohl wasn't putting on his golf glove then, he should have been. Stadler's putt looked like a coughing spell. His par putt to win in regulation with an even-par 72 and total of 283 came about as close to going in the hole as a walrus would to fitting in Stadler's locker. It didn't even scare the cup.
When the frantic hordes went galloping over to the 10th hole to watch the playoff, Stadler had a chance to see Sue on his way to the tee. She was as calming as she had been the night before when they had eaten leftovers for dinner, as calming as she had been Sunday morning when they took their 2-year-old son, Kevin, on an Easter egg hunt.
Stadler looked at her as if to say, "What do you have to do to win this thing?" She only smiled and said, "Come on, babe, there are only two of you now—you can do it."
Stadler nailed a perfect drive and he nailed a perfect six-iron and he two-putted perfectly from 40 feet, and the par was good enough. Pohl did what Dan Pohls are supposed to do the first time around. He hit a poor approach, a poor chip and a poor putt, and bogeyed.
The Walrus couldn't even look happy about it just then. He was emotionally drained. He couldn't believe that winning had been so difficult. "I was hitting good shots," he would argue.
In a Masters that saw the first round carried over into Friday because of a downpour, in a Masters that was colder than anyone could remember, in a Masters that had the fastest greens since the old rye-and-dirt surfaces of the late '40s and early '50s, there were many more losers than young Dan Pohl. To play the "if" game for a moment, Weiskopf could say that if it hadn't been for triple bogeys at the 10th and 13th holes on Sunday, he would have tied at 284. Kite could say that if he hadn't double-bogeyed No. 4 in the second round and interrupted his Sunday charge with a bogey, of all things, at the birdieable 15th, he would have tied at 284. Mark Hayes, who four-putted the 18th on Friday after starting out with a six-foot birdie attempt, could say that if he hadn't made three double bogeys he would have tied at 284. Pate could say that if he hadn't made two double bogeys earlier in the week, he would have won at 283. Ballesteros could say that if he hadn't stupidly double-bogeyed the easy 15th in the second round, he would have won at 283. Then there was Jack Nicklaus. Since he hit more greens in regulation than anyone, Nicklaus, whose 69 led by three after the first round, could say that if he hadn't putted like Barbara....
Hey guys, wait a minute. Craig Stadler made three double bogeys himself last week down there in Georgia. He just did more things right than the rest of you.
PHOTOPHOTOPohl flipped his ball away at 18, waited an hour to find out he was in a playoff.PHOTOAugusta was wet several ways Thursday.PHOTOPate's charge was too little and too late.
For a close-up look at Craig Stadler and his rise to Mastery, turn to page 40.