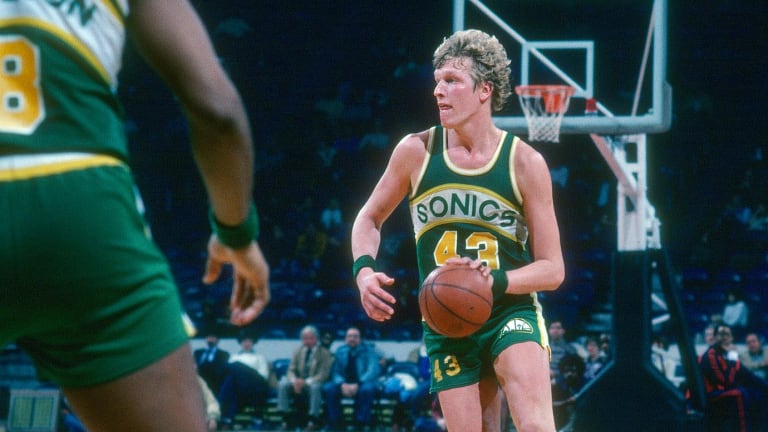 Seattle's Sunday Punch
Jack Sikma won his battle with Moses Malone and Seattle beat Houston to advance in the playoffs
The hard, black surface of the mountain confronted Jack Sikma. Every time he turned around last week, Sikma found himself in the shadow of Mount Moses (elev: real tall). Sikma plays center for the Seattle SuperSonics. Moses Malone, the NBA's leading rebounder and second-leading scorer, plays center for the Houston Rockets. If Seattle was to win their best-of-three miniseries, Sikma would have to move the mountain.
Until last Sunday, however, what Sikma hadn't considered was that the mountain might have to come to him. "You fall into a rut worrying about stopping Moses," Sikma said after scoring 30 points and grabbing 17 rebounds on Sunday, "and until today that took me out of what I wanted to do. Finally I realized that I can do a few things, too, so let them play me." The Rockets were never able to do that—among other things—very effectively. So the Sonics routed them 104-83 and won the series 2-1 and a place in a Western Conference semifinal series against San Antonio.
Sunday's game was quite a turnaround from Game 2, in which the Rockets had trampled Seattle 91-70 in Houston. "Maybe we'd have been better off if we had just beaten them by two points on a last-second shot in that game," said white-haired Houston Coach Del Harris. "Those guys looked mad."
Seattle forced Houston to take bad shots throughout Game 3 by starting its defense out near center court, a tactic that Sonics Coach Lenny Wilkens had felt might bring Houston's big men a few feet farther from the basket. As soon as the Rockets began misfiring, Wilkens brought 7'2", 275-pound James Donaldson off the bench to play alongside Sikma, who is 6'11" and 250 pounds, and Forward Lonnie Shelton, who goes 6'8", 250. That is Seattle's Winnebago Wall, certainly the biggest front line in the NBA, and one that Wilkens had already used effectively in the first two games of the series against the Rockets, who were last season's NBA finalists.
"With the big lineup," Donaldson said, "we lay a lot of muscle on people," which is what the Sonics laid on Houston, stretching a seven-point advantage at the start of the second quarter to 18 just before the half. Harris countered with a forward wall of Malone (6'11", 235 pounds), Elvin Hayes (6'9", 235) and Billy Paultz (6'11", 240). There were so many Winnebagos camped under the boards that Seattle Center Coliseum looked like an R.V. park.
The Winnebago Wall is just the sort of chip Wilkens loves to play in big games. He is an astute tactician who often isn't given his due because he has never been completely comfortable with the media. "Lenny likes to make the wheels spin," a rival coach says admiringly of his bench savvy. Last week Wilkens spun the wheels on his Winnebago, ran the Rockets down from behind with a sleek little sports car named Gus Williams, then rolled past Houston on a streetcar named desire.
Seattle had been itching to run against the Rockets all week, but on Sunday the Sonics so overwhelmed Houston on the boards—a commanding 52-36 edge in rebounds, beating the league's best offensive rebounding team at its own game 20-15—that the Sonics didn't have to fast-break. "They didn't run against us," said Houston Forward Robert Reid, who shot a wretched 2 for 9. "They just came down and hammered at us toe-to-toe." Malone had 24 points and 13 rebounds, but "he had a tough time getting the ball where he wanted it," Sikma said, "so he couldn't climb down our throats with it."
The Rockets hadn't shot well for the series (39.5%), and when they shot 30.9% in the first half Sunday, they were never able to recover.
If the first two games proved anything, it was that the Sonics were more dependent upon Williams' one-man fast breaks than they wanted to be. Seattle had built a 52-30 regular-season record—good for second behind the Los Angeles Lakers in the Pacific Division—on the rubble of teams that failed to protect their flanks against Williams, who was seventh in the league in steals with 2.15 a game. So rather than try to match muscle with Malone and Hayes underneath, the Sonics waited for the Rockets to trip themselves up. "Against a team like Houston the tendency is to want to go strength against strength," Seattle Assistant Coach Les Habegger said. "We could try to counter their halfcourt game with our big lineup, but we think it's to our advantage to make them adjust to us. We'd like to pressure them and make them throw the ball away before they set up."
But in the first two games it was Seattle that had to do the adjusting. Houston had decisively controlled the tempo in six of the eight quarters leading up to Sunday's showdown and had held Williams to 8-for-29 shooting (he was 11 for 18 in the second half of Game 1). Seattle didn't score a single fast-break basket during the first half of Game 1 and mounted only a minimal running attack in the second game on Friday. "Fast breaks are not something that happen by design," Harris said as the Rockets flew back to Seattle on Saturday. "They're the result of an opponent making a mistake."
Houston has made the playoffs the past two seasons by playing something its detractors call Uglyball, and though the Rockets aren't always a lot of fun to watch, because of their plodding style, they do know how to protect the ball. Houston finished the regular season at 46-36, tied for second in the Midwest Division, and committed the fourth-fewest turnovers in the league. Against Seattle it had only nine turnovers in the first game, 10 in the second and nine on Sunday. That the Rockets were also the league's top offensive rebounding team this season only made it doubly tough for Seattle to fast-break. "Every time they get an offensive rebound," Sikma said, "they take away a running opportunity."
Malone, of course, was largely responsible for Houston's edge on the boards in the first two games, although he seemed to be struggling at times. He had 15 rebounds in the first game and 23 in the second, and yet he frequently found himself shoved out of position by Donaldson and Shelton. "He's trying hard," Harris said Saturday, "but nothing's really working for him right now." The Sonics were trying to forget what Malone did to them on Feb. 11, when he savaged Seattle for 38 points and 32 rebounds, three more rebounds than the entire Sonics team got, in Houston's 117-100 victory. "That's the scary thing about coming down to just one game," said Sikma. "Somebody like Moses can pull an awesome on you."
Williams had done that in Game 1, recovering from a nightmarish first half (1 for 8 from the field, four points) to hit nine of his first 11 shots in the second half and finish with 27 points and 12 assists in the SuperSonics' 102-87 victory at Seattle. When the Sonics fell behind by nine points in the second quarter, it was 34-year-old John Johnson and 33-year-old Fred Brown who brought them back. Just a month earlier, Johnson had been put on waivers by the Sonics after apparently failing to recover completely from an Achilles injury that had sidelined him for most of the season. Johnson had created some bad feelings in Seattle when he slapped Wally Walker, his successor at small forward, during practice. In his sixth pro season, Walker had finally begun to flourish in Johnson's absence and had seven rebounds in the third quarter of the first game to pump some life into Seattle's offense.
When no other team picked Johnson up, he said it was time "to leave Fantasy Island." But Johnson got a reprieve when Guard Phil Smith was injured in late March, and in Game 1 he was very much alive as he scored nine points and had seven assists when Seattle was in danger of being buried. Brown poured in 21 points coming off the bench.
Houston shot only 35.8% in Game 1—the Rockets' third-worst shooting performance of the year. The Rockets had let slip away a game they might have won, and as they headed to Houston for Game 2, the Rockets seemed to be on the verge of collapsing under the weight of their own problems.
Houston had recovered from a 7-15 start this season by going 39-21 over the final four months. Nevertheless, Hayes, 36, who was acquired from the Bullets in the off-season, never saw eye-to-eye with the coach or his style. "Elvin may be the only guy in the world capable of turning Del Harris' hair dark," one Washington veteran said after the Big E was traded. And sure enough, Hayes had popped off at Harris at least twice this season, most recently two weeks ago when he criticized the coach for "cutting the players down all the time."
"They've got the most turmoil of any team that wins I've ever seen," Spurs Coach Stan Albeck says. "But they've also got Moses, and that will cure a lot of problems."
In addition, Harris acknowledged that Calvin Murphy, whose playing time he cut, "hates me," but he was confident that oldtimers such as Hayes, Paultz and even Murphy would show what he called their "royal blood" in a pinch. "You try to 'Gipper' these guys," Harris said, "and they just go, 'O.K., right, Coach, but first I gotta go to the bathroom.' "
At the Summit in Houston on Friday, it quickly became evident that the Rockets were either going to show their royal blood or shed some of Seattle's. Guard Allen Leavell had 10 points in the first quarter while hounding Williams defensively. Leavell not only bailed the Rockets out while Malone and Hayes managed only two hoops between them in the first period, but also made the Seattle defense play him honestly for the first time. That opened things up for Malone, and though Hayes continued to struggle—he was 6 for 22 for the series by halftime—the Rockets led 42-34 at the half.
Wilkens countered with the Winnebago lineup in the third quarter and cut the Rockets' lead to five points, but Malone (28 points) and Reid (21) both got hot in the second half. The Sonics' 70 points equaled the lowest playoff score since the introduction of the 24-second clock in 1954. "We took them out of their game," said Malone, "but they took themselves out of their game, too. Sunday is a different day."
Different from anything the Rockets could have imagined. It was as if a mountain fell on Houston, a blond, blue-eyed mountain. Call it Mount Jack.
PHOTO
ANDY
HAYT
Shelton's shooting and Hanzlik's hooking left Reid reaching for air and Dunleavy holding the bag.
PHOTO
ANDY
HAYT
When Seattle fell behind in Game 1, oldies Brown (32) and Johnson got them back on the ball.
PHOTO
ANDY
HAYT
Williams had 65 points and 27 assists in the series and always drew a crowd of Rockets.