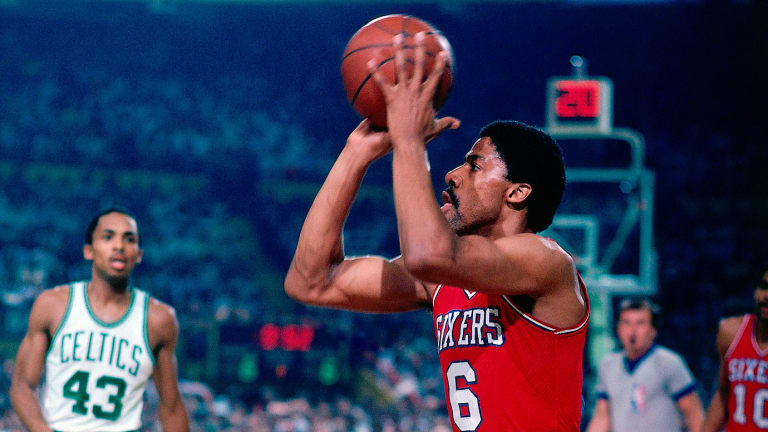 Banishing the Green Ghosts
Philadelphia again blew a 3-1 lead, but came back to its chamber of horrors and beat Boston to win the East
Only seconds remained before the start of Sunday's seventh game between Boston and Philadelphia for the NBA's Eastern Conference championship—a game that, if the Sixers lost, would have been the most devastating in a succession of postseason 76er swoons. And, suddenly, materializing almost before their eyes in Boston Garden stood five Boston fans wearing hooded sheets bearing the legend THE GHOSTS OF CELTICS PAST. On the backs of the sheets were the names and numbers of golden oldies Bill Russell, John Havlicek, Sam Jones, Tom Sanders and Don Nelson, Celtics who so often eliminated Philadelphia—names of players who haunt Sixer fans to this day. "That's when I got scared," Philadelphia's Julius Erving said. "I thought it was the Klan."
But that blast from the past didn't help the Celtics Sunday, nor did the championship banners, nor that legendary little man who sits on the rim guiding in Boston shots. By defeating the Celtics 120-106 to gain the NBA finals against the Los Angeles Lakers, the Sixers delivered themselves from what surely would have been eternal damnation. As Celtic Coach Bill Fitch said afterward, "I bet [76er Coach] Billy Cunningham weighs 100 pounds less now, and I can feel about 95 of them on my back."
This Philadelphia team played like the old run-and-shoot gangs of the late '70s, and the runningest and shootingest were Erving and Andrew Toney. The Doctor, who vowed after Philly's 88-75 loss in Game 6 that he wouldn't go down passing, scored 29 points. Toney, a/k/a the Boston Strangler, got 34.
"Sometimes two-footers don't go, and other times 25-footers do," Erving had said after Game 6. "Sometimes you do everything right and the guy still makes a shot. The game is as unpredictable as it is beautiful, and that's why I love it."
"It's totally strange," concurred Boston's Kevin McHale. "How can Nolan Ryan throw a no-hitter and then get bombed his next time out? It happens."
After breezing 114-85 in Game 5 in Boston and embarrassing the Sixers in Game 6 in Philly, the Celtics seemed poised for the hat trick by again beating Philadelphia in Eastern final playoffs after being down three games to one. "When people start pushing us around we have a tendency not to back down, but just not to do anything until after it's happened," said Sixer Guard Clint Richardson after Game 5. "We have to get hit in the face before we get aggressive."
"Since 1976, with Erving and George McGinnis and those guys, there have been such great expectations for this team," said Guard Lionel Hollins. "But we've gotten older while other teams have gotten better. Look at Boston. They were terrible in '79. But last year, this year...that shouldn't matter to our fans. We give them entertainment every night. They could be in Cleveland."
Shouldn't matter to Philadelphia fans? After Boston opened the Sixer series with a blowout win and then lost three in a row, people weren't saying Philly had a commanding lead, they were saying they could fold again.
Center Robert Parish, the Celtics' leading playoff scorer, second-leading re-bounder and surely their MVP, had slumped in Games 2 through 4. "I don't know about the 76ers crashing the boards," Parish said. "They do do a good job of crashing on my back, though."
Then in Game 5 Parish's slump ended as he scored 15 of his 26 points in the first quarter, mostly on shots made facing the basket instead of his rainbow turnaround jumper. Because that shot is unblockable, whenever Parish got the ball with his back to the basket one of the Philadelphia guards helped double-team the ball, either clogging the passing lanes or forcing Parish into a more awkward shot.
In that game—which ended with Celtic fans gleefully shouting, "See you Sunday"—and the next, the Celtics were helped mightily by their double-team defense. One of Philly's favorite plays begins with either Maurice Cheeks or Toney dribbling below the foul line on the right side and setting up a two-man game with Erving. But instead of double-teaming the Doctor, as they had done previously, the Celtics immediately sent the topside guard down, trapping the Philly guard before a pass could be made, cutting seconds off the shot clock and leading to terrible 76er shots. In the second period of Game 5, Philadelphia was 4 for 26 from the field, an abysmal 15%.
That was just a portent of what was to come in Game 6 on Friday night, although at the start it looked as if the series would be ending as the 76ers grabbed leads of 7-0 and 26-12. From its first possession Philadelphia moved the ball well and swarmed on defense, and no one in the noisy Spectrum seemed concerned with an 8-0 Boston spurt that made it 26-20 at the quarter. Or with the fact that the Sixers, as well as they were playing, couldn't pull away. The 76ers led by just 48-42 at the half. For the record, neither team had relinquished a halftime lead in any of the previous games.
That changed when Parish hit a jumper with 7:56 left to play, giving Boston a 69-67 lead. From then on it was a horror show for the Sixers, who had begun to play too finely. Over the last 18 minutes of the game, after a Bobby Jones layup at 6:12 in the third made it 57-53 Philly, the Sixers scored only four field goals, two of them on goaltending calls. Their 27-point second half was the lowest in the playoffs since the introduction of the shot clock in 1954.
Hadn't we seen this somewhere before? "Déj√† vu?" asked Fitch. "I can't speak English sometimes. I don't want to get into that French stuff. It was a fierce game for conditioning, playing a winter game in the summer."
"That didn't make a difference," said Cunningham. "The building was air conditioned, wasn't it?"
When someone suggested to Parish that it would be Philly that would come out smoking in Game 7, the Chief just shrugged, "That's O.K. I'd put our best five out against theirs any day."
But on Sunday the best five were wearing red. The loosest five, too. Cunningham yanked the Sixers off the floor with three minutes left in the pregame warmups, presumably to pull the team together. Instead, backup Center Darryl Dawkins used the time to rip apart his teammates with jokes. "I know it was a serious occasion, but even if you're at a funeral," he said, "people will laugh if you say something funny."
The Sixers maintained their cool throughout the game—sometimes smiling when fouls were called against them. Once, Erving and Caldwell Jones actually slapped fives after Philly was called for a three-second violation. But it took a slap in the face to get Toney loosened up. In the first quarter M.L. Carr flattened him as he shot a jumper from the top of the key. The shot was good and so was the foul shot, and now Toney had regained the confidence he had lost in Games 5 and 6, in which he went 7 for 31 from the field. "I just felt like I had to play better," Toney said. "For the team and myself."
Apparently his teammates felt so also. Cheeks had visited Toney at his home after Game 6 expressly to tell him to relax. Before Sunday's game, many Sixers came over to give Toney a little pat.
Not that Toney needed much solicitude after he got started. At times he ignored plays to go off on his own offensive tangents. Even if his forays weren't planned, they were what the Sixers, who tend to be tentative at times on offense, needed. "If he hits one, you know he's going to hit another and another and another," Dawkins said.
Both Toney and Erving were off and running, scoring 16 and nine points, respectively, in the first half, which ended 52-49 Philadelphia. But even when the Sixers got the first six points after intermission there was still the feeling that the Celtics would make a big move.
It came with 7:43 left in the third period, the 76ers up 64-54. Larry Bird hit a bank shot from the lane, then a pair of free throws. After a block by Parish, Bird fed Carr for a layup. Two more Bird free throws made it 64-62 before Toney's jumper ended the Celtics' run.
Then it was Boston's turn to lose composure. After Toney's basket, rookie Danny Ainge, in because Tiny Archibald was out with a dislocated shoulder, threw the ball away trying to hit Cedric Maxwell on a fast break. Cheeks converted the turnover into a basket, and Ainge again turned the ball over—on a no-look pass to Carr. When Mike Bantom scored a layup off an offensive rebound for a 70-62 Sixer lead, Fitch called a time out to lay into Ainge.
"Don't blow the whole thing for us," he moaned. "All you have to do is bring the ball upcourt. Somewhere down the line we have to start playing smart."
"He does that all the time," Ainge said later. "That might have cost us the game, but if I had to do it all over again I think I would have thrown the same passes. They might be called rookie plays, but I don't think they were dumb."
Maybe not, but the importance of the plays wasn't lost on Philadelphia. "They always come on strong in the third quarter," Cheeks said. "If you can contain that, you can get 'em. That helped."
The Celtics switched Bird to guard in order to slow Toney down on offense by making him work harder on defense, but, as Cheeks said, "When Toney gets unconscious it really doesn't matter what anybody does."
The crowd gave the soon-to-be-ex-champs a standing ovation with 1:06 left. Forty-five seconds later there was a new chant: "Beat L.A., beat L.A."
"That was nice," Erving said. "But it wasn't as loud as 'See you Sunday,' was it?"
No, but so much had changed since Games 5 and 6. "We were a different team today," said Cheeks. "We played like we were possessed." But not by The Ghosts of Celtics Past.
ILLUSTRATIONPHOTOErving, who pledged to go down shooting, soars for two of his 29 Game 7 points.PHOTODoc's mood turned from jovial to serious when Bird was between him and the hoop.PHOTOAt the end of Game 7, Bird and the Celtics resembled the fallen champions they were.