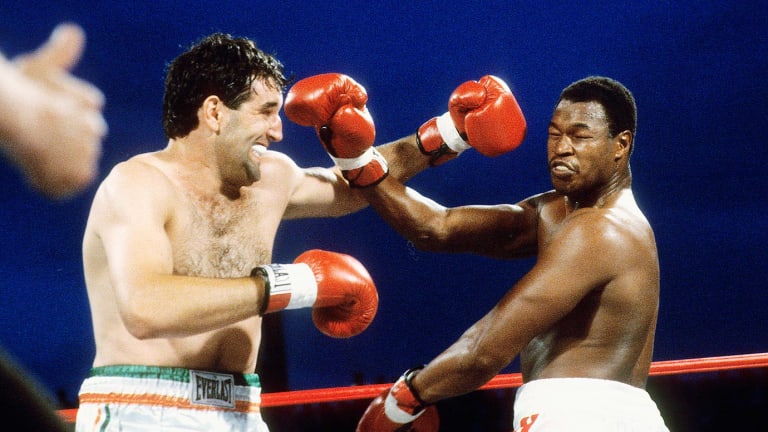 A Classic Confrontation
It's boxer against slugger, experience against youth, as undefeated heavyweight champ Larry Holmes takes on undefeated Gerry Cooney in Las Vegas
We all know Gerry Cooney hasn't been tested yet, but we know he can punch, he's big, and he's young. We also know that Larry Holmes has been hit, he has been getting hit, and he has slowed down a bit. I have a feeling in my bones that the whole stage has been set for a new man. Maybe I'm superstitious. I had that same feeling when Joe Frazier fought George Foreman. The way Foreman was knocking people out, the way Joe fought head on, I thought, 'Joe shouldn't fight him.' I didn't see how he could avoid getting hit. Foreman knocked him out.... The timing may be right again. That's why I'm not going either way. You can't sell Cooney short, but he hasn't been in a dogfight. It's a house dog against a street dog.... But don't bet the family jewels on Larry Holmes. It's a pick-'em fight.
—GEORGE BENTON, noted fight trainer
It's the night of June 11. In a ring set up in a 32,000-seat stadium in a parking lot at Caesars Palace, Las Vegas, in the glare of the setting sun and the television lights, the WBC heavyweight champion of the world, undefeated Larry Holmes, starts forward at the sound of the opening bell. Holmes, 32, 6'3", 215 pounds, moves quickly to the center of the ring. Advancing toward him is the No. 1 contender, undefeated Gerry Cooney, 25, 6'6", 228 pounds.
By now many scenarios, each plausible, each with a logical conclusion, have been devised. Although Benton isn't alone in being unable to envision an ending that accommodates what he knows of these two men, the consensus is that the fight will follow one of two scenarios.
SCENARIO I
I believe that Cooney will flatten Holmes like a latke [potato pancake] within five. Larry's starting to show signs of deterioration. He's all right in the beginning, but then he starts to go apart. He moves around for one or two and then he stands stock still. When he's stationary and Cooney gets him in a corner, he's going to hook Holmes and knock him out. Cooney is the most devastating left-hooker I've seen since the era of Joe Louis.
—AL BRAVERMAN, veteran trainer and manager
In the first round the fighters cautiously circle each other while exchanging jabs. For one or two rounds, Holmes keeps his distance, moving but not dancing, trying to keep Cooney away with the left while setting him up for the overhand right. Cooney's jab isn't as fast as Holmes's, but it's harder and heavier, and, midway through the second round, he's beginning to tag Holmes with it.
Holmes begins to taunt his opponent early in the fight, abusing him verbally while waving him forward, but Cooney declines the obvious bait and continues stalking him, trying to cut off the ring. In the fourth round, Cooney connects with a really stiff jab. Holmes's head snaps back. Holmes tries to retaliate with a jab of his own, but it falls short of Cooney's chin. Because the challenger is three inches taller than Holmes, the champion is forced to jab slightly upward, thus exposing the left side of his body.
A converted southpaw, Cooney has spent years working to make a weapon of his right hand. He jarred Jimmy Young with it two years before, on his way to bloodying and stopping him in the fourth round, and he backed up Kenny Norton with the right on May 11,1981, before pounding him unconscious with left hooks down and up. Now, countering Holmes's jab, Cooney throws his right and catches Holmes on the left cheek, driving him against the ropes.
Holmes sags momentarily. Sensing the champion is hurt, Cooney rushes to him. Holmes covers up, elbows at his sides. But there is more side than elbow to cover it. Feet flat, Cooney spins his upper body to the left, and in one deft motion—his feet, knees, thighs and hips generating most of the power—he turns forward and brings the hook into Holmes's side, just beneath the bottom rib, and buries it into the liver. Pain, such as he has never felt before, branches through Holmes's body.
He begins to cave. Now Cooney turns and throws another hook, this one to the point of the chin, and Holmes crumples to the canvas. After struggling to his feet, as he did when Earnie Shavers and Renaldo Snipes decked him, Holmes takes a standing eight count. They might as well play taps, however, for no fighter in the division can finish a man like Cooney. He swoops in again, punching up and down with both arms. Cooney pounds the body with two more massive hooks, folding Holmes over, then brings another up to the unguarded chops. The blow snaps Holmes's head to the side. A right bounces him back off the ropes, and, as he pitches forward, in a final fury, Cooney chops him in the head with a last left hook. Holmes is out.
SCENARIO II
Holmes will win by a knockout by the eighth because of his experience, stamina and determination. He'll jab Cooney to keep him off balance, set him up for the overhand right. When he gets the feel of the right spot on Cooney's chin, he'll know Gerry's ready to go. Cooney can't go more than three, four rounds. You have to make Holmes a 10-1 favorite. If you have a puncher against any great boxer, like Holmes, you have to go with the boxer.
—HAROLD WESTON, Madison Square Garden matchmaker
Holmes has the finest jab in the heavyweight division—fast, stinging and accurate. His repertoire of combinations flows from the jab. The first two rounds, to keep a plodding Cooney off balance, Holmes moves almost constantly, not running or dancing at a distance, but rather around his target at close range. Now and then he stops, sets himself, and, as Cooney advances, fires off a double jab, stopping the challenger, and moves over again. A step here, a step there, then two quick jabs. Cooney counters with a jab, but Holmes slips it easily.
Holmes boxes cautiously in the early rounds, adjusting to Cooney's rhythm, while searching for a comfortable distance to work from. In the third round, Cooney backs Holmes up with a jab, follows with a right that misses, then comes in on the champion along the ropes. Cooney tries to work the body with hooks, but Holmes expertly ties him up, clinging closely and breaking the force of the blows.
By the end of the fourth, Cooney is getting frustrated. Holmes is superb on defense, picking off Cooney's jabs at long range and tying up the challenger when he closes in. Early in the fifth, Holmes picks off a Cooney jab, then backs up the challenger with two stinging jabs of his own.
Cooney backs up. This is what Holmes has been waiting for. He has been watching films of Cooney's December 1979 fight against Leroy Boone, in which Cooney had trouble fighting effectively as Boone backed him up, so Holmes jumps. Holmes jabs again, then hooks to the head off the jab. Now he steps inside with a right uppercut, catching Cooney square. Cooney is bleeding over the right eye. He awkwardly tries to turn off the ropes. Holmes keeps the pressure on him.
Cooney covers and counters ineffectually. Emboldened now, Holmes begins throwing more punches, in faster combinations, straight right hands over two sharp jabs. Cooney jabs, then misses with a wild right. Holmes spins away and counters with a right. Cooney staggers back to his corner at the bell. In the sixth and seventh rounds, Holmes continues jabbing and scoring. Cooney occasionally lands a punch inside, but Holmes quickly ties him up.
By the end of the seventh, a straight right has opened another cut, below Cooney's left eye, and jabs have split his upper lip. In the eighth, sensing it's time, Holmes comes out blazing—left-right-left. Cooney staggers. Holmes pounces. A right uppercut drops the challenger. Back on his feet, Cooney tries to cover, but Holmes wades in. A right to the belly drops Cooney's arms. Holmes steps in, and so does the referee.
One is a boxer and one is a puncher, one a mover and the other a plodder, but that is only the beginning of the difference between them. Rarely in the history of heavyweight championship competition have two men who contrast more sharply—both in the ring and out—been brought together. Indeed, it's these differences—expressed in their boxing styles, backgrounds, attitudes, and professional histories—that give the fight its exceptional promise.
If it is unfortunate that some of the interest stems from the fact that Holmes is black and Cooney white, that fact is also unavoidable. "Any time you have that black-and-white picture, it makes it interesting," says Ken Norton. Cooney has simply said that he no more wants to be a Great White Hope than a great white shark, while Holmes has made a point of raising the issue. Publicly, he has referred to Cooney as a "Great White Dope." In December of 1980, in a Mexico City restaurant during the WBC convention, the two men almost came to blows after a heated exchange in which Cooney struck perhaps the most sensitive nerve ending in Holmes's whole being. Holmes has loathed him ever since.
Holmes's bitterness springs from a deep place in his history. He grew up poor in the blue-collar industrial town of Easton, Pa., and all he ever knew was scratch and claw. He worked in a car wash, he drove a truck. He began fighting in a local gym and turned professional on March 21, 1973, in the heyday of Muhammad Ali, Frazier and Foreman. For five long years, some spent as Ali's sparring partner, Holmes lived in oblivion. Until Richie Giachetti came along, trainers refused to handle him, abused him, ignored him. After the Ali era ended, and Frazier and Foreman vanished with him, Holmes finally got his long-deferred shot at the title.
Under the circumstances, he was superb. In a war that stretched over 15 rounds, fighting with an injured left arm, he outpointed Ken Norton for the WBC title. What he found himself ruling over, however, was a division as hollow as the speed bags he'd been banging on for years, a division still haunted by the mystical presence of Ali. Holmes fought for peanuts, and there were mostly only shells to fight. One after another: Alfredo Evangelista, Osvaldo Ocasio, Mike Weaver, Shavers, Lorenzo Zanon, Leroy Jones, Scott LeDoux. Please, LeDon't go on. In two of those fights, against Weaver and Shavers, Holmes got careless and had to come off the deck to win.
The division was so bereft of talent, of course, that it finally achieved the ultimate, a truly grotesque parody of itself, as an antique show at Caesars, starring Ali. Ali had lost it all in the ordeal of beating Frazier in Manila five years before, so Holmes found himself in the unseemly position of having to beat up an old man who could no longer throw a decent punch, and who could no longer even hide. Six months later Holmes outpointed a club fighter, Trevor Berbick, and two months later knocked out a spent Leon Spinks. In his last fight, on Nov. 6, 1981, Holmes got careless again, and was floored by Snipes in the seventh round before rallying to TKO him in the 11th.
"I think he's the most underrated heavyweight champion we ever had," says Ray Arcel, the veteran trainer who's working Holmes's corner. "He's in the same position Ezzard Charles was in when he beat Joe Louis. Charles was in the shadow of Joe Louis. The trouble with Holmes is that he has tried to match the ring personality of Ali," says Arcel. "You can't command the acknowledgment of greatness."
And, as earnestly as he has asked for it, that acknowledgment has been denied him. All his professional life, Holmes has felt rejection. As he made his climb to the top, not incidentally, so did the young and attractive Sugar Ray Leonard, the Olympic gold medal winner, who was soon getting more money as a welterweight than even Ali had. Fame, acceptance, the adulation of men, all were as elusive as wisps of wind to Holmes. Then suddenly he was facing Cooney in that Mexico City restaurant, and Holmes said, "You're stupid, for a white boy...."
Cooney: "Who are you? Who are you?"
Holmes: "Everybody knows who I am."
Cooney: "Who are you?"
Holmes: "I'm the heavyweight champion of the world."
Cooney: "You need me more than I need you. Don't forget that!"
Soon after they nearly were at each other's throats. The only casualty was WBC President José Sulaimàn. "He stepped in to break it up and got a bloody nose," says Mike Jones, who co-manages Cooney with Dennis Rappaport. That Holmes and Cooney would one day meet in the ring became inevitable. In Mexico City, in fact, Holmes's promoter, Don King, offered Jones and Rappaport a $3 million purse for the fight. They declined and went after Weaver, the WBA champion, trying to make the fight for the following spring. It appeared on when Weaver, under the threat of having his title stripped, chose instead to fight James (Quick) Tillis.
That paved the way for Holmes-Cooney. Originally, Jones says, King had sought options to promote future Cooney bouts, the bulk of the purse for Holmes, as champion, and exclusive promotional rights. Jones and Rappaport had argued for equal purses for the fighters, no options and for Sam Glass, who had staged several Cooney fights, to co-promote with King. King eventually yielded on all three points, Jones says, and the fight was set for March 15.
As soon as the match was made, there were doubts that it ever would take place. "I never thought he wanted to fight me," Holmes says. "He did everything he could to get around me and fight Weaver." Cooney was supposed to have had a tune-up last December against Joe Bugner, the former European heavyweight champion, who hadn't had a fight since August 1980 when he beat Gilberto Acuna, but Cooney suffered a back injury and the fight was canceled. Then Cooney was to fight an exhibition against Bugner in January in Westbury, N.Y., but he tore a muscle in his left shoulder. When he aggravated that injury, and couldn't train, the fight with Holmes was rescheduled for June 11. Even now Caesars Palace holds its imperial breath.
As do all concerned. The amount of money at stake is prodigious. According to the promoters, each fighter will have a $10 million payday, although insiders say the figure will be much lower. Each is to get 35% of the net receipts and the promoters 15% apiece. The net, as Jones envisions it, will amount to upwards of $30 million: $6 million from Caesars, $20 million from closed circuit and $5 million from pay-per-view television. "If the fight takes off," says Jones, "it could net $40 to $50 million."
For Holmes, the money isn't everything. Louis Rodriguez, a longtime aide, says, "Cooney's the manifestation of everything that Larry has longed for, everything he never had and should have had but was denied."
Cooney grew up in the predominantly white suburban community of Huntington, Long Island, the son of an ironworker of Irish descent who died when Gerry was 19. The chief discomfort of his adolescence was a painful shyness and self-consciousness brought on by big ears, skinny legs, knock-knees and acne. His father, Tony, forced Cooney and his three brothers to get up early in the morning to run and to do calisthenics, and enforced a 10 p.m. lights-out.
Encouraged by Tony, the Cooney kids boxed in a makeshift ring in the backyard. Gerry eventually won two Golden Gloves titles at Madison Square Garden, as a middleweight and heavyweight. (Of his brothers, only Tom continued to box, going to the finals of the Golden Gloves as a heavyweight.) A few months after Tony Cooney died, Gerry turned pro, signing with Jones and Rappaport. Under the influence of trainer Victor Valle, who had guided Alfredo Escalera to the junior welterweight championship, Cooney became a punching machine. Unlike Holmes, who languished in his early years, Cooney moved smoothly up through the ranks. His opponents were carefully chosen, his career meticulously charted. Too carefully, purists would claim, when he became the No. 1 contender at 24, after only 23 fights.
There is an undercurrent of resentment toward the challenger because he rose in violation of the "code," that is to say, he hadn't suffered enough. "The code is the one reason why they never accepted a young Ali," says Mort Sharnik, boxing consultant for CBS. "He's a charlatan, they said; he's not a fighter, he's a dancer. So they demeaned him. He'll get his. They didn't appreciate him until he came back and he was a target and he took it and took it and took it. Took it better than any heavyweight in history." Ali eventually paid the price. Just listen to him mumble now.
Asks Sharnik rhetorically, "At issue is this: Is there any easy road to the heavyweight championship, to the heights? Supposedly there isn't and there shouldn't be. It's a violation of the code if Cooney wins."
Cooney goes into the fight with a 25-0 record, mostly against unknowns, with 22 knockouts. Since he stopped Boone in December 1979 he has had only three fights, which altogether lasted less than six rounds. He fought only twice in 1980, stopping Jimmy Young in four rounds and Ron Lyle in one, and only once in 1981, when he stopped Norton. "It doesn't concern me," Cooney says. "I wouldn't be getting in the ring if I wasn't ready. Victor wouldn't let me in the ring." Nor is he in any particular rush to see if he can go the distance—he has never fought more than eight rounds in his life—or take a shot. He has never been down as a pro.
"What am I supposed to do?" Cooney asks, without rancor. A man not given to boasting, he rarely raises his voice, except when he laughs. "When I hurt somebody, am I supposed to let him go?" he says. "Answer the critics' questions? Can I go the distance? Can I take a punch? When I get finished with fighting, I hope they ask the same questions. It's not my purpose to answer them. Boxing is the art of self-defense. I knock 'em out the first chance I get. People haven't seen enough of me. My fights haven't gone the distance and people have a lot of questions. I want to find out for myself as much as the people do. I want to find out what I can do.
"After every fight I knock myself down. I start from scratch again. I say, 'I'm not as good as I thought.' It makes you work harder. It makes you push harder. It's more than money. It's more than the title. It's my pride, and it can be scary thinking about it. I could lose. It's scary. I don't fear Holmes, but I think he's a good fighter. He has a lot of pride. But I wouldn't be fighting him if I feared him. It's going to be a tough fight. People say with all the hoopla out there, I won't be able to handle it. I believe the pressure's on him. I'm just going to do my thing. I picture it in a couple of different ways."
Cooney pauses, shrugs, then goes on: "He's going to stand up and move. After a while, he'll stop moving and fight. And...." He shrugs again. "We have to fight," he says.
Valle is taking no chances. For the first time the trainer is yielding his position as cut man to concentrate on advising the fighter. Artie Curley, who used to work with Vito Antuofermo, a notorious bleeder, will take care of any cuts. Nonetheless, most observers are giving the edge to Holmes's corner on experience. Two of the most respected trainers, Eddie Futch and Arcel, have been handling the fighter, and they will be his cornermen. "They have their own way of figuring things, as I do," Valle says. "Let the best trainer win."
Holmes, meanwhile, knows the fight must be won in the ring—ultimately by him alone. He has a record of 39-0, 29 by knockout. On June 9, two days before the Cooney fight, he will have held the WBC title for four years, and defended it 11 times. "The guy's got perfect coordination," Arcel says. "Sharp reflexes. Tremendous mental energy. He just knows what he's doing in there at all times. I don't know how Cooney can avoid the jab. I don't see him winning unless he hits him with a wild punch. His inactivity isn't going to help him any. I think Cooney'll come out ripping and tearing and trying to win it in the first part. What other choice does he have? He's not going to try to outbox the fellow. This is a good boxer."
If Holmes respects Cooney in any way, he doesn't betray it. His voice full of anger and contempt, he promises to fight from the opening bell, contrary to conventional wisdom. "People ask me questions," he told an audience following a recent workout. "They want to know if I'm in the bag. I've got too much money, too much pride, represent too many people. I don't have a whole lot to prove, but one thing I have to prove, on June II, is that I'm not in the bag."
Holmes says that the films of Cooney's fights that he's seen left him unawed. "People say, 'Move on him! Don't let him hit you with that left hook!' Who the hell is he? He ain't no superman. Why should I move from him? He's Gerry Cooney. I'll make him run from me. Leroy Boone backed him up. Jimmy Young had him backing up. How the hell can you throw the left hook unless you're throwing punches back? If he got a left hook.
"He hit Jimmy Young 10 straight punches and didn't take him out. Right hands and every damn thing else. Let that mother knock me out! Let him! I ain't going nowhere. I'll be right there suckin' on his titty. You can write that. He ain't got a heart as big as a mustard seed. I'm going to make him fight. I'm going to give him all the opportunity in the world to take me out in the first round. Just like everybody predicts. My intention is to beat him up. Close his eyes. Open a cut over his nose. Over his eyes. Bust his lips. I just want to bust him up."
How serious Holmes is about this is hard to discern. After fighting all these years, he continues struggling in shadows. And now he sees before him a palpable target of his scorn—a man who, he believes, traveled the easy road, marked with a white line. He seems incredulous that people are taking Cooney seriously. "I'll beat him till he doesn't want any more," Holmes says. "I'm going to jump on his butt right off the bat. I'll run him right out of the ring."
His ego challenged, as Ray Leonard's was before his first imprudent go with Roberto Duran, Holmes might just come out winging. "Do you really think he can beat me?" Holmes asks with disbelief.
Of course. Stripped of the ornaments, it's youth against age, young legs against old legs. It's weight, height and strength against ring savvy, cleverness, quickness. It's power against prowess, the classic combat—the boxer and the banger. But perhaps what is most elusively at work here, as George Benton suggests, has to do with the imperatives of timing and time. I say Cooney inside five.
ILLUSTRATION
BART
FORBES
If Cooney is to win, it will most likely be by a knockout within the first five rounds, as he traps Holmes against the ropes and belabors him with a series of punches, most notably left hooks to the body and to the head.
ILLUSTRATION
BART FORBES
If Holmes is to score a knockout, the crusher will be his big overhand right, set up by his jolting jab. In this scenario, the end will come in the eighth round, with the referee saving a battered, defenseless Cooney.
ILLUSTRATION
BART FORBES
Cooney's best punch is his devastating left hook, which derives its power from his lower body. Cooney will aim for Holmes's liver, just beneath the bottom rib, and follow up with a hook to the champion's head.
ILLUSTRATION
BART FORBES
Holmes has stamina, ring generalship—and a big right. Here, with Cooney's guard down, Holmes unloads.
ILLUSTRATION
BART FORBES
They're not going to be holding Sunday school in the ring at Caesars and Cooney is emphatically no choirboy. Here, having missed with a hook, he deftly rakes the champion's jaw with one hell of a left elbow.
ILLUSTRATION
BART
FORBES
Cooney has Holmes where he wants him—on the ropes—and is wielding another of his unsung weapons, the right forearm. By applying pressure with it, Cooney is trying to horse Holmes out of his crouch.
ILLUSTRATION
BART FORBES
A far more artful boxer than the challenger, Holmes has the finest jab in the division—fast, jarring and accurate—and his whole repertoire flows from his elemental punch.