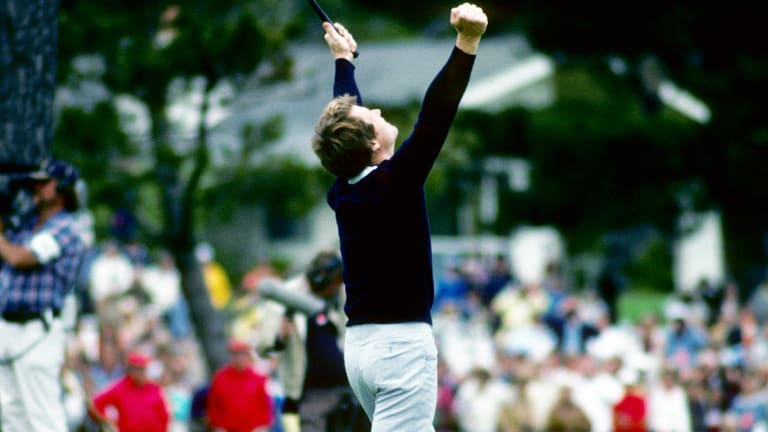 A 1,000 to 1 Shot
That's how runner-up Jack Nicklaus rated the chip that won the U.S. Open for Tom Watson at Pebble Beach's 17th: rough to green and in the cup
From where Tom Watson was on the 71st hole of the U.S. Open golf championship Sunday at Pebble Beach—in the garbage, on a downslope, looking at a slick green—you don't simply chip the ball into the cup for a birdie to beat Jack Nicklaus, who is already in the scorer's tent with a total good enough to win. First, you throw up.
Well, that's wrong, of course. If you're Watson, by now you're accustomed to beating Nicklaus in major tournaments because you've done it before at the Masters and in the British Open, so you lay open the blade of a sand wedge and plop the lob-chip shot softly onto the putting surface and then watch the flagstick get in the way of the ball to keep it from running all the way to the Lodge.
Of the many dramatic and championship-twisting shots that were struck and misstruck all last week on the Monterey Peninsula, and in all of the 81 Opens that came before this one, Watson's chip-in at the 17th on Sunday will be remembered for as long as men sew leather patches on the elbows of their tweed jackets.
Two quotes must be pressed into the family Bible along with the 16-foot hole-out that gave Watson his first Open title and his sixth major. Watson's regular caddie, Bruce Edwards, said to him before the shot, "Get it close." Replied Watson, "I'm not gonna get it close, I'm gonna make it!"
This was why Watson could be seen pointing at someone (Edwards) as he went into that sprint and dance around the edge of the green after the ball darted into the cup. If he had been a little more delirious and a little less careful, he might have discoed right into Carmel Bay.
Which brings up quote No. 2. Nicklaus was watching Watson's progress on a TV monitor in back of the 18th green. He had shot a fourth-round 69, three under par, and had a total of 284, four under for the 72 holes—six strokes better than the 290 with which he had won the Open at Pebble Beach back in '72. He had seen Watson's less-than-perfect two-iron from the 17th tee bounce and find the high grass on the upslope to the left of the green.
Certain bogey, Jack thought; I win. After the weirdness of most of Thursday, Friday, Saturday and all of Sunday, the two were dead-even tied. Nicklaus took his eyes off the monitor for just a second, and the next thing he saw on it was Watson looking like a man with an incurable itch, and a mighty roar was filling the air. A few minutes later, Watson was making a needless birdie at 18 to win by two strokes, and Nicklaus was shaking Tom's hand on the green, saying with a smile, "You little son of a bitch, you're something else."
So ended one of the more fantastic U.S. Opens, or majors, of recent years. In the end, it was another Watson-Nicklaus saga. Watson-Nicklaus III, check your local neighborhood theater. No. I came at Augusta in 1977, when Tom outbattled Jack in the stretch to win the first of his two Masters titles—with a birdie at the 17th, incidentally. No. II came later that summer at Turnberry in Scotland when Watson captured the second of his three British Open trophies in a furious head-to-head duel, 65-65 in the third round, then 65-66 in the last round, the decisive birdie again coming at the 17th hole. Now this at Pebble Beach, and on Pebble's picturesque 17th.
Watson's chip-in must rank in history with two similar shots that have more or less decided major championships, although Watson's no doubt is the most stunning of the three. There is the wedge Arnold Palmer holed out from beside the 16th green at the 1962 Masters, a stroke that enabled him to gain a playoff with Gary Player and Dow Finsterwald, which he won. Then there was the chip shot Lee Trevino sank on the next-to-last hole at Muirfield in the 1972 British Open, and Nicklaus, who was shooting for the third leg of a Grand Slam, also was the victim there—on the 17th, of course.
"Yes, it has happened to me before, but I didn't think it would happen again," Nicklaus said after finishing second in the Open for the fourth time, in a major for the 18th, a remarkable feat all by itself, the more so when you reflect on the 19 majors he has won. "I rate Tom's [shot] up there with Trevino's," he added. "I suppose I've done it to other people, too. Maybe not by chipping in. When you think you've won, it's disappointing."
Of the shot, it was said by Bill Rogers, who was playing with Watson and wound up tied for third, that a man could drop the ball on the edge of the 17th green with his hand and it wouldn't stop short of the cup, so fast was the green. Then Rogers went on, "You could hit that chip a hundred times and you couldn't get it close to the pin, much less in the hole."
"A thousand times," said Nicklaus.
Watson and Rogers had begun the last round in a tie for the lead with Nicklaus three strokes back. There were other characters in the drama, but they would fade away, as is the case on major Sundays. Watson's closing 70 for the winning total of 282, and a prize of $60,000, would include what Rogers described as "three knockout blows."
They were, in order of their appearance, a 25-foot putt to save par at the 10th hole, a 35-foot putt for a birdie at the 14th and that lob-chip at the 17th.
As Rogers put it, "I saw him get a gleam of confidence in his eye after he survived the 10th. And on 14, well, humans three-putt from where he was."
If you have been a Watson watcher over the years, there are ways to explain these deeds. The par putt he made at 10 was simply a case of luck balancing out. Back on the tiny par-3 7th, he had missed a two-footer for a birdie, and nobody deserves to miss a two-footer for a birdie when he's in contention for the Open, not a man who's going to miss only one fairway all day long with his beautiful driving rhythm.
The long "mindless" putt on the 14th? Why not? Watson is as good a putter as there is in the game today, and perhaps the finest long-putter, period. He has been sinking putts like that one for seven years, which is one reason why he has won six majors since 1975 (Nicklaus finishing second in four of those). It is why anyone wins a major, or even a regular event on the PGA Tour.
The historic chip-in? Watson was quick to say it wasn't sheer chance. "I've practiced that shot for hours, days, months and years," he said. "It's a shot you have to know if you're going to do well in the Open, where there's high grass around the greens."
The U.S. Open had been Watson's primary goal since he had become a grownup and proved he could win majors. This was his 11th try at it; he had six top-10 finishes, but his failure to win had been eating at him for years. Thus, it delighted him to finally do so amid the northern California screams of so many of his fellow Stanford alumni on a course he loves so much—and to win it with an "Open shot," the lob-chip. "That shot at 17," he said, "meant more to me than any golf shot I ever made."
His heroics at 17 aside, Watson won the Open in several other ways. He was, after all, the only player in the field of 153 who shot par or better in all four rounds, with scores of 72, 72, 68 and 70.
He may well have won it in Thursday's breezy first round when he arrived at the 15th tee three over par and staring at a 75 or worse. He thereupon birdied the 15th, 16th and 17th holes. "I counter-punched well," he said.
Watson may have won the tournament on Friday when his tee-to-green play, particularly his driving, was, to say the least, shabby. He holed two putts of more than 20 feet for bogeys and once got up and down from a bunker for another bogey. "I shot a 77 but scored a 72" was the way he described it.
And he may have won it on Saturday, the day a record 22 fellows broke par on a becalmed Pebble, when he carved out a four-under 68. It wasn't so much the number he had attained as the way his swing felt. "I feel good about my swing," Watson said. "I can't wait to get out there tomorrow."
There are two utterly different golf courses built into Pebble Beach, one being the first seven holes, or the "birdie holes," and the other being the last 11, or, as they say, "the real golf course." That Pebble begins at the 8th tee.
Watson won the U.S. Open on the real golf course, for he was four under par from the 8th to the Lodge for the four rounds. This was about 6,000 shots better than anyone else in the field.
Consider these other Watson statistics. He was an outrageous seven under par over the last four holes at Pebble, and as for the dangerous 17th and 18th, he was five under for the four rounds. By comparison, Nicklaus was even par over the same highway.
On the 17th, which just happened to be the hole on which Nicklaus hit a near-ace one-iron to clinch victory back in '72, Watson was three under par. Before Sunday he at least had the decency to birdie the 17th twice like a normal human being. He hit the green and made a putt on Thursday. He hit the green and made a putt on Friday. Sunday he didn't hit the green and still made a birdie. As Rogers said, "That birdie put me in absolute shock—I'll remember it all my life."
As things usually unfold in an Open, the ultimate winner isn't in the thick of the action for a couple of days. So it was at Pebble. Rogers and Bruce Devlin tied for the first-round lead with modest two-under-par 70s, Devlin striking a blow for the aged (he's 44) as well as for TV commentators (he works for NBC). After Friday's second round, Devlin had the lead all by himself when his 69 gave him a 36-hole total of 139. There was then talk of a miracle in the making; Devlin hadn't won a tournament of any kind in 10 years, and if he won he would be the oldest U.S. Open champion ever. Devlin was still around as late as the 4th hole on Sunday, when he found himself in a momentary four-way deadlock with Nicklaus, Watson and Rogers. But he would ultimately subside into a tie for 10th. As happened to nearly everyone else in the field, a double or triple bogey would do him in; defending champion David Graham was just one shot behind Watson late Sunday afternoon until he double-bogeyed 13. Only Watson, Nicklaus and a handful of other contestants avoided the double or triple calamity.
Such horrors befell many of the supporting cast. Take Danny Edwards. On Thursday he got the Open started by going six under through the first 13 holes; he then suffered two double bogeys. Take George Burns. On Friday, big George set an Open record by making six straight birdies from the 2nd through the 7th holes; he was smitten by a triple-bogey six at the 17th before he could reach the safety of the Lodge.
You could even take Larry Rinker, provided the LPGA didn't claim him because of his blond mane. Rinker shot a 67 Friday and found himself in second place, but a double bogey at the 9th on Saturday sent him the way of the Larry Rinkers. Rinker is the player who said, "The Open is an illusion," insinuating that it was more important to the media than to players. The press retaliated by saying that Larry Rinker was an illusion because of his flowing locks and that his name actually was Laura Rinker.
Inevitably, the Open at Pebble Beach had to come down to the known quantities, as it surely had by Saturday evening, when Watson and Rogers shared the 54-hole lead at 212, four under par. Rogers, the 1981 British Open champ, had on that day added a nifty 69 to his earlier rounds of 70 and 73. And Nicklaus was lurking back there at 215, after making only six birdies despite his immaculate tee-to-green play.
Six birdies in only three rounds for Nicklaus? On a course where he had won a U.S. Open, a U.S. Amateur and three Crosbys? "İ'm playing as well as I've ever played in an Open," he said.
On Sunday, Nicklaus made six birdies, including five in a row starting at the 3rd hole—and it was this streak that would turn the tournament into another Watson-Nicklaus show. Nicklaus hasn't lost his sense of melodrama, even if the putts aren't falling for him as consistently as they once did.
The way it went on Sunday was like this: Watson birdied the 2nd and was in the lead, but bogeyed the 3rd and there was that four-way tie. Nicklaus, Rogers and Devlin then birdied themselves into a three-way tie for the lead at five under, but Rogers inherited it when the other two promptly bogeyed.
Rogers held the lead for five holes at five under, but then he bogeyed the 9th. He and Watson were now tied because Nicklaus had three-putted the 11th for another bogey. From this point on, Watson took the Open by its blue coat and armband. He saved that par at the 10th, birdied the 11th, bogeyed the 12th, birdied the 14th, bogeyed the 16th. Alternately, these happenings kept killing and then pumping life into Nicklaus.
Nicklaus was up ahead of Watson, and going to the 17th tee he saw a scoreboard, saw that it had come down to the two of them. "There's only two of us left," Nicklaus said to his caddie, who happened to be Jackie Nicklaus, 20, his oldest son.
Moments later, after Nicklaus had parred 17 and 18 and seen on the TV monitor that Watson was in trouble on the evil 17th hole, he was surely certain there was only one left now: him. Then came the lob-chip.
Looking back on it, nobody could have summed up this Open finish better than Frank (Sandy) Tatum, an ex-president of the USGA. The evening before the Watson-Nicklaus drama began, Tatum was studying the leaders on the scoreboard. He turned to a friend and said, "Look at the scoreboard. Tomorrow.... Wow!"
And wow it was.
PHOTO
His hopes shattered after Watson's impossible shot, a glum Nicklaus waits at the 18th.
PHOTO
The birdie on the final hole was icing for an exultant Watson and caddie Bruce Edwards.
PHOTO
Devlin, 44, was a real blast from the past.
PHOTO
Tressed Rinker termed it all an illusion.
PHOTO
Rogers hung in until Sunday's back nine, when his putting touch suddenly left him.
EIGHT PHOTOS